Today we are back with Lisa and Alex from 2 people 1 life for wedding number 42. This one is a bit unusual as we see them tying the knot in mid-air! Lisa and Alex worked for 6 months to get this wedding of the ground (get it! LOL) but their efforts paid off as they were the first couple to get married 35,000 feet above the ground! Their flight started in Paris and took them all the way to Tahiti. They flew first class all the way and were treated like royalty! Not bad for a 24 hour flight!
(In case you have missed it the whole story Lisa and Alex have spent the last two years travelling round the world getting married in every country they visit, you can read more about their adventures HERE.)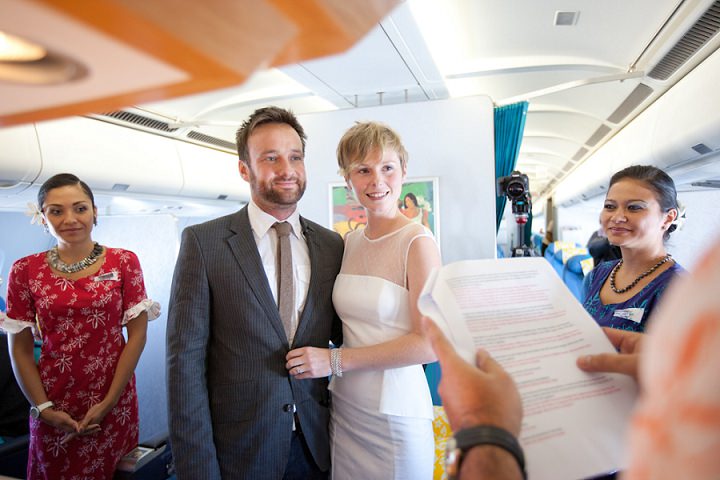 I'll pass the Blog over to Lisa……….
We left Amsterdam and hit the long boring road to Paris. We had a flight to catch…to TAHITI!!! 
We had been working hard with airline Air Tahiti Nui to arrange a wedding on one of their flights to the French Polynesia n Islands and finally after 6 months of being in touch, it was time for it to actually happen! We parked Peggy up in a hotel car park ( for free!!! ), met Jeff Wood and Catherine Mead and all got giddy with excitement about our trip.
When Jeff filmed our Welsh wedding we loved his work so much that when Jessy at Air Tahiti Nui suggested finding someone to film the in-flight ceremony we straight away thought of Jeff. He was happy to be 'dragged along' to Paradise and suggested a photographer that might be equally as happy to come along…And that was it…four Brits were sat in Paris Charles de Gaulle airport waiting for a trip of a lifetime.
My newly bought dress (which I might add was too small and made me look like I was wearing a sausage skin…thanks to Alex's input), about a gazillion pounds worth of camera and video equipment and our half empty backpacks were all checked in quickly and efficiently and we couldn't believe it…we were off! Air Tahiti Nui prides itself on comfort with a Polynesian flavour and we were offered a fresh Tiare – the airline's emblem, a stunning Tahitian flower with the sweetest perfume as we got onto the flight. As we took our seats we were offered a glass of champagne and we knew we were in for a treat, not a long haul flight!
We were shown to our first class seats and Jeff and Catherine to their business class seats, we were offered yet more champagne and introduced to the crew and everyone excitedly welcomed us aboard, we even got to meet the captains in the cockpit before we took off!
The wedding was to be held straight after take off and as the plane rose into the air so did our heart rates! The nerves were kicking in hard. We had captive guests and were about to hold what is believed to be the first in-flight wedding. Most weddings on aeroplanes are held on the ground but we were waiting until we were at 35,000 feet to take the 'plunge'!
Once we were in the air and the seatbelt sign was turned off we were led to the back of the plane to get changed in the area where the drinks and meals are stored. All the trolleys were pulled out to make room and we laughed as we had wondered how we were going to get ready in the small aeroplane toilets!
Within minutes we were as ready as we were going to be. I was too nervous to put much make up on and my hair has a mind of its own but luckily I had my gorgeous hairvine by Charlotte Rose to wear to make me look a little more bridal!
We were led down each Aisle, Alex on the right of me and me on the left and most of the passengers stood or clapped as we walked down to the front of the plane to hold the ceremony!
One of the crew members played music from his I-phone down the telephone that they use to make announcements so the whole plane was filled with music!
Once we reached the front we were reunited and stood close, side by side while the crew captain read us our vows. He read them in French and in English so we could understand and we giggled nervously the whole time. We exchanged a Tahitian Tiare flower as is the Tahitian tradition in place of exchanging rings.
Alex placed my flower behind my left ear and I placed his behind his left. A sign that we were now married.
Everyone clapped and cheered as we kissed and we raised a glass of champagne with a few of the passengers who had come to join in the ceremony, we signed a certificate from the airline to say we had held our wedding at 35,000 feet and above England and the fabulous cabin crew handed out our small favours to all of the guests. Air Tahiti Nui had made up small boxes of dragees with printed ribbon around them and printed small cards explaining our thanks for being our captive guests. The small favours made me weepy, I was so touched by them, they were just so thoughtful.
The rest of the flight was just as the airlines website promised, a series of treats to break up the long flight. Our meal was incredible and afterwards Jeff and Catherine joined us to celebrate some more! We got very little sleep on the first leg of the flight as we were just too excited! But after a mini stop over in LA we slept soundly all the rest of the way in our huge reclining seats.
We arrived in Tahiti in the dark and were too excited to sleep. We had a wander around the hotel in the dark and tried to make out everything but we had no idea what to expect when we woke up in the morning.
We said our goodnights and reluctantly went to sleep.
Such a crazy day, a wedding, a 24 hour flight, more food and champagne than you would ever imagine possible and two great new friends that we had a whole week to hang out with in the sun…in TAHITI!

Supplier Shout Outs
To follow Lisa and Alex's journey go to
http://2people1life.com/blog/
http://2people1life.com/blog/the-whole-journey
FACEBOOK
@2people1life
If you have missed any of the previous weddings you can catch up HERE 
Due to an email issue if you have emailed me between the 2nd & 9th of December, please resend it.
X