Your big day has finally arrived, and like your own dress, the dresses of your bridal party need to be perfect. But, from bridesmaids to flower girls, keeping on the theme while ensuring everybody is comfortable and happy can seem complicated.
But it does not have to be. Whether you are following the classic wedding style or opting for something more casual on the beach, choosing between formal dresses and girls sandals for the perfect flower girl look can be one more thing to check off.
Style Guide for Summer Flower Girls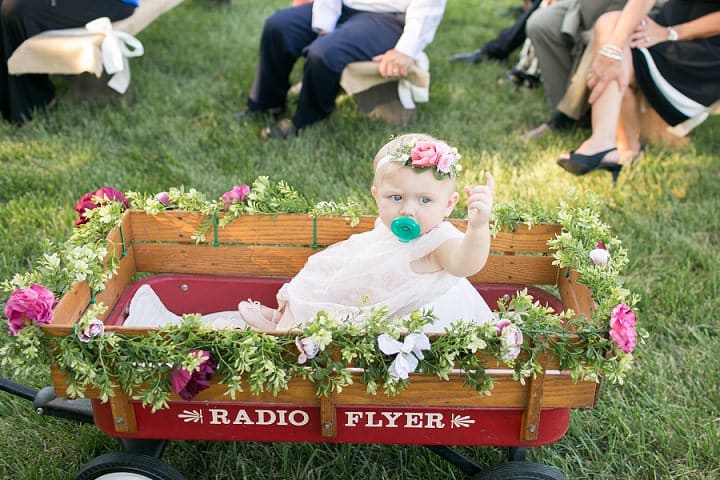 Things to Remember
Before you rush off to find the perfect outfit for your flower girls, there are some essential things to keep in mind. First, although large parts of the outfit will be decided by the colour scheme of your wedding and the overall theme, younger children can be quite temperamental when it comes to wearing clothes they don't like.
After all, this is something they will have to wear for the duration of the event. Therefore, if possible, look for options not too constricting and lined with softer, breathable materials, like linen or cotton. As much as possible, stick to materials that require very little maintenance in terms of ironing, such as tulle, crepe, or lace. It is summer, so consider lighter fabrics that won't get too hot as the day progresses.
And lastly, don't buy any outfits too far in advance. Kids grow much quicker than adults—factor in growth spurts and changing shoe sizes to guarantee their ultimate comfort on the day.
Classic
In many instances, lace will always be a great option to choose. It comes in various shades and has no crease factor to it. As an overlay to a softer material, it will look classy and timeless, suiting any classic wedding theme you may have.
Pair a dress like this with a neutral tone closed-toed sandal that will be both comfortable and formal enough for the occasion. Complete this outfit with a simple, cute updo that only needs to last the length of the ceremony. Make the lace the star of this look.
Boho
Like a classic wedding, lace has a firm place in boho-styled weddings. But instead of going for the traditional tones of white or champagne, boho weddings tend to incorporate more earthy tones of olive greens and browns. The bohemian look also includes the vintage style, which you can play into when looking for an outfit.
Opting for a lace-capped sleeve or ruffled shoulder straps will give you the effortless and fun look synonymous with boho fashion. Skip a styled updo and instead opt for a flower crown that matches the flowers of your wedding for a stylish and on-theme accessory. Open-toed sandals will keep this choice more casual while still being sturdy enough to run around in.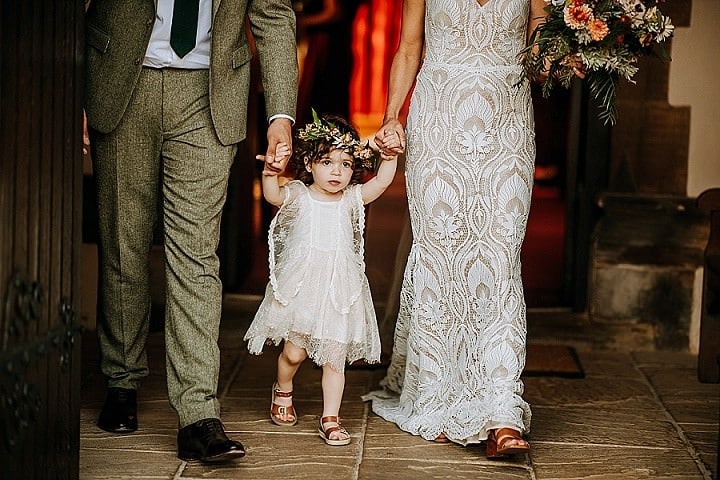 Beach
Beach weddings are all about casualness and comfort. There is no place for shoes, ties, or formal wedding outfits. If you are planning to steer away from tradition with your look, consider it with your flower girls too.
Ditch the dress entirely and choose a white linen playsuit with ruffle details on the shoulder straps or bodice. A soft updo is a perfect compliment to this relaxed wardrobe choice, but leaving hair completely down with beachy waves may be just what you are looking for. If you have your heart set on a dress, find something that is the epitome of casual with beautiful fabric details to give it an extra boost.
Countryside/Rustic
A rustic wedding in the countryside encompasses the feeling of whimsical romance. Dusky pinks and shades of champagne perfectly compliment your big day's earthy, natural tones. But playing into the floral theme could give your wedding party a unique and memorable twist.
While the style of dress can follow the regular route of capped sleeves, lace bodices, and tulle skirts, the fabric pattern is the place to mix things up. Change out a single-toned colour for a floral design, closely matching the floral arrangements on the day. Patterned materials on a rustic background will give your bridal party a pop of fun colour without overwhelming the star of the show, you.
Accessories
If you find there is not as much room for expression with the outfits you have picked for the flower girls, changing up the accessories can elevate their attire instantly. It doesn't need to be too extreme, expensive, or unreasonable.
Adding stylish and chic hair clips to any hairstyle will add an elegant touch with minimal effort. Flower crowns are classic in boho and garden wedding settings, and matching them to the floral arrangements will give the overall look a fashionable addition.
Consider a sandal or shoe with a small heel for a more classic and modern look. It is a simple change but will alter the overall look completely. Also, don't worry too much about the safety factor. Kids can remove their shoes to play after the ceremony.
Lastly, adding a simple and elegant bracelet or complimenting necklace can round off their wardrobe choice. Costume jewellery is a cheap and realistic option for any little girl and her fairy-tale dream.
THIS IS A COLLABORATIVE POST