I have a gorgeous wedding for you today courtesy of Mia Hooper. This backyard wedding took place at the couples' home, with an outdoor ceremony in the garden followed by a marquee reception. Holding the entire wedding at their home made it extra special for them and meant that they really could do what ever they wanted. With a purple and butterfly theme and a whole load of personal and DIY touches from waistcoats to scrumpy, Louise and Benjamin really put their personal seal on this day. I am loving the touches of lavender, the rustic decor and the totally relaxed feel to the day.
'We wanted to create a relaxed party atmosphere with lots of homemade touches, from waistcoats to scrumpy; that made it feel special and personal. It was the best day we could of hoped for and we couldn't stop smiling from ear to ear!'
Louise and Benjamin were married on the 7th of September in their own back garden! 'The house we now own and live in used to belong to bens Grandmother, but she gave us the opportunity to buy the property when she was selling it due to needing to down size. We took the opportunity to have the ceremony and the reception here as Ben spent some of his most happy memories here as a child and we couldn't think of anywhere more special or personal to hold our wedding. We had 100 guests, got engaged 13 months before the wedding and started planning almost straight away!'
How they met
We met at a Halloween Party in 2009. I was unsure whether to go to the party by was encouraged by my step-grandmother to go. Ben had been told I would be there and was encouraged by friends to speak to me when I arrived, but admits to needing some Dutch courage! I was dressed as a fallen angel while Ben was dressed as vampire. Ben finally introduced himself just before I left and was pleased to bump into me again at the gym a few months later, although we didn't immediately recognize each other of out Halloween costume! Our first date went so well that the waiter tried to take their order 3 times before we had even looked at the menu as we were talking so much! We have been inseparable ever since.
The proposal
Ben proposed to me on his birthday as he was sitting up in bed opening his presents. He turned to me and said he had a present for me too, and, handing me a ring box, said if he could have one more present that day it would be for me to be his wife. Through tears, I accepted instantly without any hesitation.

How did you allocate your budget?
I know it's unconventional, but we didn't really have a set budget, we didn't want to spend a crazy amount of money on the wedding as we need to renovate our new home. But at the same time we wanted to spend what we needed to make our wedding right. We needed a marquee for the garden but found that Capri style marquees are much cheaper than standard tent ones and they have a more relaxed and less formal feel to them which is what we were looking for. We found a caterer that could do the BBQ we wanted and persuaded her to run the bar and do a cheese table for the evening food. We also had a cake and desert table which family and friends bought cakes and puddings for; there was so much selection it went down really well.
Why did you choose your photographer?
We chose Mia for her natural and relaxed feel to her photography, also when we checked out her blog you could really get a feel of the atmosphere at the weddings she'd done before us. She is also one of the loveliest people involved in our wedding, she didn't impose on us at all, she was very subtle with the candid pictures. We are so happy with what she produced; she turned our back garden into something you'd see at a country home. She will help us keep the feeling of our day for the rest of our lives.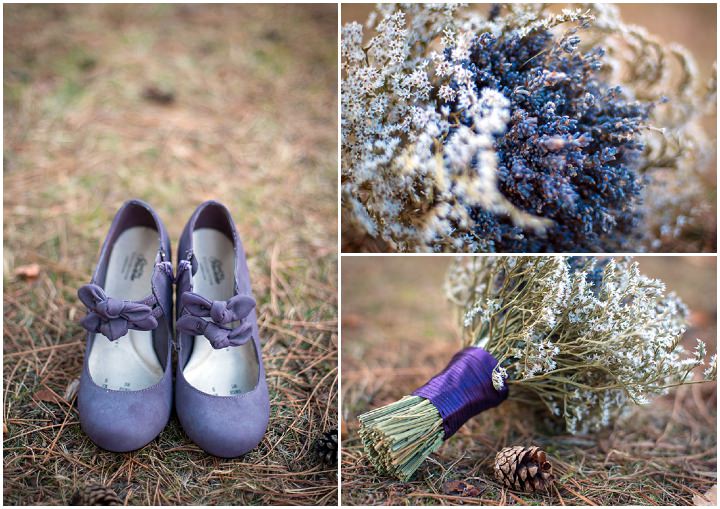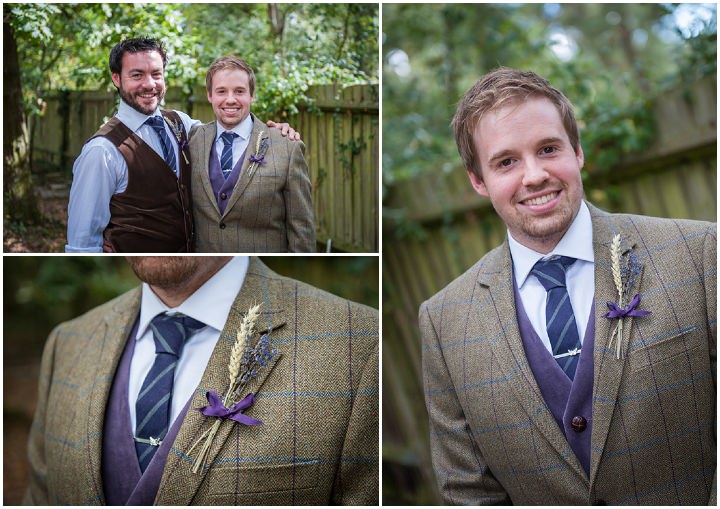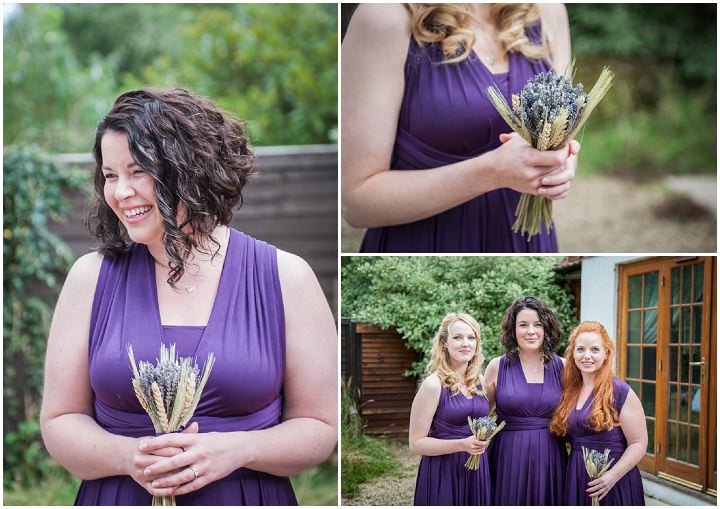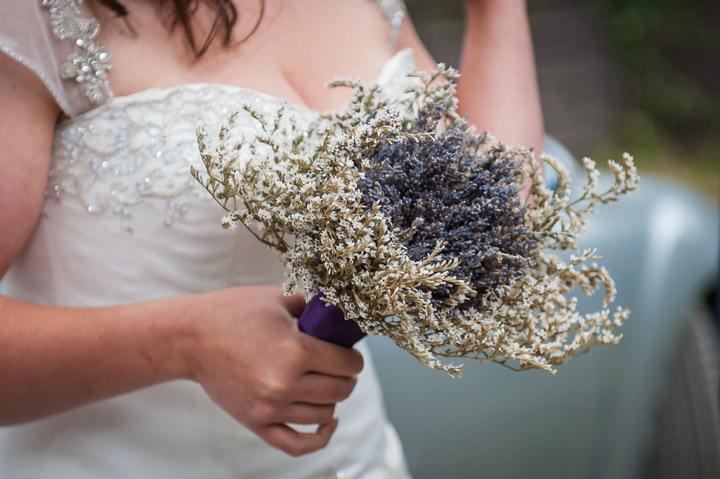 The dress
My dress is an Ella Rosa Dress, shoes from debenhams as I wanted shoes I could wear again, so went for purple to match the bridesmaids.
The suit and bridesmaids
Ben wore a Tweed jacket from Austin Reed; all the boys wore trousers from John Lewis with M&S purple woollen ties with waistcoats I made myself. The girls wore purple multiway dresses from All In One clothing, I loved that the girls could change the dress to suit their individual style and figure. The necklaces and pin ties were made specially for us by a local artist Times to Treasure, they had butterflies on them to coordinate with our theme.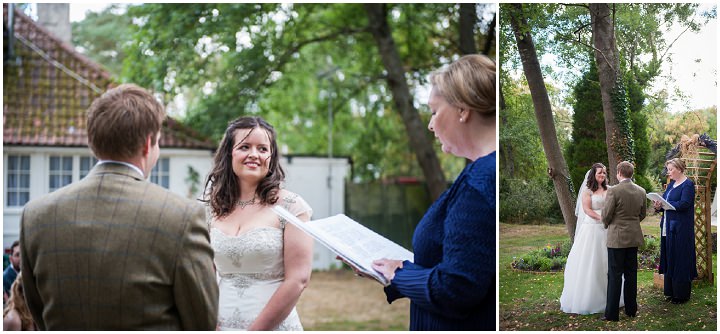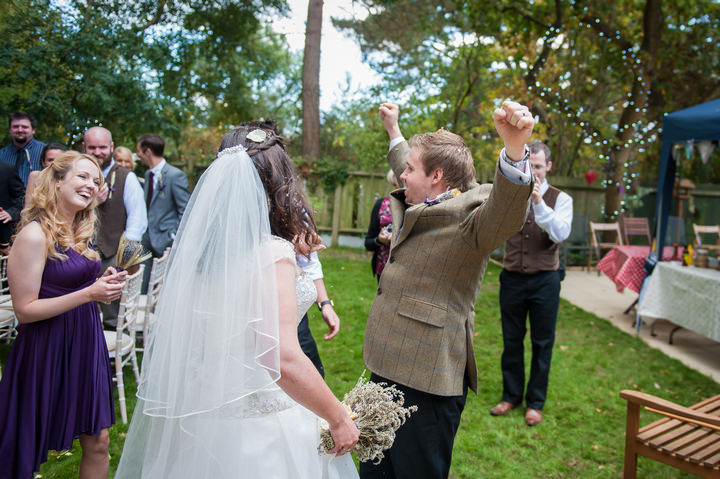 Theme or colour scheme
Our main colour/theme was purple and butterflies
Decoration
Home made bunting, pompoms and Herbs as the table centres and names.
Flowers
Our main flowers were dried lavender, teamed with gypsophila, wheat and grasses. Having dried flowers meant that me and my maid of honour could put them together way in advance and they kept really well. It also turned out to be much cheaper, so we made button holes for all the male guests instead of just the wedding party, which was great.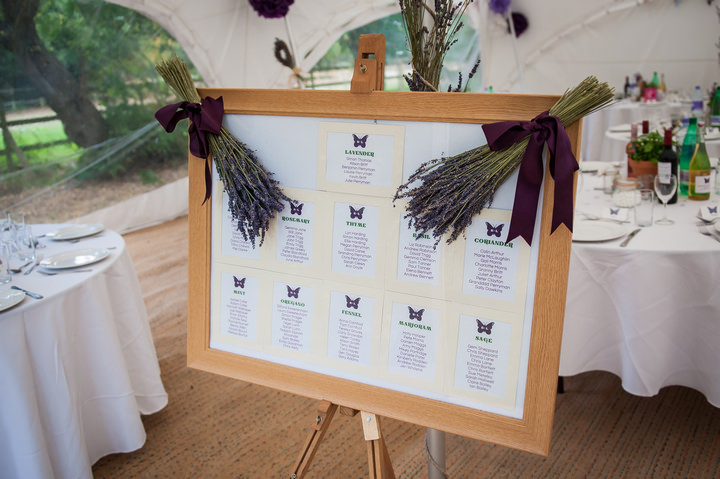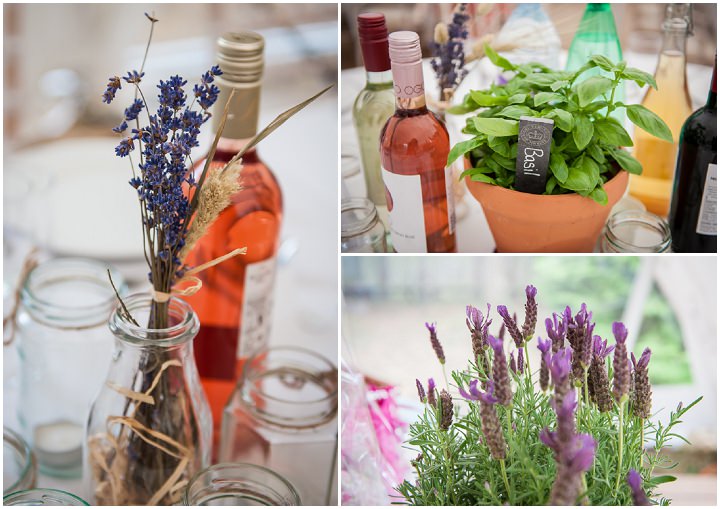 Food
We used 'Lucy's BBQ and Hog Roast'. Her husband owns a butchers so the meat was beautiful, and we persuaded her to run the bar and provide cheese for the cheese table for the evening food. As mentioned before, we had a cake and desert table which had puds provided by friends and family. There was a massive selection so it went down really well. My parents bought in all the drinks for the day in order to have an open bar. My mum is a brewer and my Dad is a chef so it was very important to them that everyone was 'fed and watered' so they ensured there was plenty to go around!
Cake
We had a three layer sponge cake of lemon and poppy seed, carrot cake and Victoria sponge, covered in white icing and purple butterflies. We had a bit left after the day so put it in the freezer, and have a piece now and again, it's kept really well.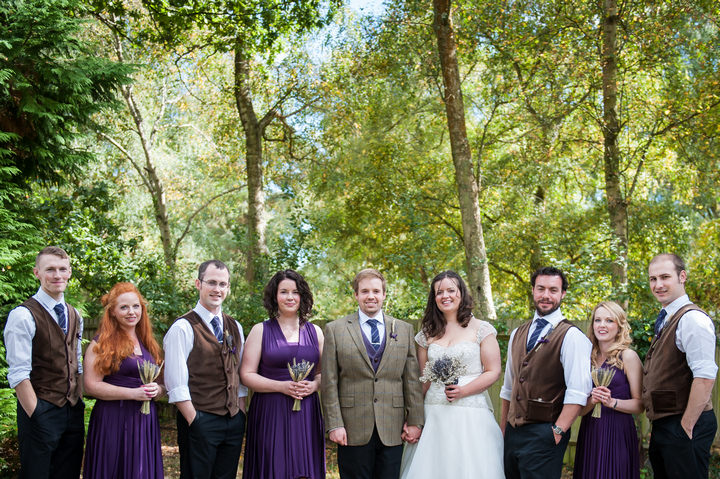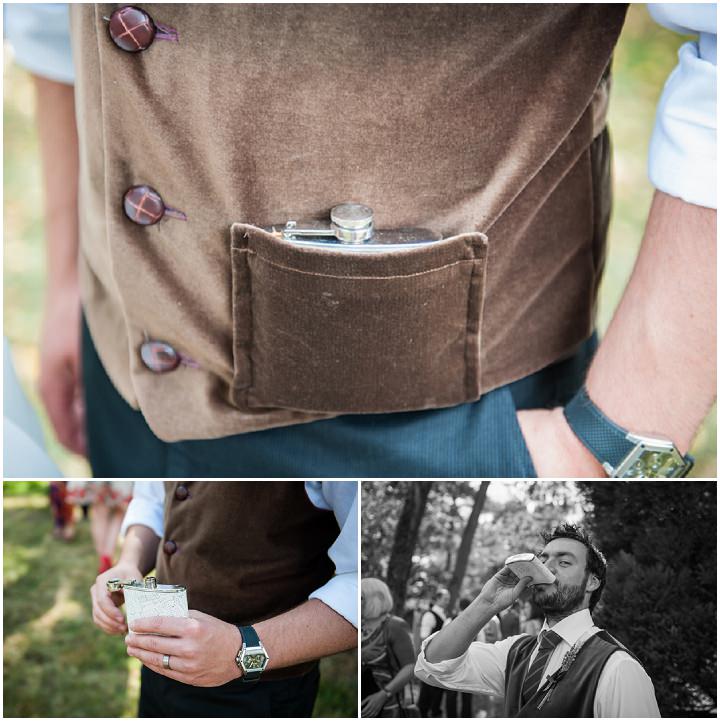 Entertainment
We had a band for the entertainment, they are called the Benedict's, they do party covers but aren't too cheesy, and even learnt our first dance; Palo Nutini's 'Pencil Full of Lead'.
Buy or DIY your stationery?
One of my flat mates from uni is a graphic designer and he offered to design my invites. We also used the same font and butterfly from the invites, and had a stamp made of the butterfly for the rest of the stationary, place names etc, we even had it on the home made scrumpy and chutney, it really helped to tie everything together.
Handmade or personal touches
We homemade quite a bit to make it as personal as possible
• Bunting (Including 'Mr & Mrs Perryman' on the top table)
• Pompoms
• Waistcoats
• Bouquets
• Button holes
• Table decorations
• Scrumpy (Cider)
• Four types of chutney for the cheese table
• Decanted and labelled mini bottles of port for the cheese table
• Cakes for the cake table
• Jam jars with twine round them for tea lights
• Place names with our butterfly stamp on
• We had badges made with names on for each of the guests and with hearts and butterflies from the invites (people loved these)
• Flip lid jars of mint imperials and minstrels on each table instead of favours
• Purple ribbons down our road to show everyone where to go, there are still a few up, I love seeing them, they make me smile.

Special moments
Mia took us off to do some couple shots after dinner in the fading light, it was so nice to be able to take that time with Ben on such a busy day. One of my favorite moments was when Ben and his mum danced/jived together as they looked so happy and it is so impressive to watch! Ben was maybe a little embarrassed but he is so good, I cant always keep up!
It was also super special to see everything come together, you cant really picture it all together until the day and it all fitted together really well. We did the official bit the day before at the registry office in Ringwood, and hired a celebrant for the ceremony on the day. She made it so personal and individual that there wasn't a dry eye around it was beautiful. My maid of honour and best friend read a poem which she'd personalized for us it was so true to our life, it was really special.
Biggest surprise
I was really worried that I was going to cry my way through the service from start to finish! But as soon as I saw Ben I couldn't stop smiling, my face started to hurt by the end of the day!
It was so nice that to see everyone get on so well, there is always family politics, but these got put to one side to celebrate with us. It meant so much.
Advice for other couples
Go with your instinct, and if you think something isn't right it probably isn't – keep searching for what you want and it will be out there. Ensure there are lots of touches to bring everything together this will make your day individual and personal. You don't want to feel that you were too stressed or worried about everyone else to enjoy it, everyone loves a wedding, don't worry about people enjoying it – they will! Finally, don't hire/buy something from someone if you don't like them, you spend so much money on things for a wedding, you don't want begrudge a single penny!
 Supplier Shout Outs
Fore more information on Mia's work go to:
http://mia-photography.com
www.mia-photography.com/blog
FACEBOOK
@Mia_Photo