Today's  DIY Tutorial comes from Rachel Thompson who showed us how to make these cute Guest books and as well as these Fabric Hearts. Today Rachel is showing us how to make these cute Vegetable Stamps to use in conjunction with your own stationery design. They are quick and simple to do perfect for someone with limited crafting experience!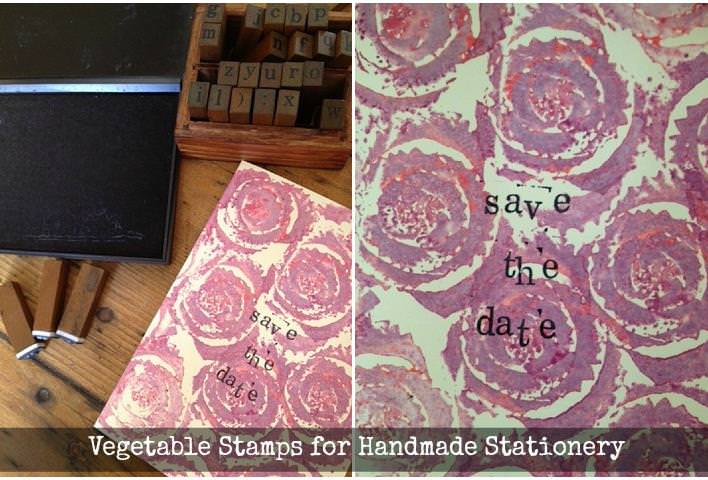 You may associate making fruit and vegetable stamps with your school days, but it's nevertheless a very cost-effective and fun way of producing individual printing stamps that have a rustic and natural feel. It's a more delicate craft than carving squares and circles into potatoes but is simple enough for anyone to try, even if you don't consider yourself 'arty'.
You can use a whole range of fruit vegetables and even objects (pencil rubbers for polka dots etc) for this but this tutorial focuses on using celery.
It's possible to use acrylic paint for the printing, but ink-pads create a more tidy finish as paint can be a bit thick and make the lines blurred.
STEP 1) Begin with cutting your celery near the bottom of the bunch so you end up with a rose-like shape. Leave the celery rose to dry for a few minutes as you don't want excess moisture leaking onto your paper.
STEP 2) Take your coloured or black ink-pad, according to your preferred colour scheme and press the celery stamp firmly down. Hold it there for a couple for seconds so it absorbs the ink well.
Try out the stamp first on your scrap paper to check the ink has distributed across the whole stamp!
Once happy, take your paper or card and press the stamp firmly into place, holding it there for a couple of seconds. Repeat this process and much or as little as you like to achieve a lovely rose pattern!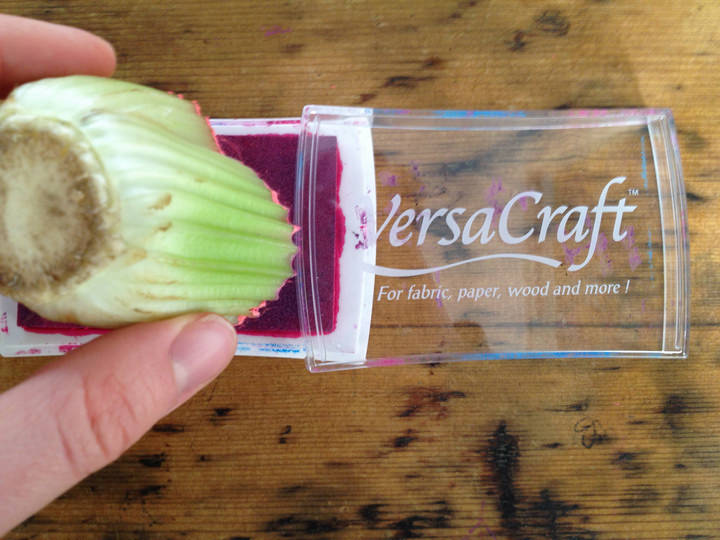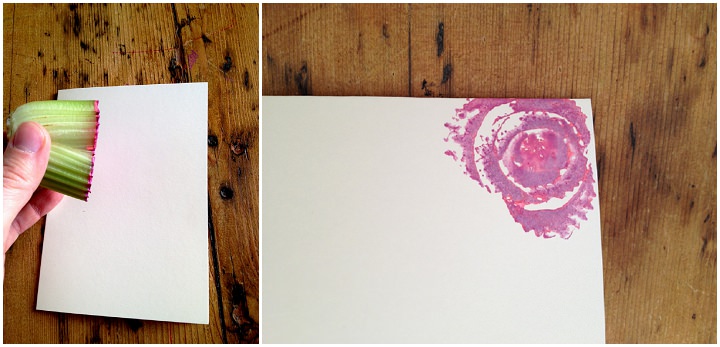 STEP 3) Leave the card to dry for at least 15 minutes before decorating it with your text. A set of old fashioned typewriter letter stamps work very well over the top of a vintage rose pattern.
You may like to mix up your designs using different colours, patterns and card. If you are having a rustic style wedding, then a lovely manilla/recycled card works well here.
Be sure to look out for my more advanced Christmas tutorial coming in December on how to make intricate stamps using lino carving and erasers.
Fore more information on Rachel's work go to
www.rachelthompsondesign.co.uk
www.facebook.com/RachelThompsonDesign
https://www.etsy.com/uk/shop/RachelTDesign
[email protected]
Rachel is a Cambridge based illustrator and designer, creating unique and bespoke illustrations of wedding venues and cherished houses. Working with you to maintain a truly personalised feel, Rachel's illustrations are available as framed originals for a wedding gift, or custom rubber stamps for your own DIY stationery. Rachel can also work with you to design and print all your wedding stationery, including menu cards, guest books and orders of service and featuring an illustration of your chosen venue, making a lasting memory of your special day.