I have a stunning wedding for you today,  set in one of the most amazing wedding venues we have up here in Yorkshire. The Bivouac is a unique woodland venue where you can eat, stay, get married or explore. With amazing views of the Yorkshire countryside the Bivouac was the perfect location for Hanna and Gareth to show off the English Countryside to their international guests. Complete with Tipis to add to the outdoor, rustic feel of the day, this wedding is brimming with DIY details and personal touches, including  the wedding dress which was made by Hanna's mum and 1000 origami swans made by Hanna. Big thanks to Lissa Alexandra for the images.
 

'Unforgettable. Everything about our wedding was about sharing and making. The whole day and evening were packed with love, joy and laughs.'
Hanna & Gareth were married on Saturday 11th May at the Bivouac, Masham. 'It was supposed to be a woodland ceremony, which we really really wanted. We found the Bivouac, a magical spot in our beloved Yorkshire. I am from Zimbabwe – it would have been great to do it there, but expensive for our guests. Many came from there, so we wanted to show them Yorkshire and the best it has to offer. We had to move the ceremony last minute from right in the woods, as a huge downpour was forecast just before our ceremony. It came! We still had it outdoors but nearer shelter; our Papakata tipi! The sun came out just when it needed to – and stayed all day. The Sun God likes weddings, obviously! We had 120 guests and it took about a year to plan.'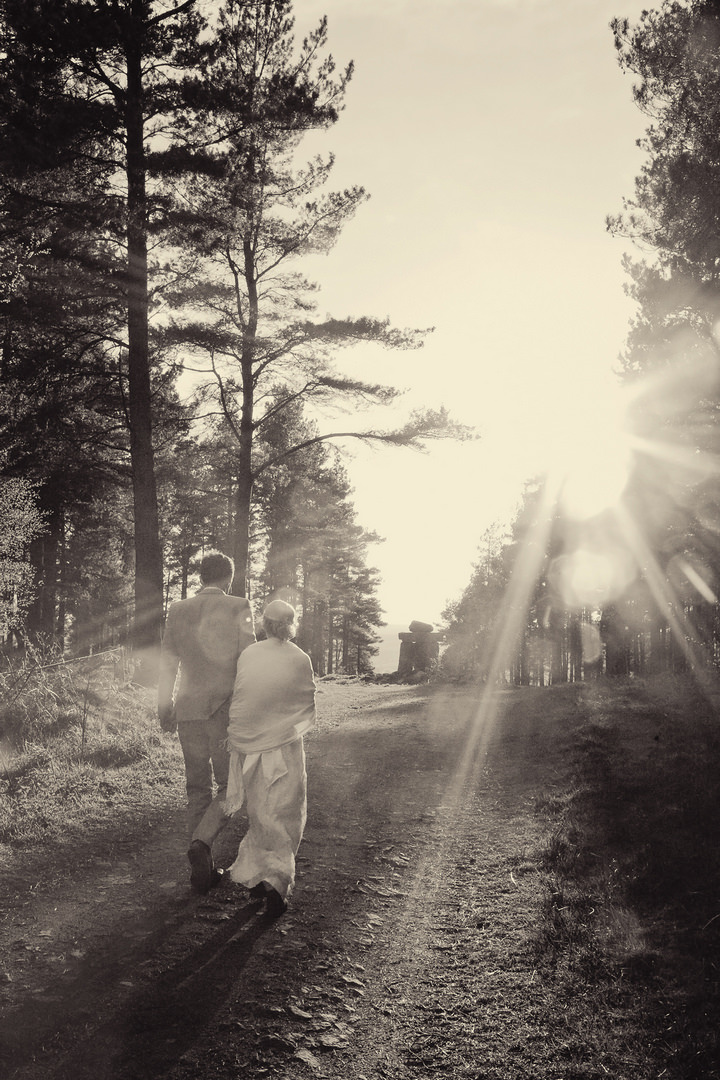 How they met
We met through a mutual friend and had been together for 7 years when we got married.
The proposal
We were at the mighty Victoria Falls (known locally as 'Mosi Oa Tunya' – 'the smoke that thunders'). I grew up in Zimbabwe, and took him home to see my beautiful country. We had to go and see Vic Falls, it is one of the 7 wonders of the world. We went in a particularly rainy season, so the volume of water coming over the Falls was so huge that the spray created a really dense 'uprain'. As we walked along, getting wetter and wetter, my love was looking very shifty – he was apparently waiting for a dry sunny moment (you know, where the rainbow comes out and angels start singing!). When we ran out of walking space, he knelt down in a puddle, and asked me to marry him. I was so excited I leapt up and down in excitement, and forgot to say yes! So he asked again….it was amazing. We then had an evening together, and an 8 hour drive back to civilisation before we could tell anyone.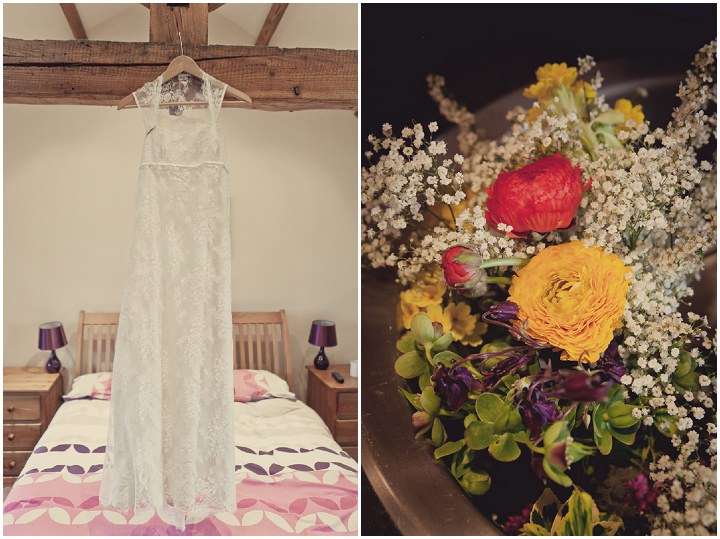 How did you allocate your budget?
Most of our budget went on venue and tipi hire and food and drink. We really wanted to treat the people we love – and for them to have a mini break in a beautiful place, and not have to buy any of their own drink!
How did you choose your photographer?
Lissa was the first provider we commissioned. A friend found her postcard in York and sent it to us as she thought it was just our style – it was! We loved it. I gave Lissa a ring and we hit it off straight away. We loved her laid back, creative approach and knew instantly she'd fit in well with our wedding and guests. She did…
The dress
My super-mum made my dress! We had such a great time designing and making it together. I wore some lovely green Topshop shoes I already had, underwear I already had, and some baby's breath flowers in my hair. I am a low maintenance woman!
I did wear a brooch from each of my grannies. One in my veil, and one on my belt tie. They were special. Neither of them could be with us, so it was a way of feeling they were with me.
The suit and bridesmaids
Gareth got it from The Kooples outlet store in York. It was a Light brown/ beige, 3 piece and beautifully cut. He looked so dapper. For the bridesmaids we went for mix and match. My girls are based at different ends of the world, and all have their own style which I wanted to let them have on the day. So I gave them a colour palette of earthy/ foresty greens, and some money, and let them choose their own. Some bought them and some had them made. They looked amazing.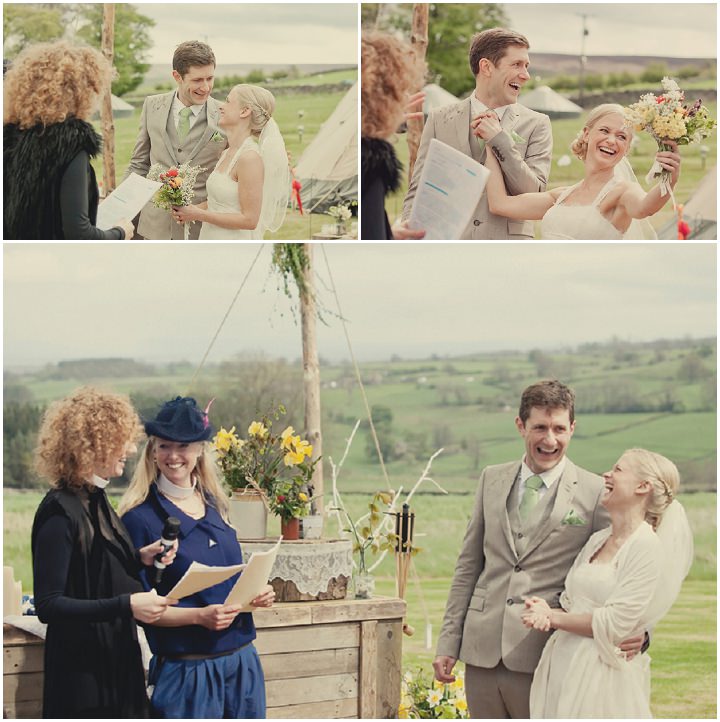 Theme or colour scheme
We didn't really have a theme. I guess if there was one, we were inspired by the great outdoors, so leafy, earthy and outdoorsy!
Decoration
I made 1000 origami swans. We aren't Japanese. We just like lovely things. And thought 1,000 years of happiness would be quite nice…besides, I LOVE origami. I also made all the table names, place names, and table runners (all of these were with the help of very crafty friends. I held a few 'crafternoons', and bullied my girls into folding paper in exchange for tea and cake.
Flowers
A wonderful woman called Jane Corbett who has her own walled garden and grows her own wildflowers. She gave us an amazing deal,and I was a bit worried as the Spring was so late, and dire, but they were absolutely beautiful and better than I had imagined
Food
Food was provided by Casa Mia, Leeds – Francesco and his team offered a superb service….5*, and definitely recommended! Canapes and cocktails after the ceremony, Sharing platter, best Yorkshire beef slow roasted, Vegetable Wellington and then a selection of sweets / cakes lovingly made by friends and family – this was such a nice way for the people we love to contribute, as their gift to us. They made amazing efforts!
The Cake
Cheesecake! From the cheeseshed. We had a great evening with friends before the wedding sampling and rating cheese and wines to choose them. Worth it, sooo delicious, all of them.
Entertainment
An amazing band, put together by my sister's friend Dan and his fiancé Jo. They were incredible and the dance floor was packed from start to finish. Afterwards we had a silent Disco, it was the only solution to the 11pm curfew. And I was dead against it but had to go with it. Oh my, it was incredible!
Buy or your DIY Stationery?
Yes, I made it. The invitation was my favourite. My wonderful friend Hannah drew us some trees – a baobab and an oak (the 2 majestic trees from our respective home countries) which we used. She gave us the originals as a wedding present – amazing. Another friend (Tanya at www.drawingdan.com) drew a cartoon of us at Silent Disco, which we are using as our thank you cards.
Personal or handmade touches
Most of the wedding was DIY
Special moments
Arriving at the ceremony in an absolute hail storm. 2minutes after I got out the car, and as I turned the corner to see the man I love and all our guests, the sun came out of the clouds – and it stayed there all afternoon. Being sewn into my dress by my mother, and ripped out by my husband.
Biggest surprise
I couldn't believe it, but I WEEP at every wedding I've been to, but hardly cried at my own! A mixture of adrenaline and pure joy and feeling at home. Looking around at a tipi full of the people we love dancing their socks off was pretty special, not sure we'll feel like that ever again.
Advice for other couples
Don't sweat the small stuff and if some things go wrong, which they will, laugh about it. We forgot to put all the soft drinks out, and they were still filling up our car the next day. So there was plenty of wine, elderflower fizz, and beer, but I don't know what the kids or drivers were drinking, everyone was great about it.
Supplier Shout Outs
For more information on Lissa's work to go:
www.lissaalexandraphotography.com
www.lissaalexandraphotography.com/news
@LissaAlexandra
FACEBOOK
Due to an email issue if you have emailed me between the 2nd & 9th of December, please resend it.
X