Happy Friday everyone! I do hope you have had a good week? Do you have anything fun planned for the weekend? Maybe a wedding? This weekend is a weekend of getting stuff done in our house. We didn't get to order our sofa last weekend, so we are off to do it on Saturday instead. Plus a number of other 'jobs' that just need to happen! Hopefully along the way we will get to enjoy the sunshine. I am out at a farm today with Dexter and one of his pals, then we are off to a school disco this evening! Honestly his social life is 100% better than mine is. Before all that happens though we are back in North Yorkshire, this time at the Crab & Lobster for the country chic wedding of Ben and Chris. The lovely couple wanted a chic gentlemens wedding set in the countryside but put their own spin on it by adding in taxidermy, a drag act, flying owls and lots of champagne! All captured perfectly by Lissa Alexandra Photography.
A Gentlemen's wedding with a whiff of countryside living, a stuffing of taxidermy, a dollop of drag, a bubble of champers and a tickle of feathers.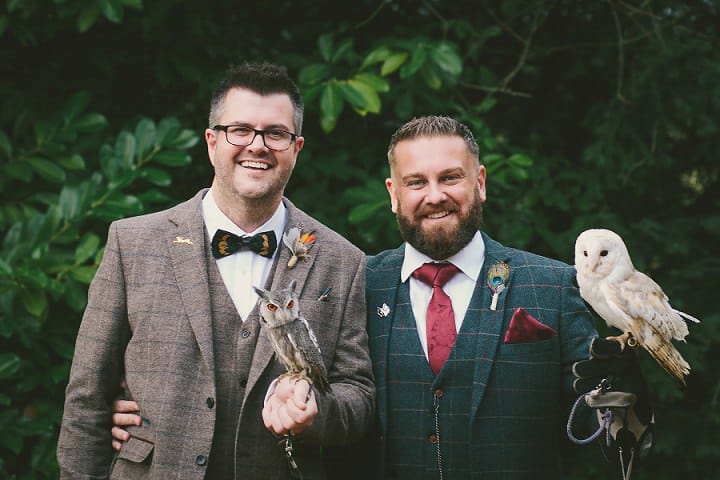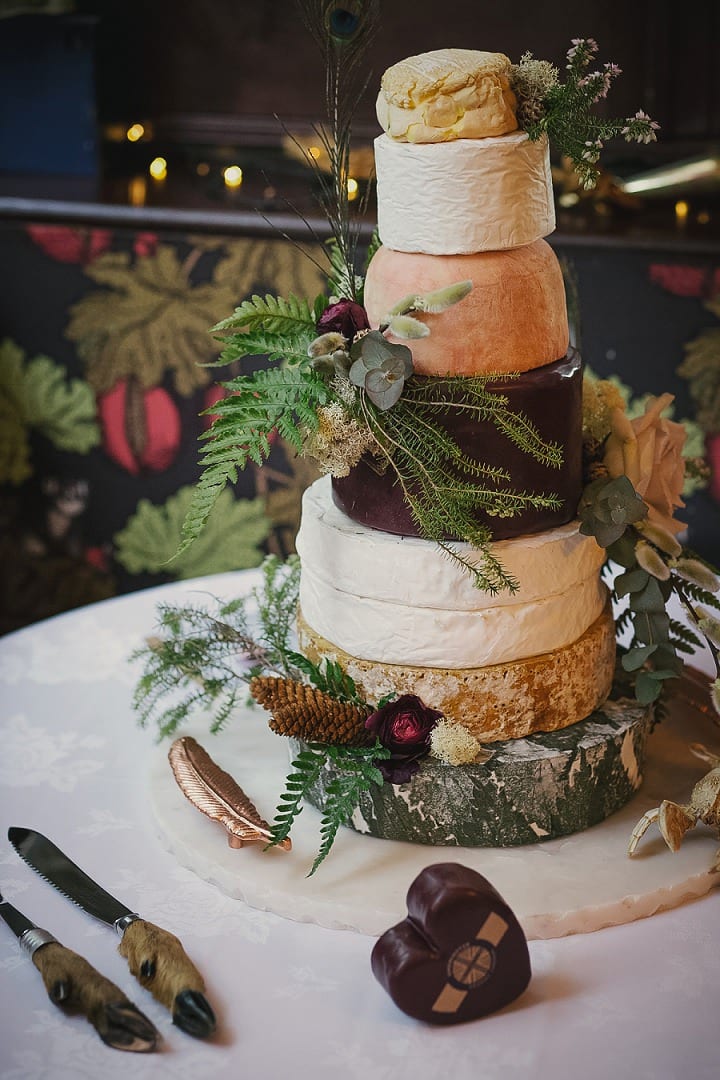 Benjamin and Christopher were married on 4th February 2018 at the Crab & Lobster in North Yorkshire. 'We wanted somewhere quirky and fun that reflecting our personality and style…the Crab & Lobster ticked all the boxes for us. We had 32 guest to the day and an additional 30 to the night do. it took 2 years to plan.
How they met
We actually met on a seedy dating website (cringe) and the rest is history!!! We have been together for 9 years now.
The proposal
Our special place is Barbados – November 2015 was our 4th time holidaying there together so it made sense to make the proposal somewhere that was memorable and special for us both. The proposal was in the warm Caribbean sea at dusk surrounded by fireflies after a few rum punches…a moment we will never forget!
How did you allocate your budget?
Budgets hardly ever stick to plan especially when planning 2yrs in advance – after all this is supposed to be a once in a lifetime event right?! After the 'house party' venue hire, wedding breakfast, evening buffet, drinks, entertainment and the all important rings the majority of our budget was allocated to our amazing 2 ½ weeks honeymoon in South Africa.
Where did you splurge and where did you save?
Splurge was without doubt the honeymoon. The venue hire was fairly reasonable and that's why we opted for a 'winter wedding package' which included a lot of value for money and extras. Outfits were reasonable and fantastic quality to buy as 3 piece suits so we made savings there. The budget for entertainment kept extending as we wanted lots of special touches and surprises.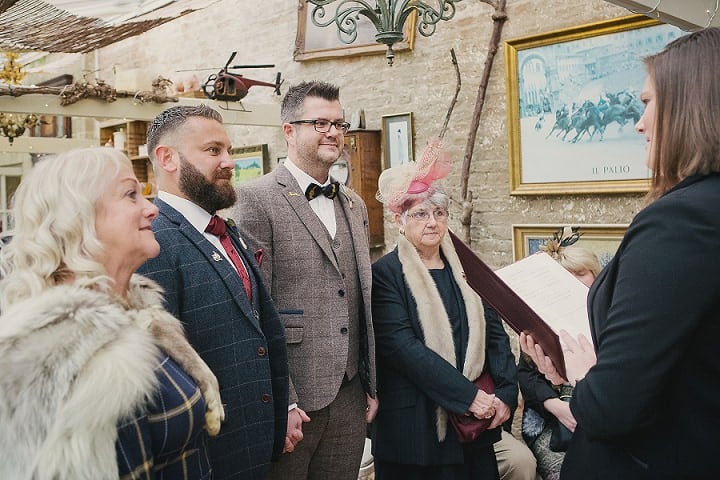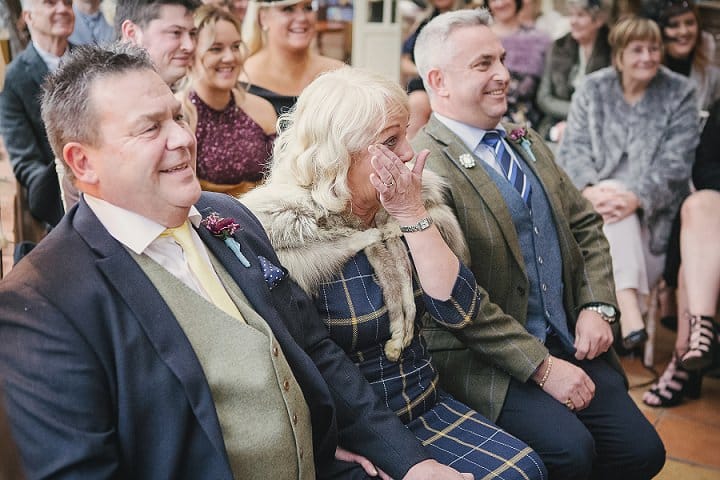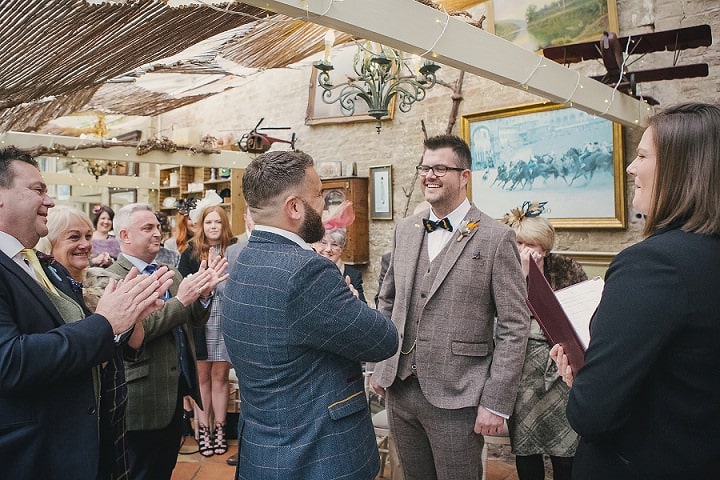 How did you choose your photographer?
Lissa of Lissa Alexandra Photography has been a dear friend for years and her creative eye and attention to detail is second to none, there was only one person to do the job as far as we were concerned – it had to be her!
The Suits
Master Debonair. They have an online shop but made the journey up to their shop near Newcastle to try on the suits and see the full range in person. The sales assistants are very attentive and the style/ fit was exactly what we were looking for. We couldn't recommend them enough. Their accessories are fab also.
Bridesmaids or groomsmen?
No bridesmaids – we had one best man for the 2 of us, our dear long term friend Craig.
Theme or colour scheme
Our theme for the wedding was 'Country chic – with a taxidermy twist'. This theme/dress code applied to day and evening guests.
Flowers
We didn't want traditional wedding flower displays as we wanted to veer away from the 'norm'. Domed taxidermy/curio's was always going to be table centre pieces for the wedding breakfast but this was later enhanced by the addition of fresh foliage, mosses, and the odd rose/ flower.
Decoration 
The quirkiness of the venue and all the focal points provided all the decoration we required. The domed taxidermy/ curio's just added to the overall completed look and succulent flower pots were left as gifts for guests on the place settings as thankyou's which added a little more greenery.
Food
As our wedding was on a Sunday we opted for a roast beef dinner…afterall who doesn't love a Sunday roast in the winter hey?! Starter was prawn cocktail with retro triangle toast and dessert was a 'winter berry' mess.
Wedding cake
Our wedding cake was a fabulous cake of cheese which doubled up as a great evening buffet after all the drinking and dancing.
Entertainment
A string trio to play the music through the ceremony and drinks/ canape reception. A barn owl ring bearer to deliver the rings, plus a little owl for guests to have their photos with after the ceremony. On the evening we had a jukebox with an eclectic choice of music and a surprise comedy drag act. Entertainment was always top of the priority list for us as we wanted guests to have lots of talk about and didn't want any lulls between the day and evening do.
Who supplied the stationery?
Our 'save the date' cards were constructed with a customised 'crab and lobster' ink stamp and simple cards (supplied by English stamp company). Our day invites were 'message in a bottle' invites created and supplied by Rodo Creative (not on the highstreet) and our evening guest invites were created and supplied by Beautiful day again not on the hightstreet.
Did you have any personal touches?
Where to begin! Lots of quirky personal touches and as we didn't have a wedding planner everything was organised and put together by the groom Ben. 'Let love grow' tags with the wedding date and occasion were added to the wedding favour succulent pots along with individual charms relevant to the guest. Conversation 'icebreaker' test tubes were left on the tables to get the conversations flowing on being seated. We opted for a chalk globe to sign rather than a guestbook – we love to travel and a lot of friends work in the travel industry so that idea worked hand in hand. The dome displays were brought over the 2 year period and everything inside was individually sourced mainly via Etsy and antique shops and stockpiled until they were assembled by the florist. Gold magnetic miniture animals were ordered as place setting name holders to tie in with the theme. Antique french deer leg (real) cutlery was brought to cut and serve the wedding cake. Our beloved cat Tilly (daughter) couldn't make it to the day (she doesn't like strangers) so a photo of her was blown up on a massive canvas and put up on an easle at the bottom of the aisle/ ceremony room so she could be watching over the big day!
Special moments
Seeing the guests faces when the owl ring bearer flew down the aisle with the rings…no one expected it. Likewise the evening drag act was a real talking point and a great surprise/ shock which really heightened the evening do atmosphere. A very special memory for us both was having our mums walk us down the aisle.
Advice for other couples
Plan ahead, attention to detail will not go a miss, no matter how minor the detail – the satisfaction from seeing all the reactions from guests faces is priceless on the day. I know it's cliché but you need to make this day yours – we upset family by not inviting people we didn't want there and we can honestly say we have no regrets…the day couldn't have gone any better and we had the best wedding day we could have ever imagined.
Biggest surprise
The fact that everyone has such an amazing day, there was not a single argument or awkward moment and everything felt natural and neither of us cried or felt nervous! So our biggest surprise was really the overall success of the whole day from start to finish.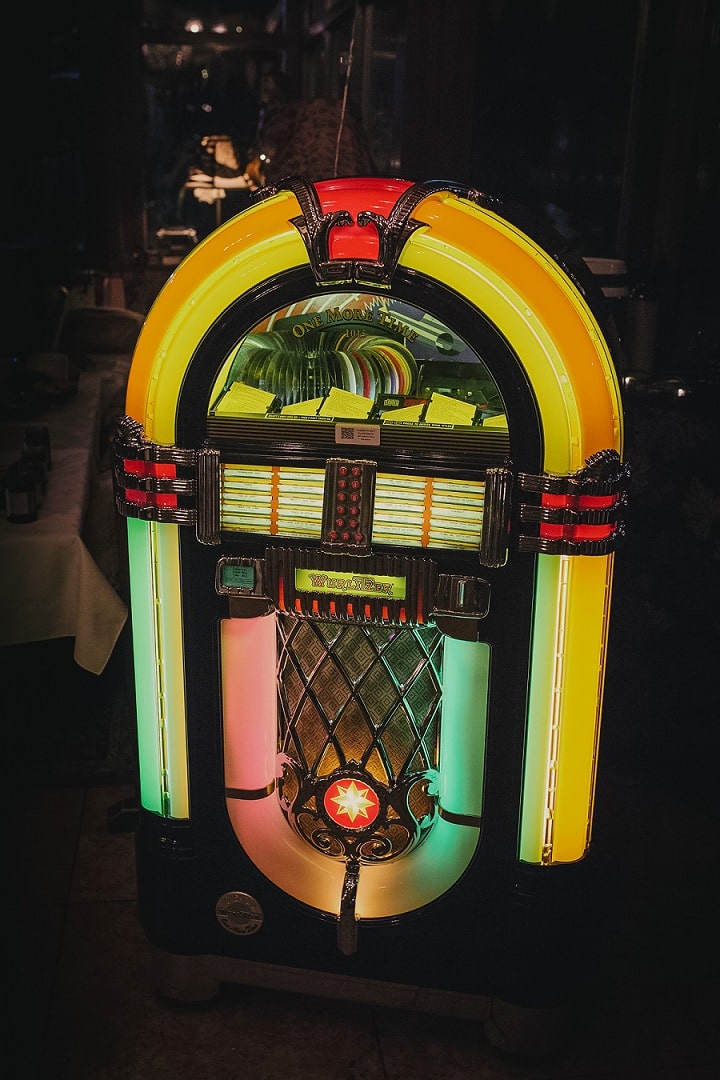 Supplier Shout Outs
FOR MORE INFORMATION ON LISSA'S WORK TO GO:
www.lissaalexandraphotography.com /  www.lissaalexandraphotography.com/news / TWITTER  / FACEBOOK