I absolutely LOVE todays wedding, it really is everything that I feel a Boho wedding should be! A handfasting ceremony set in the most idyllic outdoor setting and a beautiful yorkshire woodland to make it even more special. Topped off with amazing yurts for the reception and the most gorgeous decorations. As for the bridal party what an amazing collection of dresses, suits and flower crowns. Absolutely perfect! Big thanks to Pen and Cam from McKinley Rodgers Photography for these amazing photos of such a wonderful day and a massive congratulations to Vanessa and Robert for creating a wedding that I wish was my own!
'Midsummer's dream woodland wedding in the heart of the Yorkshire Dales – a weekend of celebration for the whole family including a rustic picnic wedding breakfast and fairy hunt for the children.'
Vanessa and Robert were married on 21st June 2014 (summer solstice) at The Bivouac, Near Masham, Yorkshire. 'We met each other whilst working in Leeds and so although neither of us or our families are from Yorkshire, we have many happy memories of starting life as a couple there and we couldn't think of anywhere more beautiful than the Yorkshire Dales as a setting. The Bivouac is set high on a hill overlooking rolling countryside, with a stone circle nestled in nearby woodland. It was the first venue we visited and we knew instantly that it was right for us. The owners had our hearts when they spoke to how they'd created the Bivouac from an old farmhouse and lived in a tent with their children whilst they renovated it. It also worked out well for our guests because we wanted to spread the celebrations over a weekend and there was plenty of accommodation onsite including woodland shacks and yurts, as well as in nearby campsites and hotels. Guest wise we had 120 adults and 45 children. It took about 18 months to plan and I couldn't have done it without the help of friends, family and our wedding planner, Helen.'
How they met
A mutual friend introduced us when we were working in the same office in Leeds. In an effort to woo Rob, I invited him to a charity fundraiser that I'd organised with my maid of honour. That was over 6 years ago now and since then we've moved to Australia and have a two year old called Laurence. We wanted to wait until Laurence was old enough to be part of the wedding celebrations and so it ended up being a long engagement.
The Proposal
We'd visited a spa hotel overnight for my birthday. It had been snowing, I think, or was very frosty outside and Rob asked me to go for a walk around the lake, where unbeknownst to me, he wanted to propose. I told him that I'd rather stay inside and keep nice and warm, so he proposed to me in the bedroom, whilst I was still in my dressing gown. He gave me an antique ring that had been in his family for generations.
How did you allocate your budget
There was no space at our venue to hold a wedding reception for the number of guests that we had and so we needed to find something suitable that could be brought in especially. Whilst we liked the look of tipis, as we needed several of them to accommodate all our guests, they would have ended up too expensive. Yurts seemed like a great alternative and although cheaper, they still absorbed the bulk of our budget. We ended up with one of the UK's only two (that I could find) 60ft yurts and we joined two smaller yurts to the main one to create a bar and chill-out area and we had a separate yurt nearby for the children's crèche.
We also spent extra to make sure that the children felt really included in the day and worked closely with a company that specialised in event childcare (Perfectly Practical Parties) to ensure there was plenty for them to do.
How did you choose your photographer
We were already in Australia when it came time to pick a photographer and we came across McKinley Rodgers following a lot of online research, including looking at wedding blogs such as Boho Weddings. We Skyped Pen and Cam from the other side of the world and they were lovely, approachable and easy to chat to, and of course their photography is stunning. They were fabulous on the day and great fun to be around, putting us at ease and mixing naturally with the guests.
The Dress
My dress was by British designer Stephanie Allin and the shoes were Jimmy Choo. My earrings were a present from my Maid of Honour- simple antique diamond studs.
The Suit and Bridesmaids
As the wedding was fairly informal, Rob didn't wear a suit. He chose a smart navy blazer and stone-coloured chinos. All the groomsmen and ushers wore the same, as did our son and our nephew, who were the page boys.
The bridesmaids wore dresses from Free People and floral crowns that my sister-in-law picked up from Camden Market.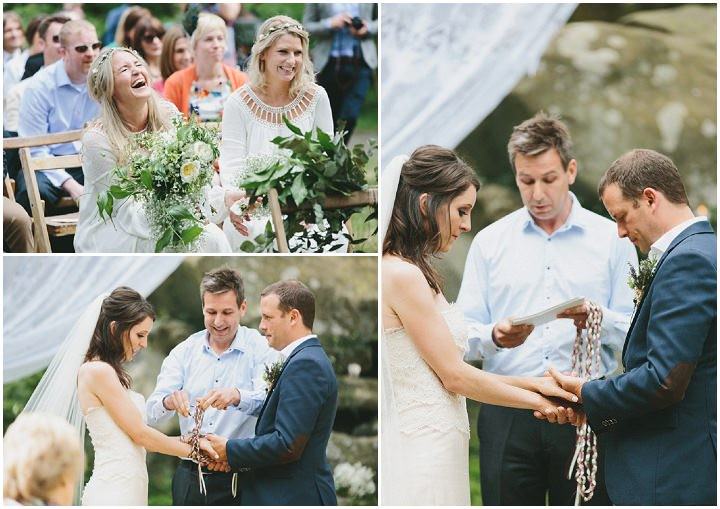 Theme or Colour Scheme
We wanted everything to be simple and natural to mirror the venue we'd chosen.
Flowers
The flowers were a mix of what was available from the Bivouac grounds as well as some of our favourites such as gypsophilia, blousy white roses and herbs
Decoration
Shepherd crooks held jam jars with fresh flowers along walkways and we decorated the ceremony area in the woodland with leafy foliage and romantic white lace curtains.
Food
We wanted to give our guests plenty of choice and arranged a picnic-style wedding breakfast that was served at each table. Options included salmon, free range chicken Caesar salad and for dessert there was a choice of apple crumble and custard or meringues with berry compote (or both!). The children got a little picnic box of their own so they felt special.
Wedding Cake
My lovely friend Vicky made the cake. We worked on the design together using a blush ombre for the frosting and then edible flowers scattered on top. The cake board was made by a family member.
Entertainment
Our band Riser, were brilliant and the dance floor was full all night. For the children we created a creche in a smaller yurt near to the reception yurts. There was a fairy hunt to amuse the children whilst the speeches took place, followed by screening of a film in the evening.
Buy or DIY your Stationery
My sister created all the stationary for us and so everything matched and felt very rustic.
Personal or Handmade Touches
-Our good friend and head teacher, acted as the celebrant for the ceremony. We wrote the ceremony ourselves, including a native American Indian blessing.
-We created a recipe book from recipes submitted by all of the guests. We used Blurb and guests could download a PDF of the book after the day.
-For favours we used reusable wooden French baking boxes and included marshmallows that could be toasted on the campfires that were dotted around.
Special Moments
There were two moments – I remember saying our vows and the sun coming out from behind a cloud and beating down on all of us. Speaking to guests after, everyone felt that warming moment and there was something a little magical about it. The second was the final song of the evening that I had requested from the band. Nearly everyone was on the dance floor jumping up and down and I remember being really happy in that moment.
Advice to other couples
We used an app called Capsule Cam and flagged this to our guests in their wedding invites. Everyone uploaded their pictures from the day and we ended up with over 1000. It was amazing seeing everything from different people's different perspectives and lovely to have this whilst we waited for the professional photos. www.trycapsule.com.
We also used Wedding Window to create our wedding website. This was great to keep people updated on the details of the event and it had an email account associated with it that we could communicate to guests through. www.weddingwindow.com
Biggest surprise
The generator cut out during the speeches but I had absolutely no idea until they'd finished and Helen, our planner, pulled me to one side and told me, pointing out that there were no lights on in the yurt! The team at the Bivouac were amazing at getting a backup organised ASAP. We also got stuck behind a tractor on the way from our cottage to the venue. We were already running late!
Supplier Shout Outs
For more information on McKinley Rodger's work please go to:
www.mckinley-rodgers.com
www.mckinley-rodgers.co.uk
[email protected]
FACEBOOK
@mckinleyrodgers
07909 851428