Yay it's Friday! Have you got that Friday feeling? I certainly have! I'm not quite sure where the week has gone, it has sped past! I am off to see the Arctic Monkeys tomorrow night so I'm really looking forward to a weekend meeting up with friends and letting my hair down! What have you got planned? Before we all run off into the Friday sunset I have this cute wedding which actually took place at the grooms parents house. With a guest list of 30 for the day, the parents were able to open up their home for the wedding which led to an intimate and very personal celebration for the bride and groom! Thanks to Tony from Photographer 34 for the photos.
'The wedding was such a personal occasion for both of us, with only those closest to us there. It was an intimate setting for both sides of our family and friends to get to know each other.'
Nicola and Gregory were married on 6th April at Greg's family home in Harrogate. 'We wanted a really personal wedding and given the beautiful scenery that Greg's home is set in it was perfect. It also meant we had full control to do everything as we wanted. We had 30 guests in the day and 50 in the evening.We started properly planning from February 2013, so about 3 months. As it was a small wedding there was not too much to organise so it all came together in the last few months. Greg's mum Margaret helped a lot especially organising the catering and setting the house up the day – we are very grateful to her!'
How they met
We met in a bar in Leeds, whilst listening to a live band. We were together for 9 months when Greg proposed and had been together for just under 2 years when we tied the knot.
The proposal
Greg proposed in a hotel the night before we set off for a holiday in Vancouver. Such an exciting way to begin a holiday, Vancouver was the perfect place to celebrate!
How did you allocate your budget?
We wanted to keep things simple but to a high quality. Food was particularly important for us and our guests to enjoy so that was a large proportion of the budget.
Why did you choose your photographer?
A colleague of mine recommended Tony. We looked on his Facebook page and really liked Tony's photography style – capturing natural shots rather than posed pictures. We made the right decision as Tony captured exactly what we wanted without us hardly noticing him taking photos on the day. He is clearly a very talented wedding photographer. We adore the photos and slideshow Tony put together for us and we will always treasure them.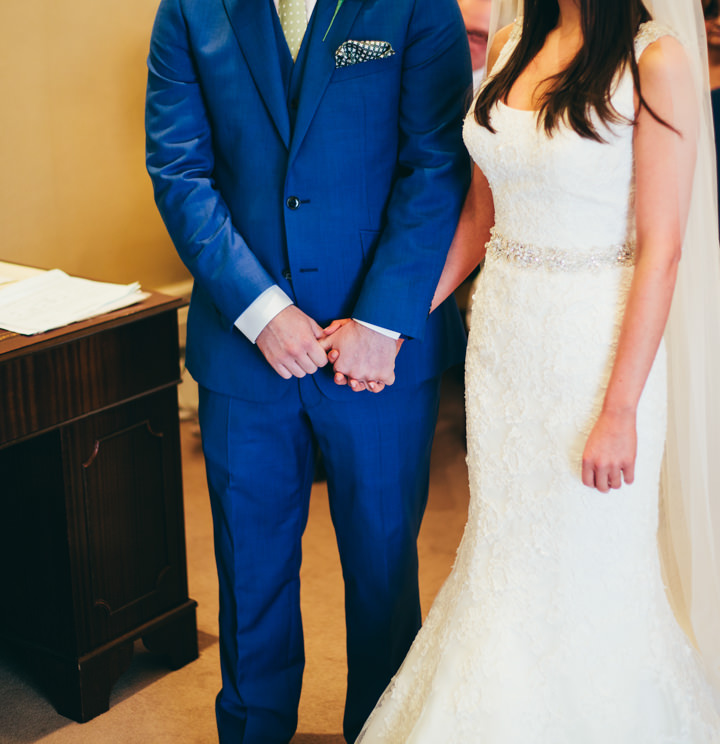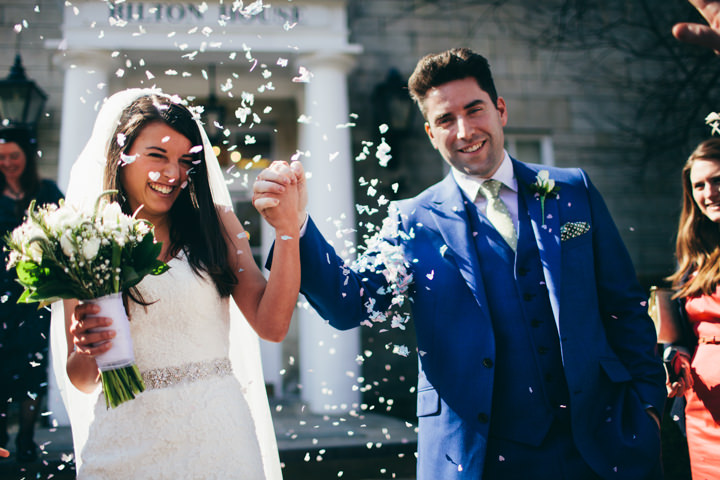 The dress
The dress was from Boutique Bride in Headingley Leeds, Zoe the owner of the store was amazing and helped me find this beautiful dress. The dress was Victoria Jane in Ivy. My veil was Rainbow Club Intrigue. The shoes were also Rainbow club in ivory.
The suit and bridesmaids.
I had my two sisters and my sister-in-law as bridesmaids. My niece, Isobel was a flower girl. The bridesmaids wore midnight blue dresses from a high street store. Greg's suit was from Reiss.
Theme or colour scheme
We didn't have a colour theme for the wedding. We just tried to achieve a simple and elegant look.
Flowers
Our flowers were from Helen James Flowers, Harrogate. I had a hand tied bouquet of narcissi, lilac, gypsophilia and phlox and the bridesmaids had the same but smaller bouquets. The flower girl had a small pomander of gypsophilia. The table flowers matched the bouquets – typical spring flower.
Decoration
We had a candelabra on the head table and flowers on each of the table.
Food
Our caterers Dusty Miller provided the most delicious food – we had avocado and prawns for starters followed by steak and sticky toffee pudding. Mouth watering food!
Wedding cake
My mum (Nicola's mum) made the cake and she did an amazing job! She loves making cakes and it was so special for us to have a cake made by her for the wedding. My sisters kindly and skilfully transported the cake all the way from Kent to Harrogate!
Entertainment
We had a live violinist during the wedding breakfast. For the evening we played music from our ipod and had a room lit with fairy lights.
Buy or DIY your Stationery?
Both, the invitations were handmade by Greg. He skilfully drew a picture of the two of us – again really personal touch. For place cards we bought cards from a stationary store and hand wrote the names.
Special moments
Seeing Greg at the registry office is a moment I will never forget. He was so handsome! I was shaking with nerves and he took my hands and instantly put me at ease. It was so incredible to be at the exact moment of getting married.
Advice for other couples
Mostly, just enjoy the planning and the actual day. Both should be enjoyable rather than stressful. We kept ours small as we wanted it to be stress free and fun to plan. Also its your day, no one else's so you have to do it the exact way you want to.
Biggest surprise of the day?
The weather! The week before we had snow, and the wedding day was beautiful blue skies and sun. We could not have asked for more!
Supplier Shout Outs
Dress – Boutique Bride: www.boutiquebrideleeds.co.uk Really personal service – Zoe was so welcoming , supportive and flexible throughout the process of sampling dresses, making the decision, alterations and having the dress ready in perfect condition on the day.
Flowers – Helen James Flowers: www.helenjamesflowers.co.uk   They provided a very professional and efficient service – we only organised the flowers a couple of weeks before the wedding and they listened to what we wanted and delivered the most beautiful flowers.
Catering – Dusty Millers: www.dustymillercaterers.co.uk  Elizabeth and Brian were fantastic. They really listened to what we wanted and made the day extra special.
For more information on Tony's work go to
http://photography34.co.uk
http://photography34.co.uk/blog
FACEBOOK
@PhotoThirtyFour
Due to an email issue if you have emailed me between the 2nd & 9th of December, please resend it.
X