I have a gorgeous styled shoot to share with you this afternoon which has been sent into me by the lovely Claire at Claire Salter Make up and Hair. Titled 'The last Days of Summer' it's full of amazing low sunlight, ethereal styling and beautiful photography. However the thing that swung it for me was the two Afghan hounds, aren't they just stunning! My mum uses to breed Afghan hounds when I was little, so I grew up around these dogs and I just think they are amazingly beautiful animals, so elegant and regal looking! Big Thanks also to Alisa McLaggan for the wonderful styling and to Sarah Jones for the beautiful images.
Alisa McLaggan the stylist tells us more about the process of the shoot………..
The name came about as the shoot had been conceived some time ago but due to everyone's working schedules, we didn't shoot it till much later-we shot on the 28th August so it literally felt like the very last days of Summer! It was a shoot that was very dependent on the weather as we wanted it to look Summery and light so we were very lucky in the end-the dappled sunshine through the trees and the hazy light as the sun went down was just what we were after.
The idea behind the shoot was to create these two beautiful fashion creatures and a whimsical dwelling using furniture, beds and tables for them in the meadows. we wanted soft, dreamy palettes and silhouettes but brought an edge to the look by adding curiosities such as skulls, wishbones, cut glass, binoculars, antlers. We almost wanted to create the idea that our fashion creatures were surviving by hunting and gathering objects of beauty from around their habitat. I tore pages from old nature books and chose lines from classic pastoral poets to nail to the trees and used large sprays of Fennel as floral decoration, again to reinforce the hunter/gatherer idea but also to suggest a sense of romanticism and creativity.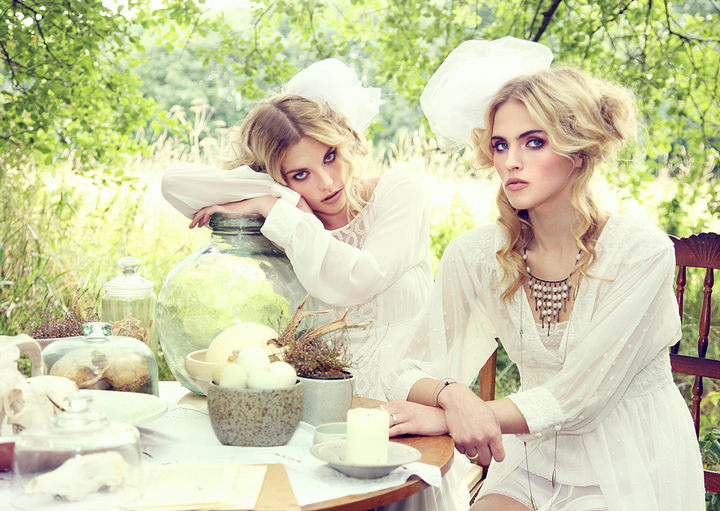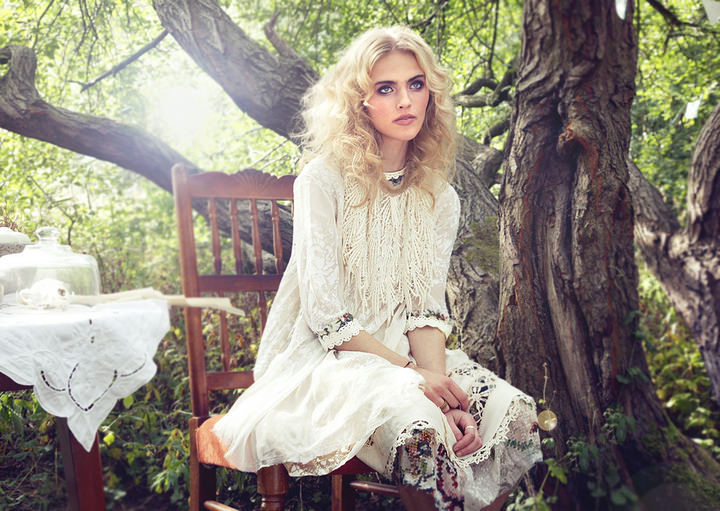 The styling reflected some of Spring/Summer's trends such as Laduree colours, broderie, pretty lacework and fringing which kept the shoot looking current and accessible, and by using a pair of models with similar features, we added a high fashion element edge to it – I've always been captivated by the Chloe and Mulberry campaigns where girls are running somewhere, often with quite a fierce expression, the running shots from our story are my favourite! I mixed some high street fashion with some designer pieces, such as Amy Jackson's collection which tied in beautifully with our scheme, and Joanne Pearce the jewellery designer made us some amazing accessories as well as loaning some of her own pieces. I also hired some more theatrical pieces from Royal Exchange Costume hire and in the last scene, we used a pair of £5 sale dresses from a Vintage boutique-I love the simplicity of the dresses paired with the girls' look of intimacy in that shot. So in many ways, the styling was also a process of hunting and gathering from many different sources!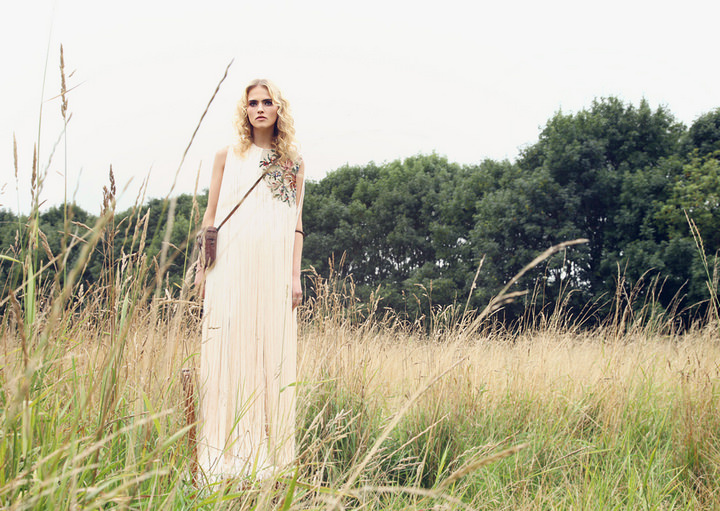 Photographer Sarah Jones says……
I approached this shoot with an open mind, I didn't want the shots too luck too other worldly, it's tricky being creative & keeping a relatable look. That's why we started with the simpler shots then flowing in & out of the more dramatic feel. I relied on natural light which was cloudy until the afternoon. Then using the sun to romanticise the shots, shooting amongst trees always looks so beautiful, I just let nature be.
Make~up & Hair Styling Claire Salter says…..
The hair & make~up for the shoot need to be soft and whimsical, with a harder edge to it so it was in keeping with Alisa concept.I chose to keep the hair soft with lots of texture so I could move around the styles to suit the clothing. I paid much more emphasis on the eye's using deep & rich plum, pink and mahogany tones, with a hint of ivory to really make the girls eye pop!! Again keeping a soft gentleness to the lips, so you are instantly drawn to the models eye's.
The people who made the shoot possible