I've not featured a styled shoot for a while but when Louise Holgate emailed me with this summer of love boho inspired shoot, I just had to share it with you! As you know I am a BIG fan of all things 60s and 70s and this relaxed shoot captures the era perfectly! The styling is simple and un-fussy, leaving the natural light and soft tones to do most of the work.
Louise tells us a bit more about the shoot………
The idea was to capture the bohemian vibe  of the late 60s/early 70s, showing a newly married couple  relaxing in the countryside, away from the constraints of a traditional wedding.  Peace and love!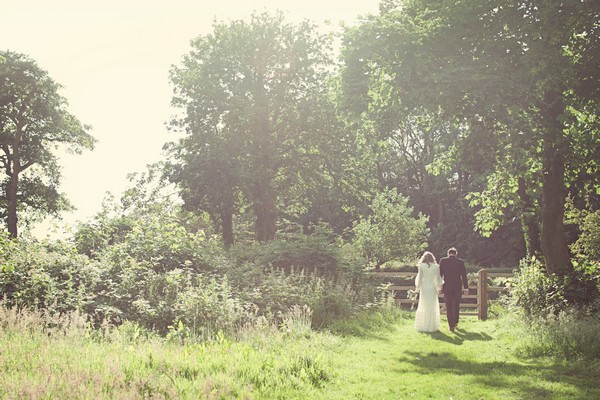 The inspiration was  the late '60s/early 70s  with a Woodstock festival feel.  I got in touch with Luxe Bridal, a company based at the Custard Factory in Birmingham, who sell beautiful vintage wedding dresses dating back to the 1920s.  They were keen to do a late 60s/early 70s themed shoot to showcase some of their collection.
Natural light was really important to capture a hazy summer feel. I love to work with natural light, especially  in the late afternoon/early evening when the golden hour adds extra magic and I enhanced the hazy summer feel with a touch of vintage processing.   If you're planning your wedding timetable it's worth considering the sunset time as it can make for some memorable couple portraits.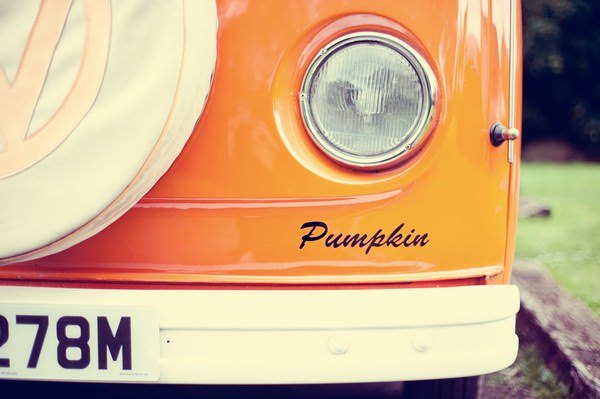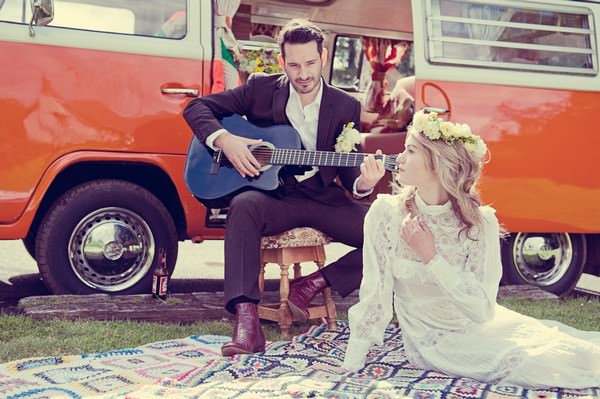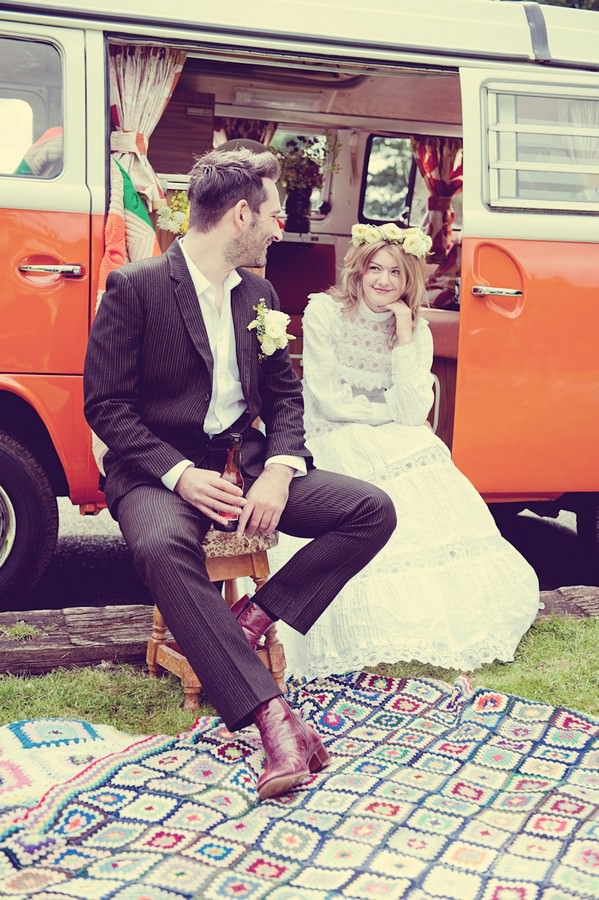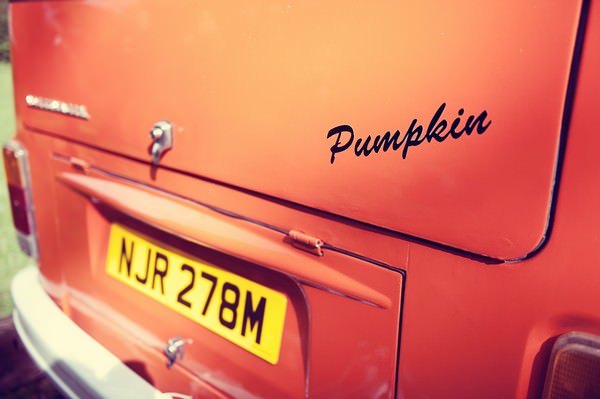 It rained solidly in the days leading up to the shoot and afterwards, so we were lucky to enjoy a rare sunny day!  The styling was relaxed, with a vintage crocheted rug made by my beloved Grandma many years ago, a guitar and an Olympus Trip 35 camera.  This was my first ever camera but unfortunately my dad had donated mine to charity so ebay came to the rescue. An original VW campervan provided a great backdrop and splash of colour, as well as a handy changing room!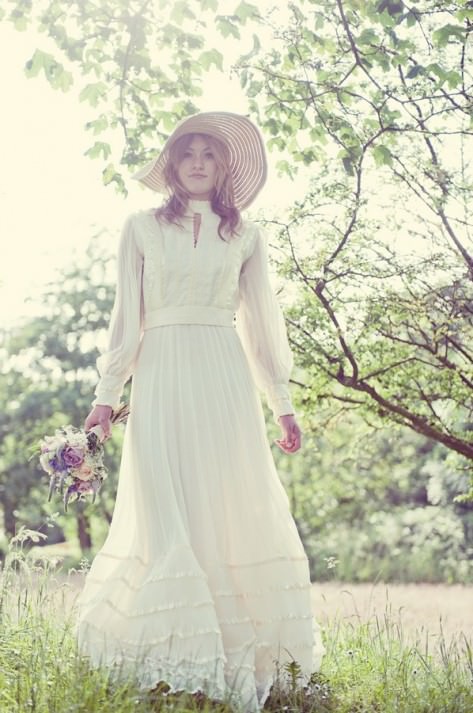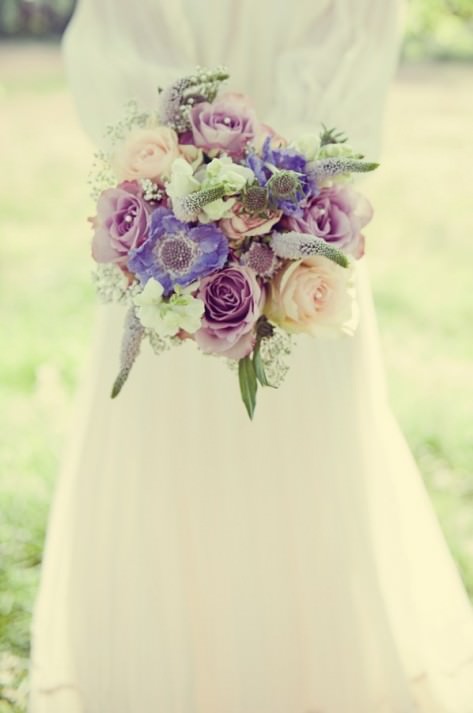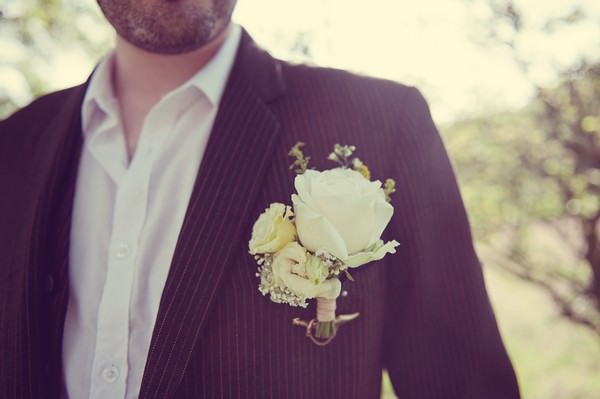 The shoot really captured the  summer of love vibe and showcased Luxe's dresses perfectly.  Sarah Russell of SGR Vintage Hair and Makeup did a fabulous job,  creating a natural, relaxed look, in the spirit of the time.   Kris at Fusion Flowers  used  flowers including Million Stars Gypsophila, Sweet Avalanche Roses, White September Flower and Antirrhinum in subtle shades of creams, pale pinks and lilacs, tied together with natural raffia, to create a hair circlet and comb, bridal bouquet and groom's buttonhole.  We also had some freshly picked garden flowers in a vintage vase and a pot of bubbles for a fun touch.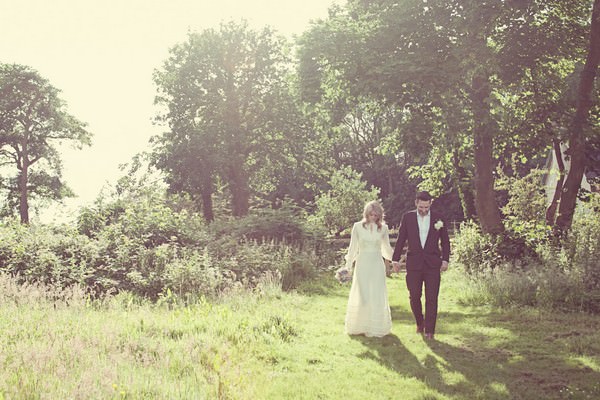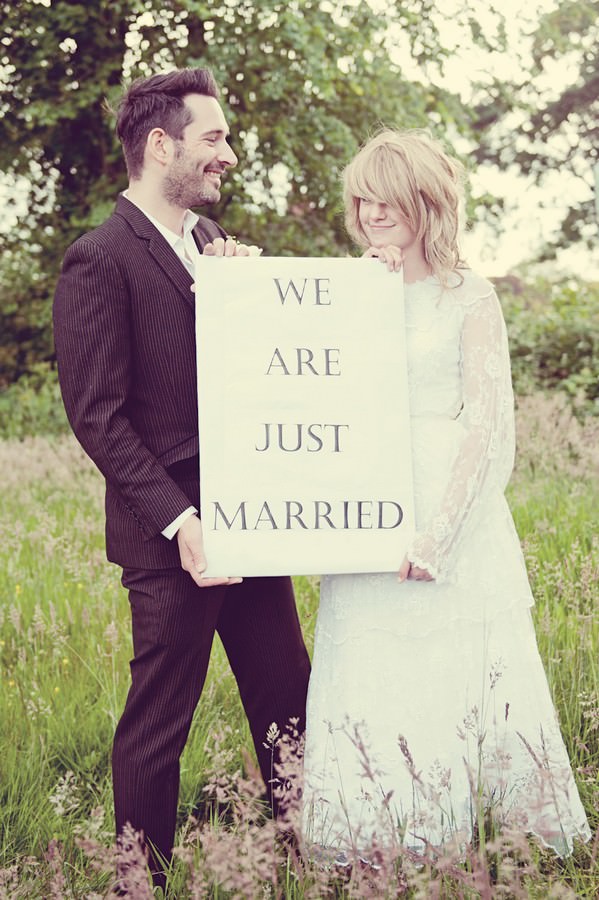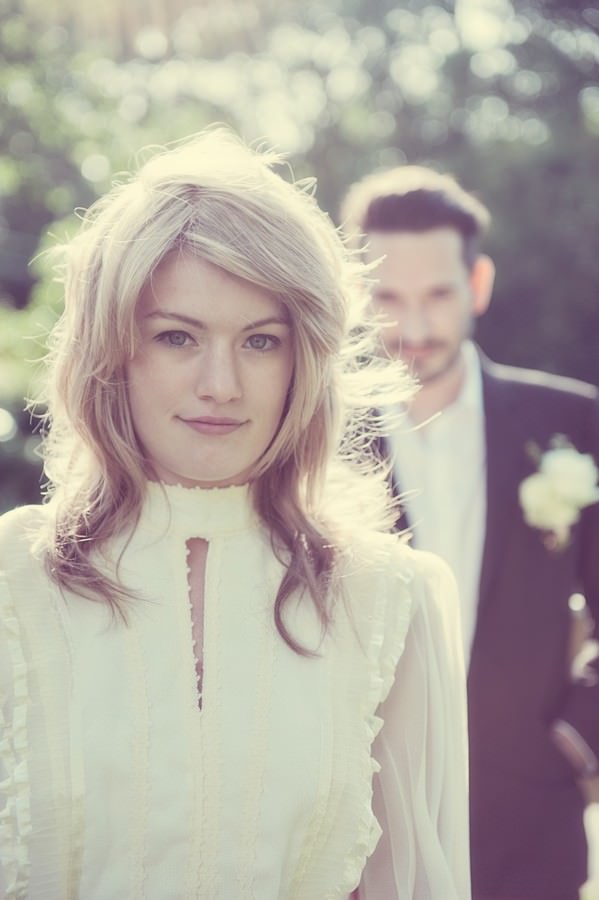 When we started planning the shoot part of our inspiration was to do something different but we seem to have hit on a trend as festival themed weddings and shoots have become very popular.  I've since done a colourful festival themed styled shoot with Wedding Yurts at a beautiful location in Wales.  I've also worked with Sarah Russell again on a 1940s shoot at Avoncroft Museum – the results of this will soon be unveiled.   There's also talk of a 1960s shoot so watch this space!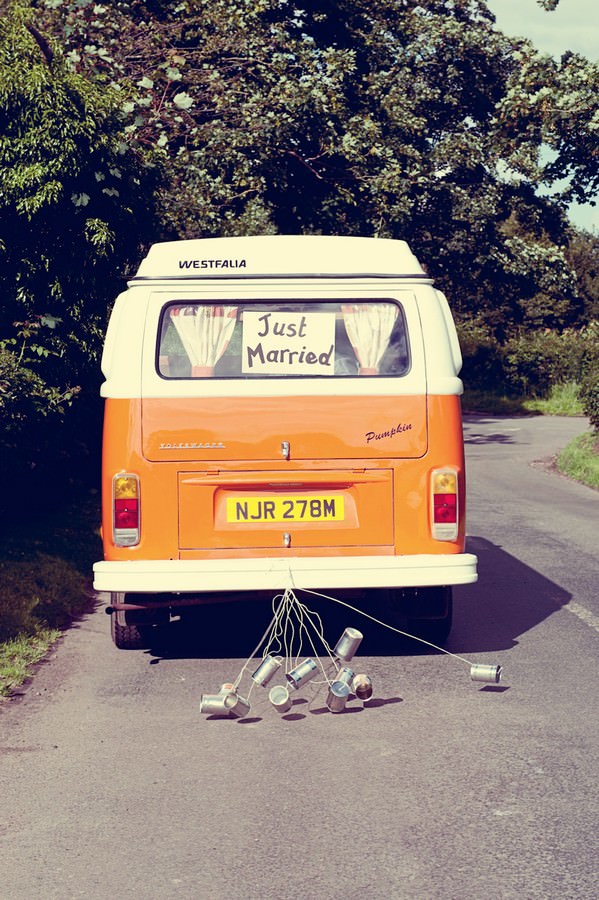 The Suppliers who made the shoot possible
Photography  – Louise Holgate – Louise Holgate Photography www.louiseholgate.com
Venue: Forhill, Kings Norton, near Birmingham
Hair and Make-up – Sarah Russell – SGR Vintage Hair and Make-up www.sarahrussell.co.uk
Wardrobe and Styling – Luxe Bridal Exclusive Vintage Wedding Dresses  www.luxebridal.co.uk
Flowers – Kris Henderson at Fusion Flowers  www.facebook.com/fusionflowers
Models – Nathan Bennett, Megan Howard
Vintage campervan supplied by Kathryn Marsh @VWPumpkin
Fore more information on Louise's work go to:
www.louiseholgate.com
www.louiseholgate.comblog
[email protected]
FACEBOOK
TWITTER
Tel: 07795 363292
♥  You can see more Styled Shoots HERE  ♥