Today we are back with Lisa and Alex from 2 people 1 life for wedding number 39 and this time they have come back to the UK for their wedding in snowy Scotland! Last time it was all about the traditions of the Zulu wedding in South Africa, but today it is traditions a little closer to home; bagpipes, kilts and Haggis. The photographers capturing the day for us are Crear Photography  and Graham Warwick
(In case you have missed it the whole story Lisa and Alex have spent the last two years travelling round the world getting married in every country they visit, you can read more about their adventures HERE.)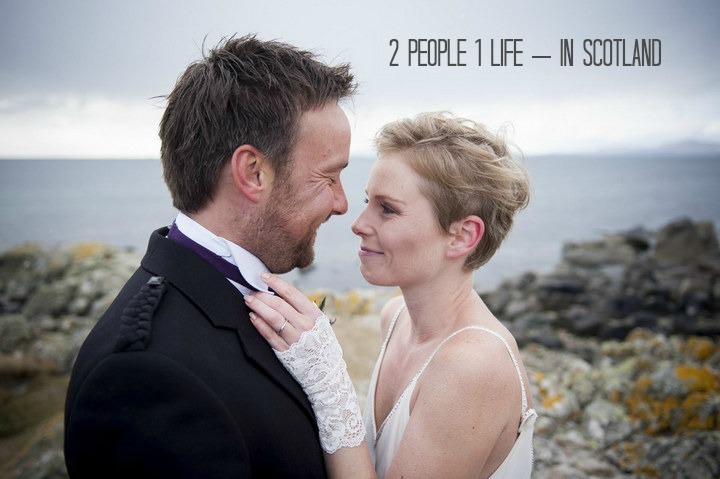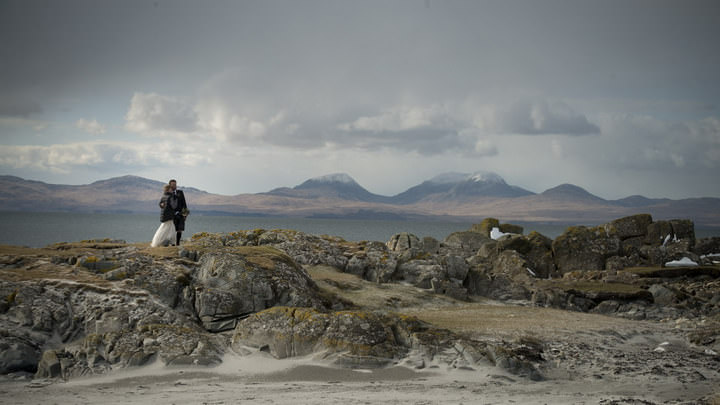 I woke up nervous for our 39th wedding. There was something inside me that was making me feel that I would need to be strong today, that the wedding was going to be an emotional one and that it would stay with me for a long time.
I pottered around Caisealreg Cottage and set the table for the 6 of us to have breakfast, every pot and pan and knife and fork out on the table dotted with flowers and the special linen. It was as special day and I wanted it to start as it meant to go on.
We ate and chattered and even relaxed a little in the kitchen whipping up a mushroom soup for when we came in out of the cold after the wedding…it was due to start at 2 and we all decided to start to get ready at around 1.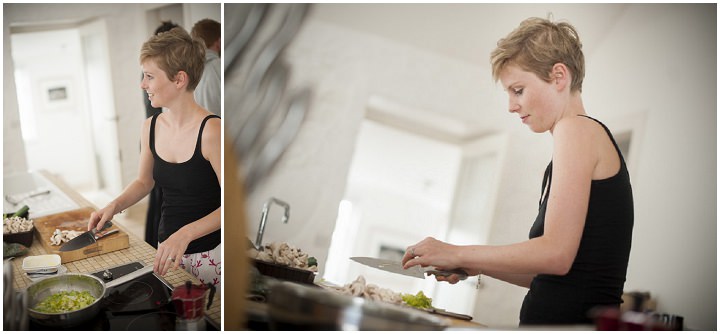 Of course by 1 we were all in a flap, it was harder to put on a kilt than it looked,Alex (girl) did my hair and make up for me and pinned me into my dress. The snow was still thick outside and on walking to the beach the day before I had decided on wearing the shorter dress that Lindsay Fleming had kindly lent me for the ceremony.
I had originally wanted to wear the long dress with the stunning lace train but it would have been impossible to get across the muddy fields without ruining the gorgeous gown.
As we got dressed and added our gorgeous vintage accessories from Melle Cloche, Archie Mcallister played the fiddle for us! He was just incredible and to hear so much beautiful music coming from such a small instrument was just unbelievable. I pulled on my garter made especially for me by Eliza and Charleston and I was wedding ready!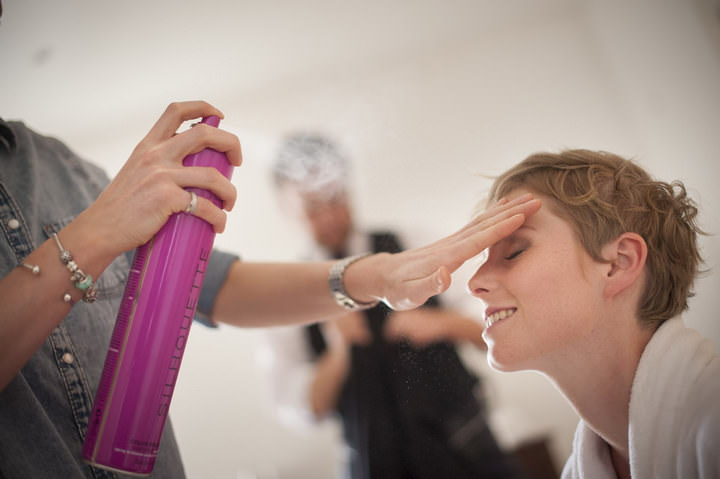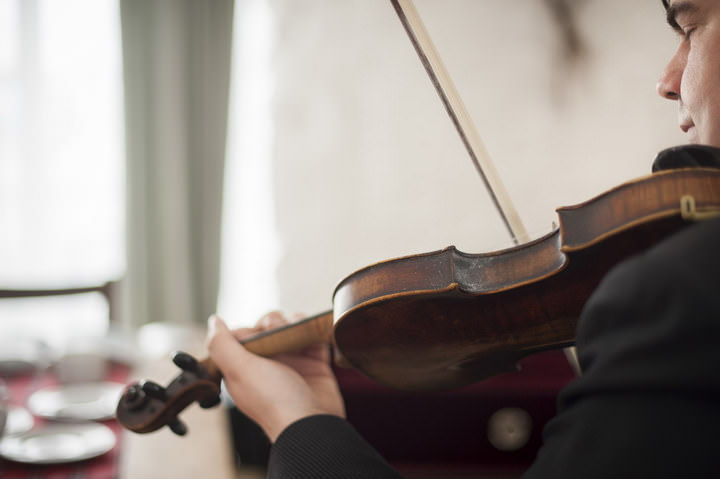 Next Kate arrived with our cake…which was no normal cake you understand! It was a PEGGY cake! We couldn't believe our eyes when we saw it! It was the spitting image of Peggy! Even down to the Peggy number plate! We skipped about a little bit and of course wouldn't dream of cutting it! We put her in pride of place on the table!

Alex (Boy), Rich and Graham were struggling into their kilts and we all had a great laugh at their expense. I tied Alex (Girl) into her beautiful twobirds gown, which luckily we had already decided how to tie it…with hundreds of ways to wear it, we could have been there for days if not. Finally, a little late, we were ready to go. We pulled on our walking boots with our frocks and as many jackets as we could and as we left the cottage we were greeted by the Mid-Argyll Pipe band!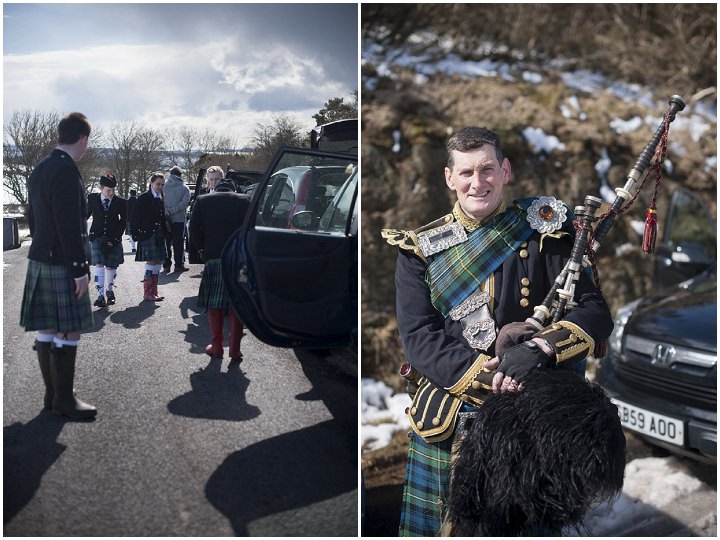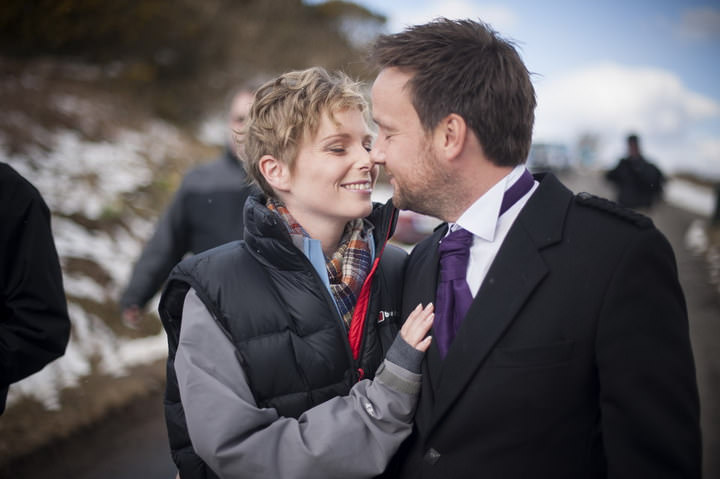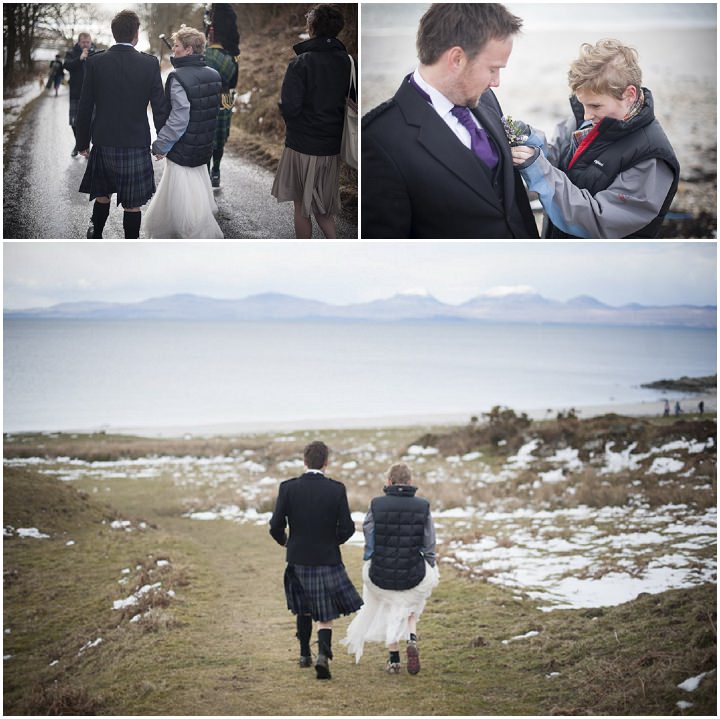 They carried along their pipes, drums and percussion and we set off in precession over the wet snowy fields to the wedding location.
Iain Campbell piped us all the way to the beach! I have no idea how he did it with his face in the wind, I could barely catch my breath just walking! We had gotten so far before we realised we had forgotten our flowers, the boys ran back to collect them as we continued to pick our way through the ice, the waterlogged field and thick muddy puddles.
The boys soon caught us up again and we pinned on button holes as we walked past the huge, confused rams with their curly horns stood proud on the hill tops. I was wondering what in the heck we were doing myself, to them we must have looked a likely bunch, all dressed up to the nines, music flowing, tartan flapping and shoes squelching across the raw rugged landscape.
When we finally got there we got stood out on a rocky outcrop overlooking the water and the distant Isle of Jura. The wind howled around us but the sun shone and Alex (girl) and I bravely shed our 15 layers and changed out of our hiking boots into our high heels!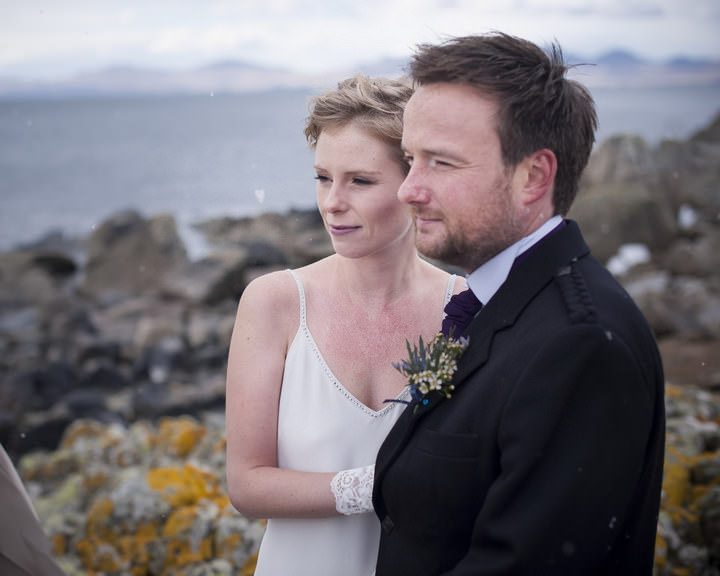 I instantly began to shiver as goosebumps pricked up all over my skin. I kept a scarf wrapped around my shoulders as the ceremony began.
A poem was read from the Handfast book of poems, gifted to us by the Scottish Poetry library. The words the Pastor had written were so incredibly touching and were perfectly fitted for our wedding in Scotland. He spoke of our journey and our search for the perfect place in the world to commit the rest of our lives to one another and how the journey resembled a marriage but the words that got us both were these.
"On this great journey, this adventure across the globe. You have travelled far and wide and met many wonderful people, but your roots have brought you home, here to Scotland to celebrate your love for one another"
The words rang so true and I know that Alex felt them as I felt them for him and we both thought of his Dad at that very moment. The pastor was right, I felt it through Alex, he felt a true connection with this rugged land, no more for it being a place in his past but for it being a place in his history, his heart and his very family roots.
We enjoyed the rest of the ceremony as much as we could given the conditions. There is a saying that one can witness four seasons in one day in Scotland…I can verify that it is true. As we stood there and exchanged our vows we stood in the sun, the rain and the snow. The sky was blue, then grey then black and moody. The wind roared around us with icy breath and then tickled us like a spring breeze.
It was so uniquely Scotland. So rugged and raw yet welcoming and kind all in one breath!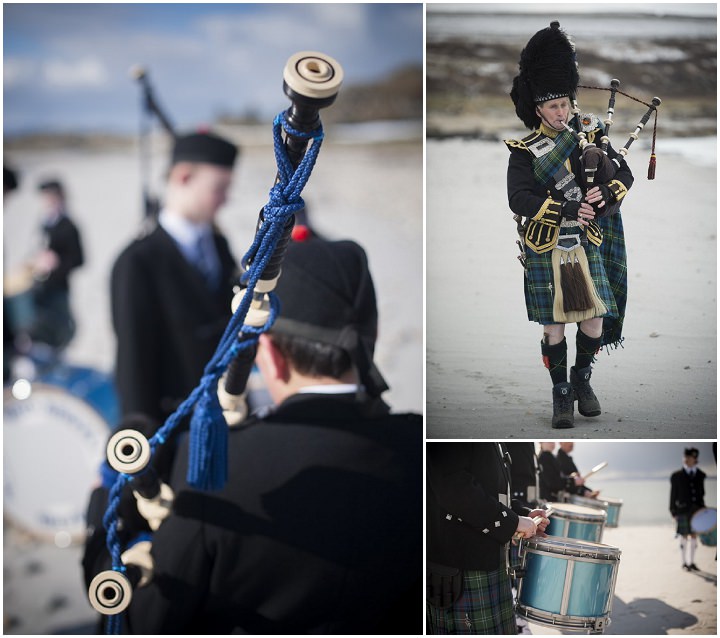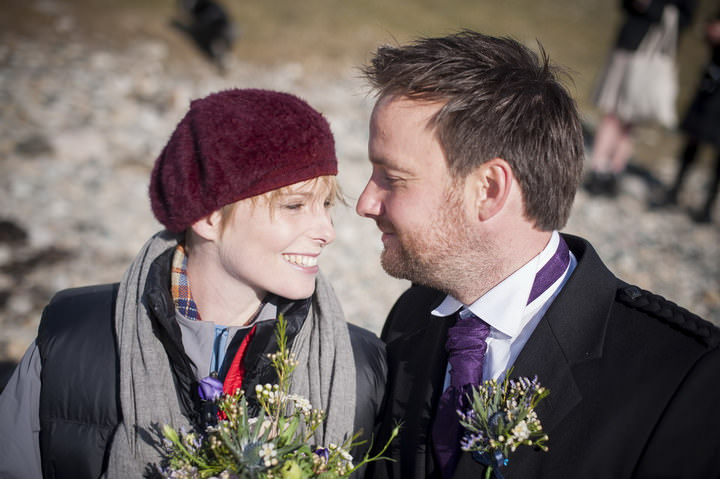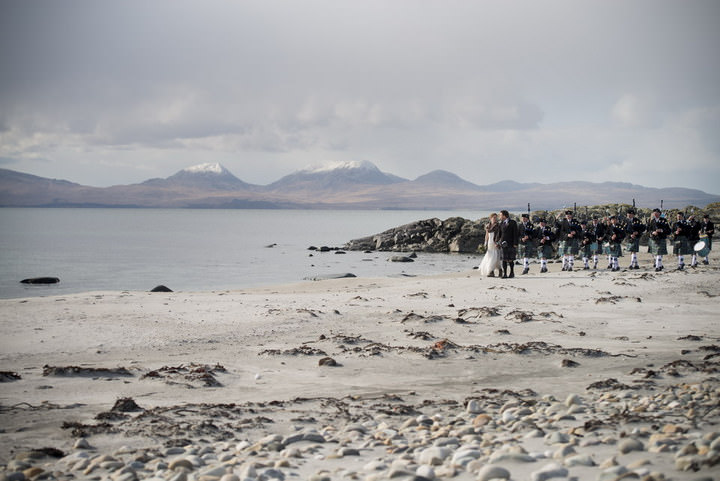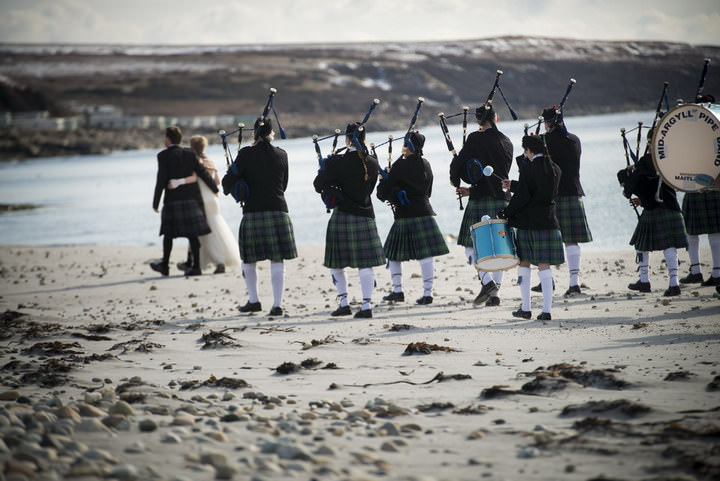 We walked along the beach in the suns warming rays with the mid argyll pipe band marching behind us. We were all about frozen to death and decided to head back to the cottage to thaw out. Iain again piped us all the way back to the house. The wind had picked up something cruel and blew hard in our faces all the way back. We eventually stepped into the warm and immediately put on the kettle. We pulled out all of the cups and saucers, warmed the tea pot and began making tea and coffee for the whole band, Iain, Kate and everyone else who had braved the elements to share our special day with us.

Poor Alex (girl) was blue and thawed her toes on the underfloor heating at Caisealrag Cottage . I joined her and whipped off my hiking boots and skidded around in my socks telling everyone to come in and get warm.
We all stood around nattering and thawing with cups of steaming tea and the pastor asked everyone to sign a wedding certificate (not legal Mum's, don't worry) to say that they had been witness to our commitment ceremony. Alex said a few words of thanks, we should be good at it by now but every single time, we panic and can't manage to thank everyone enough for coming to help us in our quest to find the perfect place to get married.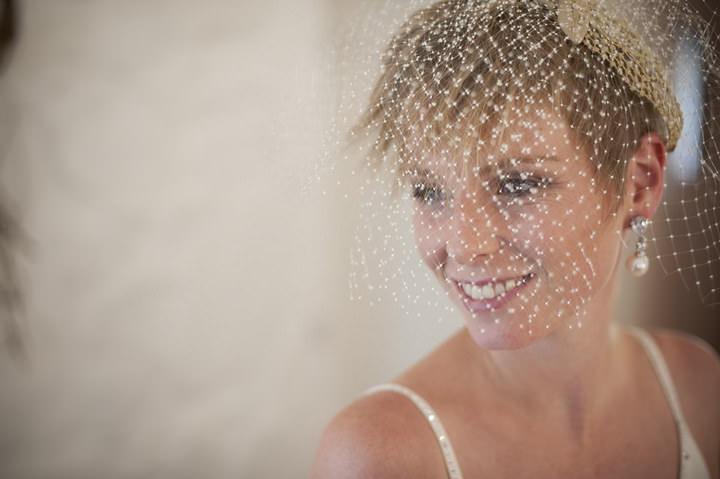 Scotland has such a rugged and raw beauty about it. It is purely itself and puts on no airs and graces for anyone. The natural wilderness of it all is compelling and sucks you in, making you want to stay forever…yet looking around it seems so inhospitable, so impossible to tame. I think it is one of the last of the untamed lands, feral to the core but it is tempting for sure. I am a realist but even I can imagine fairies still living at the bottom of the garden, imps running wild around the rocks and pixies looking for mischief wherever they can find it…it just feels like a magical place, even more so after our magical wedding.
The cottage and the wee weddings are just a perfect little snuggly package for small intimate weddings, even just the couple coming and getting married the way that they want to. No fuss, no worries, just them and the officiate, just the way they want it.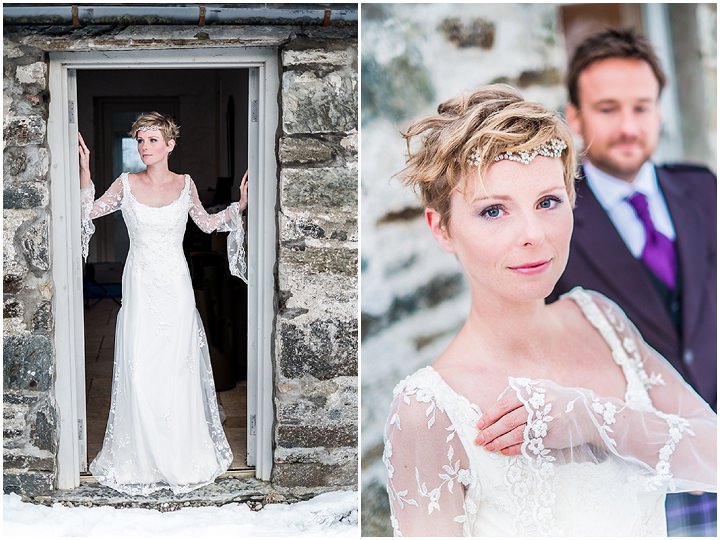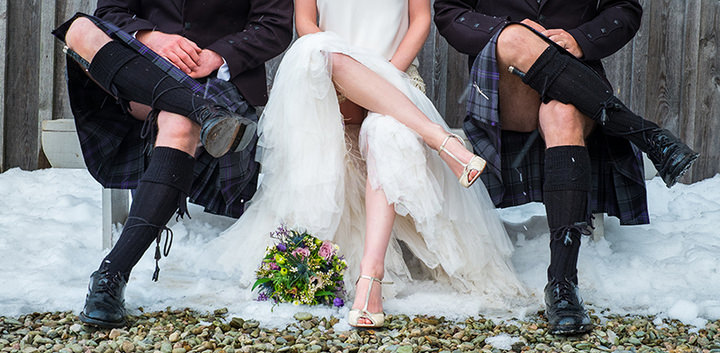 Once everyone had gone and we had mopped up the snowy footprints and washed the cups from the heavenly hot tea we all sat down to enjoy our wedding breakfast! There had been some confusion surrounding this meal and Alex and I had presumed it would be, well, you know…breakfast! In the morning! When Kate explained to us that the wedding 'breakfast' was the first meal you ate as husband and wife it all made sense though we had never heard of it before! We were excited of course as it was cooked by the incredible meat pie maker Alan Boslem.
We enjoyed haggis (in a modern form…tasted almost like stuffing), a beautiful rack of lamb and a desert to die for! We were all absolutely full to bursting but managed a glass or two more of wine while we watched an incredible display by 21cc fireworks just before bed. It was such a perfect end to a perfect day, the colours danced in the perfectly clear skies and rained back down to earth like shooting stars, the only difference being we didn't need to wish…all of our wishes for ourScottish wedding had already come true!
What a day! Wedding 39 Such an emotional roller-coaster and such a beautiful location. We laid in bed and talked about our wonderful day. One of our traditions, as learned from Alfred and Sylvia all those months ago, was to say out loud all of the things that we are thankful for. We normally do it in a morning but we felt so thankful that night for so much that we couldn't wait.
We are thankful for family and great friends, old and new. For the bonds we have with our families, though very different, and for the bond we felt today with Alex's family history. For the 'strangers' that had come together today and many others to help us on our journey. For all of the experiences we get to share on a daily basis. For all of the incredible people out there that we have not met yet and will touch our lives. For being safe and welcomed everywhere we go. And of course we are thankful every single day for having each other!
To follow Lisa and Alex's journey go to
http://2people1life.com/blog/
http://2people1life.com/blog/the-whole-journey
FACEBOOK
@2people1life
If you have missed any of the previous weddings you can catch up HERE