As we reach halfway through the week I am taking you off to Northumberland for this rather lovely rustic offering, courtesy of Andy Hudson Photography. Lynsey and John both love in Australia after Lynsey met John while she was backpacking round Australia. Because of this they wanted to incorporate some of the Australian outback into their day, so mixed in rustic touches along with some vintage detailing. With a beautiful outdoor ceremony, followed by a stunning tipi reception, this wedding is brimming with gorgeous details and so much fun.
The most beautiful outdoor country/outback wedding. Filled with gorgeous friends and family from all over the world making it the best, happiest, fun loving day of our lives.
Lynsey and John were married on Saturday the 17th September 2016 at Woodhill Hall, Otterburn, Northumberland. 'To be honest, it was a parents' gut feeling. They had been my eyes and ears for about four months. As John and I live in Australia, all my searching was through the net. So after narrowing the search down with a list of likes, I asked out of the final two, which give you that "this is it" feel. Woodhill Hall was it!! We had 76 guests including children and the wedding took 2 years to plan.'
How they met
John and I first met when I was backpacking around Australia, having the opportunity to work at the same cattle station. I become John's second cook in the homestead kitchen, kicking off a friendship straight away, which grew to a relationship very naturally. We have been together nearly three and a half years.
The Proposal
John and I lived on the foreshore of Rockingham in West Australia, he had spent most of his day, running around telling me I had to be dressed and ready to go out round 5.30pm. Pretty early for us I thought. There as I walked out the front door, in the distances I could see this small table over looking the ocean, with a young waitress standing there waiting to serve us. Sat surrounded with a beautiful sunset, stunning parkland and the ocean lapping onto the beach, he asked me, so nervously, bless him. Public, standing and walking by, checking out what was happening. I said Yes!! Wonderful evening, fresh food, champagne and great company.
How did you allocate your budget?
We knew that the little things like favours, decorations, place names, all the crazy little things brides stress about weren't the biggest things or the most important. Our aim was for our guests to enjoy the venue, food and drink and to have a great photographer to capture it all. So these were the biggest allocations. Naturally with my dress, John's kilt and the bridal party looking their best.
Where did you splurge and how did you save?
Save, not really sure we did. Maybe because I've been in the hospitality industry for 16 years, I have a good idea of who was around, friends recently getting married, it made it a lot easier to see who was giving us the best service for our money. Splurging, I don't think we did, ok, yes I went a little over budget on the dress and John's kilt, but we knew how we wanted to look. The venue having so many internationals, family coming up from the South of UK, we wanted somewhere that was a "second home" shall we say that was ours for the weekend. Didn't want the conveyer belt wedding venue. Food and Drink had to matter, being from two different sides of the world, John and I have two very different ideas of how they work. So we wanted to give the best to both sides of the world.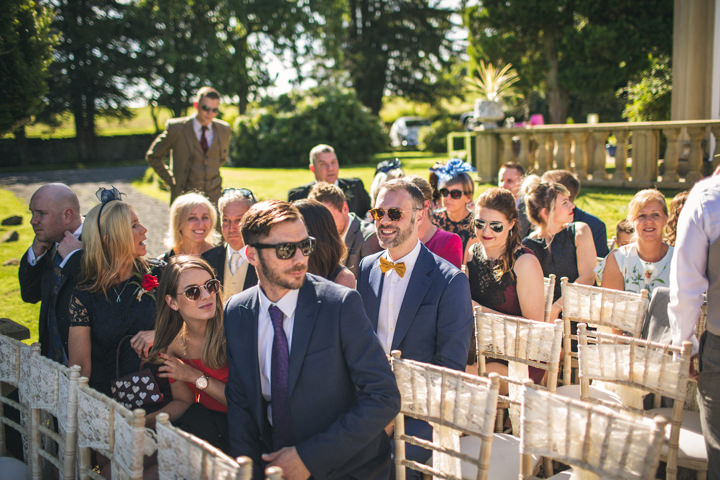 Why did you choose your photographer?
We were recommended Andy by another photographer who I was originally discussing booking. Pipped at the post though. Was the best recommendation he could of made. We wanted someone who would capture our wedding day as natural as possible. In the moment, making it feel like we were living moments we may have missed, giving us a feel of the whole day. Andy fitted perfectly. Such a down-to-earth guy, fitted into the wedding crowd like we had known him for years. He was up for any ideas we had whether they were simple or crazy. Very comfortable guy to be around.
The Dress
My dress was bought from Dion for Brides Perth, Australia and made by Maggie Sottero. Shoes were from Georgie's Shoes in Perth, Australia made by Rainbow Club, Veil was from Dion for Brides, Earrings from Swarovski, and Necklace was a gift from an old friend bought in Gran Canaria.
The Suit and Bridesmaids
John's whole Kilt was bought and part hired from House of Tartan, Perth, Australia. His Tartan is a traditional Colquhoun Clan tartan. The groomsmen suits where hired from Slaters in Newcastle upon Tyne. Their cufflinks were made by Pindan Jewellers in Broome, Australia. All of the bridesmaids dresses were made by Mori Lee. Two were bought through Dion for Brides, Perth, Australia, the other from Brides Dream Ltd, Newcastle upon Tyne, UK. Their jewellery was bought from Pandora Australia.
Theme or Colour Scheme
We had both. Wanted to use the colour scheme of John's Tartan, navy blue, red and green. Theme we loved the outback of Australia and being from Northumberland I love the countryside, so we wanted to tie this in with a vintage, rustic feel. Letting nature do the decorating.
Flowers
Our main flowers were roses and thistles. This was accompanied with selection of greenery, corn/wheat, sunflowers. Giving us that wild natural feel.
Decoration
Not many to be honest. We loved Woodhill Hall so much, their décor was enough. Just a few touches with photos, candles and the decorative jars my mother made for the flowers and tea lights. Keeping it simple.

Food
The drinks reception consisted of Canapes, cold and hot. Mini Haggis, Spiced Pork Belly, Salmon folks, Crostini's. Wedding breakfast was a vintage/miners tea party. We wanted something different to the traditional three course meal. Evening reception had Ham Peas pudding Stotties, Lamb Barley stew with rustic bread and mash potato. Selection of Cheese from the Northumberland Cheese Farm.
Wedding Cake
We decided on cupcakes and a cutting cake. This was made by Celebration Cakes by Julie, Ponteland, UK and a friend of ours Kim Turnbull. We had a chocolate Orange cutting cake, figures she made of John, myself and our dog Cable. The cupcakes by Julie were White Chocolate and Raspberry, Lemon, Chocolate, Plain. Kim made some beautiful homemade Apple Crumble, which I had to have since all my friends in the UK kept raving about them, everything went down a treat!
Entertainment
Throughout the day we had complied a playlist just to play through the in house sound system. In the evening we had a DJ. His name is Ryan from VersatileDJ. He went over and beyond keeping everyone happy and playing as many requests as possible, as well as finding a lot of Australian music we wished to have played.
Stationery
The Save The Date cards were done by Put it out there, Rockingham, Australia, Invites were done by Sound and Stationary, Rockingham, Australia and the table plan was done by Cards By Di, Ashington, Northumberland, UK and put together by my mother.
Personal Touches
Over the past 14 years I have lost all but one grandma. My grandparents are very close to me, so to make sure they were more with my than normal, I had photos of their wedding days, including my parents on the welcome table. My grandmothers (mums mum) broach was pinned to my bouquet. The day after our wedding, Woodhill Hall allow you to plant a tree in their wedding forest. So as part of the planting, my family and I scattered my mother's parents ashes, around the tree, so they are with us always at Woodhill Hall. To be honest, my mother was the creative one. She designed all 62 jars, not one of them the same. The post box, table plan frame, even put together the photo booth props. Couldn't have done it without her.
Special Moments or Highlights
Waking up, seeing John and I had brought the Aussie sun with us. Such a stunningly beautiful day. Everyone was so amazing by how warm it was. My parents first dance. They never had one 33 years ago when they got married. So this was our surprise for them. The whole day was just amazing, being able to share it with so many people from near and far.
Advice for Other Couples
When planning, don't worry about the small stuff. Don't allow yourself to become over-whelmed by too many ideas. Stick to your theme, gut feeling otherwise you could wander forever with everything that's out there. On the day, let it be, because it's just too late to do anything about it. It'll still be the best day of your life, because you're just about too, or just have married the person of your dreams!
Biggest Surprise
Just seeing the day come together. All the work, everyone had put into our day.
Supplier Shout Outs:
FOR MORE INFORMATION ON ANDY'S WORK PLEASE GO TO:
www.andyhudsonphotography.co.uk / [email protected] / 07980 272737 / FACEBOOK / TWITTER
I am a North East wedding photographer with a very natural and relaxed style, capturing things in an artistic and creative way without being obtrusive.  I believe every wedding is different and that by photographing things in a candid fashion it brings the couple's personality out in the images, and reflects them and their day in a real and beautiful way.