Today's wedding is a mixture of so many things, there is so much to going on, a real fun filled,  action packed wedding. The whole wedding took place over 3 days, set on a Scottish Glampsite, right next to the beach. Lucky with the summer having such amazing weather this year, the bridal party and all the guests really got to enjoy some time together before and after the main celebration. And what a celebration! Traditional Chinese games, followed by a Chinese tea party, a first look, a Humanist outdoor wedding on the beach, followed by space hoppers and a tipi reception, ending in a  star lantern parade down the beach….Phew! I told you it was action packed! Big thanks to Lindsey from MackPhotography for the images.
'A relaxed and entertaining 3 day party for our friends and family. We included some Chinese traditions and a lot of creativity from our two families.'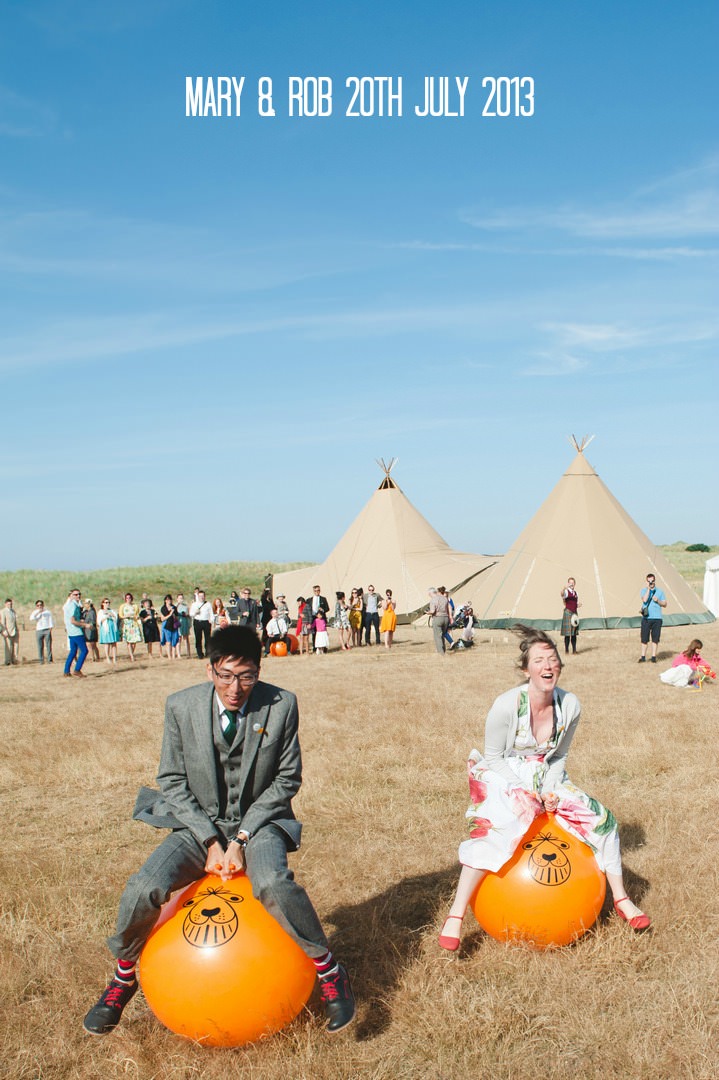 Mary and Rob were married on 20th July. 'We were married on the beach right next to Harvest Moon Holidays glampsite, near Tyninghame. It's a safari tent glampsite right next to the beach where as many people as we could fit stayed for the weekend. We knew we didn't want a traditional wedding and loved the thought of spending some quality time with loved ones. We'd visited the beach a lot for day trips and even got all of our friends together on it for Mary's 25th birthday party a few years ago. Harvest moon is so well tucked away that we'd never spotted it before until Rob came across it. Having a humanist ceremony meant we could have the wedding outside and meeting Dagmar our fantastic celebrant it just all came together. We had 110 guests, from Edinburgh where we live, Leeds and Huddersfield (our home towns) and family from London, the US and Hong Kong. It took us just over a year to plan as the first thing we did was get the date then the venue because we had to get married on a weekend that suited American and English school holidays, it was really important that our family and friends with children could all make it.'
How they met
We first became friends at Leeds art college doing a foundation in art and design before going to university, Mary to Edinburgh and Rob to Manchester. After a busy uni life we met up again 5 years later and realising how we'd each matured and mellowed! We got together a few months later. We've now been together 7 years, 6 of which we've lived in Edinburgh.
The proposal
We'd travelled to Germany for our really good friend's wedding, after the celebration a few of us hired bikes to cycle along the Danube to Vienna. In Vienna, encouraged by our friends as a joke, Rob bought a 7 euro engagement ring in a flea market to fake propose, what they didn't know was that Rob had been carrying an engagement ring for the whole trip. After laughing about the fake proposal, and letting mary recover from the shock, Rob then quietly proposed with the real ring. When our friends returned we had an amazing party in our apartment!
How did you allocate your budget?
Our main costs were the tipis and the food, which were both really important to our planning. We booked 3 tipis from Highland Tipis. When we spoke to Lisa at Humble Pie we were really impressed, she'd catered at the site before, she understood what we wanted and she had some tasty vegetarian suggestions, which was essential as Mary's family are all veggie.
Booking the whole campsite for the weekend meant we had a venue and somewhere for most people to stay/camp. We already knew we wanted Homecoming String Band for our ceilidh, they played at two of our friend's wedding so we'd experienced them first hand, and they are fantastic.Everything else we made, involving our family and getting help from our friends.
Why did you choose your photographer?
I used to work with Lindsey and we'd already invited her as a guest, we were hoping to give her a weekend off, but we loved her style and felt that knowing her would make for a really enjoyable time together so we knew we had to cheekily ask. Lindsey then admitted that she was really keen to do it!!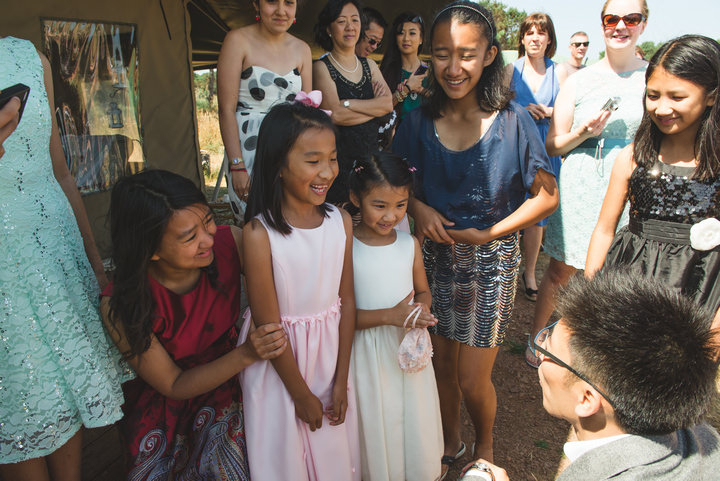 The dress
The red Chinese embroidered dress was worn by Rob's sister and cousins for the traditional tea ceremony at their weddings. The wedding dress is a Vivienne Westwood. Red wedge shoes were from Camper.
The suit
Suit was from Walker Slater, Victoria Street Edinburgh. We didn't have bridesmaids.
Theme or colour scheme
We didn't have a set theme, we wanted a mixture of bright seasidey colours. We used a selection of saturated bright colours against whites and greys in our invites and the tipis. We strung red ribbons with the Chinese double happiness symbol against white ripstop kite fabric on the ceremony space stands.
Flowers
As part of the bride pick up games it's tradition that Rob brings a bunch of flowers, our friend Toni collected wildflowers from the surrounding fields and made a bouquet with some fabric from Robs suit and the table cloth from our table binding it together. She did a couple of jars full on each table too, simple and really beautiful.
Decoration
The tipis are so stunning we went pretty minimal, a bit of felt bunting our friend Vicky stitched together, we borrowed some red and white vitra algue and hung it behind the band. The tables we decorated with runners made from the same fabric as the name badges so people had to find the matching one to find their seats. We also had glass bowls with floating origami lilies lit with candles and a table number which matched our invitations also lit by candles.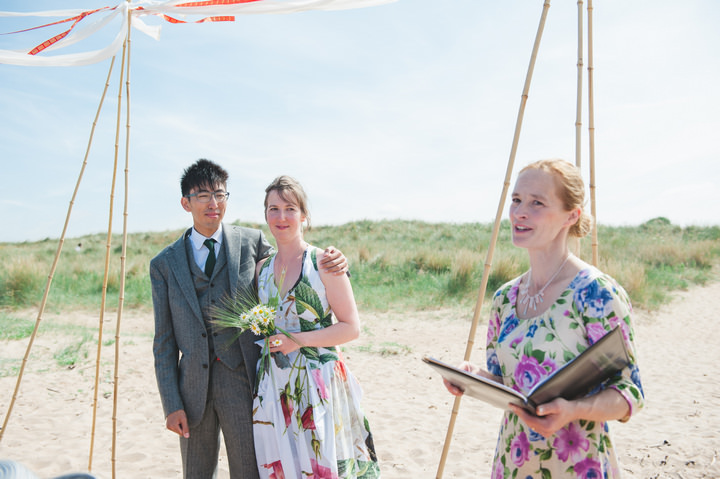 Food
Some delicious canapés, veggie haggis parcels, miniature yorkshire puds with roast beef, seared tuna with papaya salsa and walnut shortbread with goats cheese and boozy figs.
Roasted garlic & Almond Soup with toasted coconut (V)
Spicy Carrot Salad with Rocket & Labneh (V)
Tempura of seabass with open potato chip, pea puree & tartar sauce
Roast Chermoula aubergine with cumin, lemon & pomegranate quinoa with a mint and olive yoghurt V
Rack of herbed lamb on potato dauphinoise with sauce vierge
Trio of Chocolate Ganache Tile, Lemon Cream and Raspberry Hat
French Fruit & Custard Tartlet
Champagne and Red Currant Jelly
Buffet: Cheese made by our friends Hannah and Paul of Thimble Cheesemakers and Wedding fruit cake made by Mary's mum, tea & coffee
Entertainment
We had lawn games in the afternoon between the ceremony and dinner time. We also had a few space hoppers which were perfect on that sunny summers day.
Traditional Chinese games that the grooms family made us play. Designed to totally embarrass us in front of everyone!
The main event was the Homecoming String Band who did an amazing ceilidh then picked up their instruments to accompany our candle lit star lantern parade down to the beach, where we danced some more!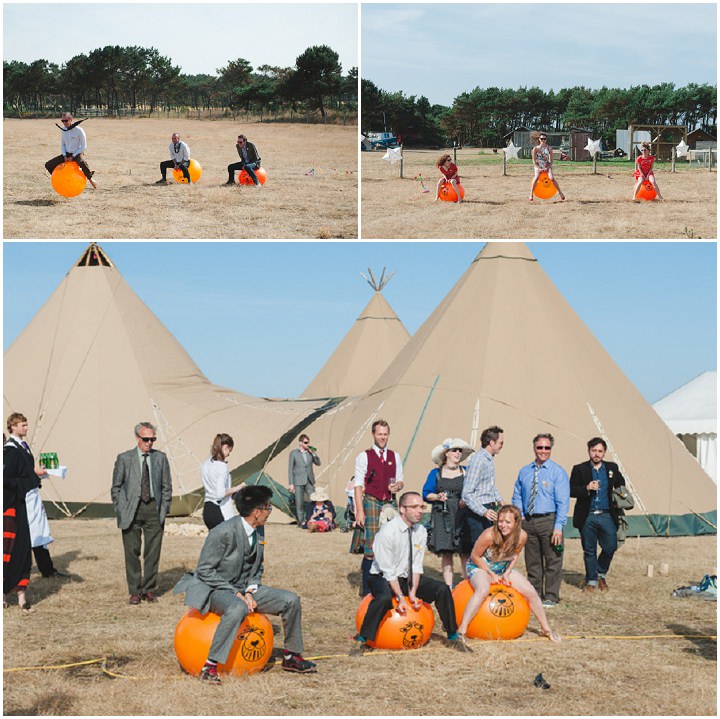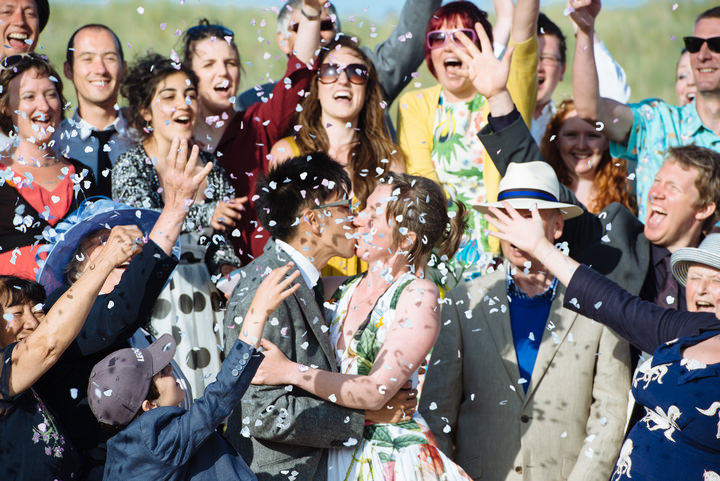 Personal and handmade touches
We did the majority of stuff ourselves with family and friends. Our favorite DIY touch is going to make our rings with Hannah of Make Your Own Wedding Rings based in Coburg House Studios in Leith. We had a great day of making a ring for each other that we did totally by ourselves, expertly guided by Hannah.
Mary's family has been involved with a local lantern festival for many years and we thought it would be a wonderful way to wind down the night, a gentle stroll on the beach with lanterns and music. So with the help of Karima we held workshops in 3 locations…making star lanterns with which also allowed friends and the 2 families to spend a bit more time with each other before the wedding.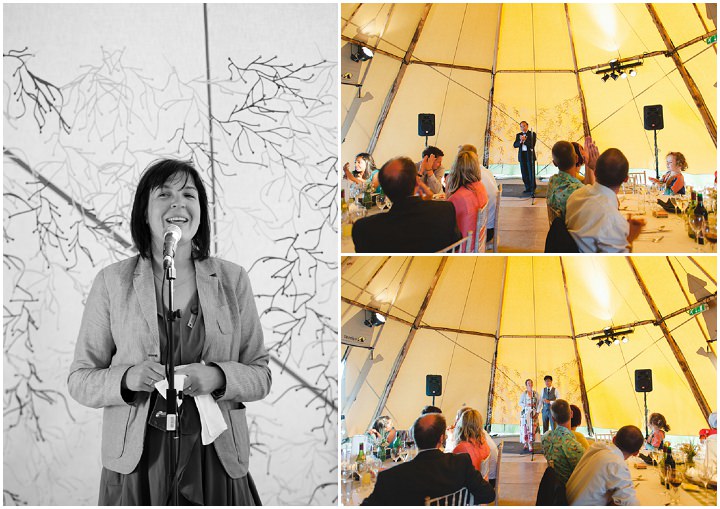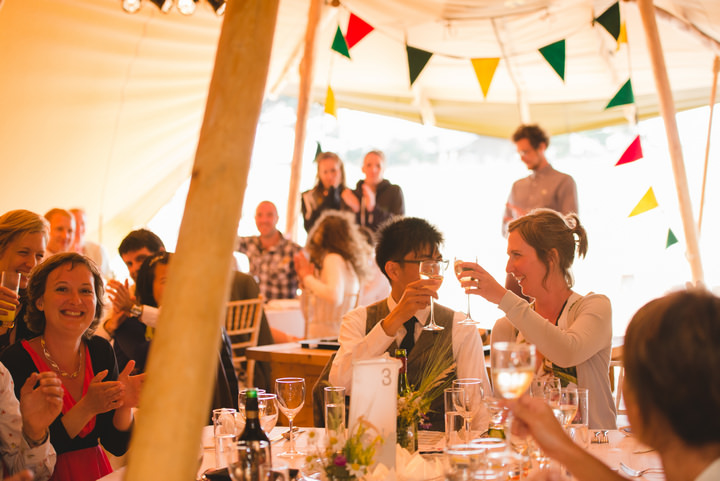 Special moments
The bride pickup games, Rob had to pick up Mary from her families safari tent, and was put through some rigorous tests by her sisters to make sure he was a suitable husband! Mary's sister Rachel masterminded this and got very creative making Rob and all the grooms 'brothers (and friends)' draw the story of the proposal!
The lantern procession with the Homecoming Sting Band was magical!
On Friday we unwrapped the large M and R letters that Mary's sister Martha had made which was covered in stuff that represented us, we had so much fun trying to guess everything and explaining the stories behind them to everyone.
Biggest surprise
What Dagmar our humanist celebrant said at the ceremony, she totally got us and managed to capture what we were looking for in our wedding as the next stage of us being together. It was a joyful celebration, with a load of happy tears!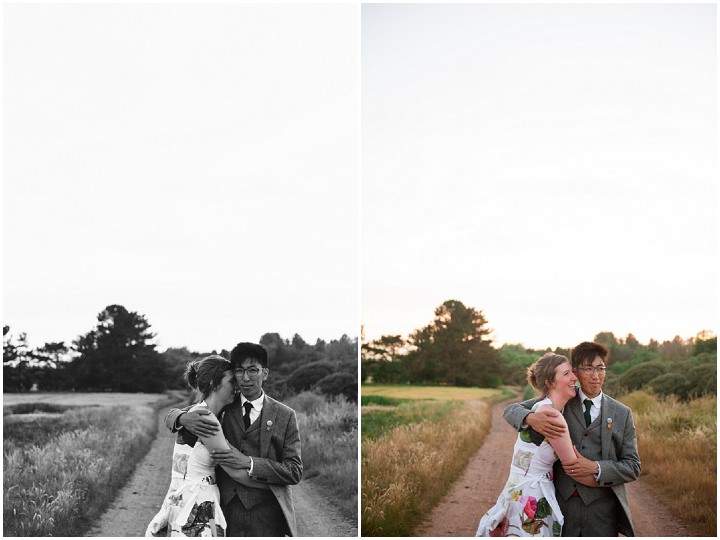 Advice for other couples
People always told us one day wasn't enough, so if you can, be absolutely greedy like us and organise a 3 day event where you can relax and enjoy spending time with all your loved one.
We decided earlier to only work with people who we felt really comfortable with as you need to be able to rely on their abilities. Everyone we worked with made having a wedding in a challenging venue, in a field near a beach, really enjoyable.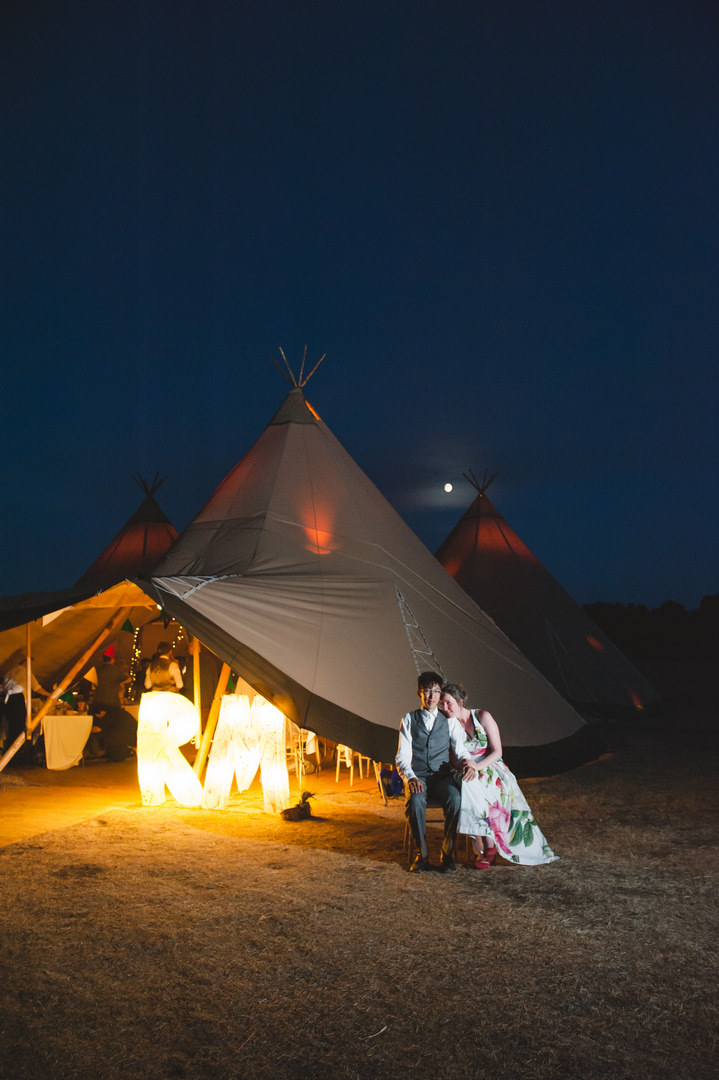 Supplier Shout Outs
For more information on Lindsey's work go to
www.mackphotography.co.uk
http://mackphotography.co.uk/blog
FACEBOOK
@Mack_Photo
07968700652