This afternoon it's the return of  'Advice from the Married Side'. I have so many amazing real weddings on the blog and for each one I feature I ask the brides a number of questions. One of these questions being advice for other couples. Sometimes the answers get lost amongst the pretty pictures of each wedding so I have decided that each month or so I will bring you a selection of these brides (and grooms) words of wisdom! I hope there will be something amongst these brides experiences that help you while planning your own wedding.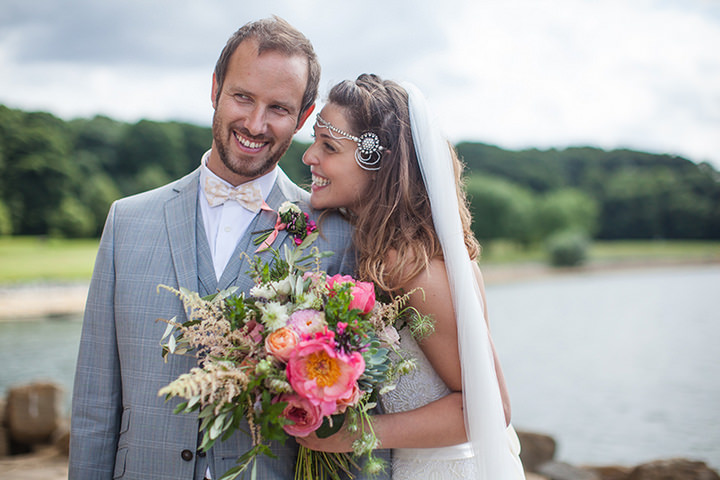 (Photo By  Binky Nixon)
Best piece of Advice
The goal of the day is to get married. Everything else could go wrong, but if you are married by the end of the day, it was a successful day. The wedding is just one day, so make sure you put in as much (if not more) preparation into setting a foundation for the lifetime of marriage ahead of you. No one will remember what your colour scheme was in 10 years, but they will remember how you made them feel and will be observing how you live out the vows you make
(Photo by Jess Petrie)
On The Day of the Wedding
Embrace anything that goes 'wrong' as adding individuality to your day! I know it's a cliché but really try to just go with it. The day will go so fast so just really enjoy it all!
Don't panic: even if the worst happens, sometimes it can turn into something great.
Know that whatever happens during the day, your friends and family will be so excited and happy for you that nothing else will really matter.
On the day, have someone other than yourself who knows the plan for the day.
Step back and enjoy the day for the two of you.
Most importantly, enjoy every minute.
Take in every moment and enjoy it and if you can, escape for 5 minutes together to gather your thoughts and take it all in!!! It's such a whirlwind!
(Photo by Paul Joseph Photography)
General Advice
Have a contingency budget, as things always cost more than you imagine
Involve family as much as possible – we could not have done it without them
If you can, prolong the day as long as possible, arrange a get together the following day or even go for a two day wedding! You spend so long planning the occasion, you want it to last as long as possible!
Get someone to do your make up for you! I planned to do my own and in the last week had a panic and managed to get a friend to help me. It was the best decision as could sit back and watch the chaos around me whilst being pampered!
Wedding Fairs can be a little bit terrifying; take a friend and hit the bubbly.
Get a great photographer, Ours captured elements and emotions of our day we hardly noticed and once it is all over, those photographs are the only real lasting memory.
I found that it really challenged our relationship at times, to a large extent because I wasn't prepared for it to be 'my' wedding – it was a celebration of us as a couple and if Al wasn't in agreement on anything, that meant we weren't at the right answer yet. We learnt a lot about each other in the process. One day I declared that we were going out on a date, we were not to talk about weddings and I was not to stress about whatever trivial thing was causing me to be grumpy that week. It was a lovely break!
 Wedding blogs are brilliant for ideas and I would highly recommend Pinterest as a way of collating pictures of the things you like. Make a different board for each aspect of your wedding to make it easy to focus on one thing at a time.
Definitely record the experience by prioritising as much budget as you can for a photographer who suits your style as a couple – and get the ceremony and speeches filmed, if you can't do the whole day.
Also, do not fret about the weather! I think I checked the forecast every hour for three days before the wedding (torrential downpours were due.) On the day, there were showers on and off but we were so happy to be married that we really didn't care.
Guests will also drive you crazy with the rsvp so leave plenty of time and there will sometimes be family dramas, so just rise above it and remember why you are getting married to each other. Sometimes all you really need is love, wine and some fab bridesmaids.
(Photo by Emma B Photography)
Planning
Create a wedding website – easy way to communicate with guests and keep them updated. We used getting married.com.
Don't over think it, the best moments are the ones that you never plan
Start planning as soon as possible as this will make budgeting much easier.
I think the most important thing is to keep the day relaxed so you enjoy it as much as possible. We got all the important jobs sorted nice and early so the lead up was enjoyable rather than stressful, which I believe made the day better. There will always be a few hiccups during planning, but try to enjoy it all as much as you can.
The best advice I got was not to worry about everything, to pick a few things that are most important to you and put energy into organising them and try to delegate the rest. What made our wedding special was everyone's efforts to make it great for us.
Take your time, and sleep on the big decisions. Try not to rush into things. And don't lose sight of why you're having a wedding.
Work out what is most important to you, get that right and the rest will fall into place. You don't need a large budget to have a great day, so concentrate on what is important to you and don't worry about too much what other people think.
You really do get back what you put in. The week leading up to the day was stressful, and we spent hours making, chopping, sticking things – but seeing it all come together was the best feeling ever. It was completely worth it.
(Photo by Rebecca Douglas)
Make your Wedding Yours
Keep it simple and be a little bit selfish (it is your day and you only do it once!)
It's a celebration of you and your partner's love for each other, so don't get bound up too much in what a wedding should be. Make it your own – everyone will love it!
Don't be worried about what other people may think about doing things differently – all of our guests were blown away by it! Tradition is wonderful, but don't be afraid to change things to fit what's important to you – everyone is different!
A lot of people told me not to fret about the details but they were the parts that mattered to me so I chose to spend time on them. You should focus on the things that matter to you – it's your day after all.
Do it the way you want and don't feel you have to follow tradition
Don't feel that you have to conform to tradition – it's your day and you should celebrate it in a way that's personal to you.
It is your day – not anyone else's. Do what makes you both happy, as you don't want to look back and regret anything!
Don't worry about traditions; we didn't really know what all the traditions were so we just did the day as we wanted to.
Don't compromise. If you have a vision – something that really represents you as a couple – stick to it. Family may not get it at first, but they will come around.
Be yourself and put a lot of yourself in your wedding day, Don't be afraid to do things differently, be original and have fun because that is your day and it will be the day that you will remember for a lifetime
We faced some criticism for planning an 'alternative' wedding- mainly for not having a traditional venue and meal- but everyone was blown away when they saw it. Stick to your guns! It is your wedding and it represents you as a couple, so it should reflect it. Make it as personal as possible!
(Photo by  McKinley-Rodgers)
Organisation
Be as organised as possible and don't feel bad about asking people to help with arrangements. It will save a lot of time and worry.
Accept help! People will be honoured and happy to help you in the preparations for your big day. I had to get over letting the staff at The Spa set up the tables as it couldn't be done the night before. It looked absolutely perfect so I needn't have worried!
Be careful of time creeping up on you, as you may feel you have lots of time to complete things for the wedding but before you know it it's the month, week of the wedding. Fortunately we were very organised and stuck to a timetable, which helped a lot. It made the run up to the wedding much more stress-free.
Don't underestimate the amount of organisation needed to have a DIY wedding! You definitely need to work as a team.
Have a spread sheet! – sorry but it's true, the more organized you are before the day the more you will be able to relax on the day. Knowing everything was taken care of meant we could concentrate on enjoying ourselves.
If you're going to organise it yourselves as we did, organise is the key word. I had a big spreadsheet where I kept track of all the ideas, costs, timescales etc and I used wedding planning websites to check I'd not forgotten anything. You can expect it to take over your life too.
(Photo by Lisa Devlin)
I hope you found these pieces of advice helpful if you are in the process of organising your wedding. If you are already married is there anything you would like to add ? Was there anything in these words of wisdom that has resonated with you?
Is there something you would particularly like to ask me  for advice? any questions just email me 

[email protected]