Today's wedding was sent into me by one of my lovely Boho readers, all the way from Texas. Sarah is a regular reader of the blog so I was delighted when she chose to share her wedding with me. Sarah really went to town with all her DIY and handmade details, saying to one of her guests 'If you see it, I probably made it'  With over 200 guests and a budget of $13,000 Sarah and Stanley did a great job creating a wedding full of great food, wonderful entertainment and a whole lot of love throughout. Thanks to Braeden Rogers from Ambient 11 photography for the images.
'We were elatedly happy surrounded by family, friends, and loved ones from all walks and stages of life. Our wedding captured the essence of our personalities and our faith.'
Sarah and Stanley were married on 6th April at John and Terri Burnett's home. 'Not only do the Burnett's have the most beautiful and perfect home, but they are my second family. I would often pop by the Burnett's home on my bike on any given day growing up. I have grown so much from their mentorship. They often tell me I am the daughter they never had! We planned on having the ceremony and the reception at their house exclusively, but because of the rain leading up to the wedding we had to make some last minute changes. I was disappointed at first, but in the end I was able to have the ceremony at my home church and things turned out beautifully. We wouldn't have been able to make it work out without help from our amazing church family.We invited over 200 guests, and about 160 or more came to the wedding.We were engaged for 2 and a hlaf months, but I was making decorations WAAY before this time. When you know you just know.'
How they met
Byron and I met freshman year of college. We became better friends our senior year. Neither of us expected to keep in touch after we graduated. By chance we would talk off and on while I was living in Austin, so I invited him to stay so he could check out the city. After three days of hanging out in Austin, something clicked! I knew he was different. Because he was long distance, I had to make sure he was going to keep talking to me, so I would Facebook him or text him often. I had my friend set him up as my "plus one" at her wedding in April, 2011 unbeknownst to him. A month after the wedding we met up and he asked me to be his girlfriend.
We connected and dated for about 1 half years long distance. He moved to Austin in July, 2012 and then we got engaged January 2013. The date of our wedding was a month and a day earlier than our dating anniversary would have been!
The proposal
Byron said that he had things to get done before we went out that Saturday evening, so I went to work out and he went home. An old neighbour was back in town and sporadically texted me saying that everyone was hanging out. I was so excited that I told Byron we should hang out with them and cancel all other plans. Byron seemed to be resistant and that's when I suspected something was up. I ran over to see my neighbours and quickly said "I think I'm getting engaged tonight! Sorry I can't hang out!" When Byron arrived, he blind folded me and drove around aimlessly trying to disguise the drive. He took me to the parking garage right next to my apartment. This parking garage was a special spot for us and it has the best view of the Austin skyline (of which I'm obsessed). He set up flowers, wine, and candles and proposed to me with the city behind us!
How did you allocate your budget?
We spent about $13,000 for our wedding and dinner rehearsal combined. The most money went towards food and photography. I only spent around $300 for the decorations and gifts we gave for our bridal party. We were able to keep our budget low because of our wonderful community and all our DIY projects.
Why did you choose your photographer?
I spent a good month everyday looking for a good photographer. My first choice was Braeden Rogers because of how great his photos were. It was fun to learn later that he went to the same college as Byron and I! Our biggest hang up was the date of our wedding- but by total chance he had the date free!
The dress
My dress was actually passed down from my Aunt, to my mom, and then to me. My Aunt had long sleeves on the dress, my mom had poof sleeves, and I removed the sleeves altogether. My tailor, Mogda, did the most amazing work to it. She added flowers to the bodice from my Aunt's long sleeves. I made my necklace and veil from fabrics and brooches passed down from my Grandmother and Byron's Aunt. I got my shoes at Goodwill near my apartment. When I was walking around the store, everyone kept admiring and telling me how great they looked even though they had no idea I was testing them for my wedding!
The suit and bridesmaids
I asked all the bridesmaids to get "a solid purple dress" with no other qualifications. If they wanted to buy one they could, and if they wanted to use one they already had that was fine too. Byron's suit was a feat- he was very particular about wanting a blue suit (NOT navy). This was literally impossible, so he changed his tactics to finding a lighter navy suit. We finally stumbled upon the perfect colour in Macy's.
Theme or colour scheme
I was the kid in school who never had a favourite colour, and Byron just loves every colour. I really liked the colour scheme on these Anthropologie salt and pepper shakers that my roommate had sitting on our kitchen table. So I carried these to Hobby Lobby to find fabrics and paper that had similar tones.
Flowers
I made my bouquets out of fabrics from Hobby Lobby. I cut large and small squares, scrunched them together in different patterns, and connected them with wire onto wooden rods. I covered the bottom of the wooden rod with burlap and the bouquets were complete!
Decoration
We had white sheets hanging as well as white and lace flags, and a lot of home items like couches, tables, empty frames, books, chairs, a headboard, beaded handbags, brooches, pictures of ourselves as little kids and our extended family members, a silverware chandelier, jars with colourful fabrics, music sheets, twine, or brooches.
Food
I had always said growing up that when I got married, I was going to have Pillsbury Funfetti cake at my wedding because it is the most delicious cake I have ever eaten- and I still believe this to this day. So we had Funfetti cupcakes, mini and large pies, cake balls, and cookies. The beverages we served were lemonade, tea, and coffee.
The wedding cake
Byron's favourite dessert is pie, so we decided to cut his favourite pie- key lime pie.
Entertainment
We had a bounce house for all ages, croquet, horse shoes, and a homemade photo booth.
Buy or DIY your Stationery?
We bought our stationery from Paper Affair and got help from Kim Cook, a family friend that I consider family.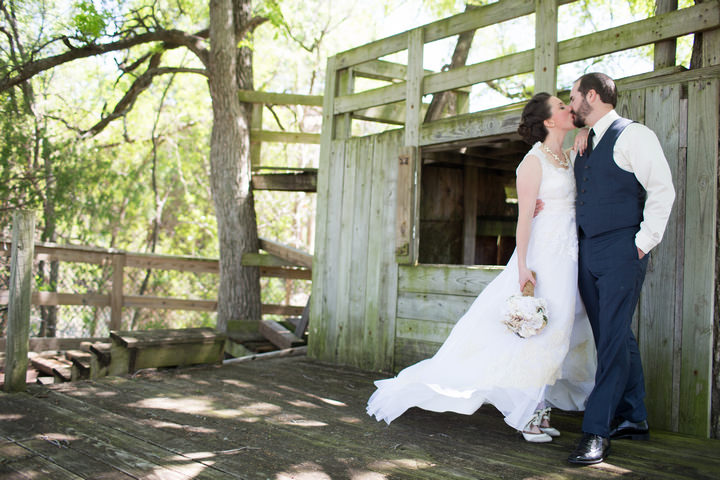 Personal and handmade touches
I laughed when my family friend said to me "This is so great, did you make that?" multiple times throughout the day. I finally said, "If you see it, I probably made it."
I made…
• Music sheet cones with fabric stuffed in them as aisle decor
• The letters "C-A-R-D-S" out of cardboard and lace
• For the ceremony, I used a large piece of glass my roommate had given me to write out the details of the ceremony with white paint.
• My bouquet, veil, and necklace from old fabrics and brooches given to me from my Grandmother and Hobby Lobby
• All of the bridesmaid's bouquets and the groomsmen's boutonnieres.
• The flags from some old white and lace tablecloths given by Byron's Aunt. I
• The silverware garland and chandelier from unused silverware and an old fan covering I found at a thrift store.
• Glass bottles from pickle, spaghetti, and jam jars and covered them with old music sheets, burlap, and twine. I stuffed other bottles with coloured fabric, pearls, lace, and brooches or old jewellery.
• My garter from old fabrics
• Watch face necklaces and bracelets for all my bridesmaids with the phrase "Friends are Timeless"
• Painted old fence posts with the phrases "Once Upon a Time" and "They Lived Happily Ever After"
• Cork board letters "L-O-V-E" and decorated two others representing our pet names "Sweetheart" and "Punkin"
• Burlap flags saying "Sweet Love" and "Byron/Sarah"
Other people helped us make…
• The photo booth using my mom's old couch, random fabrics I had hanging in my room from college, and these giant Blues Brother's statues that the Burnett's have always had lying around the house. This combined with the costume items our family stored in the depths of our closet created the perfect homemade photo booth  Our family friend took all the pictures for everyone who wanted to enjoy the photo booth.
• Paper airplanes
• Pink and yellow hanging lanterns
• Cupcakes
• Cake balls
• Cookies
Special moments
I will always remember the peace of that early morning. I had gotten my hair and make-up done by 6:00am and I wasn't supposed to see anyone until 10:30am. So, I sat in the hallway finishing my wedding necklace and listening to my sister talk about her life at college. It felt like any normal day, I just looked extra pretty!
One of my favourite memories was how we ended our wedding. We had told our wedding planners that we were going to leave the reception at 6:00, but when 5:45 rolled around, we cancelled all plans of leaving. We ended saying goodbye to everyone and were one of the last people to leave!
Advice for other couples
To all brides out there- have wedding planners!! Or at least people who will fix everything when it goes wrong! We had set up all of our decorations on Friday afternoon, but on the BIG DAY the wind had ruined everything. They quickly re-routed all decorations, layout, and ideas and it STILL turned out amazing. I didn't stress or fret one bit that morning, even though I had noticed that all our hard work had been…well…ruined.
Biggest surprise
The funniest surprise of our wedding was when Byron's dad, who was the officiate, announced us as "Byron and Sarah Hedges" instead of "Byron and Sarah Dickard." It took the audience shouting out "Dickard!" and his laughter for us to realize what had actually been announced.
Supplier Shout Outs
Wedding Planners: Events to Celebr8 – www.eventstocelebr8.com These ladies are my heroes. The wedding was stress free and beautiful. They took what was in my head and made it come to life!
Photography: Ambient 11 Photography – http://ambient11.com These guys were fun, relaxed, and incredibly helpful. I couldn't stop thanking them for everything they contributed
Groom's Suit:Macy's www.macys.com
Hair/Makeup:Shear Image by Rene

[email protected]

Bounce House:All Around Amusements – www.allaroundamusements.com
Chair/Table Rental:TLC Event Rental – www.tlceventrentals.com
China:Rent My Dust Vintage Rentals – www.rentmydust.com
Coffee Bar: Yellow Bar Catering – I never heard the end of how great this coffee was!
Cake Balls: Mrs. Lanes Sweet Inspirations – I never heard the end of how great these were!
Cupcakes: Michelle Bronnenburg
Cookies: Donna Sisney – Made with such perfect details
Pies/Tarts:The Pantry Restaurant – http://thepantryrestaurant.net
Dress Tailor: Mogda –  She went above and beyond what I requested
Photo Booth: Kathleen Field – Family Friend
Officiate: Stanley Byron Dickard – Groom's Father
Bride's Shoes: Goodwill – www.austingoodwill.org
Grooms shoes: DSW – www.dsw.com
Veil/Hair Accessories, Bouquets, Jewellery extra supplies provided by: Hobby Lobby – www.hobbylobby.com/home.cfm
Stationary: Paper Affair – www.paperaffairdallas.com
For more information on Braeden Rogers work go to
http://ambient11.com
www.ambient11.com/blog
FACEBOOK
@Ambient11