Hello and welcome to a brand new week! How was your weekend? I hope you had a good one! I have a week jam-packed with beautiful weddings for you this week and lots of fab inspirational articles to share with you, so let's get the ball rolling with this superb wedding which has been sent into me by blog regular Rebecca Douglas. Rebecca has captured this beautiful garden party themed wedding perfectly! Such a  relaxed, chilled out summer wedding which has a fun happy feel to it. Victoria and Paddy have really pulled off a chilled out day full of smiling guests and so much love and laughter, the perfect way to start the week!
'An intimate ceremony in a country chapel followed by champagne afternoon tea, lawn games and dancing. A relaxed and rustic garden party.'
Victoria and Paddy were married on Saturday 26th July 2014 at Ashdown House School, East Sussex. 'Ashdown House is the wonderful boarding Prep school where we both teach. Paddy has worked there for over 13 years. It's where we met and it's where we live. The little chapel is charming, the sprawling grounds rival those of any popular wedding venue and the views of the Ashdown Forest are simply glorious. Ashdown occupies a special place in our hearts and we could never imagine being married anywhere else. We had a small wedding for 90 of our closest friends and family – including 16 little girls, 5 little boys and 3 babies. As we are teachers and so many of our guests have young children, we wanted to include even the tiniest people in our day. No one loves a wedding more than a little girl wearing a princess dress! We planned the wedding in fits and starts. During the term, we can work seven days a week and so we made sure to use the holidays wisely. We made our major bookings 18 months in advance – the marquee, band, flowers – all of the important suppliers. And of course, the dress! We then took a long pause before ramping up the organisation about 3 months before with other outfits, invitations, favours etc. In honesty, we really kept planning right up until the day itself. All along the way, we had help from the lovely Jenny at Bellaboo and Beau which was a great relief!'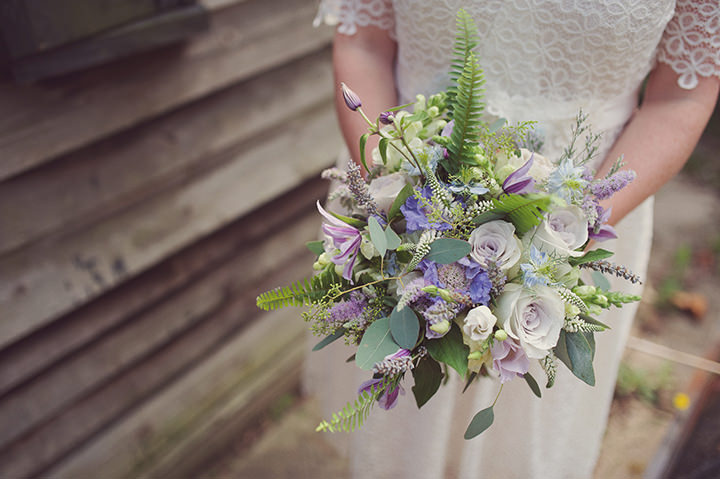 How they met
We met when I accepted a job at Ashdown. In his wedding speech, Paddy described the 'thunderbolt moment'. Two years later we were engaged and we walked down the aisle 14 months after that.
The proposal
It was a gorgeous evening in late spring when Paddy suggested that we go out for supper to our favourite country hotel.   The restaurant is a ten minute drive from our home along country lanes and on the way, we pulled into a beautiful viewpoint which overlooks the Ashdown Forest. As we were ahead of time, we took a short walk to enjoy the view from one of the memorial benches. Just as we were about the leave the car, Paddy popped open the trunk and produced a bottle of wine which had been chilling. I have to admit to being a little suspicious at this stage! We sat on the bench in the warm sun with the striking Ashdown House on the horizon and after ten minutes or so, when there was a lull in the conversation, Paddy dipped into his pocket, turned to me and simply said 'Victoria, would you like to come to supper as my fiancé?' He already knew what my answer would be. We then enjoyed a wonderful evening of champagne and fine food in a beautiful setting. Perfect.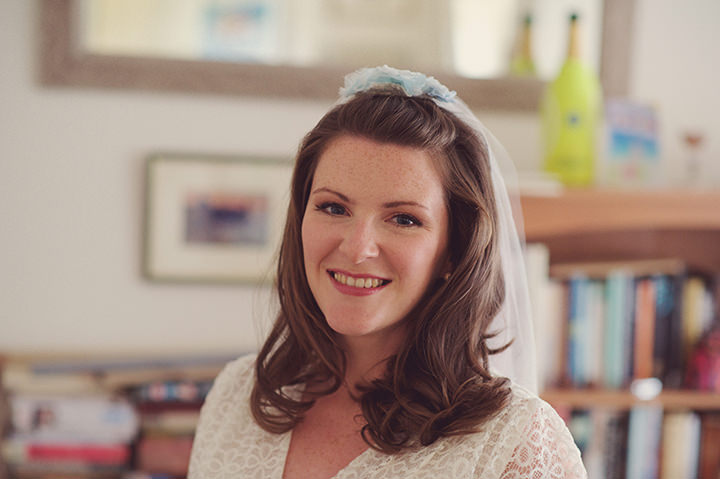 How did you allocate your budget
One of the key ways that we managed to save was by using the skills and expertise of our friends and family. We also tried to avoid using traditional 'wedding suppliers' for the outfits, cakes and entertainment. Our biggest expenditure was the marquee but we felt that it was worth opting for a reputable company that could provide a beautiful structure for our reception.
How did you choose your photographer
Our photographer, Rebecca, was recommended by our wedding stylist and how lucky we were! She was absolutely amazing and the photographs are incredible. From her friendly manner to her sense of humour and ability to capture the most perfect sunset, we feel very grateful that she was there to record our special day and I would urge EVERY bride in the South East to book her immediately!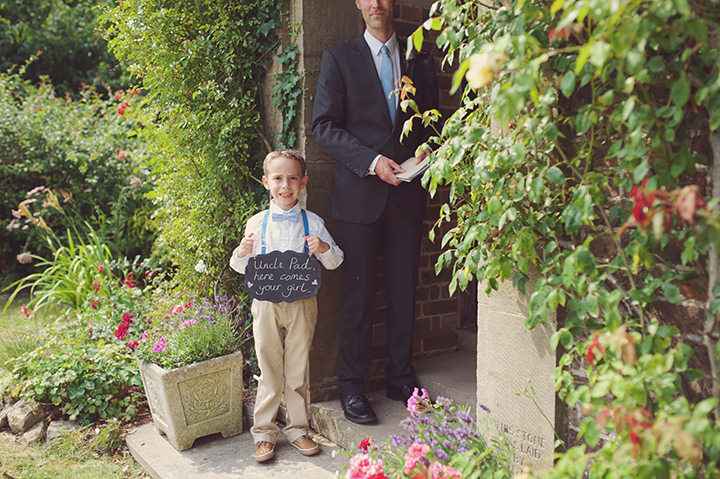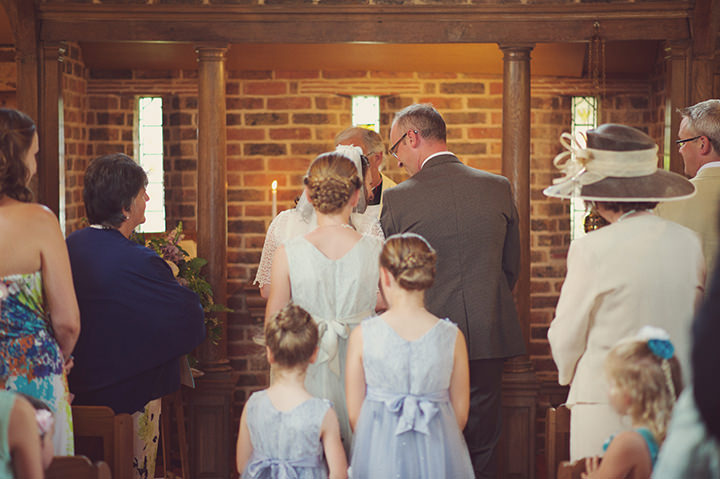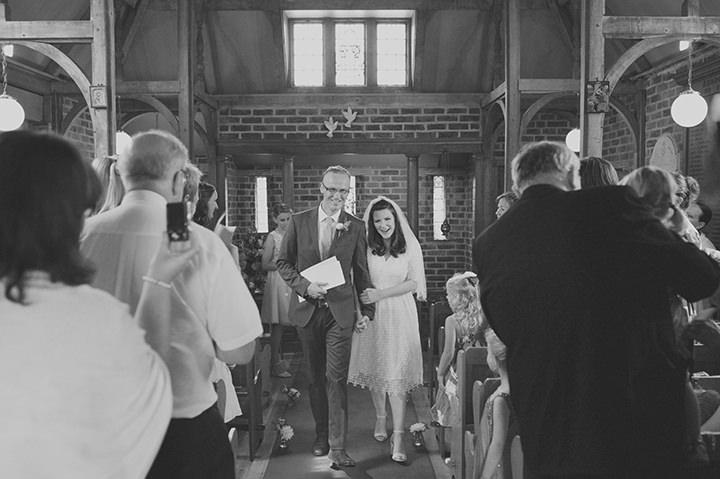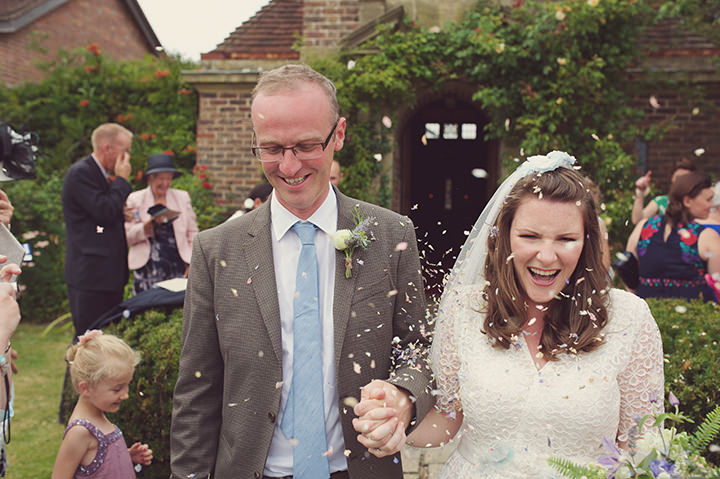 The dress and accessories
My dress was by the Finnish designer, Minna. It is based on the Liv dress and Esther belt with blue embellishments. My veil was also by Minna and it was designed to match the dress. I had my heart set on a Minna dress from the moment I walked into their magical little studio, hidden away in at attic of a church. I wore two different pairs of shoes. For the ceremony, a pair of cream sandals by Kurt Geiger and in the evening, some Vivienne Westwood Lady Dragon jellies. My accessories were very simple. None of them were new, except my sunglasses were a last minute buy from Topshop!
The suit and bridesmaids
Paddy's suit came off the peg from United Colors of Benetton. His shoes belonged to his late dad; a vintage pair of Loake brogues. The bridesmaids wore green and blue versions of Monsoon's Lilly dress.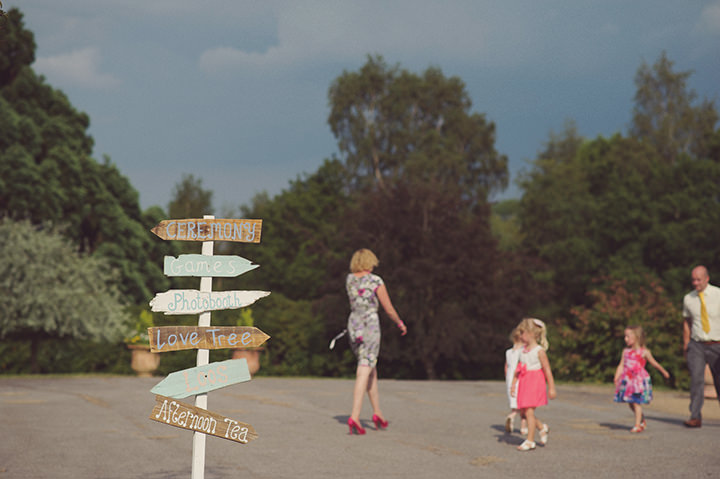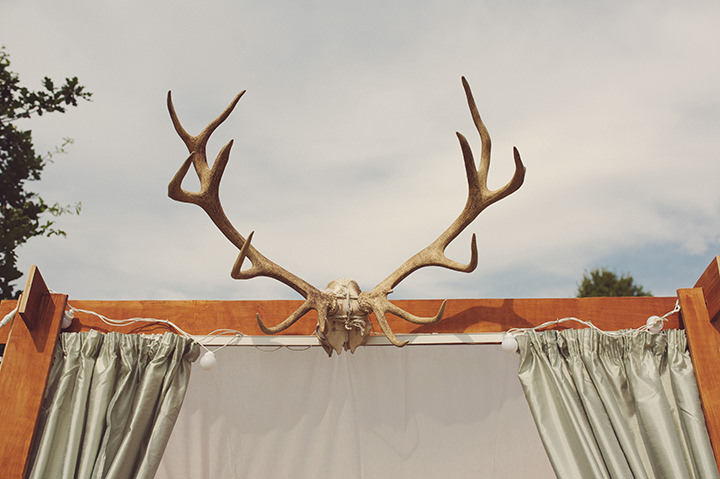 The theme or colour scheme
Our whole day was based around our desire for a relaxed, garden party wedding. Picnic blankets, apple crates and vintage crockery. We also wanted a strong link to nature as the Sussex countryside is where we love to spend our time. We wanted to use stag's antlers, trees and wild flowers.
The Flowers
Beam flowers, a pedestal and wild bouquets with herbs, sky blue delphiniums, lilac scabiosa, lilac sweet peas, daisies, white peonies, roses, nigella hydrangeas and hebe, finished with lace and hessian. Lavender and rosemary button holes. Individual jam jars with wild flowers. Scattered moss table centred with succulents placed on top. V&P moss initials.
Decoration
Various bits and bobs that we had gathered over the year! A wooden ladder table plan, a guest book and finger print tree, bunting and honeycombs and festoon lighting.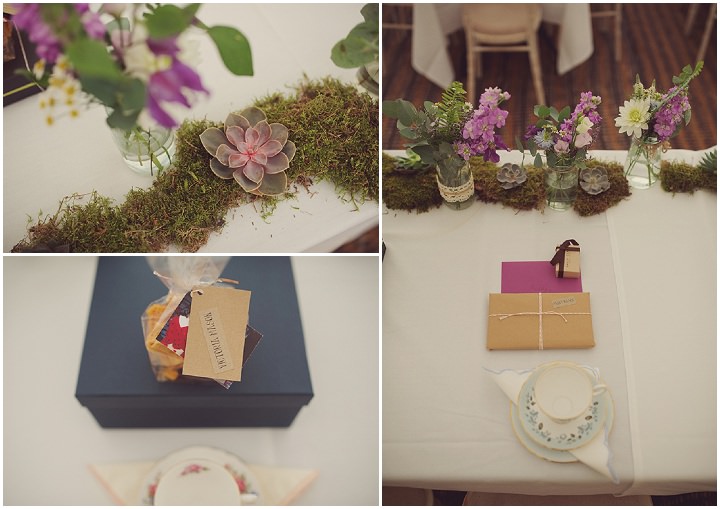 The food
Our good friend and colleague, created some exquisite summer canapés which were served immediately after the ceremony with champagne, Pimms and cloudy lemonade from a lemonade stand. For afternoon tea, he provided open sandwiches which were served with pots of tea and our cakes were made by Basil, one of our favourite independent cafes. They also made our Victoria sponge wedding cake. In the evening, we destroyed a hog roast.
The Cake
They also made our Victoria sponge wedding cake
Entertainment
We are both from musical families and so we wanted to enjoy as much as possible during the day. Two of Paddy's three brothers are professional organists so they played during the ceremony, and their wives are professional sopranos, so we were treated to incredible singing during the signing of the register. We hired two bands, one for the afternoon and one for the evening. We first heard Red Jackson, a rhythm and blues trio, when they were busking outside our local shopping centre. They were surrounded by a huge crowd and after listening to them for ten minutes, we knew that they would be perfect for our big day. Hope Town took over in the evening and the dance floor was packed from start to finish. The party carried on until the early hours as my uncle is one of Scotland's most popular wedding DJs and so our very lively guests had access to his database of 30,000 songs! Paddy and I were long gone by then!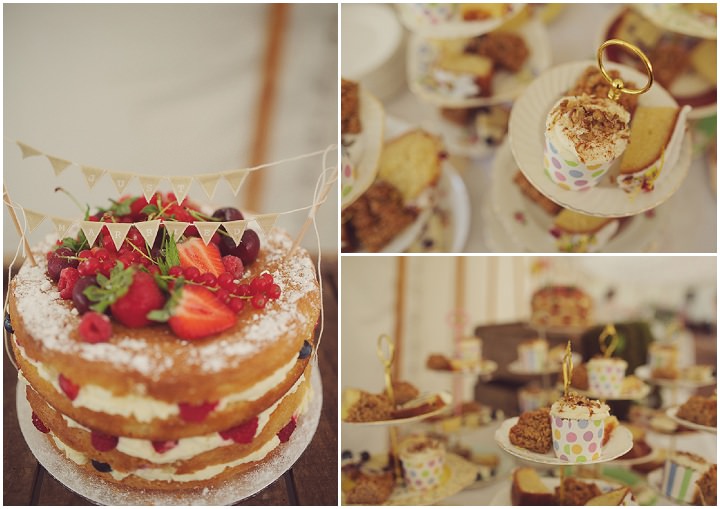 Buy or DIY your Stationery
We made all of our stationery using Microsoft Word, sheets of brown kraft paper and a home printer. For the envelopes, I bought some beautiful stamps printed with pictures of butterflies.
Personal or Handmade touches
Family Tree – I pinched this idea from a wedding blog and we were so pleased with the finished result. We framed pictures of our grandparents, parents and siblings, many of them wedding pictures.
Love Tree – There is a tree at Ashdown which is popularly known as the Love Tree. On its circular bench we sat two owl cushions and it gave some much needed shade on a sweltering day.
Favours – The other woman in Paddy's life is Agatha Christie. He's a huge fan and an avid reader of her novels so for our male guests, we wrapped vintage copies of her books in brown paper, tied with butcher's twine and inside we wrote a personalised message. For the ladies, we gave little bags of honeycomb. One of my fondest memories of my granddad is of when we used to share sweets which he kept in his car. I made labels for the bags; 'Grandad's Cinder Toffee', and I attached a photo of us together from when I was a toddler. There were 25 children at the wedding so we gave each of them a brown paper bag filled with goodies to keep them busy; an activity book, play doh, bubbles etc.
Our wedding stylist Jenny helped us to create different areas around the marquee; teepees, a photobooth and lawn games, for example.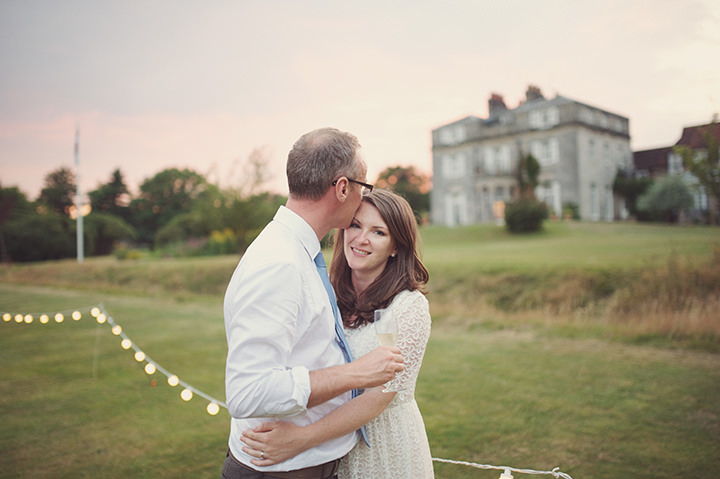 Special moments
-The whole day was entirely perfect and we had an absolute blast. The weather was beautiful, everyone was relaxed and there was such a happy vibe so it's hard to choose special moments!
-We were desperate to share part of our day with Reggie, our miniature schnauzer. He truly is our furbaby and so we loved our family photoshoot. We also loved seeing our nieces and nephews running across the fields with Reggie in tow. He looked adorable in his blue bow tie!
-Our closest friends did not disappoint when it came to getting the party started and a real highlight of the evening was the spontaneous conga line! We can't remember who started it, or to what song but it was a hilarious moment as the band played to an empty marquee and our entire wedding party, young and old, danced under the stars.
-Our sparkler send-off was the perfect ending to an incredible day, as we walked off into the darkness to begin our honeymoon.
Biggest surprise
Having left the marquee as a shell, we couldn't believe the transformation once the props were in place and the tables set. It was absolutely stunning and it took our breath away.
Advice to other couples
Start the celebrations early. Our guests started to arrive four days before the wedding and those few days were so special. We enjoyed BBQs, family cricket games and long summer evenings catching up with everyone. Plus, there were lots of helping hands to lug hale bales and tie bunting!
Although a child-friendly wedding is not for everyone, especially in more formal settings, we had forgotten just how magical the day can be for little ones. Their wide eyes, giggles and crazy dancing melted everyone's hearts and they can add such special memories to the day. Think about ways to involve them if you can.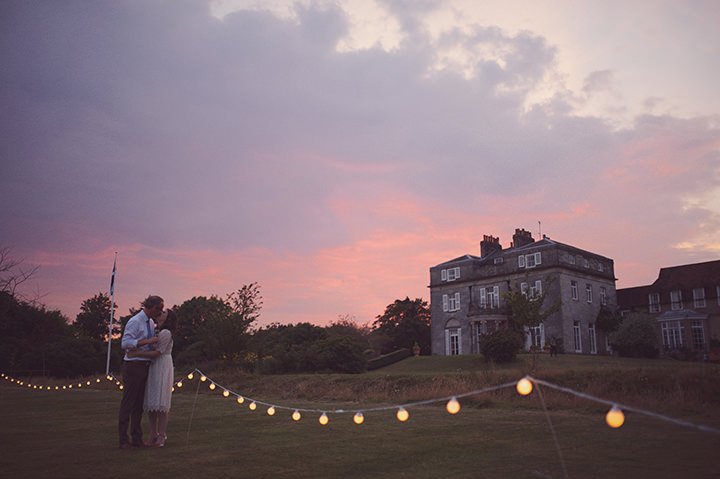 Supplier Shout Outs
Wedding Stylist – Jenny Sinclair, Bellaboo and Beau
Florist – Joanne Truby Floral Design
Photographer – Rebecca Douglas
Hair & Make Up – Fran Carter
Nails – The Salon at Wealden House
Dress – Minna
Hog Roast – Flying Pigs
Marquee – LPM Bohemia
Band 1 – Red Jackson
Band 2 – Hope Town
For more information on Rebecca's work go to:
www.rebeccadouglas.co.uk
FACEBOOK
@BxDouglas