Happy Monday everyone, I hope you all had a fabulous weekend? What did you get up to? I had a good one as I was at a wedding. The very lovely Hannah and Ben who got married at the family home, with a marquee reception fit for a princess! It was AMAZING! I got to work with some of my favourite and most trusted suppliers and it all went swimmingly! Hannah's brother is getting married in 6 weeks time and I am planning their wedding as well, so I can't wait for that one!
To start the week off in style I have this supper sunny marquee wedding that was sent to me by the lovely Carly Bevan. The wedding is full of cute ideas, and an even cuter couple – check out Gareth's suit and bow tie!
'A relaxed farmhouse festival with lots of mad hatters.'
Jess and Gareth were married on 25th May at All Saints Church and a field at the Keepers Lodge both in Brantingham, East Yorkshire. 'It was a difficult decision as I grew up in Cornwall and lived in the south west for many years; Charlie (Gareth) loves to travel so it did cross our minds to have our wedding abroad. In the end we decided that the view across Brantingham Dale was just too lovely. We had 78 family and friends joined us for the day and another 41 came in the evening. It was fantastic to see the church full to the brim with them all and wonderful to see close friends of mine who are scattered across the UK and Ireland. We got engaged in September 2011 and if I'm honest we had the main things organised before Christmas which included the Church, venue and marquee  Thereafter things happened as and when we got to them making the whole process nice and relaxed.'
How they met
We met in 2004 at a festival called Run to the Sun in Newquay. I saw Charlie laughing with his friends, decided that I had to speak to him and so introduced myself. Even though he lived in Yorkshire we kept in touch and met up again at the same festival the following year; been together ever since. We had a four year long distance relationship and in 2009 I made the jump to Yorkshire!
The proposal
Back in 2011 Charlie had secretly booked us a weekend away in a yurt just outside of York* for my birthday. The yurt was amazing and full of awesome antics, lanterns and a wood burner! On the Saturday night we had a home cooked dinner in the yurt and after a deep meaningful conversation about a shared passion of ours… apple crumble, he got down on one knee and asked if I would marry him. I honestly didn't believe it at first and said 'Are you joking?' Even though he was sat there with an engagement ring. Then burst out laughing and said 'Yes, course I will!'
*York Yurts have moved abroad now www.alorayurts.com but strangely Carly photographed someone else's birthday there the following year if you wanted to get a flavour for the place www.carlybevan.co.uk/birthdaycelebrations
Why did you choose your photographer?
I came across Carly at Hull's Vintage Fair and started to follow her blog. I knew I wanted Carly to join us on our wedding day but Charlie took a lot of convincing as he hates having his picture taken. We still can't believe it's us in the photographs she did an amazing job!
Dress
Oh dear the label was cut out of my dress by the shop so I can't tell you who it was by. My shoes were my very first purchase from ASOS! The accessories were borrowed: a mother of pearl bangle my Mum use to wear lots when I was little and a sparkly bracelet and pair of earrings from Alieen my best friend and bridesmaid in purple.
The suit
Charlie's suite is Ted Baker and his shirt and bow tie were from Debenhams. We had his shirt tailored as it looked a bit like a flowery parachute  I asked my bridesmaids to surprise me on the day but ensure they bought dresses they loved and would wear again. All three looked fantastic; Emma my little sister is using her dress for fancy dress!!
Theme or colour scheme
I did try to stay clear of a colour scheme but I guess it ended up being blue. We weren't really working towards a theme – we just based the wedding around things we loved.
Decoration / DIY Touches
I love farmhouse kitchens and so collected tons of blue and white vintage plates, platters, cups and saucers to use on the tables. My Mum is a potter and so I asked her to create some ceramic lanterns – they were amazing and we used them as centre pieces with beeswax candles in. She was then struck down with 'wedding make madness' and set about crafting over 100 meters of bunting. I really like big bunting and have a thing for ribbon tails. To top it all off she also made the giant pompoms! She is on holiday now.
Food
We organised the food and drink ourselves. Charlie and I took care of the savouries with help from my friend Harriet who made some super salads that accompanied a selection of breads, cold meats, pies and pasties. Charlie's Mum, Gran and Aunties took care of the deserts. What a job they did, we had never seen so many different cakes and bakes it was a dream!! In the evening we enjoyed a hog roast and veggie BBQ.
Entertainment
I had met Elliot Morris at a gig I helped Harriet organise. Charlie and I were really taken aback with his music and style. Like all good music after listening to his album as we travelled round New Zealand in 2010 we were hooked so after getting engaged I sent him an email entitled 'A long shot?' thinking that weddings may not really be his thing. Elliot was so gracious and once his plans were confirmed in 2013 he booked us in. I was over the moon and on the day Charlie and I sang along to our favourites – as you do!
Flowers
We collected greenery from hedgerows to scatter in pots and jugs around the marquee. Beth, a local florist created the button holes and my bouquet, they were so lovely, I still can't believe we were her first wedding she did a smashing job. The girls and I made the bridesmaid posies under the direction of my Mum and a book on the day; well you have to leave something to the last minute – its tradition!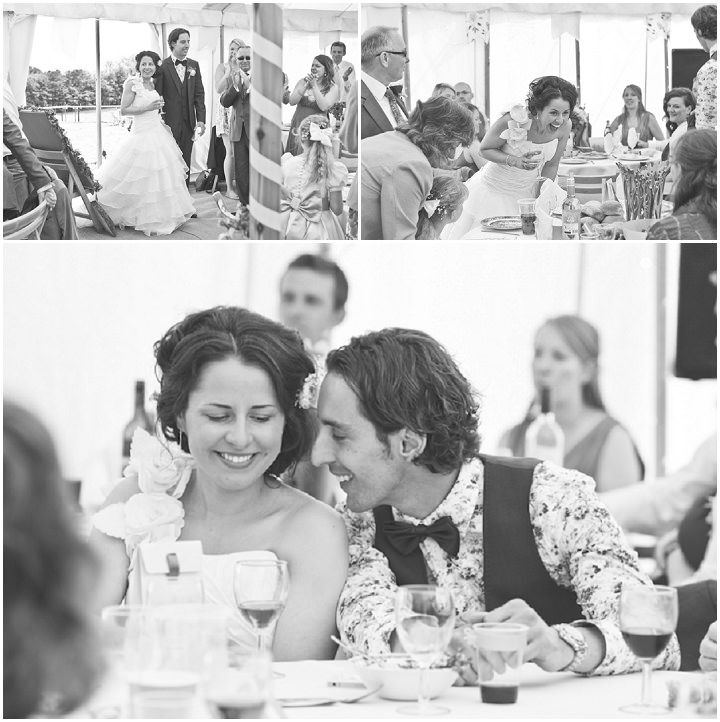 Special moments
Just seeing everyone in the same place at the same time was a real highlight for me. We are lucky to have such wonderful family and friends. Charlie's Mum and Gran organised the cake which was a surprise on the day, I couldn't believe it when I saw it!
Advice
Include the things you love – for us it was being outdoors, blowing bubbles and bourbon biscuits with tea to name a few.
Enjoy your day together – Charlie and I hung out loads on our day and still got to speak and laugh with all our family and friends.
Biggest surprise
You always read and hear 'The day goes so fast!' for some reason it didn't for me, everything was just lovely and I felt I had time to absorb it all. I think our biggest surprise was the weather. We had hail storms on the Thursday whilst the marquee was going up and on the Friday the wind was fierce. On the wedding day we couldn't have asked for better weather, it was gorgeous; we were even asked how much we paid for the moon which was kind enough to light up our evening!
Supplier Shout Outs
For more information on Carly's work go to
www.carlybevan.co.uk
[email protected]
FACEBOOK
07814-713764
I'm based near Hull in East Yorkshire, and am very happy to travel for destinations Weddings. I am very keen to work with couples that want to put their own stamp on their day. Whether your chosen venue is a Hotel | Village Hall |  Barn  | your favourite Pub | or a fabulous homespun DIY Wedding in a field!
If you love my style of photography and feel that I could capture your personalities & the true essence of your wedding day, then please contact me with details about your special day.