Well hello everyone and a very Merry Christmas to you all! How are you all? Excited? I know I am! It's a very short week on the blog this week as we only have today and tomorrow before we break up for Christmas. The blog will be taking a little holiday over the festive period, as Kelly and I take a well deserved break. We will also be having some site maintenance done over the next week so if the blog is down for any reason that's why. It will mean that the blog is much faster in the new year with faster load times, which is great news for everyone!
Today though, I have the most gorgeous Farm wedding for you from the lovely Carly Bevan. Michaella and Luke held their wedding reception on their parents farm and by doing so were able to add as many personal touches as they wanted. They got to work on all of their homemade and DIY projects early on and created a wonderful array of rustic details and wonderful decorations. I just love this wedding it is FULL of fabulous ideas and looks like a totally relaxed and chilled out day!
'The best day of our lives! A personal, homespun wedding full of all the things and all the people we love the most. '
Michaella and Luke were married on 14 June 2014 with the Ceremony at St Alban's Church, Wickersley and the reception at Brides family home, Springvale Farm Wickersley. 'We both knew we wanted a traditional church wedding, but didn't want a formal reception. We are very lucky that my parents and grandparents live on a old farm so we knew early on that we wanted to have the reception there so we could have total flexibility to do what we wanted. I love crafty projects so I was keen to include lots of rustic homespun details. We wanted a summer wedding and the first thing we did was check when the church was available. Once we had a date we thought about what our priorities were; photographer, marquee and catering and set about researching. At one point we thought about holding the whole wedding in my grandparents hay barn because I wasn't a fan of marquees, but once we finalised the guest list we knew we wouldn't have enough space and that it would be too big a task to clear it out. Through our chosen photographers website I saw a wedding she had captured that had a canvas pole marquee and I knew that was what I wanted. It was a big chunk of our budget but well worth it.
We wanted to invite as many of our family and friends as we could on a small budget, in the end we had 65 people for the day and 140 in the evening. Because we had so much space to play with at the reception, we created lots of different areas and activities to entertain our guest and no matter where you wandered too the whole place felt lively and vibrant. We spend a little over a year planning our wedding.
My Mum is a hotel manager and has loads of experience planning and delivering weddings so she was fantastic throughout. I am so lucky that Luke was such a hands on groom, he was my rock through all the planning process .  Planning our wedding together made me truly realise that he is my better half and I couldn't be a luckier lady.
How they met
We met at collage in 2004 aged 17, Luke's friend was dating my best friend, so we started spending more time together, began dating and the rest is history as they say.
We have been together for nearly 10 years now, Luke was my first love and I very much hope will be my last. It hasn't all been plain sailing though; in 2011 we broke up for a few months. I think this bump in the road made us both realize how much we mean to each other and has made our relationship stronger for it.
The Proposal
We had already discussed getting married in the near future and both wanted to take that step, but Luke still managed to surprise me with a romantic proposal when we were on holiday in Rome. He got down on one knee in front of the Trevi fountain to my delight and embarrassment. Once I said yes we got a round of applause from the gathered tourists.
How did you allocate your budget
We tried to keep costs as low as we could while still having what we wanted. My parents were really generous and allowed us to be flexible in what we spent, as we didn't have much saved. Lukes parents were also great in paying for certain aspects which meant we could get what we wanted. Our biggest expenses were the marquee and the photographer. We saved money on some aspects of our day by making a lot of things ourselves so that we could afford other things like the bands and the florist.
How did you choose your photographer
We are both keen photographers and knew it was a very important part of our day. We started by looking locally, but nothing caught our eye. I was trawling though wedding blogs trying to get ideas and inspiration and came across Carly Bevan (actually on boho-weddings).
I love how bright and vibrant her images are combined with how she tells the whole story of the day, capturing all the small details as well as people's emotions and the general atmosphere. We went over to Hull to meet her and discuss our day. We both came a way with huge grins knowing we had found the one. She is fantastic, managing to capture our day perfectly as we remembered while giving it a wow factor we didn't expect.

The Dress
I got my main dress 3 weeks (yes that's right weeks) before the big day from Preloved, which definitely wasn't the plan. I wore Diana by Enzoani with the Sash, it was not at all what I expected to wear but I absolutely loved it!
In the evening I changed into a more relaxed but equally beautiful dress made by family friend and designer Colleen Eitzen.
During the ceremony I wore a Swarovski necklace that was a past Christmas gift from Luke but otherwise kept my jewelry to a minimum as the dress and belt were so striking on there own. My shoes were Untold from House of Fraser.
The Suit and Bridesmaids
Groomsmen…
Initially Luke wanted to go all out in tails, but as it was going to be at the farm I thought this would be too formal. After trying on a few different hire suits with the groomsmen, they chose to buy a grey three piece suit, from suits direct, which looked just formal enough and perfectly complemented their green ties. I bought Luke some horseshoes cufflinks for the day as a gift which tied in with the loose equestrian theme
Bridesmaids…..
I had 5 bridesmaids. It was really hard to find affordable dresses, in a style that complemented all different shapes and ages, and just to make the search more awkward I knew I wanted them to be a pale green colour. In the end after scouring the shops and the internet I found a seller on etsy in California, who made all different designs made to measure in every colour possible. I sent the girls the link and they all agreed to give it a go. I chose a beautiful pale green from the swatch chart and all the girls chose whichever style they liked best. I was so pleased with how they turned out.
After all the effort of looking for the dresses I asked the bridesmaids just to choose there own shoes in a neutral tone and preferably flat ( I am only 5ft while my tallest bridesmaid is 5ft 11')

Theme or Colour Scheme
We didn't really follow any particular theme but rather amalgamated things that we like. I loved the idea of a picnic while Luke wanted a barn dance, so we had plenty of gingham and baskets as well as beer and music.
I have two horses and have always been horse obsessed! Early on when we were designing our invites and decided to go with a horseshoe stamp we loosely incorporated an equestrian theme to our day. Luke made table numbers from old horseshoes and I made rosette place settings. We even filled a bucket with carrots for the kids to feed the horses over the fence on the day, it was great to be able to make Rustie and Rufus (the horses) a part of the festivities.
I love the colour green so swayed towards a pallet of mainly green and neutrals with splashes of red, because Luke is a big supporter of Sheffield united football club.
I ordered a mixture of green and neutral tissue paper and with lots of help from the bridesmaids and family made hundreds off paper pom poms to decorate the marquee and barn. It was a great inexpensive way to add lots of colour to the day.
Flowers
A florist who my mum knows made the bouquets and buttonholes. Jenny was great and even though I wasn't really sure what I wanted she created it. I had white peonies, tiny daisies, red spray roses, dill and I forget what else… On the morning when she dropped them off my mum and me were both thrilled! The buttonholes were a mix of white and red roses.
Decoration
My mum bought all the flowers for the centerpieces and we collected and decorated mason jars with ribbons to put them into. One of my bridesmaids made all the table runners out of burlap.
We also used various things that we could find on the farm to decorate and cut down costs. We hung old cart wheels in the barn like chandeliers, used hay bales with burlap covers as seating. Luke made a bar using pallets. We used old doors and wood to screen the barn, filled wheelbarrows and watering cans with flowers and tried to embrace the rustic venue. My dad bought me a ladder to use for the seating plan and Luke wrote the order of the day and lawn game rules onto chalkboards he made.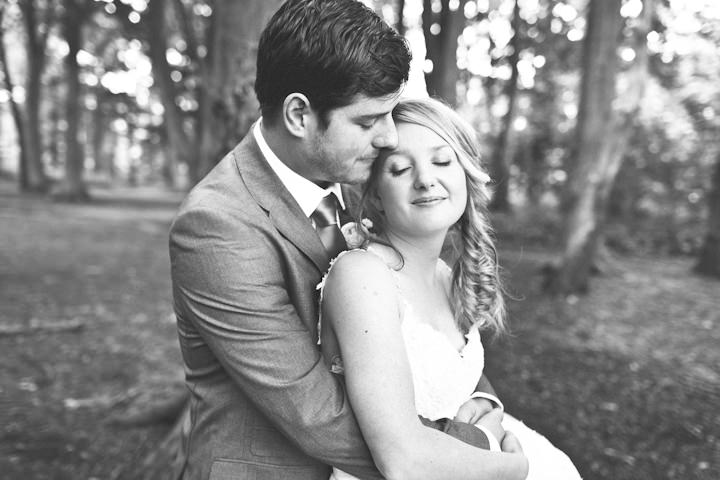 Food
We had a picnic style buffet. It was a sort of build your own sandwich bar with baguettes and all sorts of fillings from cheeses to cold cuts, along with traditional picnic sides like scotch eggs, sausage rolls and salad.
In the evening there was a hog roast, which we hired from the farm just down the road and put on baked potatoes as a vegetarian option (I don't like pork)
My Mum and Luke made all the deserts, we had trifle, lemon meringue pie, chocolate cake, strawberry's and cream and a selection of cupcakes. We also had a ice-cream fridge and a make your own sundae table.
Wedding Cake
Our cake was a victoria sponge without icing and just decorated with fruit. It was delicious!
Entertainment
It was so important to us that the guests enjoy themselves, so we knew we wanted lots of yummy food, great entertainment and fun games. We did a lot of research into bands but everyone we contacted was already booked, in the end the best man recommend a local group he had seen, so we went ahead and booked them having never heard them play! They were great! My mum also found and booked a acoustic band who played when people arrived at the reception, it lent a lovely soundtrack to the day.
We knew we had quite a few children coming and we wanted them to enjoy it just as much as the adults. Luke's Dad borrowed a bouncy castle, we turned some old jumps that I had into a coconut shy, made a horseshoe toss and even played cricket.
We created our own photo booth with a backdrop of old doors draped in burlap and using the masses of fancy dress stuff the bridesmaids and I already had created props. Our guests loved it, we have some great silly photos.

Buy or DIY your Stationery
Luke and me made all the stationary, with a little help from our friends, as they say. We used cotton rag paper, stamped with a horseshoe motif and tied together with red and white butchers string to create the rustic picnic look that we wanted. The paper was a nightmare to print on, and it took hours to stamp and ties them all one by one, but the simple and unique look was worth the effort. We both put a lot of thought into the design and wording of the invites and it was something I enjoyed working together on. I was very lucky to have the help of one of my bridesmaids, Natalie, in all matters stationary related as she has her own wedding stationary business.
• For transport we used my Dads MG midget, decorated with flowers on the front and back bumper.
• Luke built the bar himself from pallets and an old door
• We painted all the signage for around the farm
• I made all the paper rosette place names
• The tissue paper pom poms were a true team effort by friends and family
• Luke used old horseshoes we collected to make the table numbers
• One of my bridesmaids, Jess, made all our table runners.
• My Grandma made all the hay bale covers
• My Mum used an old cart that we had to make a sweet cart
• I made burlap bows to decorate the church pews
• My Grandad made a coconut shy out of some jump ends and cut holes in wood to make bean bag targets, My grandma made the beanbags.
• Luke made chalkboards and used them to write the rules for lawn games and the order of our day.
• Me and my mum collected and decorated mason jars with various ribbons and buttons, for flowers and tea lights.
• Luke used old doors and windows to create a backdrop for the photo booth
• I made little gift boxes and notes to put the bridesmaids gifts into.
• As the first England world cup game was on the evening of our wedding the best man sorted out a projector and we had our own screening of the match.
Personal or Handmade Touches
I loved making and doing so much of our wedding ourselves, it made it so much more than just one day. We spent days before setting up the farm and were overwhelmed with helpers. We begged and borrowed whatever we could and saved so much money, but it also meant that on the day people felt some sense of ownership and pride. You could hear people saying " I made some of those pom poms" or "I lent them the gazebo"
Special Moments
Wow where do I start!
Walking down the aisle and seeing Lukes face was the most overwhelming and touching moment.
My godfather did a reading for us in church, it was a passage from my favourite novel Jane Eyre and at that point I could no longer hold my tears!
After the ceremony we stopped at the local woods to have a few pictures and it was lovely to have a few minutes to ourselves to chat and reflect on it all.
During the speeches Lukes mum read out a poem she had written and there wasn't a dry eye in the house.
Luke and me both have a sweet tooth, the candy cart that my mum made was amazing! It had beautiful glass jars filled with all our favorite treats and it looked the bees knees! At night it lit up with fairy lights and everyone commented on what a great idea it was.
Having my Dads family travel all the way from South Africa to be there was wonderful.
Advice to other couples
Do whatever you want it's your day! At first I was really worried about not following conventions, but after I let them go everything fell into place and we had a great day. If you don't want to pick a fixed theme, have a regimented colour scheme or have your speeches in a traditional order then don't. I am so glad we created a mish mash of everything we both love and like and that we didn't worry too much what people would think ( well we tried not too) because in the end everyone had a great time.
If your on a budget shop around, the difference in price between suppliers can be astounding and why not look at second hand stuff. My Dress was less than a quarter of the price of buying it brand new and was in perfect condition. Sites like preloved are great.
Also although everyone says it, its true the day goes so fast, so make the most of it.
Biggest surprise
Lukes speech had everyone in stitches, he is a bit of a joker and part way through his speech threated to rap the rest of it! He even donned shades and had some beat boxing in the background. It was sooo very Luke but non of us expected it.
Supplier Shout Outs
Photographer – www.carlybevan.co.uk
Hog Roast Hire – www.morthenbutchers.com
Marquee – www.wills-marquees.co.uk
Postbox – www.adelarosa.co.uk
Stationery – www.todayshecreates.com
For more information on Carly's work please go to:
www.carlybevan.co.uk
[email protected]
FACEBOOK
07814-713764
I'm based near Hull in East Yorkshire, and am very happy to travel for destinations Weddings. I am very keen to work with couples that want to put their own stamp on their day. Whether your chosen venue is a Hotel | Village Hall |  Barn  | your favourite Pub | or a fabulous homespun DIY Wedding in a field!
If you love my style of photography and feel that I could capture your personalities & the true essence of your wedding day, then please contact me with details about your special day.