Well hello Monday and hello to lots of lovely light summer evenings ahead of us, how exciting is it that British summer time is officially here!  I hope you all had a good weekend?  We are starting the week off in style with this fabulous DIY affair from Carly Bevan.  It's the wedding of Kate and Simon who chose a day that was very personal to them.  Incorporating lots of bright and colourful colours, lost of paper lanterns and bunting with a Horror Movie theme, this wedding really stands out from the crowd.  I love all the individual details in this wedding, the venue is super cool and the couple are an absolute joy.  I hope you enjoy it as much as I do.
'Our wedding was exactly what we both wanted, non-traditional, loving, colourful and relaxed! We couldn't have asked for a better day.'
Kate and Simon were married on 8th August 2014. The Ceremony was held at Beverley Registry Office and the reception at Fruit, a gig venue in Hull's Old Town. 'We're not particularly religious, Beverley registry office is lovely and Fruit because it was a completely blank canvas for us to do what we wanted with. We had 30 guests to the ceremony and a further Ceremony 110 to the reception. The wedding took about a year to plan.'
How they met
We've been together 6 years (we got married on our 6th anniversary) but the first question is more difficult because it has two answers – the right one and the wrong one. It depends on whether you're asking me (Kate) or Simon.
In 2007 I went to visit my friend Jon at his place of work. He happened to work with Simon. Both Simon and I had recently ended terrible relationships with terrible people and we HATED anyone of the opposite sex. So it's safe to say, it wasn't love at first sight.
Fast forward 1 year and we started chatting on Facebook about tattoos and the rest as they say is history. Our first date was on 08/08/08
The Proposal
After a particularly terrible day at work on the 13th March 2013 I came home to find tea being cooked for me and a playlist of all our songs. Si's really romantic so I didn't think anything of it. I turned away to grab my glass of wine, turned back and he was on one knee. You can't print my actual response but let's just say I was NOT expecting it!
How did you allocate your budget
We decided we wanted to keep things as cheap as we possibly could so there was a lot of things that we DIY'd. We split our budget into the areas that we were the most excited/bothered about. For me it was photos, for Si it was food. Then we just kept costs down where we could by doing as much as we could ourselves.
How did you choose your photographer
This was an easy one. I trawled through a few local photographers websites and found everything to be really samey. I grew up around the wedding industry and vowed from a young age to make sure I had pictures to treasure for the rest of my life, so this decision was really important to me. It was a no brainer the minute I saw Carly Bevan's work. Bright, happy, unique. What more could you want! We met up for coffee and I just knew she was perfect.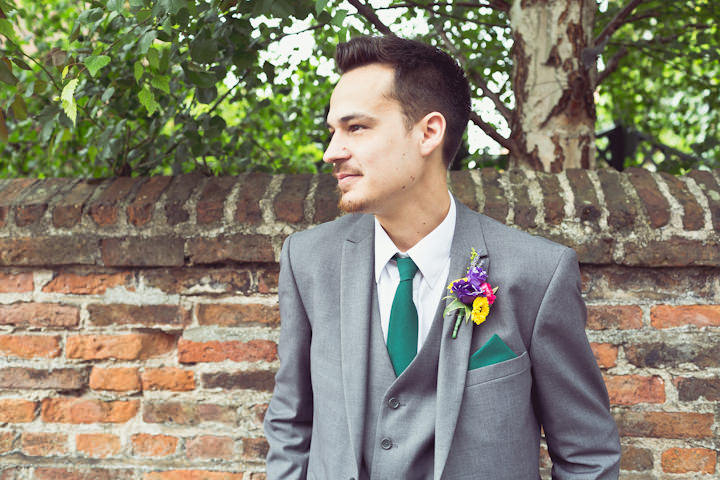 The Dress
My dress is a Monsoon dress. I'd tried on loads of designer dresses and always felt uncomfortable. The sales people tell you things like you'll have to take a friend with you to the toilet or the worst one keep talc handy – I won't go into the reasons for that. I bought this dress online without ever having tried it on and it fit like a dream. I think it was fate. My veil was from Bridal Reloved in Beverley, my jewellery were pieces I've had for a while and my shoes, well my shoes were my proudest DIY achievement. I'm not a very girly girl and I wanted some really unique shoes (flats because I can't be trusted in heels!). I made my shoes myself using a pair of plain black pumps and I covered them with horror comic scraps. Mainly from Tales from the Crypt comics that I've been hoarding for years. I was really pleased with how they turned out. They're keepers for sure! I did make a second pair that were covered in green glitter and intended to wear them for the night do but I loved my horror comic shoes too much to switch.
The Suit and Bridesmaids
Bridesmaids were a real issue for me. I love the colour green, always have. My engagement ring is emerald. So I knew Fi and Al needed to wear green (it suits both of them so well too). I couldn't find anything that was good enough so I called upon the most amazing dress maker I know – my friend Terry. She understood exactly what I was after and made custom necklines according to their individual preferences. She even found some vintage sequin pieces to add to them and I was blown away. The boys got their suits from House of Fraser and Terry made their ties and pocket squares from the same material as the bridesmaid dresses so everything matched perfectly.
Theme or Colour Scheme
I saw a picture on Pinterest of a wedding where they'd used lots of brightly coloured paper lanterns. I fell in love with it and our wedding sprang up from there. Everything was brightly coloured and, having bonded over horror movies from our very first date there was a bit of a horror theme mixed in. Si found some vintage horror comic postcards which we used for our invites and table settings and I made all the centrepieces with horror comics incorporated.
Flowers
Brains. I'm not even kidding. I went to school with our florist Abi. As I've said, I'm not girly at all. She asked what kind of thing we wanted and ran with it. My only stipulation was mini sunflowers and ivy in my bouquet because, whilst a lot of my family from Australia (luckiest girl in the world!) could make it, my Nan couldn't and I needed a bit of her with me on my big day. My bouquet was made up of hot pink roses, double purple eustoma, French lavender, bright orange celosia (BRAINS!), mini sunflowers, Kermit chrysanthemums, lime green anigozanthos (kangaroos paw as a nod to my Aussie side) and ivy for my Nan.
Decoration
We had lots and lots of different coloured/sized paper lanterns and my mum made the most amazing brightly coloured bunting. With my friend Danni's help, we made table centrepieces using horror comics and Bundaberg Sarsaparilla bottles. I drank a LOT of sarsaparilla as a kid in Australia. And Bundaberg is close to my families hearts. Not just because they make amazing rum – but that does help! I even used sand from Hornsea beach in the bottom of the bottles to secure the horror comic flowers, I grew up in Hornsea, East Yorkshire so they were very personal. Simon won't let me finish this question without mentioning the fact that he upcycled an old picture frame with bright green spray paint. We turned this in to a 'photo booth'. Si thinks it was the highlight of the day – he hasn't shut up about it since.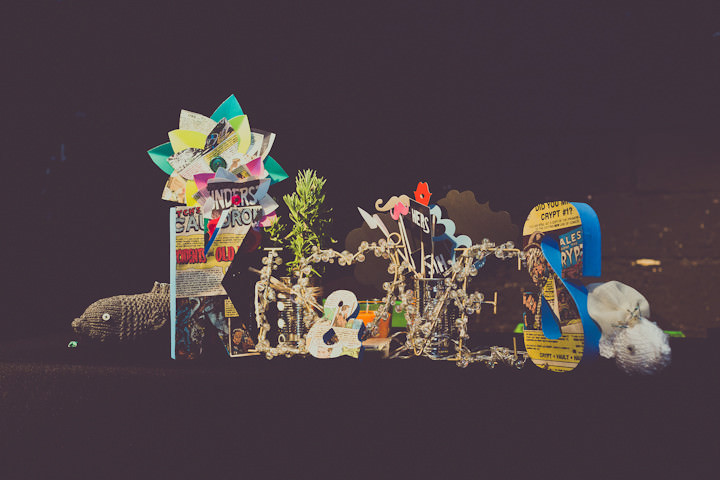 Food
We had Pie. Pie needs to be capitalised because it's the name of the best pie shop in the universe. Pie, mash, peas and gravy – you can't get much better. For the evening do we also had a buffet made by a family friend. It was incredible. People lost their minds over the cheese board and Danni ate so much quiche she nearly passed out!
Wedding Cake
The cake! Oh that cake. Even now, months later I dream of that cake. I play roller derby and Si is a ref for our team the Hulls Angels Roller Dames. Our team mates are the most amazing bunch of people you could ever wish to meet and they really turned our wedding into a team effort. Our cake was made by the immensely talented Laura who asked me for a few ideas and went wild. Viewing it from one angle it looked beautifully traditional – handmade sugar craft lillies, a traditional bride and groom, vanilla cake – absolutely stunning but nothing out of the ordinary. Turn it round and it was a full on haunted house complete with zombie hockey player (Si also plays ice hockey) and the bride of Frankenstein (my favourite horror movie) this side was chocolate cake. We hadn't seen our cake before we arrived at the venue and I was just blown away.
Entertainment
Entertainment was a relaxed affair. We relied on food and good company mostly. Our playlist was a labour of love with each and every guest providing their favourite party songs and the stories behind their love for them. It meant that everyone had a song just for them. The highlight was getting everyone, Aussie contingent and Pommes alike up on their feet dancing to I come from a land down under.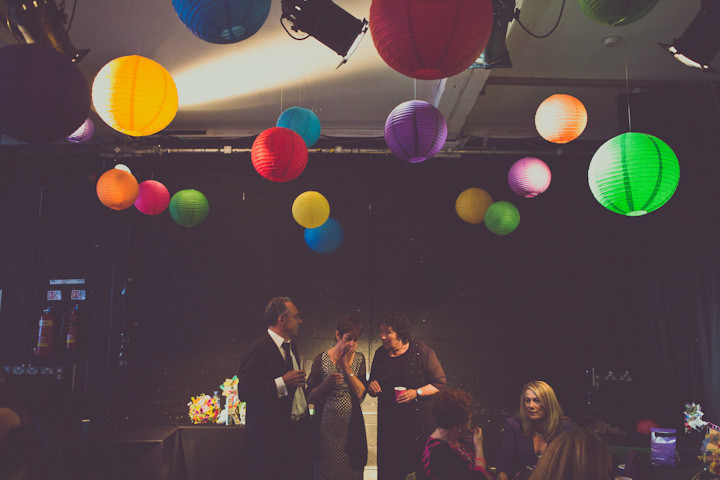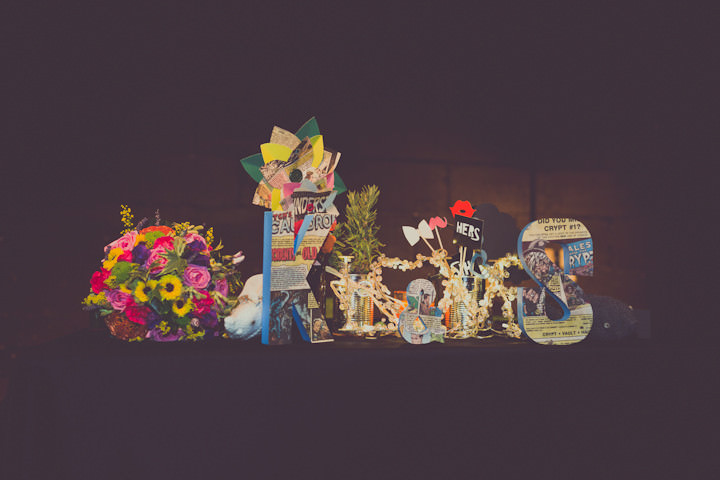 Buy or DIY your Stationery
Mostly we DIY'd with a little help from my bridesmaids and teammates. Si had found the horror comic postcards which served as invites and table 'numbers' and we used custom made stamps from Little Posy Print. I was so impressed with our first stamp that I ordered a second one and we stamped our brightly coloured favour bags with thank you stamps that matched the invites.
Personal or Handmade Touches
I've mentioned loads of personal touches but one that I haven't mentioned is my garter. I grew up with another family in Hornsea. My mum and Sarah were best friends so myself and my bridesmaid Fi are like sisters. I didn't have something borrowed or blue so Sarah offered me the garter she wore at her wedding after it had also been worn by Fi on her wedding day. We've started a family tradition and our future daughters will wear it on their wedding days too.
Special Moments
Kate: Oh there were so many special moments from our surprise transport (see below) to our cake. But for me, the most special moment was being able to share my big day with all my aunties from Australia and my cousin Lauren. The only family I have in the UK is my mum, so it meant the absolute world to me.
Simon: the highlight of my day was seeing Kate in that dress! I've never been reduced to tears so quickly. She was stunning.
Advice to other couples
In terms of planning I will always advise couples to be true to themselves. This is YOUR wedding day. Make it personal. A wedding doesn't have to cost a bomb, the focus is the marriage not the wedding day. And don't sweat the small stuff. Things will go wrong but no one will even notice.
My biggest advice for the wedding itself would be to enjoy the day. Take the time to remember the little things. Spend time with your new spouse. The day goes so quickly it's unbelievable!
Biggest surprise
We thought we needed to get a taxi from Beverley to Fruit. I'd asked my mum to book one. She was so vague about it and I worried that she had forgotten. I remember standing in the gardens at the registry office and Carly asked us to move round to the side of the building for some more shots. As we came round the corner we saw this gorgeous VW Campervan, all decorated and I thought "aww there must be another wedding going on". It turns out, Trawma, Marc, Betty Banzai, Nic, D.Mac and Beat Monkey (roller derby players tend to have nicknames) had all arranged for us to be taken to Fruit in it! Inside was an incredible book hand painted by Pixel Vixen and signed by the whole team along with a bottle of champagne for our ride. Remember I said I wanted ivy in my bouquet so that I had a little piece of my Nan, Ivy with me? Well it turns out Matt who owns and drives the VW named her Ivy. None of the guys knew this or knew that my Nan was called Ivy. It was, the most amazing surprise. We both cried.

Supplier Shout Outs
For more information on Carly's work please go to:
www.carlybevan.co.uk
[email protected]
FACEBOOK
07814-713764
I'm based near Hull in East Yorkshire, and am very happy to travel for destinations Weddings. I am very keen to work with couples that want to put their own stamp on their day. Whether your chosen venue is a Hotel | Village Hall |  Barn  | your favourite Pub | or a fabulous homespun DIY Wedding in a field!
If you love my style of photography and feel that I could capture your personalities & the true essence of your wedding day, then please contact me with details about your special day.
[jprel]