I feature many photographers on the blog but today's has to be one of my favourites. I have known Shelly from Toast of Leeds for a good 3-4 years now and I have to say I blooming love her! I love her character, her sense of humour, her straight-talking and most of all I love her photography! which is why she is such a regular on the blog. Today's wedding is no exception and is full of individual charm and that trademark Shelly touch! With an outdoor ceremony that even the odd spot of rain couldn't dampen, THE most gorgeous wedding dress, Tipi's and lots and lots of home-made details, this wedding is brimming with personal touches and I just love it!
'Our wedding day was an intimate, relaxed, summer fete with a ceremony at the beginning and a disco at the end! It was as close a manifestation of us as a couple as we could muster, and we loved it.'
Louisa and Edwin were married on 11th May at Masson Farm and Swallow Barn both in Matlock Bath. 'Matlock Bath has always been a place we've loved to visit together. We took one look at the farm, and knew straight away that it was the place for us. It's so beautiful, peaceful, and private. Not a corporate event in site. It also allowed us to do things on our terms, in which ever way we wanted, down to the last detail. I think that was the key element for us. We had 50 guests during the day, about another 30 for the evening and it took a year to plan.'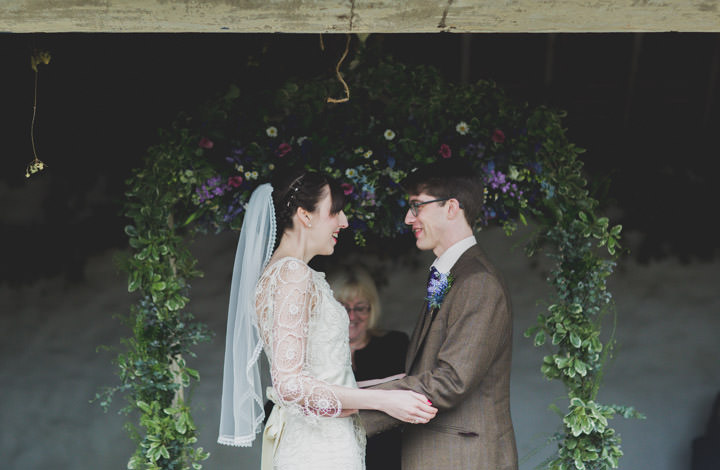 How they met
We both work together at Sheffield Children's Hospital, and this is where we met. We were friends for about 3 years before we started dating. We'd been together for three and a half years when Ed proposed, so we've been together nearly 5 years now in total.
The proposal
I got breakfast in bed for my 33rd birthday, and with it came a ring! Then Ed had arranged for us to travel first class to London, where he'd bought the ring, to have it sized. He'd bought an antique diamond ring because of ethical concerns he had around new ones. While we were there, he'd booked lunch for us at a posh restaurant. He hadn't given much away, and I was not dressed appropriately! It was a hilarious, magical, whirlwind of a day.
Why did you choose your photographer?
I spent a lot of time looking at blogs. I knew the kind of photos we didn't want – nothing too standard, formal, or cheesy. We're not particularly formal or conventional in our tastes, so we wanted photos which reflected that, and would make the most of the idyllic venue we'd chosen. Once I'd stumbled across Toast of Leeds, I was really excited, and fortunately Ed agreed! We met the lovely Shelly, and knew we were trusting the job to the right person.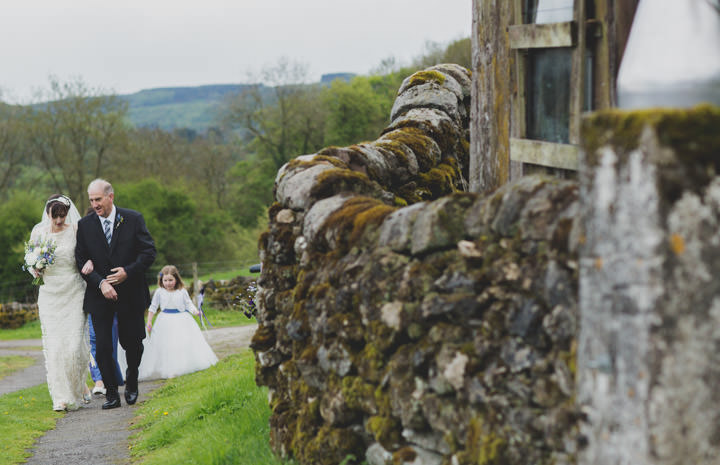 The Dress
The dress was by The Vintage Wedding Dress Company. I'd spotted it online, and found a stockist in Manchester, called The White Closet. As luck would have it, I managed to get an early slot at one of their sample sale days, not knowing what to expect as I hadn't been anywhere else yet. There were some really lovely dresses, but I knew that was the dress for me when I tried it on. I couldn't have afforded it full price, and I couldn't believe my luck that I'd found it in the sale and it fit me. The girls there were lovely, and I really enjoyed the experience.
My hairband was by Sheena Holland in Derby. I wore a knitted woollen shawl by Makepiece of Todmorden, which I really loved. It was a last minute cold weather panic buy. I didn't want to wear heels, so I bought some ballet pumps half price from Accessorize, for the princely sum of £7. I made some shoe clips to go on them.
The suit and bridesmaids
Ed had his suit made for him at Ted Williams, Sheffield.The Bridesmaids dresses were made from a fabric which we picked. My chief Bridesmaid had her mum make hers, and my niece had hers made by a dressmaker in Liverpool.
Theme or colour scheme
We didn't really have a colour scheme. In fact I was worried everything would clash on the day, because one thing didn't really match another! I suppose overall we went for a kind of informal English Country Garden feel, with a small nod towards purple. Ed would not let me use the word 'theme'! We did include swallows here and there, inspired by the venue, Swallow Barn. I designed a vintage style tattoo heart, with swallows and our names across it, and we used this on all our stationary, for the seating/wishing tree tags, and a 3D version I made for a cake topper! Swallows also featured on Ed's cuff links, and my shoes! I've also used the same fonts for all the stationary, table numbers etc which we made.
Decoration
I made 90 meters of bunting which decorated the inside of the tipi, and the grounds and bar of the farm. We made pinwheels as table centres (so much fun) and two bigger pinwheels for the flower girls to hold. Each table had flowers at either end and coloured paper doilies.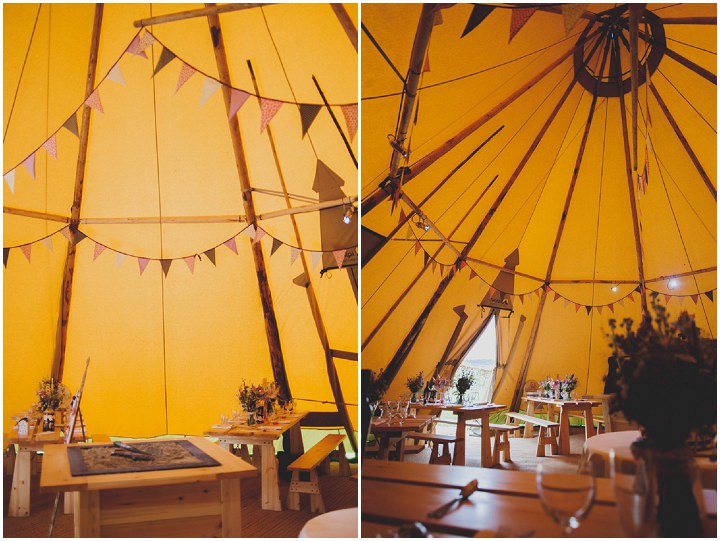 Food
We had tea and mini cakes after the ceremony, and our main meal was a BBQ, all catered by Helen from Kiwi Coffee Company in Matlock. Her father owns a local farm and runs a butchers, and she uses his produce. In the evening we served the wedding cake and a cheese board.
Entertainment
We had music playing through the whole day. Music is very important to me and Ed, so we wanted to make sure the music reflected us. Not a cheesy wedding disco! We also asked each guest to pick a track they would like played, which they sent back on their RSVP cards. This was so much fun, and got everyone involved and excited to hear their song, which was lovely. We split the music up in to ' daytime' and 'evening', when we really cranked it up!
Flowers
Informal English country garden, but without roses. I wanted them to look informal, not too structured. I absolutely loved them, our florist Nadia did an amazing job. She also arranged the flowers which we had decorating the wedding arch, able to be taken off and used to decorate the top table. Genius!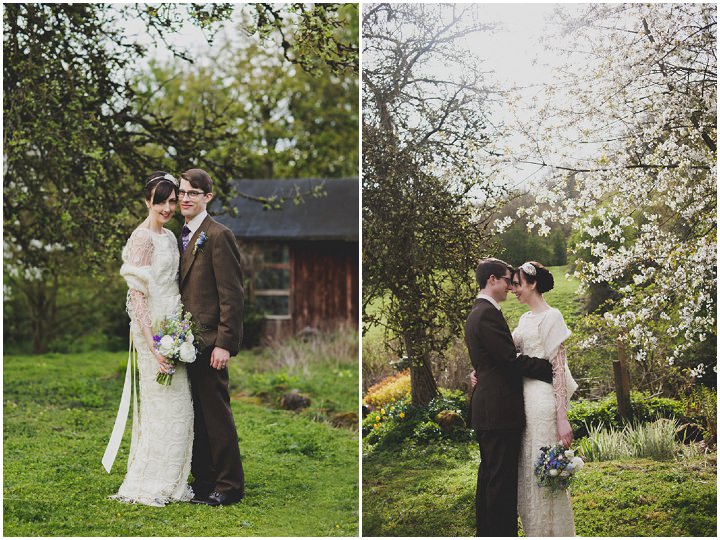 Personal / DIY touches
• If we had a mission statement for our wedding, it was to make it as personal to us as we could. We were lucky to be able to do that for pretty much every aspect of the day, so everything had significance to us – from the beer we selected for the bar, and the 'cocktail of the day' which was my bridesmaid Amy's favourite, to the place settings.
• I was really proud of the invitations I made. I had a real skill upgrade, by learning to use graphic design software, which I'd never done before. This meant I could use my own design (swallow/heart motif) for them. It took a lot of time, and a lot of trial and error, but was so worth it.
• The car I arrived in was our own little Skoda – maybe not glamorous, but we had bought it together when we had only been seeing each other for a few months, so it has a lot of sentimental value to us. It looked pretty smart with some ribbons attached! My brother did the honours of being my driver.
• We made little bags with 'his' and 'hers' embroidered on them for the rings.
• I made the cake – again, a massive skill upgrade on my part, as I'm not a particularly experienced baker! But my Nanna, who had died two years before, had traditionally made the wedding cakes of my cousins. So sadly, she couldn't make mine, but I was determined to have a go in her honour. I ended up making a three tier cake, using her fruit cake recipe for the bottom tier, and then making lemon and chocolate tiers.
• I then made toppers for each tier, and iced each one differently.
• Table plan – I decorated individual tags for each guest, stating their name and table number on one side, and on the other, a space for them to write their 'wishes and wisdom for the bride and groom'. They could then hang them on the wishing tree we made. I decorated a picture frame, to display them on, so each guest could find their own name. We also made generic tags which were used for the wishing tree by our evening guests.
• We made the favours – chocolate lollipops in moustache and lip shapes. Ed had sported some impressive facial furniture for many years – and while his top lip is now naked, it seemed an appropriate choice which our guests recognised straight away.
• We used our picnic basket for the cards, lined, and decorated with origami paper bows.
• We made the pinwheel table centres and table numbers. We made the flower girls giant pinwheels!
• I made a clutch bag for my chief bridesmaid Amy, which was a cross stitch pattern by Felicity Hall Needlepoint. It took about 6 months work, and I only finished it 2 days before the wedding.
Special moments or highlights
I think for me, getting to the top of the aisle, and looking out to see all the people I care about. And I really loved the readings we'd chosen for the ceremony. In the evening, my highlight was that it took The Prodigy to get my mum and dad up dancing! For Ed, the speech made by his Best Woman, Annie, and the bit where we got married. Awwww!
Advice
For the planning, start early, and expect everything to take longer than you think it will. Doing a lot yourself is great, very rewarding, and will save you loads of money, but you need to weigh up the cost to your time and stress levels! Accept help when it's offered. Remember what the most important thing is: marrying the person you love. On the day, get someone else to take care of the organisation and practicalities, consider your work done, sit back and enjoy!
Biggest surprise of the day?
How much I enjoyed the getting ready process. I thought I'd be really stressed, but I wasn't and I had a lovely time hanging out with Bridesmaid Amy.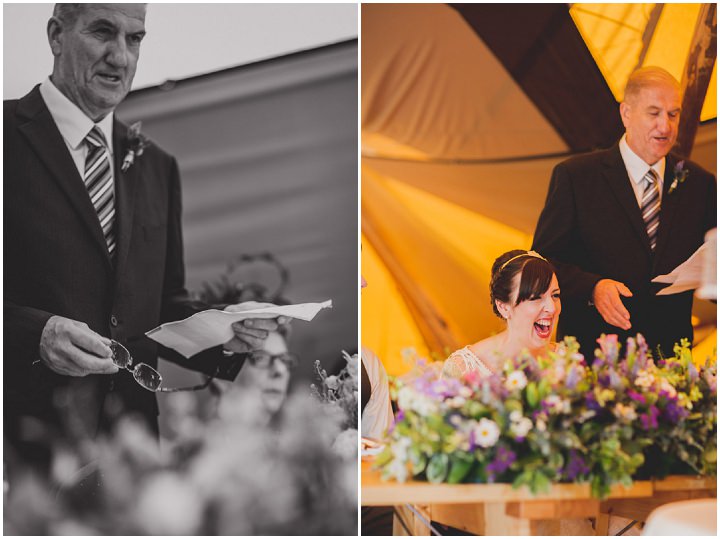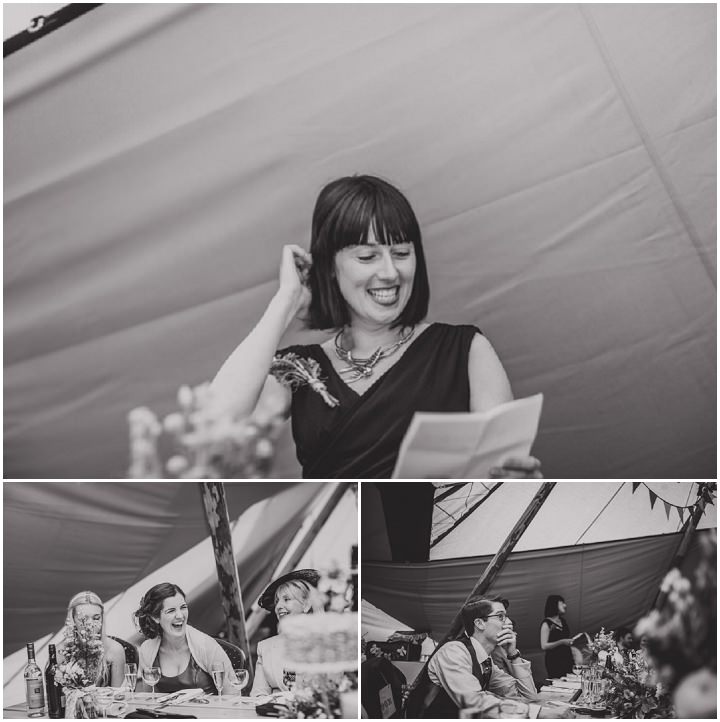 Supplier Shout Outs
For more info on Shelly's work go to:
www.toastofleeds.co.uk
toastofleeds.com
TWITTER
FACEBOOK
[email protected]
0113 3560157