I have got to know Shelly from Toast of Leeds quite well over the last few months, she is a fantastic lady and a very talented photographer who has a great work ethic and a very vivid and creative imagination!
So when she told me about a 60s photo shoot she was putting together I was over the moon (if not a little surprised) when she asked me to model for it.
Now I'm no model, I've done a few bits here and there when I was in my 20s and a size 8, BUT I'm a lot older (and fatter) now so I was a bit confused as to whey she asked me………..BUT I do LOVE having my picture taken, so who was I to question her reasoning's!!
The shoot was meant to tale place in December but then it snowed…and snowed…and snowed, so it had to be rescheduled, so this Monday after 2 weeks of complete starvation I set off to Buxton to meet Shelly, and her team of hair and makeup people at Hargate Hall for that turned out to be a really fun day!
I'd like to say a Massive thank you to Kat at Rock n Roll Bridefor Posting this shoot as well, Both myself and Shelly are supper made up that the pink hair lovely has given the photos her royal seal of approval! So hop over to her site as well to see the shoot in all it's pink glory! (CLICK HERE)
So why a 60s photo shoot? Shelly told me that as much as she loves wedding photography, she likes to set herself photography projects so she can really get creative!
Shelly said about the shoot:
'The idea for a 60s inspired shoot came about after I noticed we're seeing lots and lots of vintage 1950s style about and I figured it was about time the 1960s gave it a run for its money. I had a vision of a pink bowler hat and from there, everything else fell into place.
I knew I wanted mini dresses in a Mary Quant style and Debbie over at Danielle Lara Couture created these two especially for the shoot. When I went to collect them, I ended up picking up a couple of others at the same time – I just couldn't help myself!
Hargate Hallprovided the backdrop to our shoot – again, very British, lots of wood panelling and a big fireplace and surrounded by rolling countryside in the middle of Derbyshire. It's a lovely spot to get married – you can even get hitched in the little folly where we put our wedding table.'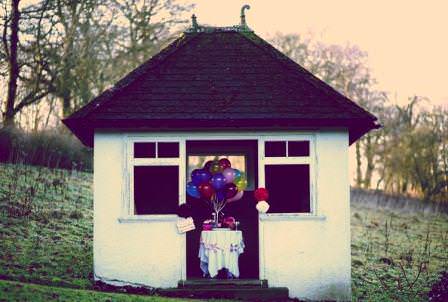 'Sarah at Vision Hair has worked with me before on a couple of projects and I generally just let her get on with it all. She did a little practice run on Asher's bee-hive but I never got to see it, so it blew my mind on the day – pretty Marge Simpson dontcha think?'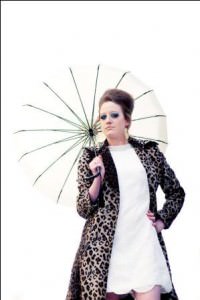 'The heirloom bouquet by Muscari Whites is made up of pre-loved and found objects – I gave them a brief for pink, quintessentially British and a bit nuts. The bouquet has a little telephone box on it and a London Underground sign. Very cool indeed.'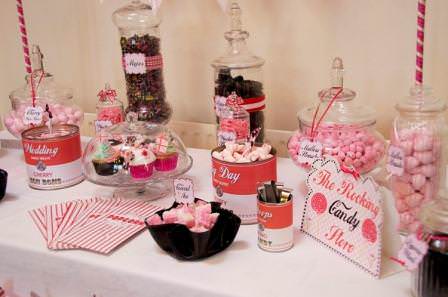 'The sweetie/candy station was done by the incredibly hard working Sweetest Pearwho knocked all that up in less than a week and it was all designed especially for the shoot. She kept sending me through little ideas and the second I saw the Campbells Soup Tin sketch, I knew it would be fantastic. I did keep seeing people wandering by and having a quick nibble of the sweeties though – naughty girls!'
I have to say I thoroughly enjoyed myself at the shoot, I loved having my hair and make up done, the girls did such a great job in creating 4 amazing looks for myself and Asher. Hargate Hall were great to work with and very accommodating, they basically let us have free rain of the venue. As for Shelly, she was amazing! she was really poorly the day of the shoot but she was a real trooper and just got on with the job in hand! She made me feel really relaxed a d comfortable in front of the camera, I would recommend her to anyone looking for a photographer who has that 'edge'.  I'm really pleased with the results and really chuffed that Shelly asked me to get involved.
I'd like to say thank you to everyone involved on the day as well.
All the people and companies involved in the shoot:
Models: Asher and me
Dresses: Danielle Lara Couture – the mini dresses were made especially for the shoot
Accessories: Tiny Gems
Hats: Hat Therapy
Hair Stylist: Vision Hair
Make-Up: Lucy at Daft as a Make up Brush
Kelly's lacy tights and shoes: New Look
Asher's knee socks: Top Shop
Spotty Shoes: H&M
Fur coats: Both vintage
Cakes: Off the Cuff Cakes
Sweetie bar, place settings, bunting, wedding signage: Sweetest Pear
Heirloom Bouquet: Muscari Whites
Fresh flower posies: Mimosa Flowers
Venue: Hargate Hall, Derbyshire
Lucille the Pink Jag: Lady Penelope Cars
Photography:
www.toastofleeds.co.uk
Toast Blog
Toast on TWITTER
[email protected]
0113 3560157
Remember to see this shoot on Rock n Roll Brides site CLICK HERE