To end this super fast week (don't you just love bank holidays!) we are heading across to Dorset for this super cute Barn wedding courtesy of Kasia Nowak from Peppermint Love Photography. The wedding is full of DIY details, as well as some lovely touches of spring. The pastel colours are so pretty and really work really well in this wonderful barn venue. Despite the terrible rain the couple stayed happy and smiley throughout and didn't let it dampen their day.
'Our wedding day was magical and intimate, absolutely perfect. It was full of moments that will last a lifetime and more and we got to share it with all the important people in our lives.'
Tace and Ian were married on 13th of April at Kingston Country Courtyard in Swanage, Dorset. 'We chose to get married at Kingston Country Courtyard because of it's simplicity and the lovely view that surrounded the barn. Inside the barn it was a blank canvas for us to put our stamp on. The venue suited us as a couple, we love being outdoors and we love traditional, old buildings. We had a total of 43 guests during the ceremony and for the wedding breakfast. In the evening we were joined by 100+ friends and family. It took us 18 months to plan the wedding, which is perfect amount of time for a DIY wedding.'
How they met
Ian and I met through mutual friends on his 18th birthday celebrations. And we've been together since then, for 7 years now
The proposal
The proposal was not what I was expecting when on the dog walk down the beach. Ian just suddenly got down on BOTH knees! Nerves! And asked me to marry him whilst producing a box from his jacket. I just remember thinking he was joking and I'm pretty sure I said something like " Stop being silly and stand up!" and laughing. When I realised it wasn't a joke, of course, I said "YES". It was such a wonderful moment in my life.
Why did you choose your photographer?
We chose Kasia for our photography because she has the amazing ability to capture such beautiful moments effortlessly. We don't really like posing for photos and wanted natural ones taken at the wedding, Kasia does this fantastically well. She captured our day so elegantly, capturing all the magical and precious moments.
The dress
My dress was designed by Mia Salana and came from Pretty Maids. My accessories were by EnVogue and Swavorski. I had my shoes from Pink Paradox in London.
The suit and bridesmaids
The bridesmaids' dresses came from Pretty Maids also and Austin Reed in Bournemouth made the suit.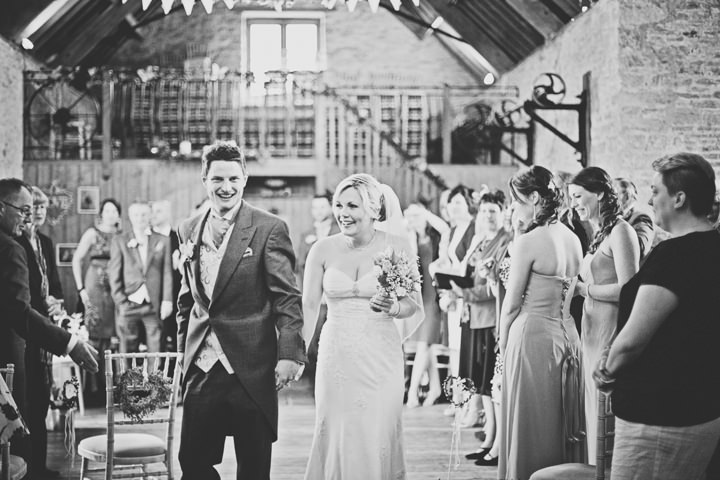 Theme or colour scheme
We wanted our wedding to capture the essence of spring. So we had lots of spring fresh flowers, pastel colours and butterflies. Very natural and very elegant.
Decoration
Decorations were minimal but mostly consisted of faux Ivy, butterflies, real flowers, lavender, pictures of Ian and myself.
Food
We had soup sips and artisan breads to start with. Then we had roasted pork chop with roasted vegetables, spring onion pomme puree and blue cheese sauce. For dessert we served our beautiful wedding cake
Entertainment
We had a brilliant local band, Mr.Bigstuff, who were absolutely fantastic and had our guests up on their feet all night.
Flowers
I had a mixture of flowers including home grown tulips, roses, irises, freesia, gypsophila and carnations.
Personal / DIY touches
Most of the decorations were made by me and my mum.
• We personalised the chair backs,
• The wedding favours (homemade raspberry jams)
• The flower arrangements, the button holes, the confetti (we dried rose's petals), the bouquets (made out of tulips I grown in my own garden), the bridesmaids pompoms.
• Myself and my friend Emma did the table plan, menus, name places, order of service and the table centres.
• My mother in law made the Save the Date and invitations.
• I wanted my wedding day to be full of personal touches, hence the DIY wedding. The most personal touch had to be my late Nan's engagement ring woven into the corset strings of my wedding gown. My Nan was there with me, every step of the way.
• My mum designed and made my bouquet, which was perfect.
• A close family member made our beautiful sponge wedding cake. It added yet another unforgettable personal touch to our day.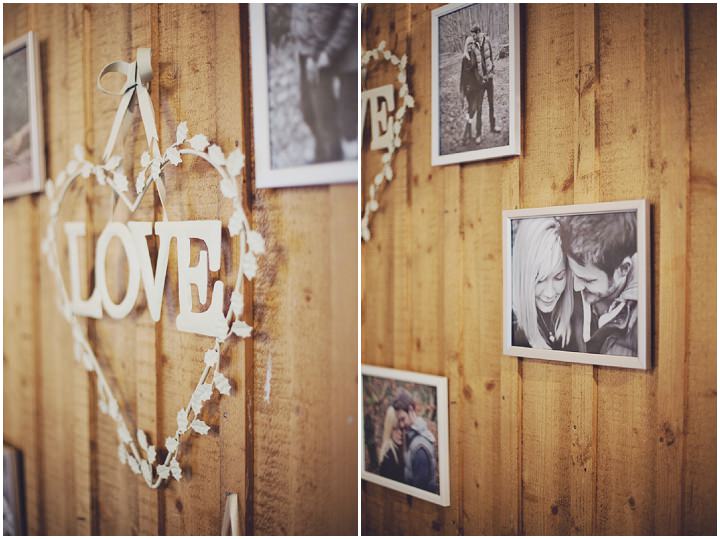 Special moments
A special moment was when I got to hold Ian's hand when saying our vows. I couldn't have held it any tighter; such a simple act will forever stay in my heart and bring a smile to my face.
Highlights – My two best friends, my bridesmaids, Michelle and Kate, looking stunning!
The wedding Harlem shake and gangham style rendition Pure Brilliance! The laughter and smiles on everyone's faces.Jo and Kerrie's readings. One word: Perfect.
Advice
There is nothing you can't do with plenty of time to do it and a little imagination. Do your research and read plenty of blogs (like this one!) and magazines!
On the day, take your time and savour and enjoy EVERY minute, because it goes so quickly!
Biggest surprise of the day
The biggest surprise: My beautiful pearl and diamond bracelet from my dad. He presented it to me in the car, on the way to the venue… Priceless.
Also it was a surprise to see how quickly the day goes by, but all the planning and preparations was worth it.
Supplier Shout Outs
For more information on Kasia's work go to
www.peppermintlovephotography.com
www.peppermintlovephotography.com/blog/
[email protected]
FACEBOOK
@kasianowak_
07934225688

I'm a wedding photographer based in Dorset, UK.
My unique fine art style of wedding photography takes a photojournalistic approach, allowing moments to happen naturally and capturing them without intrusion. I believe my style is more then documentary though, it has a natural feel but with an artistic, flattering touch. I strive to create a collection of wedding photographs full of style and emotions, that work together.