Happy Monday everyone.  How are you all feeling today? Did you have a good weekend? I had a great one, I was at a Uni Reunion. It was 20 years ago this year that we all left, so we decided to celebrate the fact and have a get together.  It was fantastic fun and I had an amazing time catching up with old friends.
I have another week of amazing weddings for you, starting off with this fabulous Barn wedding from D J Archer Photography. It's the wedding of Siobhan and Sam and it is just full of amazing rustic details vintage prints, bunting, wonderful homemade outdoor games and bursting with lots of other gorgeous DIY elements. I just love the whole tone of the day, the venue and the styling is wonderful, as is the beautiful photography. What a great way to start off the week!
'Our wedding day was absolutely perfect, our dream come true. It was beautiful, relaxed and intimate, everything we'd wished for and more.'
Siobhan and Sam were married on 26th July 2014 at Barmbyfield Barns, Barmby Moor, Yorkshire. 'We had an image in our mind so it was just a matter of finding the one to match. Many places we visited around where we live in Manchester were, whilst beautiful, a little too well finished for us and also a bit too restrictive in terms of decoration and catering. We wanted rustic and when we stumbled upon Barmbyfield Barns on the internet we knew we had to visit and it didn't disappoint – a rustic venue which we could put our stamp on. We had 120 guests in the day and 142 at night. We got engaged on the 18th February 2013 so it took 1 year and 5 months
How they met
We met at Nottingham Trent University in 2006 and fancied the pants off each other from day one. Having said that it took us a few years to finally pluck up the courage to make a move and we only became official in 2010 after a holiday in Portugal. Since then we've had the most perfect four years together
The Proposal
Siobhan says…After unknowingly being manipulated into a shopping trip with Francesca (The Chief Bridesmaid), followed by dinner at a local pub with Sam I returned home to find a balloon attached to a length of string saying 'These are a few of my favourite memories of us'. As I followed the trail around the house there were lots of photos of the fantastic times we've had together and sweet little messages on yet more balloons. When I eventually reached the end of the trail in the bedroom there was a gift bag that said 'Put this on and follow me'. It was a blindfold. Once I had put it on I was taken into the loft and told to take it off when I was ready. As I opened my eyes I saw fairy lights, candles, roses and straight ahead of me a canvas that had lots of words inside a heart, the bigger ones across the middle saying 'Will You Marry Me? 18th February 2013'. When I looked to my left Sam was down on one knee holding a box with the most beautiful ring ever inside it. Of course my answer was 'Yes!' We couldn't have been happier.
Sam says…
I don't know what the biggest relief was, finally getting rid of the secret I had been carrying around for weeks or the fact that the love of my life agreed to marry me!
How did you allocate your budget
We set ourselves a budget of £10,000 and just tried to do everything as cheaply as we could within that. Obviously the dress was a big expense, and getting the right photographers was a must but from there it was just a matter of deciding where our money was needed. We knew we would be doing most things ourselves, not only to save money but because we love to get creative!
How did you choose your photographer
We went to the Great Lancashire Wedding Show on a mission to find a photographer and whilst there bumped into Lizz and Danny from DJ Archer Photography. As we chatted they got more and more excited about the sound of our wedding and we just knew that they'd be the right photographers for us. I think it's really important to get along with your photographers and for it to be a mutual feeling of excitement about your wedding and their work.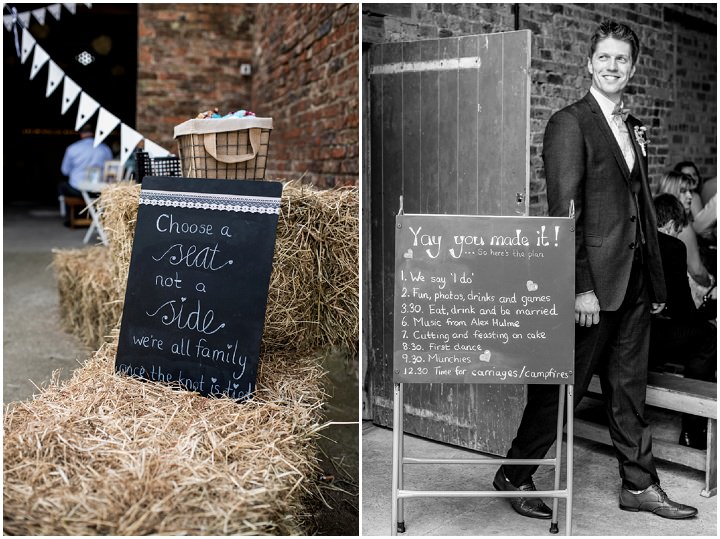 The Dress
I saw my dress in a magazine and knew it was 'the one'. Every bridal shop I visited made me try on other dresses because 'you usually like something entirely different to what you had in mind'. How wrong they were! When I finally tracked down my dream dress, Ellis Bridal 11317, I felt like a princess and couldn't have got anything different! I bought my beautiful shoes from an online retail Perdita's Wedding Shoes. My best friend and chief bridesmaid also bought me some beautiful earrings. The pretty little veil and garter were from Be Chic Accessories and I actually won them on the Boho blog, so thank you! My bouquet I made myself from pretty buttons and brooches.
The Suit and Bridesmaids
Sam's suit was Patrick Cox and he paired it with a waistcoat and shirt from Next. The Bridesmaid dresses were from Miss Selfridge. We wanted something relaxed, comfortable yet gorgeously girlie. My sisters paired theirs with converse whilst the Chief Bridesmaid wouldn't have been seen dead without her Kurt Geiger heels.
Theme or Colour Scheme
We didn't have a theme or colour scheme at all, we just didn't fancy it. We both had an image in mind and it was just full of things that we love. We do both like pastel colours and lots of vintage patterns so they did feature a lot.
Flowers
Flowers was an expense that we couldn't really stretch to so we actually bought bunches of dried wheat from the garden centre and mixed them with artificial roses in jars, tin cans and bottles, which fortunately looked quite fitting in a barn. We did also collect a few wild flowers on the day and displayed these in various places around the venue.
Decoration
There was an awful lot of bunting! We made it ourselves, but not the usual way. We knew that to make fabric bunting would be costly so we found the prettiest of wallpaper samples and made hundreds of metres of diamonds folded over string. We also made doily bunting.
We decided to have long tables and benches because we wanted it to feel informal and relaxed but to add a vintage twist we made doily runners for each one and filled the tables with vintage teapots, trios, cutlery and cakestands, all of which we sourced ourselves, and are now available to hire from Pop Up Vintage
Food
During the drinks reception, as well as scrummy cider and beer, brewed at home by our usher James and his fiancé Amy, we had a selection of Sam's favourite snacks like Bombay mix, nuts and crisps and some beautiful cake pops for the sweet toothed.
During the wedding breakfast, we had teapot cocktails (or tea for the non drinkers!) and afternoon tea on cakestands which were filled with delicious sandwiches, pastries, pies, cakes and scones.
In the evening we had a fish and chip van which went down an absolute treat!
We also had a 'Life is Sweeter Together' sweet treats table for guest to help themselves to.
Wedding Cake
After such a sweet wedding breakfast, and being massive cheese lovers we had to have a tower of cheese – Stilton, Wendsleydale and Cranberry, Lancashire and Brie.
Entertainment
We made our own garden games – Splat the Meerkat, Hugs and Kisses, Ball in a Bucket, Ring Toss, Welly Wanging, Sack Race and a Coconut Shy. We also supplied board games inside for those who just don't like to dance!
During the reception we provided goodie bags for the children which contained bubbles, colouring pages, an I Spy photo challenge and a pinwheel.
During the day we had Alex Hulme singing outside. He was amazing. Everyone chilled out in the sun, drinking, playing garden games and listening to Alex – it was the perfect festival vibe. In the evening we had a great DJ who got everyone up on their feet, and we also turned our transport, a VW campervan into a photobooth which supplied endless amounts of fun for the young and old!
Buy or DIY your Stationery
We DIY'd our stationery. We decided that all our bunting should feature bunting and a heart on brown paper. The Save the Date was on a luggage tag and the actual invite was a string of bunting which became a feature in most of our guests' houses. I designed and printed, and stuck and threaded them all. It took hours but it was all worth it.
Personal or Handmade Touches
-Garden games – as mentioned above – we made them all.
-Metres and metres of bunting – both wallpaper, and bunting for the entrance hall
-Doily runners
-Personalised hangers for the VIP Ladies
-A variety of gorgeous chutneys for the cheese tower were made by Sam's mum
-All the jars that people drank from were collected by ourselves and relatives and then Sam and I spent a few hours spray painting chalkboard hearts on them, and on the bottles for the water at the tables, so that guests could write their name on for the day.
-The flower arrangements
-I made my bouquet and the buttonholes worn by them men
-Sam made the giftboxes for the Ushers and Bridesmaids, and the plant pots for the parents, from pallet wood, then we decorated and filled them individually
-Sam also handstamped vintage cutlery for presents, and the Spread the Love chutney and butter knives
-I made the cake topper people back in an art lesson in university when we first got together and added bunting to match
-The cake stands – we sourced the china and made our own
-My mum made a sign for the dancefloor which featured our names
-We made a chandelier for the ceremony room from a hula hoop, ribbon and fairy lights
-Sam's mum also made the confetti by microwaving mixed flower petals
Special Moments
Walking out of the ceremony room as Mr and Mrs Tyler and having all our much loved guests throw confetti at us.
Seeing our guests wanging wellies, playing hook a duck and lying in the sun, listening to Alex and enjoying our beautiful day.
We had chosen Foxes version of Happy as our first dance and at the last minute Alex Hulme said he could learn it, and so with only twenty minutes to practise he performed our song and had the most romantic and memorable first dance I could imagine.
Taking a few moments at the end of the night to sit in the fairy lit ceremony room with the VW silhouetted at the end, as Husband and Wife, to look back on our day and appreciate everything we had and everything we had to look forward to together.
Spending our first night as Mr and Mrs Tyler in our Teepee which Sam decorated as a surprise in the fields of Barmbyfield Barns.
Waking up the next day to a field full of camping guests and having the majority of the day to chat, eat all the leftover food and have a very big Murphy-Tyler football match. All in all the perfect wedding weekend
Advice to other couples
Make the day about you as a couple, not about what everyone says you should do, what traditions have been or what you think others would like. So many people doubted our plans and everyone, and I mean everyone has said how beautiful it was and how they cannot believe what we have pulled off. If you want to DIY, be prepared for the hard work, but be comforted but the fact that it will pay off, and most importantly of all, don't be afraid, or too stubborn to delegate. Friends and family love to be a part of it so give them a job!
Biggest surprise
During the speeches my sisters got up and performed a rap – they were amazing and so courageous and I felt absolutely honoured! They now go by the name of the Fresh Princesses of BelAir.
My Chief Bridesmaid also got up and did a surprise speech which meant so much.
The exceptionally hard work that every single one of the wedding party, and their partners, put in was overwhelming and we simply cannot thank them enough.
Supplier Shout Outs
For more information on DJ Archer's work please go to:
www.djarcherphotography.co.uk
www.djarcherphotographyblog.co.uk
[email protected]
07850 137378 or 01204 843 462
FACEBOOK
TWITTER
We are a husband and wife team based in Bolton. We get really excited when people talk about tipi, barn or festival style weddings. We love couples who are down to earth, love a laugh and have great friends.
We are very relaxed and aim to get the images that the clients want (it is their day after all) whilst also putting our own touch and viewpoint onto the day. Capturing the images that they may not necessarily see.
[jprel]