Happy Friday everyone and how are you all? Looking forward to the weekend? I am super excited as I am out on the town this evening with a few girlfriends. Dinner and cocktails are on the menu, it's been too long, so I'm really looking forward to it. To end the week I have another barn wedding for you. We seem to have been featuring a lot of barn weddings recently, and each time it's a joy. So many lovely ideas of how to keep the budget low when working with a barn venue, lots of DIY projects and friends and family getting involved to help out. Rhian and Daniel's wedding is no exception, they really pulled out all the stops to stick to their £8K budget and the results are fab. Thanks to Katie Winter Photography for the images.
Our wedding day was truly joyful. It was filled with sunshine, happiness and love.
Rhian and Daniel were married on the 23rd July 2016 with the ceremony in St Mary's church on Hayling Island in Hampshire, with an incredibly jolly female vicar. The reception was held in an 18th century barn on Manor Farm. 'I grew up on Hayling Island and have a large family so it made sense to be close to home.  St Mary's has recently been refurbished and is wonderfully light and open for an old church.  We chose the barn as it was such a unique venue.  It's not in any way a 'wedding barn' and was going to involve a lot of work but we knew it would be worth it.We had 120 guests. We went for a quick turn around and planned it in just five months!'
How they met
We met online! We were each other's first date after venturing into online dating and were both able to cancel our subscriptions immediately!
The Proposal
I actually proposed to Dan on Leap Year.  We had been talking about getting married and I'm a staunch feminist so Dan was teasing me that I should do the asking. I kept it really quiet to put him off the scent but came up with an elaborate plan that involved taking a selfie each day in the week leading up to Leap Year with a hand written message.  On the day itself, Dan came home from work to find all the printed photos laid out with a map to lead him to a pretty spot by the river near our house in Winchester.  He was worried that I was outside in the cold so he ran all the way.  He said that he'd never felt so alive as in the minutes he was running to meet me.
How did you allocate your budget?
We knew that we wanted a DIY wedding so we never intended to spend very much! Our favourite weddings have always been the more home spun ones in village halls or fields with a marquee where everybody has chipped in and made things themselves. My Dad was very generous and offered to shoulder the lion's share and we chipped in for the things we felt were particularly personal to us like our bridesmaid dresses and groomsmen suits. With a lot of help from time-generous islanders we really managed to keep the cost down and brought the whole thing in for around £8,000.  My best friend says that it's given her hope that weddings don't have to completely bankrupt you!
Where did you splurge and where did you save? 
The most expensive thing about our wedding was the toilets!! We went with Loos for Doos as we didn't want that element to be too much of a 'festival' experience! We saved money everywhere else we could by going local and relying on good friends and family contacts.  The very generous farmer and his wife let us use their barn for a song, we borrowed tables from a family friend's business, we used the chairs from my mum's school – complete with chewing gum underneath! For snacks we provided guests with old-skool Salt'n'Shake crisps and home-made Welsh Cakes. The lighting was provided by a friend of Dan's who runs entertainment events and table cloths and chair covers were borrowed from people on the island.  We were very blessed by everyone's generosity!
Why did you choose your photographer? 
My photographer was never in doubt.  I had been in an AmDram production with Katie the previous year and we had got on well during the show.  I noticed her around with a camera and was really impressed by the way she captured moments both on and off stage.  Dan and I said we preferred candid shots to staged, posed pictures and so I knew Katie had to be the one.  Fortunately she could fit us in what with finishing her photography degree and getting a First!  Similarly my hairdresser was a friend from the same society, Ed Chase.  We acted opposite each other in a production of Sunset Boulevard and Ed had whipped my locks into a 1940s coiffure each night of the show so I trusted him implicitly with my hair on the big day!
The Dress
My dress was by Victoria Kay and bought from "Something Old Something New" in Hythe, near one of the schools I was working in at the time.  A whole gaggle of my female family members came with me from my 23 year old cousin to my 93 year old Grandma!  The dress wasn't the style I originally had in mind but once I tried it on I felt so free and able to move I knew that was the one. It came with a matching veil.  I wore gold earrings made by my Taid (Grandpa in Welsh) who is sadly no longer with us.  I have tiny, tiny feet and actually found the comfiest pair of shoes in a 3 and a ½ made by Rainbow Club.  I'm not a big high heel wearer but I wore them until we walked back to our hotel hand in hand at midnight with barely a blister!
The Suit and bridesmaids
Dan and the groomsmen wore blue 'Lounge Lizard' suits by Ted Baker, hired from Moss Bros.  They went for a contrasting silver/grey waistcoat and baby blue ties to match the bridesmaids.  The bridesmaids wore dresses of matching colour and length but each had a unique style. My girls are all such different shapes and sizes and I didn't want to pick a style that suited one girl but not the others. I wanted the dresses to be as individual as each bridesmaid and Eloise's Secret Closet, an online retailer, allowed me to do this.  They were so flexible, allowing me to order various dresses in different colours and sizes before I made my mind up.
Theme or Colour Scheme
The main colour was baby blue with pastel pinks and lemon yellow thrown in.  I wanted a natural, country flower feel to the event with nothing too structured or ordered.
Flowers
We actually made our own bouquets which was a great activity for the bridesmaids on the morning of the wedding. We went for a workshop with Debby Nash of Hayling Florist and she taught us the basics on how to structure a bouquet and then kindly sourced the flowers for us. We had September, Lizzianthus, Gypsophelia, white roses and then pink roses from the garden for the bouquets.  We used the rest to fill jam jars for table decorations at the barn.
Decoration
My whole family and half of the island turned up at the barn the day before to turn it from a run down, dust covered, bat filled building into a fairy dream world wedding venue.  We used homemade bunting and covered the school chairs in white covers and tied sprigs of lavender to them with bits of twine.   Dan's groomsman Giles provided lots of beautiful light and spent Friday up a ladder draping Festoon bulbs from the eaves and wrapping fairy lights round the beams.  We filled jam jars and any spare jugs going with flowers and scattered them around the barn.  The transformation was truly magical.
Food
We had a Hog Roast as our main meal and wedding cake with ice cream from Northney Farm as dessert.  Later on Stoked Pizza Van arrived and provided everyone with delicious late night snacks – although Dan came a cropper with the 'Pizza Roulette' and had to eat the slice with the killer chillies in it!
Wedding Cake
The wedding cake was made by my mum's lovely friend Kim Hopkinson.  She made a traditional fruit cake layer, a chocolate cake layer and a gluten-free lemon polenta top layer for me! She decorated it in blue to match the bridesmaids and did a wonderful job! Mum ordered a cake topper of Dan in a rowing boat and me as a mermaid as a complete surprise!
Entertainment
Both Dan and I knew we wanted some kind of Barn Dance or Ceilidh as it's the only way you get everybody up onto the dance floor.  We contacted Spill the Whisky who provided us with a fab folk style band complete with caller who had everyone up on their feet all evening.  My dream had been the 'below decks' scene from the film Titanic and, having watched the videos back, we more than achieved it.  The barn dance made everybody mingle as well.  At one point we spotted the wife of one of Dan's old school friends dancing with my Dad's old best friend from Wales and my short, rugby playing cousin from Wales was dancing with my tall, leggy model friend from drama school!
Stationery
We made all of the orders of service ourselves using hairy manila paper for a rustic feel.  I spent a few evenings folding and tying them all together with twine to complete the look!
Personal Touches
Dan very sadly lost his father the Christmas before we got engaged so we made sure there were lots of personal touches so that he was there in spirit.  Each table was decorated with a lantern he collected, Dan wore his watch and cufflinks on the day and the best bit was that we used 2CVs as our wedding cars; Dan and his Dad spent many, many hours tinkering with their old 2CV together when Dan was growing up. A member of the 2CV GB club who knew Dan's father lives locally and he arranged the cars for us and was also one of our drivers on the day.
My brother also made the wedding day for us.  He not only secured us the venue but, as he is a skilled carpenter, made everything there that wasn't originally part of the barn!  He made us signs, a photo booth and a 'wedding bench' for everyone to sign on the big day that we can keep forever.  Thanks Steve!!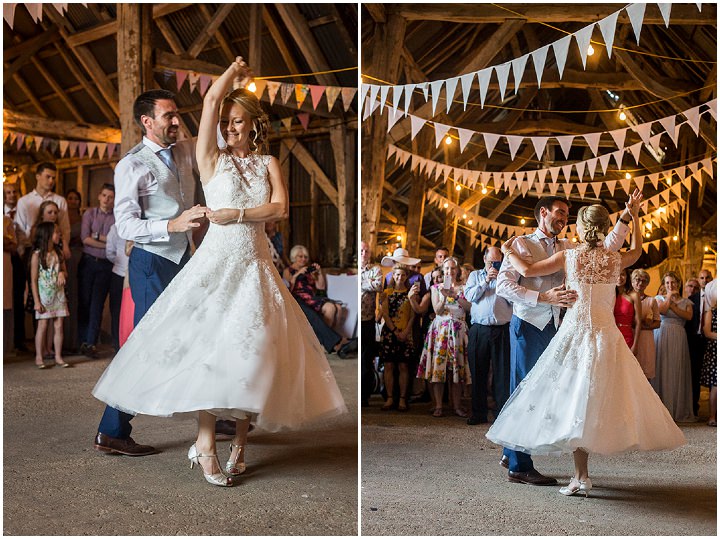 Special Moments or Highlights
There are so many! Seeing Dan at the end of the aisle, hearing our full congregation sing the hymns loud and proud, my dog barking along with everyone clapping when we were pronounced 'man and wife', seeing the barn in all its splendor.  I was also so pleased that our first dance went well.  We had been going to 'Ceroc' dance lessons together and had practised and practised so it was a huge relief that neither of us fell flat on our faces!
Advice for other couples
People want to help you!  You don't have to do it all yourself.  It may mean that you have to let go of some of the control but it makes everything so much less stressful and also means that your guests are extra invested in the big day as well. Also, I would recommend going as cheap and cheerful as possible.  Because we kept our costs down it meant we could invite as many friends and family as we liked who filled our day with love and joy.s
Biggest Surprise
That it actually all went to plan!! Also the weather, we couldn't have asked for a more glorious summer day.
Supplier Shout Outs
For more information on Katie's work go to:
www.katiewinterphotography.co.uk / PINTEREST / I:@katiewinterphotography

[jprel]