Today I have a great Q&A with the lovely Hayley from the Harrogate Wedding Lounge. I went up to meet Hayley about a month ago and had a good look round her gorgeous boutique and was very impressed with the person I met.
Hayley shows a true passion and love for the wedding industry and it is clear that she has put every effort into making her wedding boutique the best it can be. I could have sat and chatted with her all day!
Name and company name:
Hayley Hoyle, The Harrogate Wedding Lounge
Intro/Bio:
Cute, Girly & Splarkly Dressing Up Box know as The Harrogate Wedding Lounge. Offering stunning Bridal Gowns, Bridesmaid & Prom Dresses & Wedding Planning.
When did you set up your company?
April 2009
What made you get into it?
After taking voluntary redundancy I decided I wanted to do something I really wanted to do and built something I could be really proud of! After tinkering with wedding planning as a hobby I discovered bridal fashion was something I loved and was really passionate about
What were you doing before?
Legal Software Sales for 7 years!!!
How would you describe your boutique?
Cosy but luxurious, girly yet stylish, Sparkly, Informal and lots of fun!
Where are you based?
Just outside the lovely spa town of Harrogate we have private parking too!
What sort of geographical area do you cover?
UK wide we have brides from London, The Lake District, Newcastle, Edinburgh and all over I even have a bride based in the Middle East and one in Australia
What sort of Bride do you think you attract?
We have built up a reputation for having a stunning range of fashion forward gowns and for having things that are that little bit different, so stylish brides looking for something a bit different. Although we have dresses to suit almost every style and budget. From Vintage to Catwalk
What is the best bit about your job?
Seeing the bride leave with her dress ready for her big day or reading the thank you cards that we get saying how amazing they felt on the day and what a great experience they had with us. It makes all the hard work so worthwhile.
What is your biggest achievement so far?
It may sound cheesy but all of it, celebrating nearly two years in business may not seem like much of an achievement to some but in these tough times it really is something to be proud of! How far our business has come in the last 18 months is mind blowing.
What are you plans for the next 2 years?
Ahh Now that would be telling…..essentially we want to take the ethos of our brand further and help more brides experience the service we offer but you won't see us expanding our premises to cater for more brides, we like to keep things personal.
What advice would you give brides when choosing their dress?
Enjoy it, don't be scared, have fun and try styles you never thought you would, you never know you may be surprised.
What is your favorite dress out of your collections?
At the moment it would have to be the Maggie Sottero Hadley dress it's so romantic but I also love the Lisboa and the London gowns, my two lace beauties from the Ronald Joyce collection
If you were going to dress anyone famous who would it be?
I think Jennifer Lopez; she has the most wonderful figure and fantastic skin.
Tell us something about yourself that we may not know, non work related
I once auditioned for a main part in a ITV Drama/Sitcom
What do you really love?
Ben and Jerry's Cookie Dough Ice Cream and Starbucks Gingerbread Latte's in equal measure
And what do you really hate?
Arrogant people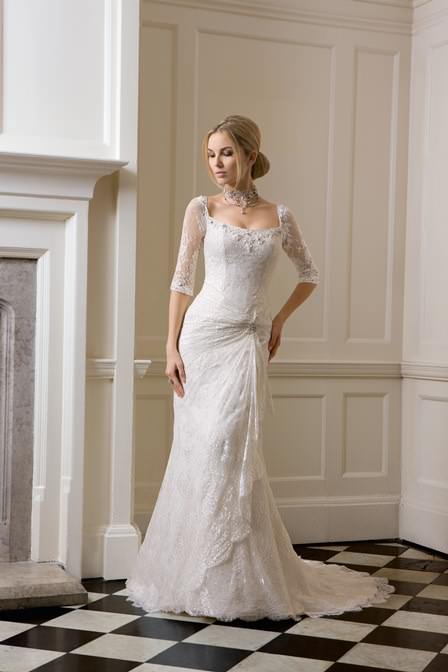 What is your ideal way to spend a day off?
Shopping, lunch out with hubby/friends and catching up on my reality TV
What can you never leave the house without? – My Filofax, it is my life!!
Who would be your 5 dream dinner guests dead or alive?
Johnny Deep (eye candy) Keith Lemon (entertainment) Pink (because she rocks!) Peter Andre (he is just lovely) Richard Branson (for the business tips, clever man)
If you weren't running your dress shop what would you be doing?
I would like to think I would still be involved in the wedding industry, it has me hooked now and there is nothing else I would rather do.

The Harrogate Wedding Lounge
38 Forest Lane Head
Harrogate
North Yorkshire
HG2 7TF
www.theharrogateweddinglounge.com
[email protected]
Facebook
Twitter
Tel: 01423 888242