Welcome along to another week, I hope you all had a wonderful weekend  are you ready for what this week has to throw at us all? I am starting the week in a positive mood and raring to go, lots to get done this week! To ease you in gently I have this stunning South African Wedding to share with you, courtesy of Louise Vorster . It's a beautiful wedding full of pretty pastels and vintage inspired decoration that the bride, along with family and friends spent a lot of time pulling together. I have to say the light in this wedding is amazing, such beautiful soft south african sunlight, which adds a beautiful glow to each image!
'If two souls were meant to be together – magic is bound to happen. Warm hearted people, traditional food and a festive atmosphere nestled in the heart of Natal – a fairy tale wedding…'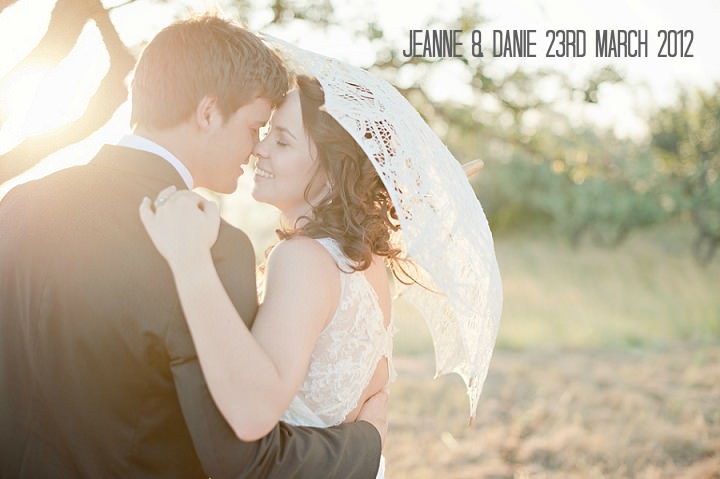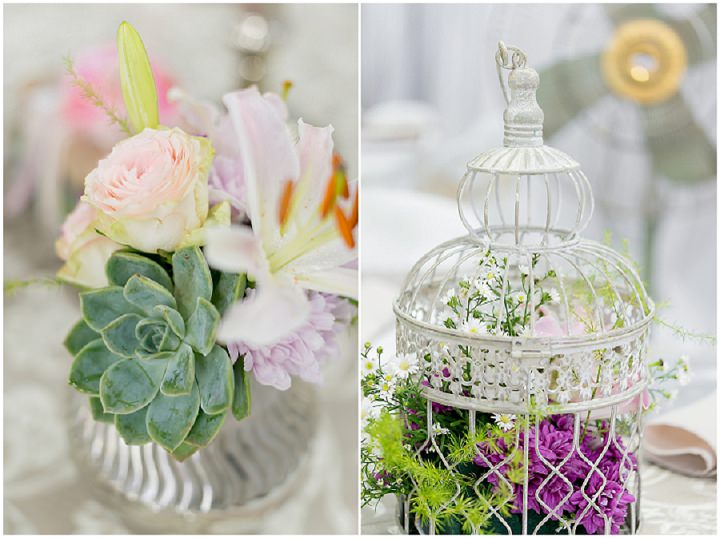 Jeanne and Danie who were married on 23rd March 2013 at Natal, Pongola South Africa on Jeanne's dad's farm. 'It's our family farm and it has been my dream to get married there, we had 230 guests. the wedding took 9 months to plan'
How they met
I was friends with Danie's friend Corrie at university, and Corrie always said that he must introduce me to his best friend Danie. He said that the two of us would be good friends. So we had a barbeque and we became best friends. We were friends for almost a year and a half and started dating on 12th August 2011. We have been dating for 8 months then he said that he was going to ask my dads blessing to marry me. 9 months later we designed my ring and after 10 months he asked me to marry him…yeay!!! So we were dating a year and 7 months.
The proposal
June 7th, 2012…freezing!!! He came to visit me for the weekend in Ermelo, and told me that he was going to be late because he was driving from Pretoria, about 220km from Ermelo. When he arrived I was already in my pj's and in front of the heater, because it was freezing outside… He walked in with something in his arms…it was a baby Basset hound! I was so excited, because I'd wanted to have a dog for a while!! He gave the dog to me and said that I should read on the puppy's tag what his name was… "Will you marry me?"… And there he was on his knee, with the ring in it's box and I almost dropped the dog out of shock.. haha, and I said "YES!!!" The dog's name is Joey!
Why did you choose your photographer?
When I was searching for a photographer, I was looking for someone that can capture the moment, and then I found Louise… She was amazing and she made me and Danie feel very relaxed, and together with our bridesmaids and best men, the day was unforgettable!!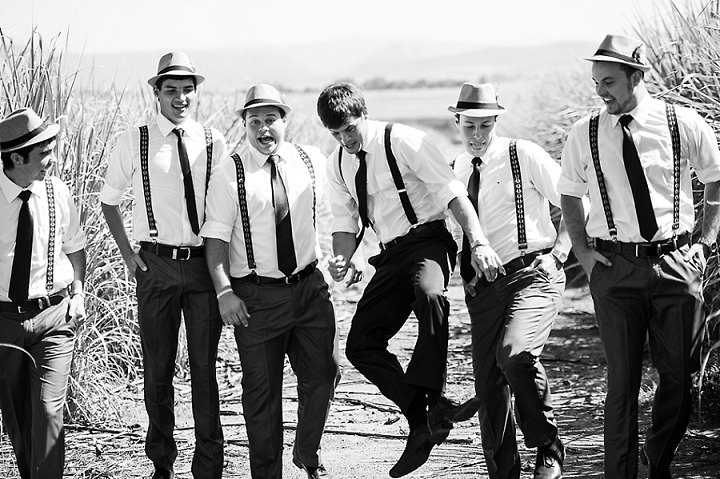 The dress
Dress – We bought it at Oliveli, Pretoria, Essence of Australia. Accessories and shoes – "something old and something new" …what ever worked with the dress, we bought or borrowed…
The suit and bridesmaids
Suit – Gauteng, Vereeninging, a shop called Sedgars. Bridesmaids – A boutique shop in Johannesburg.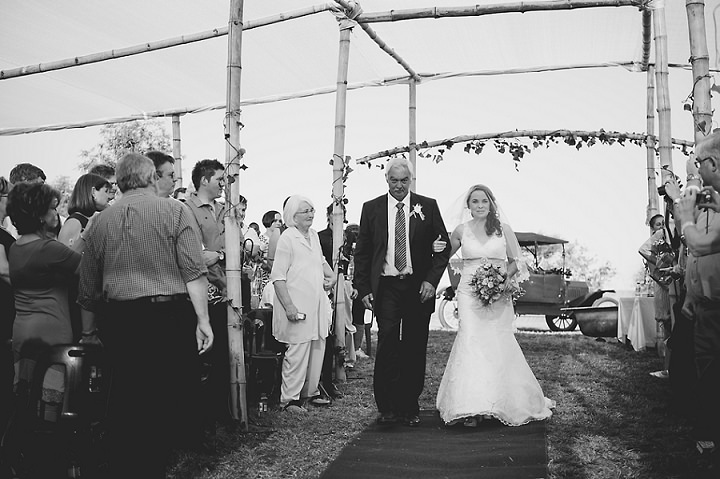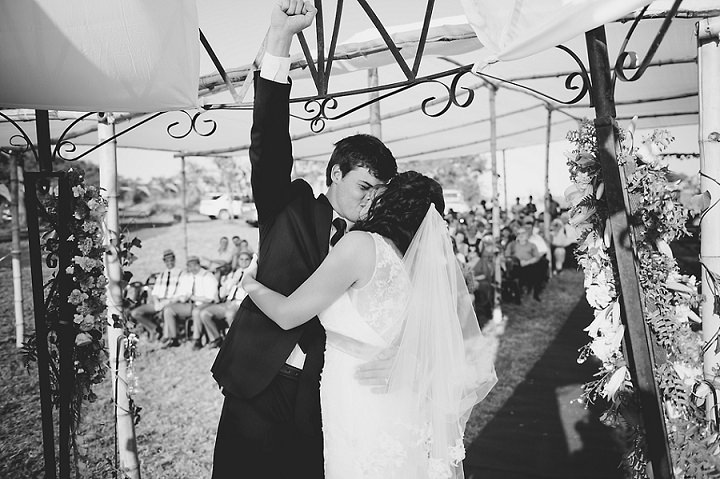 Theme or colour scheme
Old Vintage… pastel colours.
Decoration
I used everything old that I could find for decorations. For the cake stand I used my mothers old wooden sewing machine (Singer). We borrowed old baths for refreshments for the guests. For the photo booth, we used an old couch and a carpet from my moms house. Everyone helped by collecting old books… they were everywhere!! For 11 tables I used old books as part of my decor, with white lamp shadings. For the other 12 tables, I used silver chandeliers and cream bird cages. Flowers were used in the cages as decoration.
Food
Because it was on a farm, we went with old traditional, Afrikaans food, "boere-kos", Leg of lamb, Chicken pie, Spiced Rice, Baked potatoes, Green beans with bacon, Pumpkin pie and a Green salad. And for dessert we had the wedding cake, it was made out of white chocolate moose and there was a sweetie bar for the guests so that they could take the sweets home with them.
Entertainment
We had a DJ for the music and the MC who helped everything running smoothly…
Flowers
Roses, pink, cream and two toned, desert roses, English roses, Lilies, Carnations and soft pastel types of flowers.
Personal / DIY touches
This wedding couldn't have been a success without the help of close friends and family, everyone jumped in and helped.
• We made white flags out of material, and also cream flags out of doilies.
• My dad went to the scrap yard to collect old doors and a bonnet of a pick-up, that I could paint them with black board paint and write the menu and the table placing on them.
• I used an old till to indicate where the gifts must be placed and I put it on the table as an indicator to the gifts…
• At the sweetie bar I also put a big white scale on the table, with the bags, so that the guests could put their sweets in the bag…
• Everywhere at the ceremony and reception, Danie and I painted indicators so that the guests could find everything that they needed, example, "Ceremony Danie and Jeanne, Bush wedding" "Sweetie bar", "Gifts", "Toilet", "Love", "Hope"…
• My mom and my aunt made the best men's shoulder bouquet, from ribbons and they knitted the flowers as well.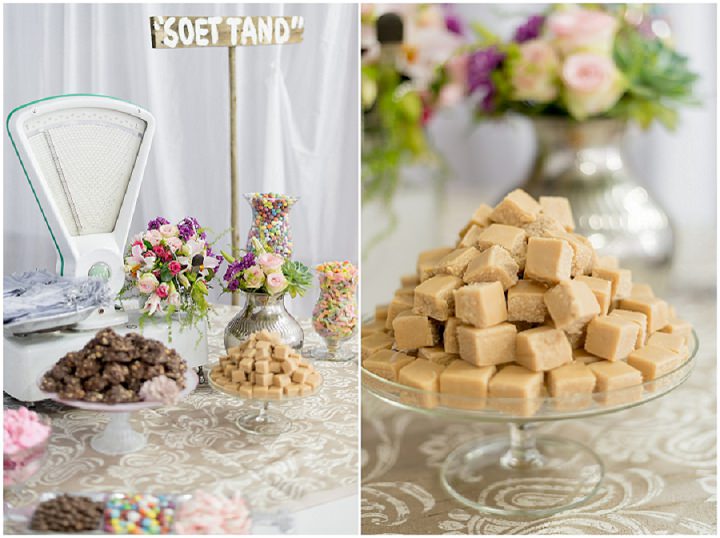 Special moments
Some of the highlights of the day were when I saw my dad when he came to pick me up, he looked so nice in his suit. And when I saw Danie when he was standing at the end of the alter and waiting for me… Another moment that stood out was when my brother gave his speech about my mom and dad, and thanking them for everything that they have done for the two of us…that was very special…
Advice
Take it one day at a time and don't fuss over every little detail…it will all work out in the end… And don't be afraid to ask someone to help you with something, people love weddings and will be overjoyed to help with anything…
Biggest surprise
The kiss… When the pastor said… "you may now kiss your bride"… Danie kissed me and he put his right arm in the air, almost like a victory kiss… that was unexpected, but a very nice surprise!
For more information on Louise's work go to
http://louisevorsterphotography.co.za
http://louisevorsterphotography.co.za/blog
FACEBOOK
@louise_photo

[jprel]