Happy Monday everyone, I do hope you had a good weekend? We are starting off the week with this super pretty wedding in Gloucestershire. Francesca and Richard were lucky enough to be able to hold their wedding reception in Francesca's parents garden, which not only saved them loads of money but also made the wedding so much more personal and gave them lost of creative freedom. With a whole host of wonderful DIY projects they chose a pretty pastel theme mixed in with vintage inspiration. The results are a gorgeous day filled with some amazing decoration ideas and so many pretty details. Big thanks to Anna Allan Photography for the lovely images.
Acres of effort and planning resulted in a day as laid back as my husband. A homemade family affair, made possible with plenty of love, laughter and pallets!!
Francesca and Richard were married on the 25th June 2016 at St Peter's Church Winchcombe in Gloucestershire followed by a reception at the family home on Cleeve Hill. 'To start off with it was mainly for monetary reasons that we decided to get married in front of my parents house, however then it became so much more than that! It just felt right and ended up being very important to both of us. We had 70 guests during the day and around 90 in total for the evening. We got engaged in December and pretty much started planning the wedding straight away. We looked at a couple of venues just after Christmas and got straight on it. All in all it was roughly 18 months, we spent pretty much every weekend for 12 months preparing everything!'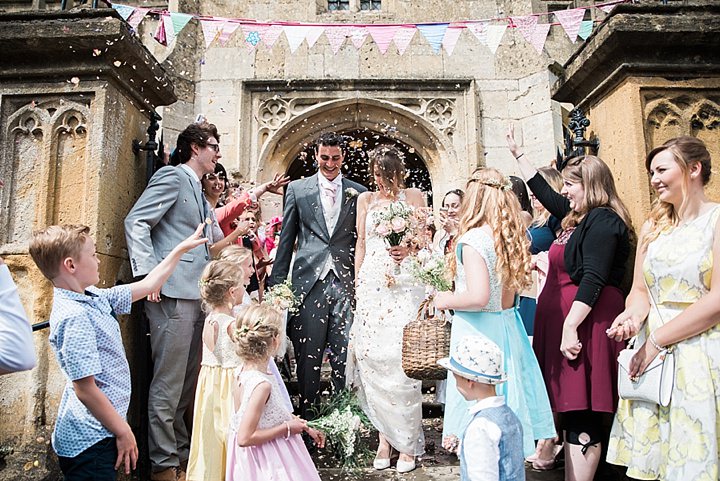 How they met
We met in Polzeath, Cornwall in 2008 whilst I (Francesca) was on holiday with a friend after finishing our AS levels, I remember seeing Rich strimming as we drove in and saying to my friend I thought he was fit! Rich was living on the holiday park whilst working for a brickie in the area and doing odd-jobs on the camp, he 'worked' behind the bar in the evening and we met properly there. I went back to Cheltenham but came back to work through the summer, and our relationship grew from there. Rich moved up to Bristol the following December and we moved in together a couple years later, we have lived together since.
The Proposal
I organised a short break away to Berlin over the Christmas period. Unknown to me, Rich had bought a ring about a week before we left! The ring he had bought had come in such a big box, not ideal for carrying around Berlin for the weekend, that he decided he would buy a box of pins and tape it to the inside! We had just been to one of the many Christmas markets, and had started to walk back towards our hotel down a long boulevard where there were giant Father Christmas' and Reindeer's scattered around. Rich started to fumble in his pocket and I asked him what he was doing and he said that he had left some tacks in his pocket from work. He then stopped in front of a giant Father Christmas and positioned me right in front of it and then an older couple came along and started taking pictures in front of the Santa which I think ruined Rich's flow! Once they disappeared he then got down on one knee and asked me to be his wife!!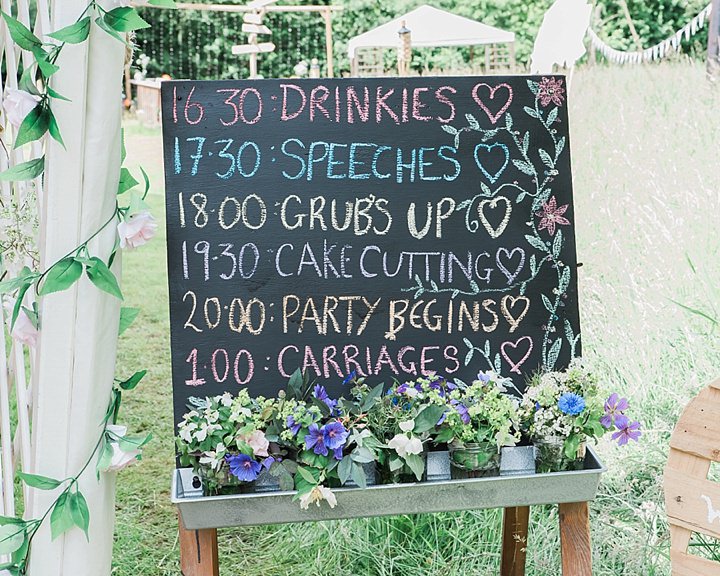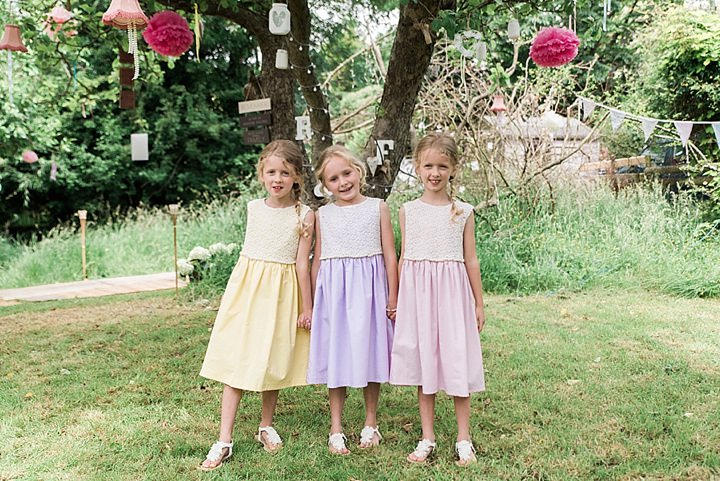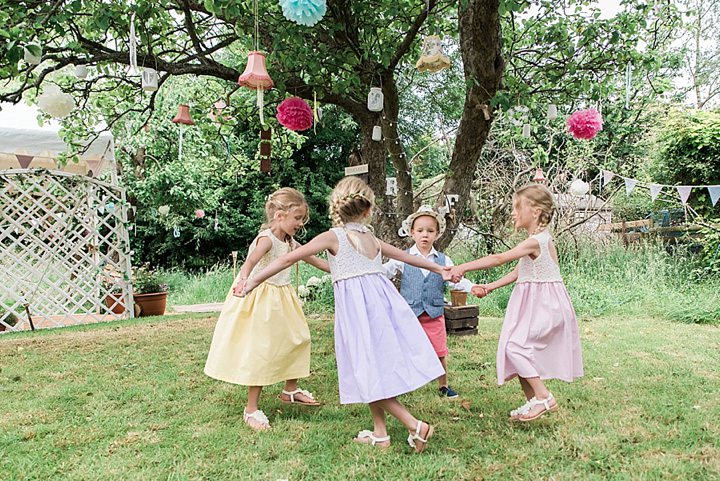 How did you allocate your budget?
We didn't actually have a budget in mind, we just wanted to keep it as little as possible. Which is why we went for a wedding at home, because it was a lot cheaper to hire a marquee than a venue and a lot more personal and unique.
Where did you splurge and where did you save?
I have to say I splurged on my wedding dress, having thought I might be able to find one off eBay or Gumtree second hand then spending over £1500 was not what I had in mind, but you do only get married once!! It was very important for me to feel confident and comfortable in what I was wearing on such a special day. We knew the most expensive things were going to be the marquee and catering, everything else we sourced ourselves and tried to do this as cheaply as possible!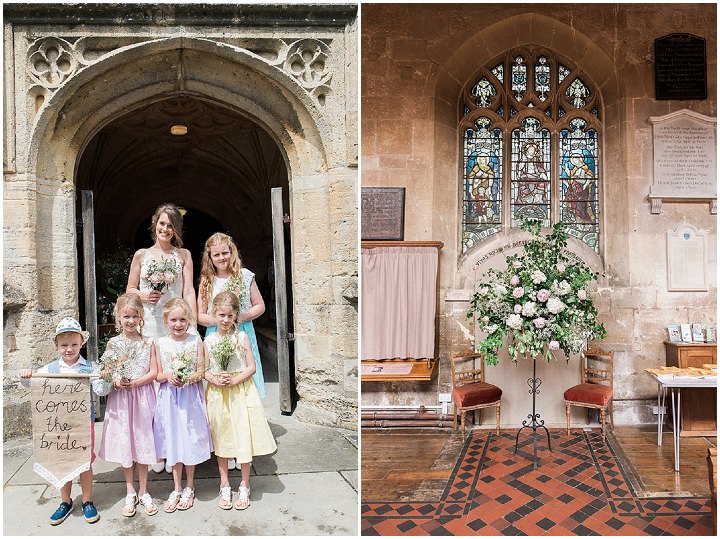 Why did you choose your photographer?
I have known Anna since I was eight, so it was an easy choice! She photographed my sister's wedding and I knew we would feel at ease with her on the day, and I was right. She really blends into the background you forget that she is even there which makes for really natural shots!! We got some amazing photos and I will be forever grateful.
The Dress
It was a Pronovias dress from Lauren Charlotte Bridal – it was a fab shop!!
The Suit and Bridesmaids
The suits were all from Moss Bros in Cheltenham. My sister Bec made all of the bridesmaid dresses but the Pageboy's shorts were ones he already had and also the shirt and waistcoat was from BHS.

Theme or colour scheme
We had a rustic, vintage garden party theme with the colours being mainly pastel blues, pinks, yellows and purples.
Flowers
We had all sorts!! Vintage pink roses, cornflowers, love in the mist, daisies, peonies, hydrangeas and lots and lots of gypsophilia!!
Decoration
Lots of bunting… 200 metres to be exact, all made by my Mum, Aunties and Sisters!! The bunting went all the way down the driveway to the marquee, all around the field and in the marquee also! We hung paper pom poms in the marquee also which were a massive bargain off eBay, everyone helped to assemble as they were very fiddly!! Richard and myself built an archway which framed the entrance of the field which we hung icicle lights on along with various hearts and jars which my sister and niece had carefully painted and placed tea lights in. Dotted around the field were various different signs, hay bale seating areas with lanterns and rustic wooden boxes. We purposefully kept some of the grass long in the field, cutting small pathways for the seating area making it more of a meadow feel. We also decorated the Apple Tree which was right next to the marquee with various assorted hanging decorations, pom poms, lamp shad, pictures of both our parents on their wedding days and signs. The table plan was made from one of my Grandad's old suitcases, which came in very useful. Each table decoration was different, all personalised to a part of the place in which I grew up in. We built a bar out of pallets and scaffolding boards all free! So didn't cost a thing, only time!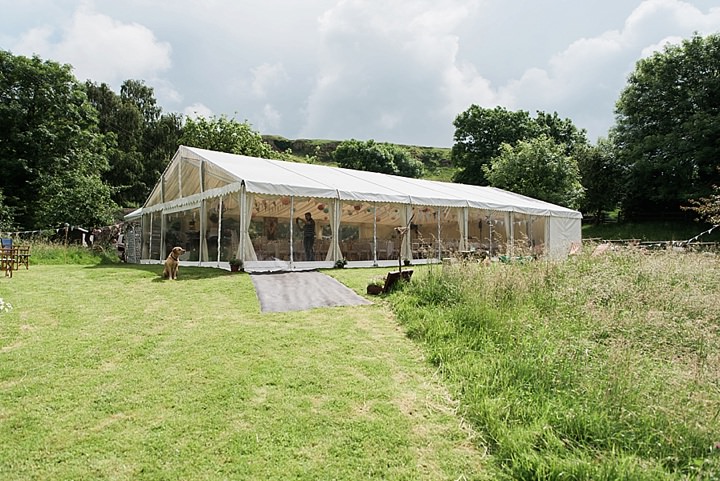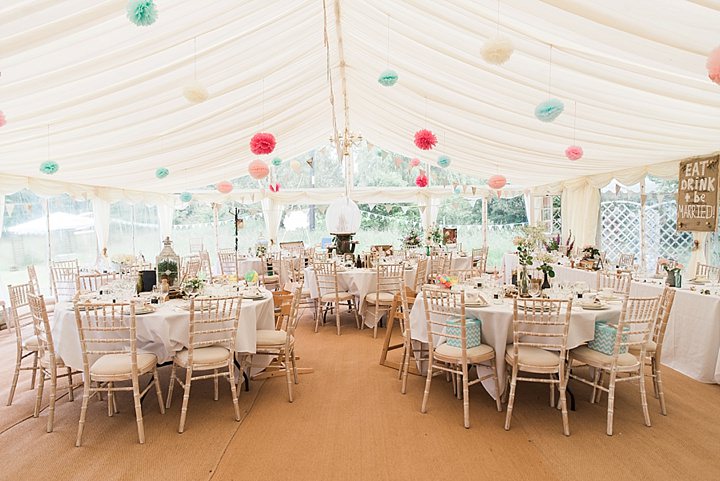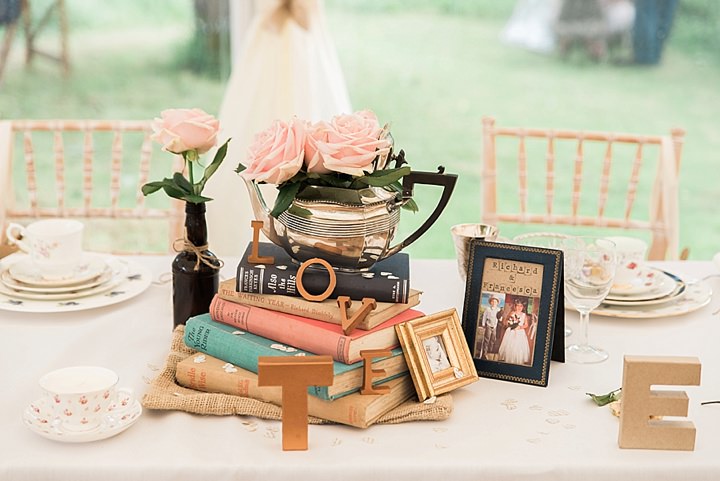 Food
A Hog roast and a delicious salmon cooked by Richard's Dad
Wedding Cake
A home-made naked cake baked by my mother which we decorated on the morning of the wedding.
Entertainment
Richard's uncle and cousins sang during the drinks reception and a disco in the evening.
Stationery
I designed the save the dates and had them printed by a company online. Rich's Aunty, Caroline, designed and handcrafted our beautiful, unique invitations which were truly one of a kind. The order of services were painfully made by us also, and printed at home, then bound together with raffia! A long process but it was well worth it!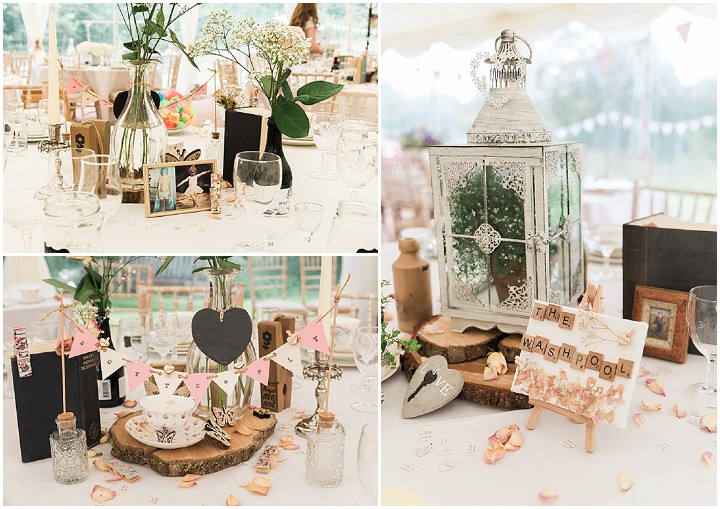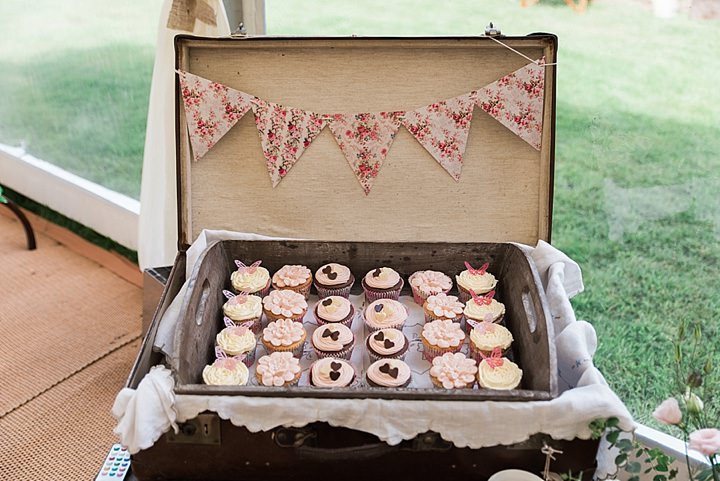 Personal Touches
We did absolutely everything ourselves, with the help of both of our families! It was a real family affair!! We even made our own confetti from flowers out of my parents garden, mostly blossom but pretty much anything we could find and dry! All of the signage we made mostly from pallets and bits of wood we had lying around. Our cake stand was also built by ourselves out of a piece of telegraph pole which had been standing outside of my parents house for years! We then made wooden boards, with the wood sourced from the woods just a stone's through away from my parents house, these were then attached to the telegraph pole at different levels to stand cupcakes on! My Mum made the three tiered naked style cake, and I decorated with flowers, fruit and chocolate hearts on the morning of the wedding. We pretty much spend every weekend at my parents organizing, making, building and painting!
Special Moments or Highlights
One of my highlights was going up onto the hill for our evening photoshoot, it was so relaxed and it was nice to be with just my husband for a few moments. What was truly special was seeing all of our hard work pay off and everyone's reaction to what we had produced. It was such a relaxed day that it was lovely to see all of our friends and family enjoying themselves. The children were having so much fun just messing around in the field!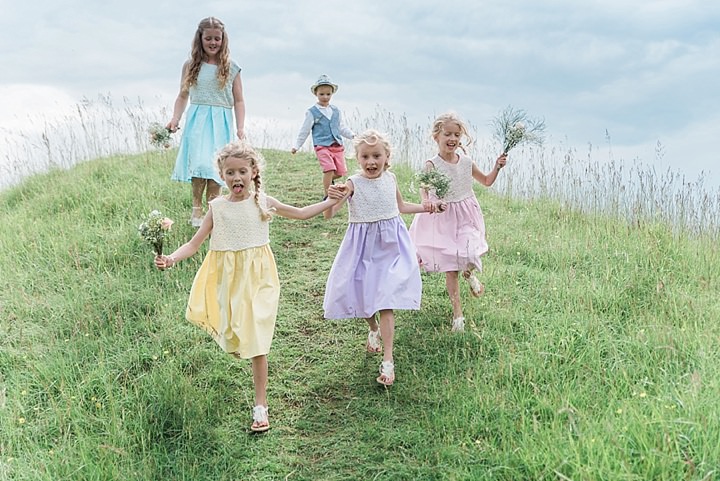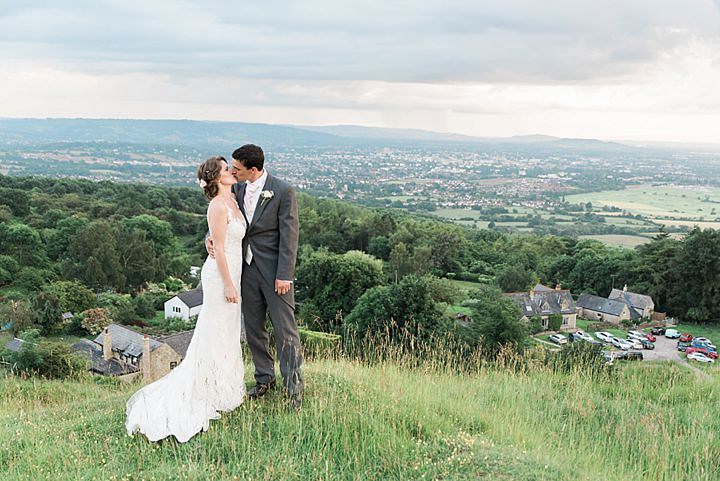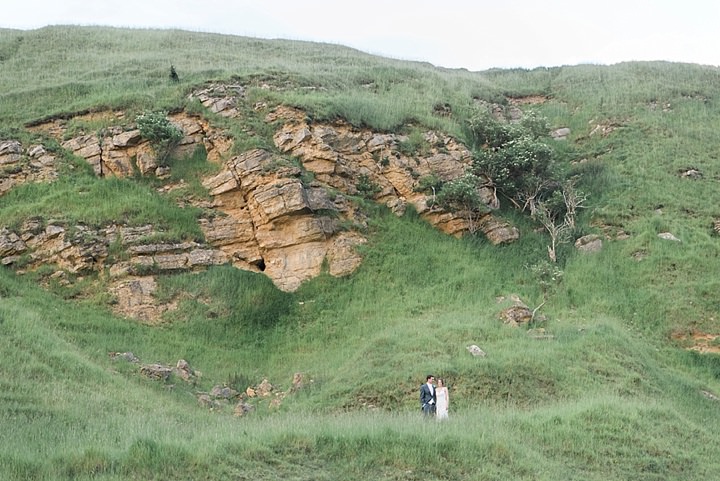 Advice for other couples
Pinterest was an amazing for ideas. It doesn't have to be expensive, use what you have already got, try and get things for free and up-cycle!! Pallets are great for using for all different things like walks ways, tables and bars!! Especially when you have a man (or Dad) that can! It was a complete family affair, everyone did their bit to help us out! My sister made the dresses, my mum the cake (which I decorated the morning of the wedding!) my aunts did the flowers, a family friend made all the bouquets and button holes and acted as florist, my best friend made cupcakes to go with the cake, my husband's uncle and cousins sang beautifully at the drinks reception and my father in law cooked some amazing salmon to go with the hog roast and friends and family gathered around to bake lots of scrummy bits and bobs for the evening do. Everyone loves to feel involved so don't be afraid to ask for their help. Just make sure you give them a little something for the trouble!!
What was your biggest surprise of the day?
Rich tearing up as I walked down the aisle, I think that surprised everyone including himself!!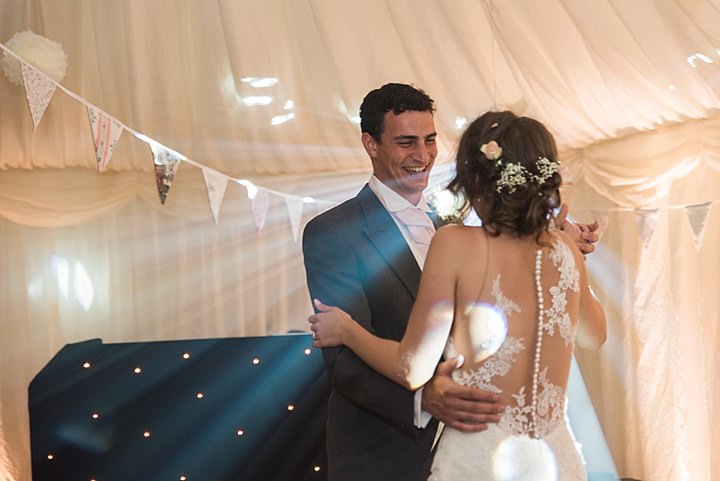 Supplier Shout Outs
For more information on Anna's work go to:
 www.annaallan.com / www.annaallan.com/blog / [email protected] / FACEBOOK / I: @annaallanphotos / PINTEREST
I am a wedding, family and baby photographer based in Uxbridge, West London.  I am predominantly a Natural-light photographer although I do use flash when absolutely required.  My style is natural, airy and quite often fairly soulful.  I like to capture emotion and personality in my photographs and tend to take a lot of observational style images during a wedding day. I do of course also take more formal images too.  I have been photographing weddings for the past 18 months and have been running my photography business for the past three and a half years.