Today I Have a super cute wedding for you courtesy of Chris and Anneka from Bloom Weddings.  It's a farm wedding filled with lots of lovely lavender details, along with other pretty pastels. Gorgeous flowers and wonderful DIY projects all inspired from the brides love of vintage.  With an amazing location and an abundance of sunshine this wedding is just brimming with English country charm and so much love. A gorgeous bride and groom and a whole lot of fun makes this wedding a wonderful collection of beautiful photography and a whole load of wedding inspiration.
'A Relaxed vintage boho wedding with lots of food and drink! Emphasis on the relaxed feel to the day and a lot of love!'
Charlotte and Daniel were married on 5th July 2014 at Old Brampton Church – Chesterfield – and their reception was at a friends Farm. 'I have always wanted a traditional wedding and the church was so beautiful and very local to us, our original location for the reception let us down so we were very lucky for our friends to offer their farm for the day and it was perfect for our style of wedding! We had 120 guests and it took 10 months to plan.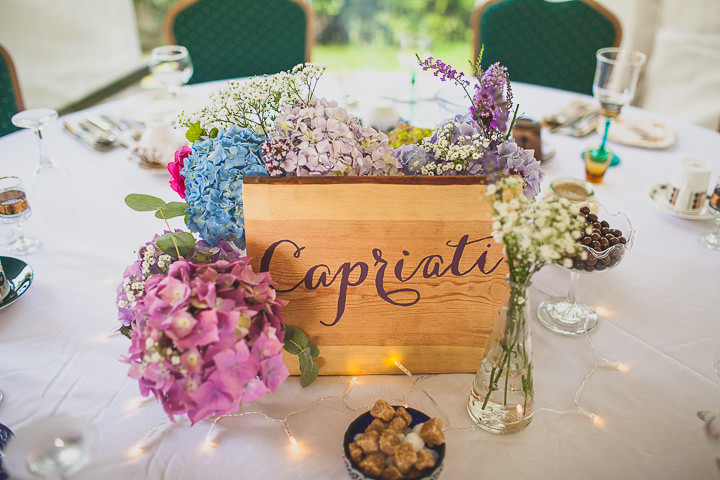 How they met
I actually met Dan through his brother! When I finished uni I temped worked at a call centre and became good friends with Lee and he introduced me to his brother, Dan and the rest is history! We have been together for 4 and a half years
The Proposal
It was in Italy! We went on a last minute trip with our friends as I have family out there. We had spent the day at the beach then went round the ancient castle in Termoli and he got down on one knee! It was a really big deal as we are not usually a real PDA couple and I cried a lot but it was perfect!
How did you allocate your budget
Our biggest spend were the food and drink– there was a lot of us and I wanted an Italian theme as my family are Italian and instead of champagne for the toast we had Limoncello!
We were lucky enough a lot of the things we did were DIY or help of friend and family such as the cake, wedding invites, band (Dan's friends)
Our wedding rings were also made by a close friend and she also made the earrings for our bridesmaids and presents for our mums (the fire dancer!) she even drew our family tree
How did you choose your photographer
When I first researched local photographers I was amazed how beautiful and unique their photos were, I also loved the relaxed vibe they offered instead of hours of posed photos, the photos are so relaxed and natural – my friends and family commented all about how they loved the relaxed atmosphere and didn't realise they were being shot (or filmed!) I love how I have so many different photos from vintage to modern they are so unique to me. I also had a photo booth which we just took outside because of the lovely natural backdrop and everyone loved it!
My friend Aaron created the most amazing wedding video – I watch the trailer at least once a month (still) and the full video is produced in the same format and I just love it!
The Dress
The shoes were just by Debenhams – as I was standing in grass most of the day the footwear was not a big thing for me
My dress was by opulence it was the second dress I tried and I was sold!
The Suit and Bridesmaids
The suit was Next, me and Dan are not a fan of traditional top and tails (and neither am I) so we were for a classic Italian slim fit suit and all the guys looked really dapper! The girls were in coast bridesmaid dresses and the flower girl was in a ted baker number.
Theme or Colour Scheme
Lavender was my main colour but I including other pastel shades too
Flowers
For the bouquets I had a mix or wild flowers and succulents they smelt amazing!
For the tables I bought succulents which I put in terracotta pots and gypsophila – but mainly we had beautiful giant lavender and blue hydrangeas which I picked from my mums garden
Decoration
For the table I collected a lot of jam jars (130!) which I hand decorated with paint and ribbons, they looked lovely.
The table signs (which were of places myself and Dan have both visited in Italy over the years) I had painted onto wood and my step dad made stands for – he also helped me make signs so people could find the venue as well as the lovely benches in the garden.
I also created a fabric garland which went across the top table, we have an amazing haberdashery near my work and I bought lots of lace and other unusual materials to make it. The table names I also used luggage tags which I stamped and finally all crockery (vintage) was collected by myself and vases which were used for both decoration and flowers.
Food
Bruschetta for starters, Chicken with ragu sauce and sautéed potatoes and green veg. Chocolate and pistachio torte with cherry coulee and honey comb crumbs over the top and biscotti's
Wedding Cake
I had 3! 1 was made by Dans aunty a lovely traditional fruit cake with lavender icing and white buttons for decoration – I also had two lovely sponge cakes made one vanilla and one Nutella by a family friend YUM!
Entertainment
Dan's friends band they played some great classics!
Buy or DIY your Stationery
My lovely friend Hannah (my chief bridesmaid) designed the save the dates and invites I just had to get them printed.
Personal or Handmade Touches
Most are listed in the decoration section above. My friend also designed our finger print tree and even drew our dog on it! So cute!
Special Moments
I don't think I can highlight anything in particular I just really loved the day and we were so blessed with beautiful weather to top it off! It was just so special to have my family and friends with us on such a special day.
Advice to other couples
If you love DIY don't leave it to the last minute! And don't feel worried about asking friends and fam for help, if they love crafty they will love doing anything for you!
Biggest surprise
My lovely friend Abi does poi fire dancing – which I didn't know until that very evening when she started dancing for everyone! It was an amazing surprise!!
Supplier Shout Outs
For more information on Bloom Wedding's work please go to:
www.bloomweddings.co.uk
[email protected]
TWITTER
FACEBOOK
Hello! We're Bloom Weddings, aka, Chris and Anneka. We're a team of two photographers that combine our creativity and technical skill to capture your big day in a fun and stress free way. We're based near Leeds, West Yorkshire but are happy to travel across the UK or worldwide!
Due to an email issue if you have emailed me between the 2nd & 9th of December, please resend it.
X