I have a gorgeous Welsh Wedding for you today courtesy of Christopher Ian. The wedding took place in the village that the bride grew up in, and was made possible by the whole village community pulling together after her parents home was flooded a few months before the big day. With a whole load of DIY details this wedding goes to show that anything is possible if you have a good team behind you. Well done to everyone involved in pulling off such a fabulous day!
'A really fun day that we definitely enjoyed and hope everyone else did too. Very country and slightly vintage meets science (we're both scientists) with a focus on little details'
The lovely couple are Jo and Nick who were married on 1st October. 'Both the ceremony and reception were held at Talybont, Ceredigion. The ceremony was in Gwesty'r Llew Du (Black Lion Hotel), Talybont and the reception was in the field opposite. I was born and grew up in the village. We had 150 guests in the day and many more at night, we didn't count the night guests in the end. Anyone we knew was welcome to come, particularly anyone from the village.'
How they met
We met when we both started doing PhDs at the University of Liverpool. We have been together for approx 7 years now.
The Proposal
He had the ring made by a local jeweller (Wong's, Liverpool) and had kept it hidden in one of his draws for 6 months before proposing. He proposed on my birthday on May 23rd 2011. We were both in our pyjamas in our house!
The Planning
It took about a year but it really all came together in the last few weeks. We were really laid back. I'm from a very small village in Wales and we really wanted to get married there. We booked a marquee in advance and I started to collect mismatched crockery and lots of other bits and bobs but everything only really came together at the end. The planning was slightly interrupted by my parent's house being severely flooded at the beginning of June (up to 7ft of water destroying the whole downstairs of the house). We didn't want this to ruin everything though. We really wanted the whole day to be in the village where I'm from. One of the local pubs had recently been taken over by someone I knew from school and was done up into a lovely restaurant. They decided to get a wedding license which was only finally approved a few weeks before the wedding. We were also able to have the marquee in a nearby field which was fantastic. The plan was to get ready at my parents house and walk across the road to the venue but since my parents house was uninhabitable at the time, my best friend's family very kindly moved out of their house for the night so that I had somewhere to get ready. Our aim was to include as many friends and family as possible so we ended up with 150 people in the day and many more (who knows how many) at night.
Why did you choose your photographer?
I had seen some photos that Chris had taken of weddings before, he photographed a friend's wedding. It was exactly the style we were after. Perfect, relaxed, beautiful and not too formal. We were thrilled with the pictures.
The Dress
I tried on quite a few wedding dresses but most of them felt quite cumbersome and heavy. I'm only short and I wanted to make sure I could dance properly. In the end a friend made my dress. It was satin with a layer of vintage style lave over the top and a small amount of embroidery and beading around the waist band. It was one-shouldered, I absolutely loved it. I had a little lace bolero that was bought through etsy. I had originally bought some vintage style ivory shoes from Schuh but they were really high and in the end I decided to wear some bright blue/purple shoes that I already owned that I knew were more comfortable. I borrowed some earrings and wore a pearl necklace that we'd bought on a trip to Thailand. I also had a pendant made by Jesa Marshall to incorporate some sapphires from Thailand. The final sapphire was set into my platinum wedding ring. I also had a beautiful pair of weddington boots to put on if the field got muddy. My hair was done by a local hairdresser, Cherry Sidnell. She knew exactly what I wanted before I did and did my hair with wavy curls over to one side, with little fabric flowers and little plaits. I did my own make up.
The suit and bridesmaids
Nick didn't want anything too fussy or formal and we didn't want anyone to have to hire or buy suits. He wore a grey three-piece suit that he bought for the occasion from T M Lewin. All the other men also wore grey suits. We bought all the men matching ties from Pink. I made the difficult decision to only have one bridesmaid. It was either one or seven and the aisle wasn't that long! My bridesmaid was my oldest friend, Katie Laidlaw. She was absolutely fantastic – as always. Her dress was a simple teal dress that cost £30 in a sale at BHS. We gave her some pearl earrings to wear on the day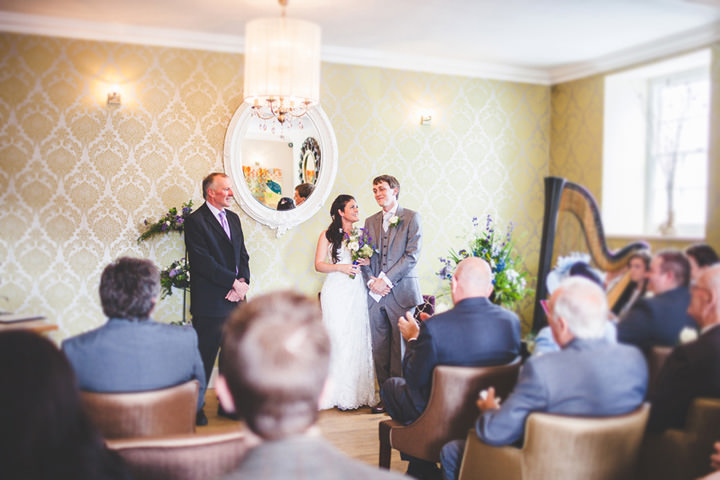 Theme/Colour scheme
I love blues and purples and greens so anything in that area of the rainbow was in! The theme was very diy – country, vintage and a bit of science. The inside of the marquee was full of mismatched crockery and homemade bunting along with conical flasks filled with flowers. Outside was lots of lanterns and lights and things filled with flowers including milk churns, watering cans and flower pots.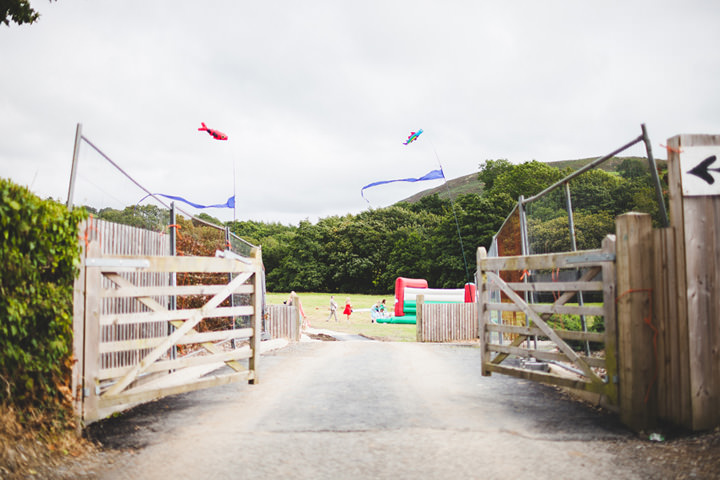 Food
When we arrived at the marquee my bridesmaids sister had made loads of pimms and lemonade and my bridesmaid and her boyfriend had made mountains of heart shaped welshcakes to snack on. We had a delicious hot buffet during the day along with some scrumptious puddings. Mine was Belgian sweet waffle biscuits, with strawberries and cream and a thyme syrup. In the evening, a friend gave us a couple of lambs from their farm and we got a local butcher to do a lamb roast and barbecue.
Entertainment
In the ceremony, the entrance and exit were accompanied by a harp, played by my uncle's next door neighbour. The bride's brother, Ben, read a Pam Ayres poem "Yes, I'll marry you my dear". The bride's cousins, Hope and Tirion sang a beautiful duet in welsh. During the reception, as we entered the marquee, a friend played in a string quartet and while we were having dessert we were entertained by a local close harmony choir, Sgarmes. In the evening a local band called Smokin' Guns played some fantastic tunes for us all to dance to.
Flowers
The men had buttonholes of ivory roses and sea holly. My sister in law-to be's mum, Janine, did all the rest of the arrangements and decorated the marquee. We bought some flowers from a local shop in blues, purples and creams. The rest were donated from loads of local gardens including loads of hydrangeas and trailing ivy. Each table had a set of laboratory glassware collected from a recent clear out at work. The flowers were beautiful and looked almost hand picked from the garden.
Cake
I decorated the cake (with help from others). It was 5 tiers with a fruit cake layer, chocolate sponge, Madeira cake, carrot cake and a regular sponge cake at the top. The whole thing was covered in pale blue icing and decorated with sugar paste flowers. The top cake was decorated like a birdcage with 2 little birds on the top.. We made loads of cupcakes decorated with flowers. For those with more savoury tastes, we had a massive cake of cheese from the Liverpool Cheese Company. 17kg of cheese – we're still eating it.
Personal/DIY touches
Most of our wedding was done from scratch with no wedding planner.
• We'd collected tonnes of beautiful blue, white and gold crockery which gave a really vintage feel.
• My mum had painted up and plated milk churns, pots and old buckets with plants to decorate the outside of the marquee.
• My dad made a fantastic homemade photobooth, inspired by something I'd seen from etsy and an old Victorian picture frame I bought for £10. It turned into a full fireplace theme where you could put on moustaches and hats etc and appear in the photo frame. We set it up with a camera on a tripod in front of it. It was brilliant and some of my favourite pics from the wedding are from the photobooth.
• We also had loads of outdoor games including a coconut shy, sack race and bouncy castle. I wasn't sure about this at first but it worked out really well, everyone had fun and all the kids were occupied.
• I loved the table centres using the lab glassware, it suited us, as 2 scientists, perfectly.
• A friend lent us loads of solar fairy lights and they lit up the outside of the marquee at night along with loads on lanterns that we'd collected.
• The whole marquee was decorated with bunting made by my mum. The first lot I made was lost in the flood, but a local fabric shop, Wheeler fabrics, were really kind and donated some fabric so we could make more bunting. So generous.
• For favours, we put daffodil bulbs in little organza bags with names on and used them as place settings. A daffodil is the national flower of wales so it seemed right.
• We had flying tropical fish at the entrance to the reception field and all the tables were named after corals, Nick is really into tropical fish and corals and even writes for a fish magazine.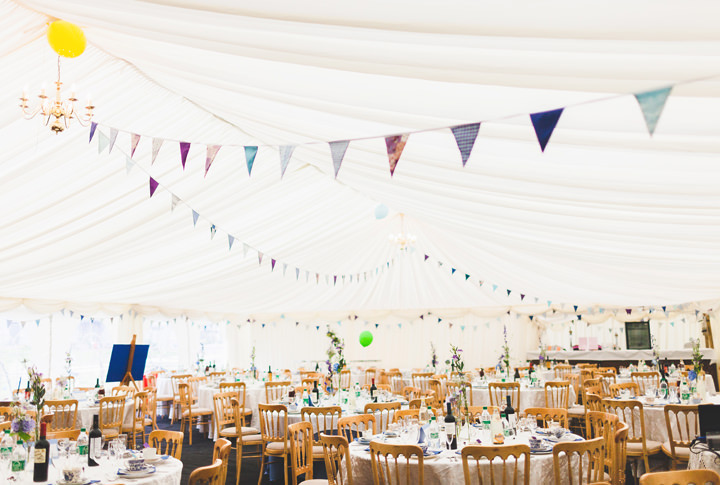 Special moments
Everyone working all week to get everything done. So many people in the village and further beyond helped out, I will never forget that. All the friends and family that joined us to celebrate (particularly the ones that came from as far away as Canada and Australia), my cousin's singing Ar Hyd Y Nos, the beautiful patchwork blanket that my bridesmaid and other friends had made for us to commemorate our wedding, the speeches – they were all really funny. Bouncing on the bouncy castle, nick and me in fake moustaches, getting soaked at the end of the night while walking to bed. Smiling…..a lot.
Biggest surprise
The beautiful patchwork blanket that my bridesmaid had made for us to commemorate the day. She'd asked all my friends to decorate and patch and stitched it all together. We will keep that forever.
Advice
• I love making things and little details so I was in my element but it doesn't suit everyone.
• Don't get too bogged down by little things – it will all work out fine and you'll have a fantastic day.
• Try to make it personal – that was really important to us.
• If you are going to make things, do it early and give yourself plenty of time.
• Get people involved – so many people did things for us for free or a really good deal by contacting people we knew. It really wouldn't have been the same without their help.
• We weren't going to do a seating plan because we wanted a relaxed day but we soon realised that it would be chaos so we did one last minute.
Supplier shout Outs
For more information on Christopher's work go to
www.christopherian.co.uk
[email protected]
FACEBOOK
@Chris_Ian_Photo
07929671925