I was thrilled to see this wedding land in the inbox with images from John Wellings. You see, I know Mwnt Church, where this lovely couple tied the knot. I've stayed in the village and been to the most beautiful, secluded beach with its very own wild dolphins! It's as stunning and as wild as it looks and I wholeheartedly recommend that if you are passing through Ceredigian in Wales anytime soon, you pay it a little visit. Plus I'm also loving the idea of vodka toasts to the happy couple courtesy of Ewa's parents, who imported litre bottles for each table directly from Poland. That and the bake-off style competition instead of a more formal wedding cake.
'Absolutely fantastic, being surrounded by all the people we love and care about.'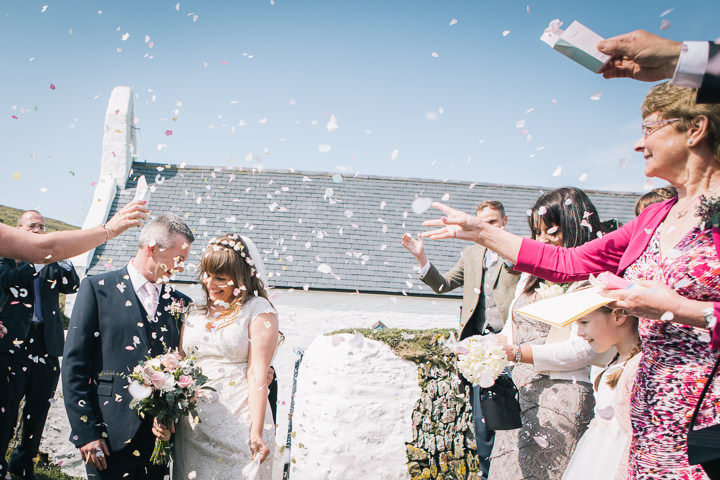 Ewa and Chris tied the knot on 25th April at Mwnt Church in Ceredigion, Wales, celebrating their reception with just over 60 guests at the Guildhall in Cardigan. "Chris grew up in Cardigan and still has family there now. Mwnt is somewhere we always visit when in the area. It is beautiful, tranquil and very romantic! Chris also proposed in the Church at Mwnt so the place means a lot to us both."
How they met
We met in a small pub in South Manchester, I was working behind the bar, Chris was drinking with friends and the rest is history! We've been together for 8 years now.
The proposal
On a visit to Cardigan back in 2012, Chris took me for our usual visit to Mwnt, pre-armed with the ring in one pocket, a small bottle of bubbly in the other and two plastic champagne flutes. He proposed in the church, with just the two of us there. It was romantic and so very special! We then left the church and opened the bubbly and went for a walk down to the Mwnt beach.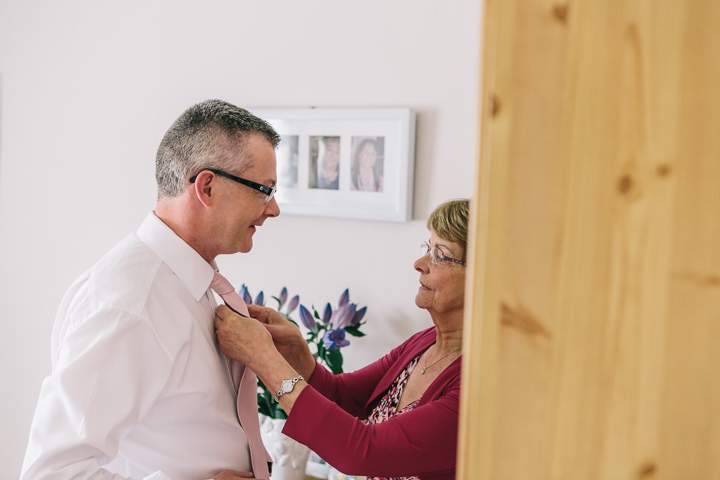 How did you spend your budget?
We knew we didn't want to spend a vast amount of money on the wedding. What was important to us was that everyone had a great time and that we were getting married with the people we love around us. Oh and to have a fabulous honeymoon after! As a result we ended up doing everything ourselves, sourcing things online and negotiating the best deals from our suppliers.
How did you choose your photographer?
Google research. After shortlisting 3 photographers we chose to go with John Wellings. The photographs on his website were breath-taking, and we really like his approach to non-intrusive, candid photography.
The dress and accessories
Before I even looked for dresses, I knew I wanted an off-white long lace dress with capped sleeves and a sweetheart neckline. I found just that (minus the sleeves) in a bargain BHS dress. As the shop also stocked a shorter version of the same dress, I decided to buy 2 dresses, a long and a short one to make the sleeves out of. With a few minor alterations and beautiful delicate capped sleeves sewn on by a seamstress, the whole thing cost just over £300. The dress was exactly what I wanted and such a bargain too! I wore a white gold and diamond heart-shaped necklace I got from Chris for my birthday, it was the first gift he ever bought me. I also had a white and dusty pink rose bud headband made by the very talented Gypsy Rose Vintage, which finished the look beautifully. I wore gold/nude peep toe court shoes from Debut, Debenhams.
The suit and bridesmaids
Bridesmaids' dresses: The girls wore long nude floaty dresses from Debut, Debenhams.
Groom's Suit: Navy blue 3 piece suit from Next, dusty pink tie from Debenhams.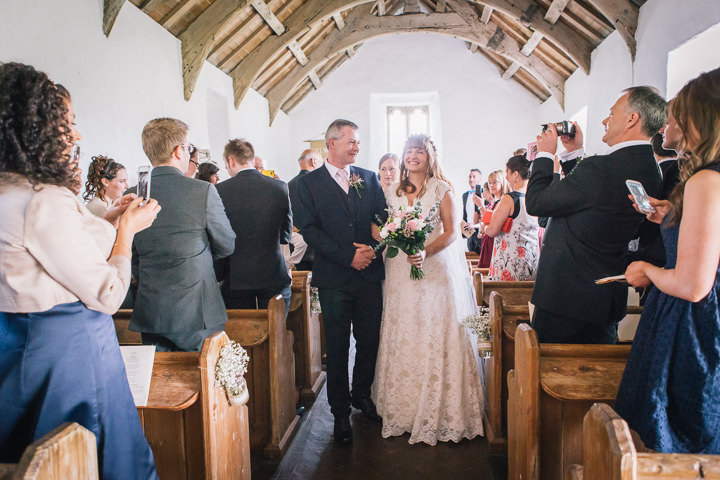 The theme
The theme was vintage with white and dusty pink accents
The flowers
Dusty pink Sweet Avalanche roses, dusty pink Astilbe, White Freesias. The bouquets were done by a local florist, hand tied with a rustic string. We used the same flowers to decorate the tables. We decorated the church aisles with gypsophila and pink heather to match the rural location of the church. Buttonholes were made by Chris' mum and included gypsophila and pink heather grown in our own garden.
The decoration
The venue is a 19th century hall full of character and beautiful iron beams in the main room. We used white and country bunting on the walls and fairy lights on the ceiling to light the stunning beams.
The food and wedding cake
We were very impressed with our catering company. The food was beautifully presented, the service was excellent and it tasted amazing! Our guests were very complementary of the food too!
Canapés upon arrival: Asparagus with Parma ham, Bruschetta with artichoke and roasted pepper, Bruschetta with roasted pepper tapenade and shaved Parmesan, Smoked salmon and dill pinwheels, Quails eggs and smoked paprika, served with Martini Rose Prosecco.
Starter – Fillet of sea bass with caponata
Main – Roast rump of Welsh lamb with dauphinoise potatoes and rosemary jus
Alcohol: Ewa's parents brought ten 1 litre bottles of Sobieski Polish Vodka all the way from Poland! All the toasts were made with the vodka rather than champagne. Needless to say the guests enjoyed this aspect of the wedding very much!
We decided to opt for a competition: The Wedding Bake off! We asked our guests to bake us a cake and we then judged it on the day. It was so much fun, everyone loved it!
The entertainment
We asked our guests to give us a list of three of their favourite songs to dance to. These with some of our favourites were used as a playlist by the DJ.
Personal or handmade touches
-Invitations. We sourced big brown luggage tags on ebay and used them to glue a strip of pictures we took of ourselves holding a sign saying 'We're getting married!' in three languages (English, Polish and Welsh) to celebrate our heritage. We instagramed the pictures to achieve a vintage look. Using a rustic string we then attached another piece of card to the back of the luggage tag with relevant wedding info.
-Favours and name tags. We sourced small brown paper bags as favour bags and small brown luggage tags which served as name tags. Each adult guest received a custom made shot glass (for the vodka!) with our logo on one side (designed by Chris) and the date of our wedding along with the words 'Cheers' in Polish and Welsh on the other side. The favour bags also contained retro sweets and bubbles for the children. We made the name tags using an old style typewriter alphabet stamp and a custom made stamp with our logo. A strip of lace on the bottom of the name tag finished the vintage look nicely.
-Table Plan. We used an old cork board and covered it with hessian and strips of lace to form a frame. We sourced little heart shaped pegs to hold table numbers with the names of our guests.
-Order of Service. We used one of the pictures we took for the invitations and created the front cover of the order of service. The middle pages included the details of the service and the hymns. We opted to have two passages from the Bible read in Polish and Welsh as well as Shakespeare's Sonnet 116 in English during the ceremony.
-Flower and candle jars. Over a course of a year we collected various glass jam jars to serve as flower vases and candle holders. We decorated them with hessian, lace, heart shaped buttons and rustic string.
-Flowers. My mum and I arranged flowers to go on tables. We used an online wholesaler which delivered beautiful flowers for a fraction of the price of a florist.
-Menus. The menus had information about each course as well as instruction to have a shot of vodka after each course. Some guests took these instructions literally!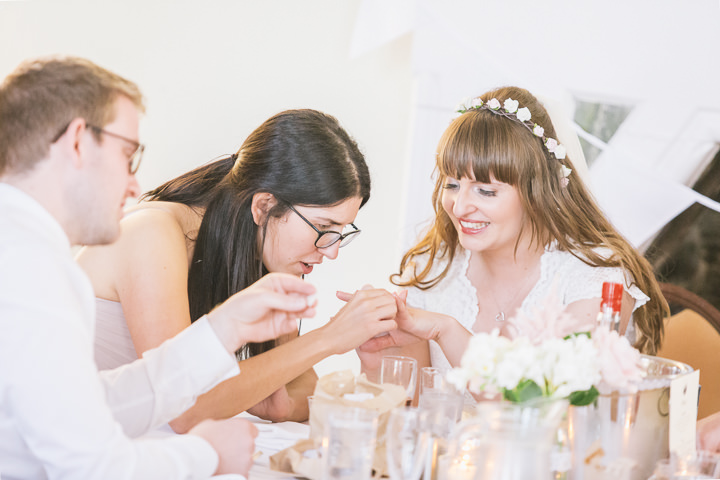 Special moments
(Chris) Seeing Ewa for the first time, walking down the aisle looking so beautiful. It took my breath away!
(Ewa) The last song of the night (as opposed to the first) – we danced to Wonderwall by Oasis and sang or rather shouted the words to each other, with our guests forming a tight circle around us. I wanted to cry when the song finished!
Advice to other couples
Make sure everyone knows what their role is on the day, try to delegate as much as you can!
Also, make a list of pictures you want taking. Our photographer asked us to prepare such a list but we forgot in the end. As a result we missed out on a few shots we wanted.
Don't spend thousands on flowers. Just order online and get somebody to help you arrange them the day before the wedding. You really don't need to be an expert! As long as you know which flowers you want it's easy to put them together! Nobody will remember the flowers anyway!
Biggest surprise
How quickly it went!


Supplier Shout Outs:
For more information on John's work please go to:
www.wellingsweddings.com
FACEBOOK
@John_Wellings

[jprel]