I have a real treat for you today as we head off to Argentina for the 23rd wedding of our good friends Lisa and Alex from 2 People 1 Life. Lisa and Alex have spent the last two years traveling round the world getting married in every country they visit, you can read more about their adventures HERE.
Today we see them with a rather special wedding as it is a Tango wedding and the photos are AMAZING. Massive thank you to  the fabulous Emiliano and Juan for the wonderful images, they really capture the magic of the city and this very special day. You must check out the video by  Alejandro as it is a real treasure.
I'll let Lisa tell you more about the day………………..
The wedding was today and we were more nervous than ever about the dancing part! We had watched the effortless gliding of the couples the night before and knew that it took more than an hours crash course to FEEL the tango let alone to dance it!As we left the Dante Boutique hotel to head to the tango house to meet Daniela and Rommel we realised we still did not have an officiate or even a location really! We spoke with Laura the hotel manager and asked her how she would feel about holding the ceremony for us! We had been talking with her and Sebastian about our adventures and they both wanted to come along to watch the ceremony! She immediately volunteered Sebastian who came across as a quiet shy individual…but he had been harbouring a secret…he is an actor! And has a fabulous voice! 

Hours before the ceremony and we had everything we needed…barring the ability to dance! We arrived at Daniela and Rommels and got straight to our lesson. It wasn't until we started dancing that I realised that the women last night were all dancing backwards! The man directs the woman by pushing forward, she reads his damn mind and goes with him…BACKWARDS! We really had bitten off more than we could normally chew! Alex has two left feet and we are both as clumsy as new born giraffes BUT we had the best couple to show us the ropes and before long we were staggering around the room in something akin to a dance move! After an hour or so we had a basic couple of steps, a clumsy stance and a fit of the giggles! We were are ready as we were going to be!
We arrived back at the hotel just in time for the fabulous Emiliano andJuan to arrive. They would be photographers for the day and we were also blessed with amazing videographer Alejandro and backstage photographer Ramiro.   We were ready to get our wedding on for the 23rd time!!!!  Emiliano and Alejandro suggested that we prepared for the wedding in separate rooms and didn't see each other until we went out to do a pre-wedding shoot!
Once I was ready I had to sneak past our room so we could swap over. It was Alex's turn to get ready and my turn to sit and let the nerves take over. I realised while I was sat there that I was more nervous than ever! I didn't have Alex to calm me down or to fuss over I just had to sit and let the adrenalin rush around my body like a crazy thing and wait!
Soon enough we were ready and Alex waited for me next to Peggy outside the hotel. I ran down to see him for the first time in a few hours and was just so relieved to see him stood there waiting for me!
We all jumped into Peggy for a mini road trip to take some pictures to show off San Telmo. We stopped on a main highway outside the famous obelisque and luckily didn't get arrested, we drove down the worlds widest road and went the wrong way down a few one way streets…we had a blast with the gang and soon it was time to head back to the hotel to meet Laura and Sebastian and get to ourwedding venue.
When we arrived at the milonga Daniela and Rommel were waiting for us all dressed up and raring to go. The lady on the desk pointed out that we would not be allowed to take pictures without written prior notice!!!! WHHHAAAAAATTTT??? So, as it goes, this is generally our life so for us this was no big deal, we just said lets think of somewhere else to go!  Instead we decided to go dance on the highway in front of the obelisque and then head into the heart of San Telmo down one of the cobbled streets to hold the ceremony!
We did our broken tango dance as the traffic zoomed around us to the music in our hearts and had an absolute blast doing it! Rommel and Daniella danced along with us and one of my favourite moments of the night was the four of us crossing the zebra crossing laughing our heads off at the craziness of the whole thing!
We said our sad goodbyes to our dancing duo who had to go eat empenadas with friends at midnight and we all hopped in cabs to San Telmo and found ourselves a little street to get married down! The perfect spot was in front of a wall full of graffiti, with cobbles under our feet and warm glowing street lights above us. Sebastian was the perfect officiate and the ceremony was applauded by a group of people fixing a car just a little way down the street! It was perfect!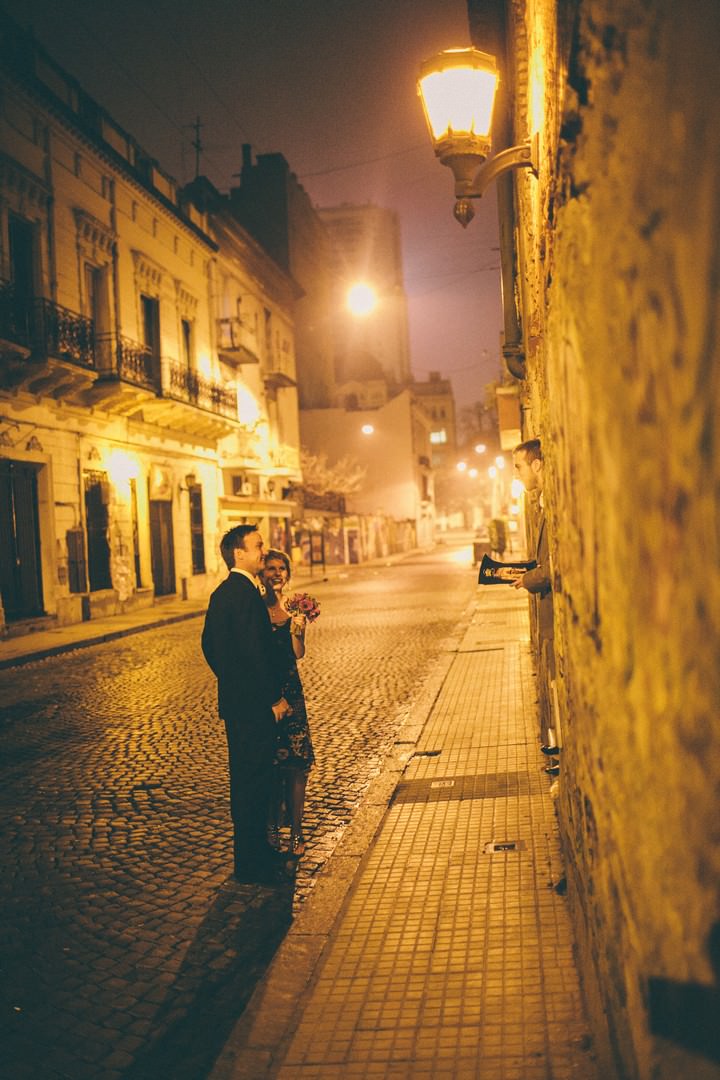 To celebrate we all piled into a small bar and ordered tapas and wine for the masses. We all had a great laugh spending a little more time getting to know each other and we were sad when everyone had to go their separate ways.
video by Alejandro Calore  www.weddings.realnshort.com
'The pictures from Emiliano and Juan perfectly sum up our day. The energy of the city, the excitement and anticipation of seeing each other after being separated for longer than we have been on the whole trip and the fun we had dancing in the streets.'
If you have missed any of the previous weddings you can catch up HERE,HERE , HERE, HERE, HERE, HERE , HERE  HERE and HERE
To follow Lisa and Alex's journey go to – http://2people1life.com/blog/
♥  You can see more Destination Weddings on the Blog HERE  ♥