As the weather is so cold, I thought I would brighten up your afternoon with talk of summer sun and honeymoons!  So I'm taking you off to Western Australia for some sun and sea and a whole lot of good food! This honeymoon location is perfect for any foodie couple looking to incorporate a bit of fine dinning, food exploration and wine tasting into their holiday.
The Margaret River region of Australia which is located 150 miles south of Perth in Western Australia is perfect as a honeymoon location for a foodie couple!  Known for its fantastic wine, the area is fast growing a reputation as one of the world's leading gourmet hubs. Thanks to its Mediterranean climate and rich fertile soils, the South West of Australia is known for producing world-class food and wine. The region is also well known for its pristine beaches, enviable surf breaks, ancient tall timber forests and an abundance of flora and fauna.
Injidup Beach, located south of Yallingup, in the Leeuwin – Naturaliste National Park

Originally a chilled out surfing town, Margaret River has long been a nirvana for wine lovers, producing award-winning chardonnays, cabernet sauvignons and semillon sauvignon blancs from its boutique wineries. Its Mediterranean climate, pristine environment and nutrient-rich soils, make it ideal for grape growing with the region producing more than 30 per cent of the nation's premium wines – a testament to its exceptional quality.

Vineyard scene on Leeuwin Estate winery, in Margaret River

Yet, this slice of Western Australia has more than just wine on offer. Artesian cheese, chocolate and olive oil producers are popping up, alongside microbreweries that are part of a thriving craft beer industry. Local restaurants make great use of fresh seafood gathered from the Indian Ocean, from rock lobsters and prawns to marron, a local type of crayfish.
One of the more recent ventures in the South West is the harvesting of black truffles, found in the tall karri forests around Pemberton. These "black diamonds" are exported to top restaurants in Australia, US and Europe. In nearby Manjimup, the Wine & Truffle Company, offer exclusive escorted truffle hunts through its oak and hazel tree plantations. Visitors can even sample the delicious fungi in truffle honeys, oils and mustards.
Gourmet Escape
Five top recommended trips:
Black truffles – Last year Western Australia produced a record crop of these 'black diamonds', becoming the biggest producer outside Europe. As one of the most expensive foods in the world, truffle prices range from $2,000 and $2,500 per kilogram. The best way to taste these delicious treats is to sniff out a truffle hunt at the Wine And Truffle Co.
The grape escape – Margaret River accounts for roughly 3% of Australia's total wine export, producing 25% of Australia's premium wine from boutique vineyards. Take an insider's tour of some of the best in Margaret River and compare its signature sauvignon semillon and cabernet sauvignon blends with the rieslings and merlots produced in the cooler, upcoming southern areas of Mt Barker and Frankland.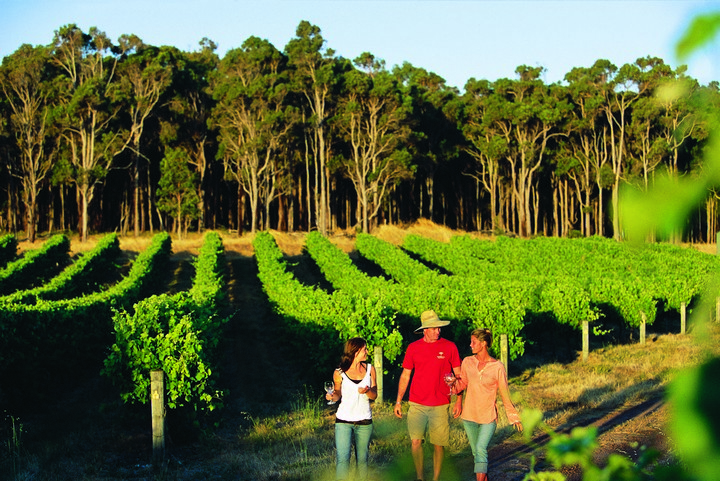 Margaret River Wine Region

'Whet' your appetite – Catch your own supper on a fishing trip or taste local oysters by the dock at Albany, on the south coast.

Advice from the experts – take part in a cooking lesson at Cape Lodge, a five-star boutique hotel in Margaret River. Alternatively, paddle up Margaret River in a canoe before embarking on a wild food walk, learning about the local bush tucker.

A taste of adventure – Take surfing lessons, snorkel in crystal clear waters and join a guided walk on the Bibbulmun track, Australia's great long distance walking trail.
surfing in Prevelly – Margaret River Region
Thank you to Emma Jane from leapfrog on behalf of the Western Australian Tourist Board for this post.
For more information go to: www.westernaustralia.com
If you are a holiday company and would like to share your honeymoon tips with my readers please get in contact at 
[email protected]