Good afternoon how are you all?  I hope you are enjoying this sunshine that we are blessed to be having today in the UK.  I am in London at the moment and it's just glorious.  What a gorgeous day to be sharing fabulous honeymoon ideas here today on Boho Weddings!  Tom our resident honeymoon expert, was on the blog back in March with a fantastic post on honeymoons with children.  Today Tom is back talking about honeymoons in the Autumn.  There are so many fantastic ideas here for anyone who is thinking of planning a honeymoon in the Autumn.
I'll pass you over to Tom……………..
Autumn is a wonderful time to honeymoon; soaring temperatures reduce to a mild heat, prices drop across the industry, and the tourist crowds disperse for quieter roads and less hectic venues. If you're looking for the perfect honeymoon destination, the end of September or the start of October could be the ideal time to travel. And here are 9 awesome autumn honeymoons to consider for your romantic post-wedding break. 
1) City Break in Marrakech
Marrakech is one of the most romantic cities in the world. The summer heat is intense and the culture clash combined with tourist crowds can be somewhat overwhelming; travel in October however, and you could see the very best of this colourful country. Get more tips at lawrenceofmorocco.com
2) The Algarve, Portugal
If you're looking for some autumn sun, The Algarve coast in Portugal boasts fantastic warm weather long into October. And if you head away from the busiest resorts, you'll find a secluded paradise perfect for just-married romance.
3) Paris, France
The 'City of Love' is inredible any time of year but if you want to avoid the busy crowds, visit at the end of summer, just before the weather turns too chilly.  The Jardin des Tuileries and beautiful Parc des Buttes-Chaumont will be painted with warm autumn colours and you may even get better service at top restaurants outside of peak season.
IMAGE SOURCE via Rebecca Douglas Photography
4) Safari in Kenya
October is one of the best months to spot wildlife, including the wildebeest migration, on a Kenya safari says Marc from Africa Odyssey. And between the popular months of June to October, you can enjoy sunny, clear skies with little rain. For reduced rates and milder temperatures, late October/early November is the perfect time to travel.
5) Sardinia, Italy 
For the perfect honeymoon beach escape, Sardinia is highly recommended. Flights and ferry prices are dramatically reduced in September/October yet the weather is still gloriously hot. And with lower tourist footfall, you can enjoy some much-deserved alone time with your new wife or husband in this stunning part of Italy.

IMAGE SOURCE
6) Croatia

 
The shoulder seasons are ideal for visiting Croatia. And with dramatic mountain landscapes, azure blue waters and spectacular national parks, there is no other place quite as striking in the Adriatic. Boasting outstanding food and stylish cities, a honeymoon in Croatia is an exciting blend of sun, sea and culture.
7) Nile Cruise 
For the ultimate luxury and a stress-free itinerary which is fully curated, book a 5 star cruise along the infamous Nile River. The shoulder month of October is the most romantic time to take the cruise and you can avoid the long queues and busy tourist crowds during cruise stop-offs.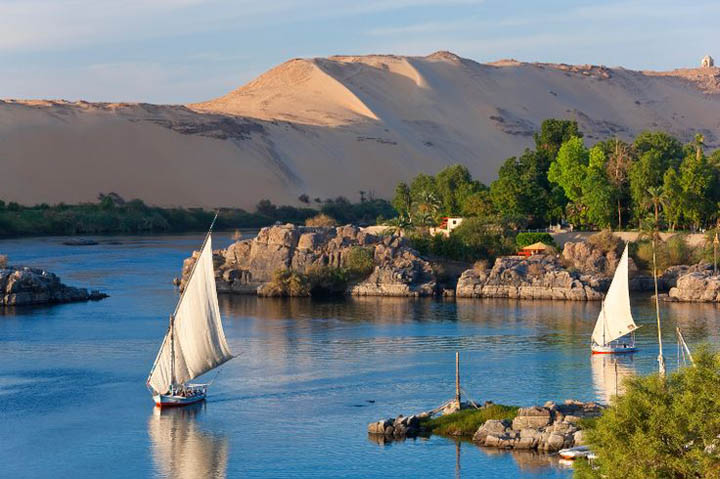 8) Dubai

 

 
The city of Dubai is the ultimate honeymoon destination for glamorous couples with a taste for the finer things in life. Dripping in riches, lavish surroundings and VIP venues, there's nowhere more sumptuously indulgent than Dubai. Temperature highs can be anything up to 39°C and humidity is lowest at this time of year, making it much more comfortable than summer travel.
9) Umbria, Italy

   
The region of Umbria is the only Italian region without coastline or international borders. Right at the heart of the country, this region dazzles with both cultural authenticity and stunning countryside. Enjoy the finest food and wine, and head to the beautiful landlocked towns of Perugia, Spoleto, Assisi, Gubbio and Spello. If you fancy getting married or honeymooning (or both!) in Italy, this place is perfect.