Welcome to another week, I hope you are all well and enjoyed your weekend?  With the clocks going back and the evenings drawing in I thought that I would put a bit of sunshine into your lives with this Sunny South Devon Wedding shot by the lovely Helen Lisk. I love that this wedding had a cream tea served before the outdoor ceremony (and who doesn't like a cream tea!) and I'm also loving the space hoppers!
Claire & Neil who were married on 30th June at Dartington Hall, South Devon, they had 65 guests and it took 3 months to plan. They met at work in late 2003. 'We went to have a look around Darrington Hall and absolutely fell in love with the place so didn't even look at anywhere else. The outdoor setting was perfect for us and fitted our personalities.'
'Relaxed, outdoor fun with good friends and family. Perfect in every way, couldn't have asked for anything more.'
Helen has been kind enough to tell us a bit more about the day…….
I really loved photographing Claire and Neil's wedding. They had a cream tea and relaxed garden games for their guests first, with the ceremony following at 5pm. It was a really lovely way to start the wedding and it also meant that Claire and Neil were able to walk down the aisle together, which I really liked. We were so lucky with the weather, as there were huge showers threatening all day and they had an outdoor ceremony planned. But the showers held off just long enough for a stunning ceremony in the later afternoon sun, with light streaming through the wisteria over the top as they said their vows. As they exited down the aisle (to Katrina and the Waves 'Walking on Sunshine') Claire spontaneously started dancing, and that sort of summed up the whole day for me. It was a really relaxed wedding, and completely felt like Claire and Neil did it all their own way. After I'd walked around the grounds with them to take some photos, it was Claire's idea to get on the space hoppers – and despite being 5 months pregnant managed to produce a pretty impressive bounce, although maybe not quite as high as Neil's!! The first massive shower of the day came just as everyone was about to move indoors for the wedding breakfast, just perfect timing. It was a really memorable wedding for me. Firstly, as it was just such a pleasure to photograph. Claire looked so pretty in her gorgeous dress, designed by her sister – just stunning with the afternoon sunlight shining through it, plus the beautiful venue, all the wonderful miniature cars, everyone having such a great time. Secondly, because Claire and Neil were absolutely lovely to work with – very laid back, laughing a lot and really enjoying their day, and I think this really shines through in the photographs. They are expecting their first baby any day now, so I wish them the very best of luck!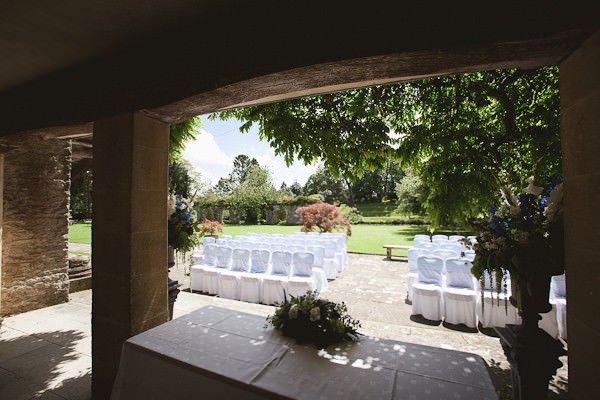 The Dress
Dress and bag made by Louise Hamer (sister). Antique necklace from 2nd hand jewellers
Theme
A shared love of old cars. Last minute idea – thought about having the pictures/car names to name each table, picked all the old cars that Neil has had over the years. Then came up with the idea of getting the model cars/car badges to go with the photos on the tables.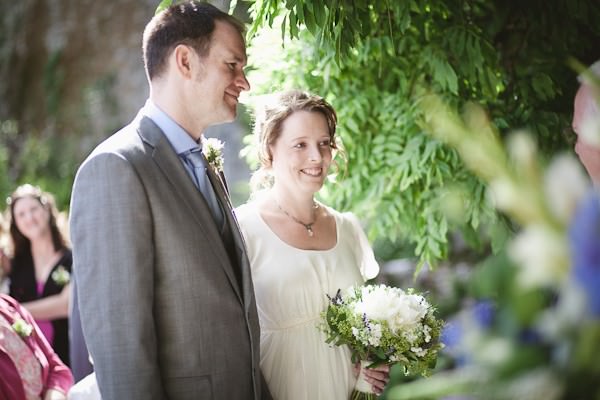 Food
Cream tea in the gardens
Reception dinner later
Entertainment
Local folk band called Five Fingered Eddie
Flowers
In season blue and white ones! By Blue Gerainium, Totnes.
Personal Touches
• Cake made by Neil's mum – Joyce Ward
• Dress made by Claire's sister
• All the table place names, etc by Claire & Neil
Special moments
The outdoor ceremony in the garden and seeing all our family and friends.
Advice
Be flexible. Try not to worry about anything, something is bound to not go to plan. Enjoy every minute of the day, it goes so quickly.
Supplier Shout Outs

For more information on Helen's work go to: 
www.helenliskphotography.co.uk
[email protected]
www.facebook.com/helenliskphotography
www.twitter.com/helenliskphoto
07967 395901

  ♥  You can see more Real Weddings featured on the Blog HERE  ♥

[jprel]