Today's wedding is a fabulous Destination wedding in Italy, sent into me by Helen Lisk. It's the wedding of Leanne and David who were married on 5th May. The Ceremony took place in the town Gardens of 'Petritoli' in Italy and the Reception took place in the town square by the clock tower and then onto the  Medieval Reception Hall. They had 45 guests and it took 10 months to plan.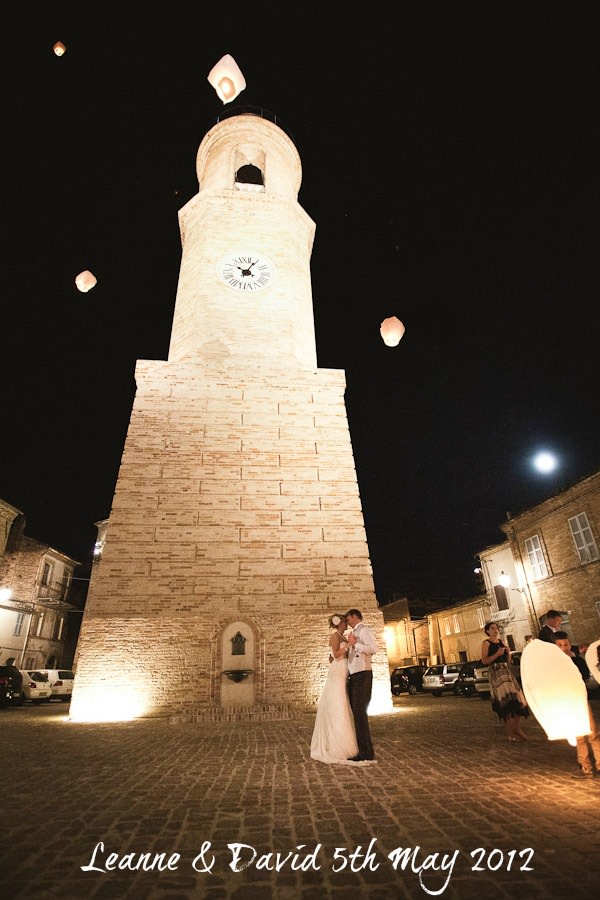 Having had a destination wedding, I do love seeing other people's destination weddings. I love the sunshine and the simplicity of them, when you have such an amazing backdrop you don't need the fuss and the details of some other weddings.
'It was truly incredible, in an amazing unique location, surrounded by our Family & Friends, we really did have the day to remember.'
How they met
On a dating Website called 'My Single Friend'! We've been together for 5 and a half years
The proposal
We had planned a trip to London for the Easter weekend in 2011 with our 4 month old baby, which also happened to fall on the same day that we had met on our first date four years before!
We stayed at the Hilton Hotel in Trafalgar Square and spent the day at the park with a picnic as the weather was gorgeous. The Hotel had a rooftop Bar which has amazing views of the whole of London so we thought we would go for a pre dinner drink to celebrate our Anniversary. We were sitting at a table and two glasses of Pink Champagne arrived with a little black box which David made me open, whilst I was peeking he was down on one knee and asked me to Marry him!!! It was perfect and our little boy was there too although he was pretty uninterested in the whole thing!!
The venue
Having been a Wedding Coordinator and planned Weddings at various Venues for the past ten years, I've seen so many Weddings and just new that I wanted to do something totally different.
We chose Italy because it had such amazing scenery and thought it would be really romantic place to get Married. We started by researching on the Internet and stumbled across the 'Palazzo Mannocchi' which we  fell in love with, made a quick trip over to view it and booked it there and then. It had us hooked!!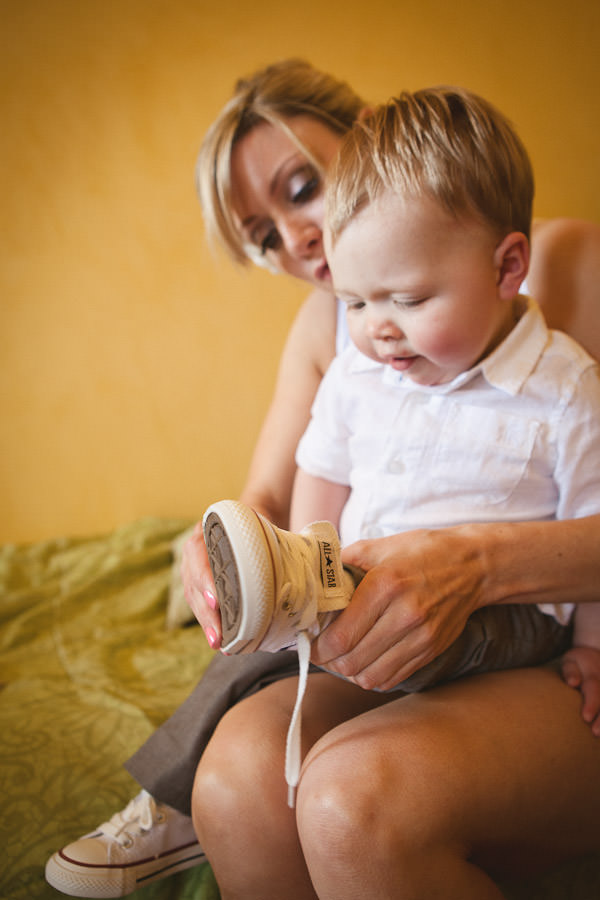 Why did you choose your photographer?
We saw some photographs that Helen shot at the same location in 2011. We just fell in love with her style of photography and how amazing the whole day looked, we knew that we just had to have her! No one else even came close.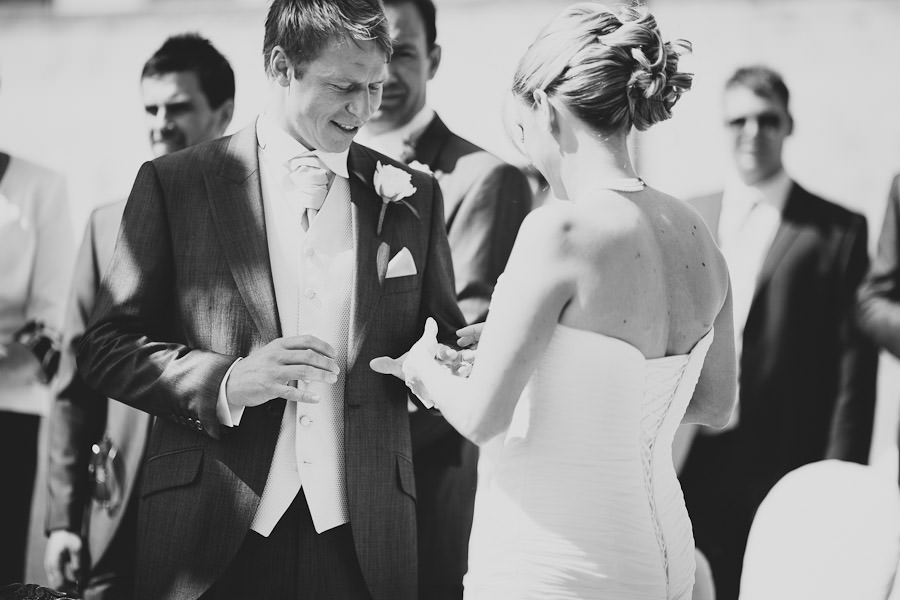 The dress
The dress was designed by Sottero & Midgley and the shoes came from Monsoon. The accessories were from a local jewellers.
The suit and bridesmaids
The Suits were hired from Moss Bross and the Bridesmaid dresses were designed by Jim Hjelm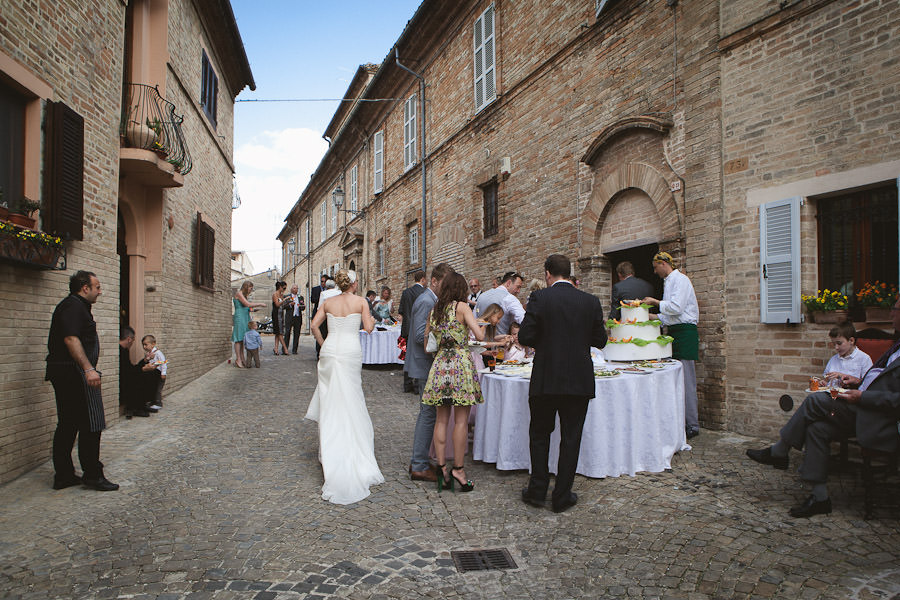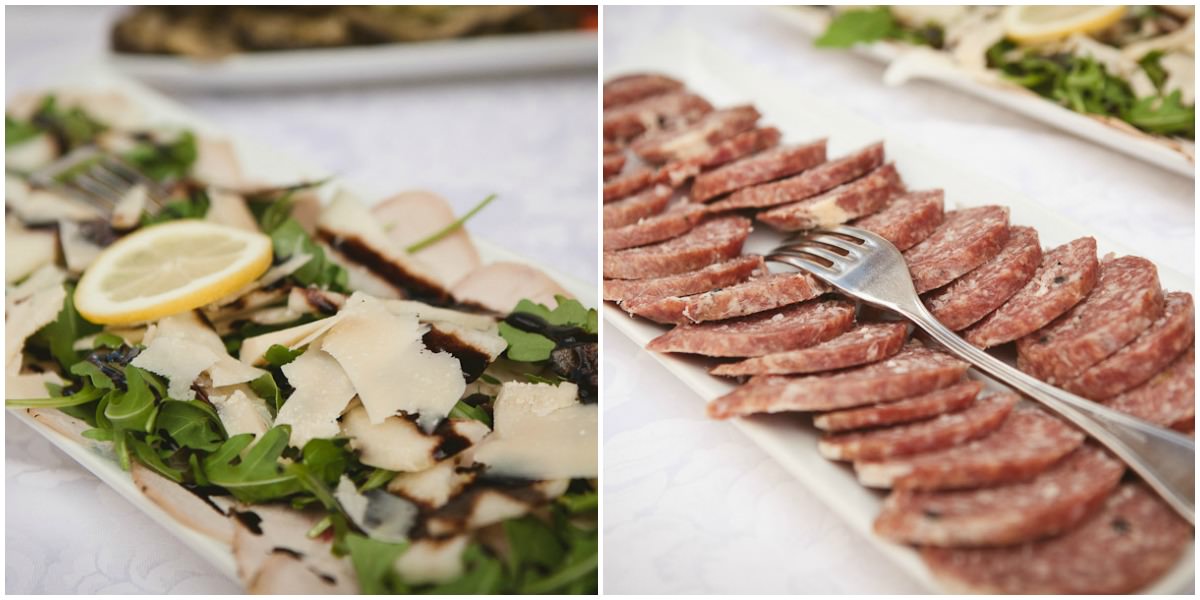 Theme
We didn't really have a theme and just wanted to keep it fairly simple. The colour scheme was a dusky shade of Pink
Food
What didn't we eat?! The food was simply amazing and so much of it!!
Entertainment
As it was such a small group for the Wedding we just used an Ipod and payed music throughout, which worked perfectly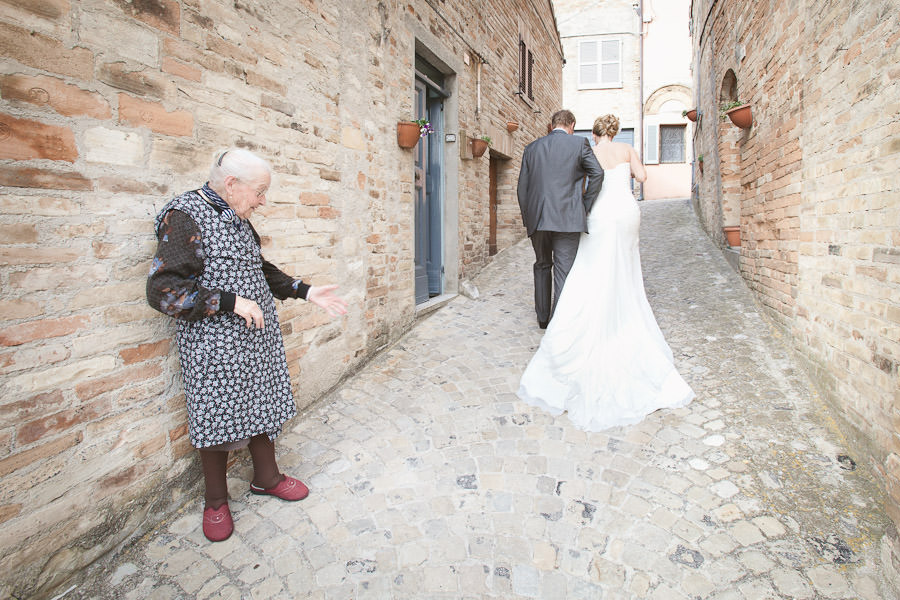 Flowers
My favourite flowers which are Peonies with Roses
Decoration
To be honest we really didn't have any other decoration aside from the flowers on the tables as the Venue that we were in was a Medieval Hall and didn't need anything else. The Hall was decoration enough!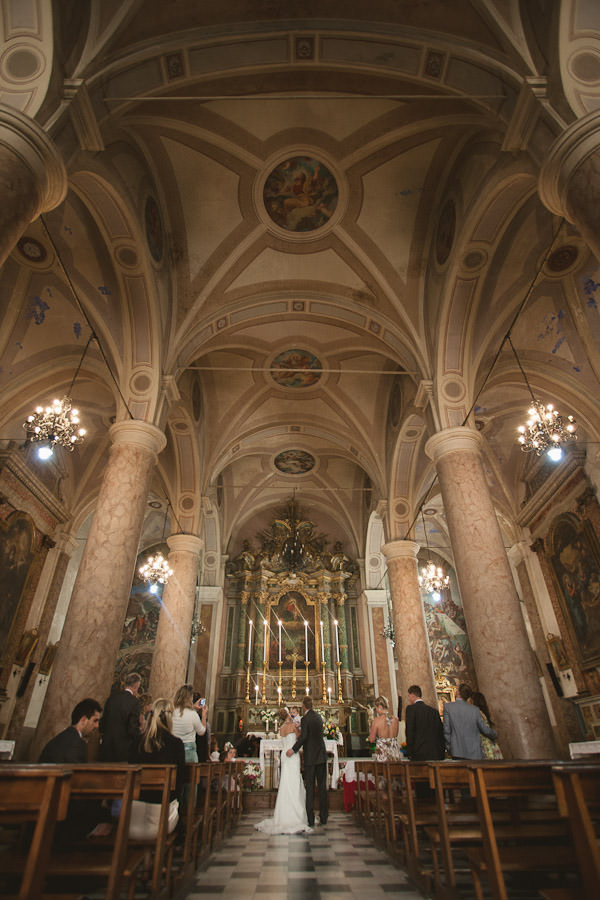 Personal touches
• Probably the biggest personal touch was that I made all the stationary myself which was really nice to do. Because our Wedding was in a different country we tried to make sure that all of our guests felt involved and we did this by sending out detailed information to our guests prior to the Wedding with facts about where we were staying and things to do in Petritoli. We wanted to make it as easy for people as we could.
• The table plan was created using local Olive branches which I hung the different tables on along with wish cards as I have never been a huge fan of a guest book, so thought that this was quite unique and personal touch.
• We also wanted to capture the spirit of the Petritoli and for the favours we had personalised mini bottles of local olive oil for the Ladies and mini Bottles of Limoncello for the Men, all made locally (though not by myself!!)
Special moments
We had so many highlights during the day, perhaps one of the most special was towards the end of the evening during our first dance which we had in the Moonlight in the town square which was an amazing location in itself. Whilst we were dancing our guests lit sky lanterns and let them drift into the night sky, it was a pretty magical sight to see (there were lots of tears!)
Other highlights of the day would have to be the blessing we had in the Church for our Son, the Priest was so welcoming and funny and was very sweet to us all.
We also really enjoyed hiking up the Bell Tower for the sunset, the views were simply out of this world and it was a really special moment that will stay with us.
Advice
I would probably say just enjoy every moment, try not to get too caught up in the stress of planning a huge Event. The day itself goes really quickly so take every moment in!
Biggest surprise
I wouldn't say that there were any real surprises of the day but I think we were both overwhelmed by how the whole community of Petritoli embraced us and our guests and were so welcoming and really made us feel like part of the town.
The other really exciting thing was that one of our guests was so inspired by where we were & the feel of the Wedding that he proposed to his Girlfriend!
Supplier Shout Outs
 www.facebook.com/pages/Italian-weddings-in-Petritoli/15155487557 A massive shout out has to go to Jo Williams who is the Wedding Planner of Petritoli, without her the Wedding would not have happened. She organised ALL aspects of our day from start to finish and made it so easy for us, especially with the language barrier. We literally arrived in Petritoli a few days before the Wedding and everything was arranged to perfection.  She was so chilled about everything and nothing was too much trouble
www.helenliskphotography.co.uk  Helen was simply amazing. She really was much more than just our Wedding Photographer she felt like part of our Wedding Party and fitted in with our guests perfectly, aside from capturing our day with the most incredible photographs!
www.palazzomannocchi.com The 'Pallazzo Mannocchi' is the most unique place to stay and Ferida who runs it all again made sure that our guests were comfortable and was around at all times should we need anything at all. It is kept to the highest standard with a lot of love and care put into it.
www.ristoranteresquarchio.it The food from Re Squarchio was simply outstanding, all of our guests commented on how fantastic it was. Andrea who owns the restaurant ran every aspect of our Wedding Catering including a BBQ for our guests the night they all arrived. Absolutely nothing was too much trouble for him, he really went above and beyond!
For more information on Helen's work go to: 
www.helenliskphotography.co.uk
[email protected]
www.facebook.com/helenliskphotography
www.twitter.com/helenliskphoto
07967 395901
  ♥  You can see more Real Weddings featured on the Blog HERE  ♥