Today's beautiful wedding sees Victoria and Cosimo bring a little bit of Italy (where Cosimo is originally from) to a beautiful spot in Somerset. With the couple moving from London to New York half way through the wedding planning, this made the panning that bit harder, but they managed to get round the problem and the results are beautiful. With an Italian olive grove as their wedding theme, the whole day is filled with the most amazing greenery, fabulous flowers and amazing hanging decoration. One of my favourite photographers Helen Lisk Photography was there to capture the day in her own unique way and the results are stunning.
An Italian olive grove in rural Somerset. Every aspect personalised to reflect our eleven years together and what marriage symbolised to us. 
Victoria and Cosimo were married on the 8th October 2016 in a ceremony at St Mary's Church, Old Dilton, Wiltshire followed by a reception at Vicky's parent's house in Frome, Somerset. 'We really struggled with the venue, it was definitely the hardest part of the planning for us. We knew we didn't want a religious service, but we also found local civil service options quite legalistic and impersonal. We wanted a middle ground, and a humanist ceremony helped us achieve this – but needed to find an appropriate venue. We almost gave up, and the option of eloping to Vegas, which would actually have been a shorter flight for us, was mentioned several times! Eventually we discovered St. Mary's, a beautiful but underused church in Wiltshire, which they kindly allowed us to use the venue. Being close to Vicky's parents was also great as it allowed us to use their house and garden for the reception. We had 120 guests. We were engaged for 15 months – we moved from London to New York during our engagement, so we were a bit distracted for a few months!'
How they met
We met at Wells Cathedral School when we were 17 and we got married on our eleventh-year anniversary!
The Proposal
Cos proposed in Italy when we were on holiday in Tuscany. His family is originally from this area and we have always loved visiting the region together. One evening he suggested that we go on a walk through the hotel's olive grove. I initially refused because I had been warned there might be snakes in there! Luckily, he persuaded me because he had sneakily hidden the ring inside one of the olive trees earlier in the day!
How did you allocate your budget?
We were terrible at budgeting! The one thing we did do that helped was we got multiple quotes from various suppliers before we made any decision. This meant that we were at least informed about all of our spending choices and, if we went for top of the price range with one supplier, we tried to bring it back down to mid-range with another.
Where did you splurge and where did you save?
One piece of advice we received was "don't try to save on the photographer", so we splurged on Helen and even asked her to arrive early and stay late, but I am so glad we did. The day was perfectly captured in the most beautiful photographs, and she was worth it 200%! Other splurges were definitely our outfits, the stationary, and the flower balls for the marquee.  We saved money by keeping the decorations in the church very simple, and by making the buttonholes, bridesmaids' bouquets, and table decorations ourselves. We also saved on the music as, luckily, we have lots of very talented family and friends who sang and played during the ceremony and afternoon reception.
Why did you choose your photographer?
Once we spoke to Helen there was no other option for us! She put us at ease immediately, she's just so warm and lovely, but she really is knowledgeable and her ideas and experience helped the day run smoothly. We can't thank her enough for capturing so many wonderful moments, but also being so discreet and subtle.
The Dress
My dress was by Sassi Holford. Their London store was absolutely fantastic and so accommodating at arranging fittings with me flying back from New York. I wore their Mimi dress, and they were endlessly patient with me as I made edits to the neckline and waste-band. It was perfect! I didn't really accessorise too heavily, because the dress had a lot of sparkle already. But I wore some diamond earrings Cos had bought me as a wedding gift, and a Sassi Holford veil. My shoes were a little unconventional… I didn't want to worry about sore feet all day, or about heels sinking into the grass, but I wanted a bit of extra height. So I wore wedged white trainers from Aldo. No one could see them because my dress completely covered them, and I was the comfiest bride there's ever been!
The Suit and Bridesmaids
Cos' sister very kindly fitted him out in a dark blue Tom Ford three piece suit. He looked incredibly handsome. My wonderful bridesmaids wore long navy dresses from Asos. I saw a few groups of bridesmaids wearing the same style last year and it really is perfect – very elegant but also comfy and flattering. They all looked gorgeous!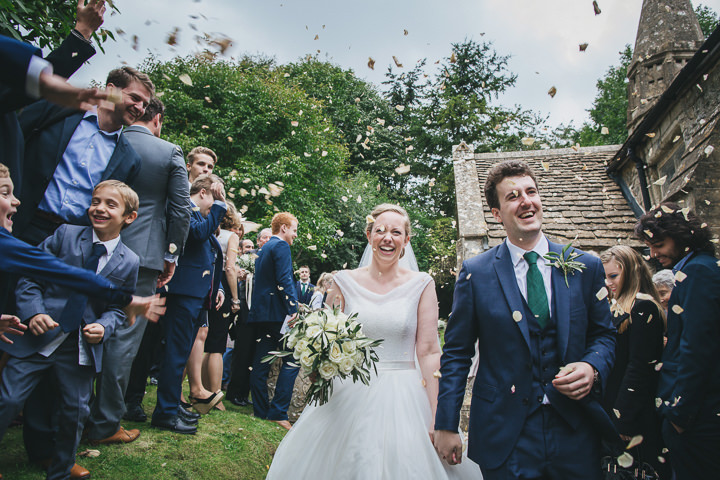 Theme or Colour Scheme
Our whole theme was "Italian olive grove!" due to the engagement. We would have loved to get married in Italy, but it just wasn't practical, so we tried to bring Italy to us!
Flowers
Olive trees everywhere! We borrowed them from all the nearby neighbours and rented dozens more. Vicky's bouquet was olive branches and roses, and we also had the most incredible flower balls with lots of white roses made by The Lily Locket hanging in the main marquee – they were breath-taking!
Decoration
Once again… Olive trees! Vicky and the bridesmaids spent hours wrapping fairy lights around the olive trees, and this, combined with more fairy lights everywhere in the garden, made it feel magical especially when the sun went down. We're also big fans of Hendricks gin, so we used Hendricks bottles as vases on all the tables!
Food
The French Kitchen provided an absolute feast! We have canapes themed for our favourite countries – smoked salmon and Welsh rarebit for the UK, lots of delicious figs wrapped in prosciutto to represent Italy, and mini-sliders for the USA! For our main we had roasted guinea fowl, and for desert we had chocolate tart with a mango sauce, a dish Cos' mum makes for us and is our favourite! At about 10pm we had cheeses and sausage rolls so people had energy for another round of dancing! It was delicious and The French Kitchen are all heroes!
Wedding Cake
We decided not to have a wedding cake as it wasn't something we were particularly fussed about. We had cheese wheels instead which guests demolished later in the evening!
Entertainment
Vicky's mum had arranged a surprise fireworks display for just before the dancing, it was a fantastic start to the evening! We then had the fantastic Gravity playing for several hours. They were brilliant and everyone had a great dance, including our uni friends despite them losing several dance-offs to Cos' ten-year-old nephew!
Stationery
Mount Street Printers – they were incredible and the quality was amazing. Cos' mum is an artist, and she painted various olive motifs and an olive tree which they beautifully  printed onto our save the dates, invitations and order of service.
Personal Touches
We really did try to personalise everything, from the food being from our most memorable meals, and the vases being our favourite drink bottle, through to the olive trees recreating our engagement, and the vows we wrote ourselves. However, one personal touch which was particularly appreciated by guests was the favours – we gave every single guest a personalised Lego figure. It was fun finding or building Lego characters to reflect so many different personalities. We had a fireman, a pianist, a wine enthusiast, and dozens more! Cos especially loved that playing with Lego was part of the wedding prep. A word of caution however, it was much more work than we anticipated!
Special Moments
For both of us the ceremony was the most magical part of the day. We had spent so much time and effort writing the whole thing ourselves, along with our fantastic Humanist minister, Pamela. We thought very deeply about what marriage meant to us and we tried to reflect this in the ceremony introduction (our sermon equivalent), vows, hand fasting ceremony, and readings. It was so special to us to have everyone we care about watch us commit to each other. We also gave some school friends free reign with the music – as we didn't want religious hymns, we asked that they arrange two songs (Beach Boys – God Only Knows, and David Bowie – Changes) so that they were singing part, but also so that the congregation could join in too. 120 people singing Bowie in a church was pretty awesome! It was incredibly moving and even better than we could have imagined.
Advice for Other Couples
Be a team. It's stressful and hard work planning a wedding, and you will have dozens of different people wanting you to do different things. Work at it together and try to split the workload equally; you'll come out of it stronger if you do. Oh, and definitely avoid moving to a different continent at peak-wedding planning time, that doesn't make for a relaxing year!!
Biggest Surprise
The music – we have no idea what our friends had planned for the Beach Boys and Bowie arrangements, and hearing it come together almost made us burst into tears!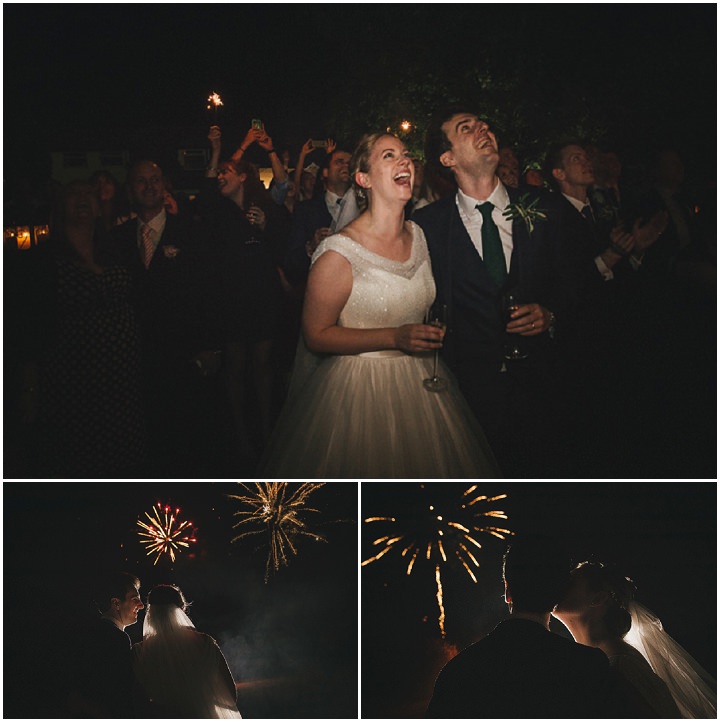 Supplier Shout Outs
FOR MORE INFORMATION ON HELEN'S WORK PLEASE GO TO:
www.helenliskphotography.co.uk / [email protected] / FACEBOOK / T: @HelenLiskPhoto
Due to an email issue if you have emailed me between the 2nd & 9th of December, please resend it.
X