Welcome along to another Monday! Today is going to be a good week because next week I am off on my holidays so I am on countdown. 7 days and I will be lying by a pool in Marrakesh, sipping on a cocktail, visiting the Atlas Mountains, and losing myself in the souks and the Medina! I can't wait! But until then, I have another week of fabulous weddings to share with you, starting with this gorgeous wedding sent into me by Hannah from Lifeline Photography. With this wedding we are getting two shoots for the price of one as it rained so much on the wedding day that Hannah took Allison and Lee out the next day for a couples shoot, where the sun shone down for them and they were able to create some beautiful wedding art!
Allison and Lee were married on 22nd June. Both the ceremony and reception were at Rivington Hall Barn, Bolton. 'We had 101 guests in the day and 150 ish in total. Lots of people didn't make the reception due to torrential storms and flooding and the barn being out in the sticks'
'The most amazing day of our lives…so far; full of fun, love and laughter. One of the wettest days on record since 1910'
How they met
Lee and I met around 11 years ago through mutual friends. We didn't really get to know each other that well, but did share a cheeky kiss! Nothing really materialised from that one time, friendships drifted and we only ever saw each other to say 'Hello' to. Since then Lee and I have spoken about that one cheeky kiss – I really liked Lee and apparently he felt the same. I think we had both wanted the other to express a desire to spend more time together! We were both obviously too 'chicken' but we both agreed we wouldn't have been married had we got together back then. Lee said I was too Bonkers. I have to say I was!!
We met up again in May 2008 and have been together since as soul-mates. When I announced our engagement, one of my oldest friends said 'the guy you've talked about for years, the guy with the piercing blue eyes?'!! Me 'yes him!!!'
The proposal
Nothing grand, thank god, I'd die! But very sweet and from the heart! Lee and I aren't the mushiest couple so for him to talk so gorgeously was rather emotional. Lee and I were talking in bed the night before he was leaving to return to work (he works abroad for 8 weeks, home for 4 weeks). He said some rather lovely things to me and then asked me if I'd marry him! Of course I said yes, and I got my amazing engagement ring on the way to the airport!! I was just sad he was leaving.
How long did you take to plan?
AGES!!! Around 18 months on and off, though it went through periods of being really busy, lulls, then busy again. I did almost everything myself…my mum was a massive creative help too though.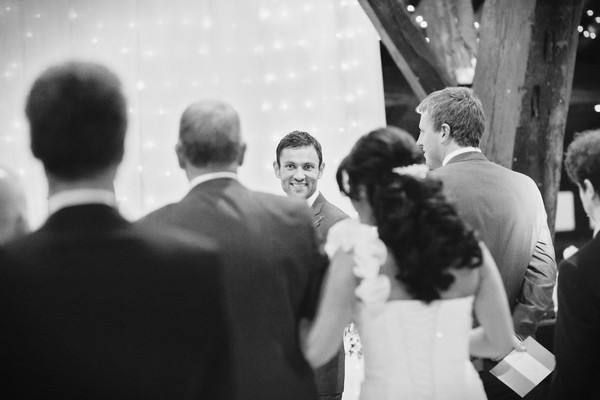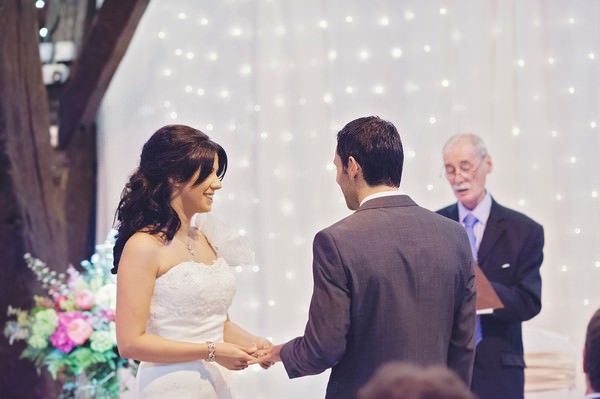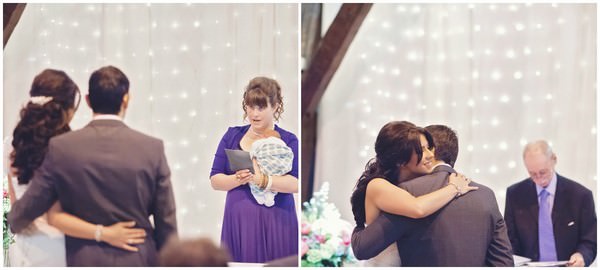 The venue
We were looking for a rustic venue with beautiful surroundings. Unfortunately we didn't see much of the surroundings!! I didn't want anything too modern either…so this was perfect. The barn is Saxon with gorgeous wooden beams and an amazing atmosphere!
Why did you choose your photographer?
We looked at lots of wedding photographers online. Lee and I were bemused by some of the poses, with snooker tables and sunglasses and very dramatic brides and piggy backs?? We also felt they looked a bit dated. We wanted quirky but beautiful and not so posed, that's why we chose Lifeline Photography. I contacted Hannah and from that first email I knew she was our photographer: professional, helpful but above all genuinely interested in our day. On meeting Hannah the deal was sealed, totally lovely and down to earth. We talked for ages over a big cake, couldn't fault her and still can't. Yes she was my wedding photographer but I also now see her as a friend. She made Lee and I feel incredibly relaxed and I think this shows in how amazing our whole wedding album is.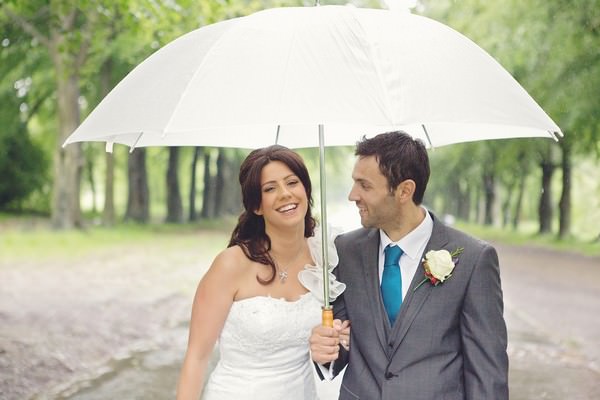 The Dress
I got my dress the week after we got engaged, but I didn't tell anyone because I thought it was too soon. My sister had sent me a link to a bridal boutique 'just for a look' and I resisted for about 3 days then saw my dress!!! But it was too expensive for 1 day, I couldn't justify it. I spent the next few days googling and searching the web and finally found my Charlotte Balbier Havanna dress in a sample sale at a dress agency in Knutsford at half price. I took my sister in law and swore her to secrecy. I tried it and fell in love so I bought it there and then and hid it at Lees mum and dad's house!
The suit and bridesmaids
The boys suits were a wool blend from Next in charcoal grey.
The bridesmaids' dresses were a lucky find in TK Maxx. They were exactly the colour I'd wanted and were £30 each. Even luckier we found another one on eBay so my mum could cut it up and make thicker straps.
Theme
I had wanted a colourful wedding but noting too bright. I'd also wanted to keep the country theme in the barn. I found some Sanderson linen – chintzy but much bolder colours – it was the Amanpuri design in mulberry and amber. I decided that this would be our main centerpiece.  It had my favourite colour of blue in which was perfect and matched my bridesmaids too. I again found this on eBay and asked my amazingly talented mother to make large circles for the centre of the tables. This material then formed the theme throughout from invites to table decorations and to thank you cards.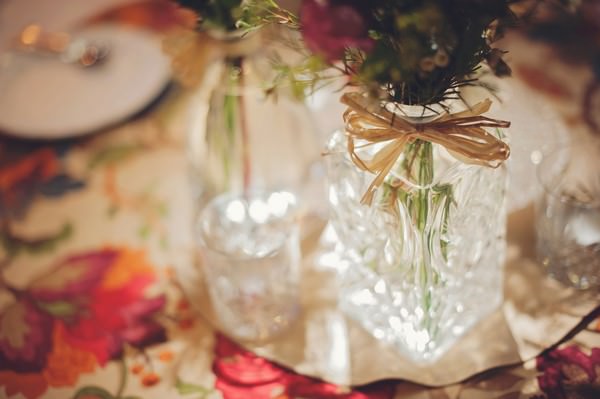 Food
Canapes and Pimms for the drinks reception
Starter – leek and potato soup
Main – fillet of rib eye steak, Yorkshire pud and veg (veggies had Lancashire cheese and chive bread and butter pudding) YUMMMM
Dessert – warm chocolate brownie and ice cream
Buffet- bacon barms and cones of chips
Entertainment
An amazing DJ Paul Thorpe. He worked to my list adding his own twist. We asked the guests to suggest songs also. There was sooo much dancing which is what I'd wanted.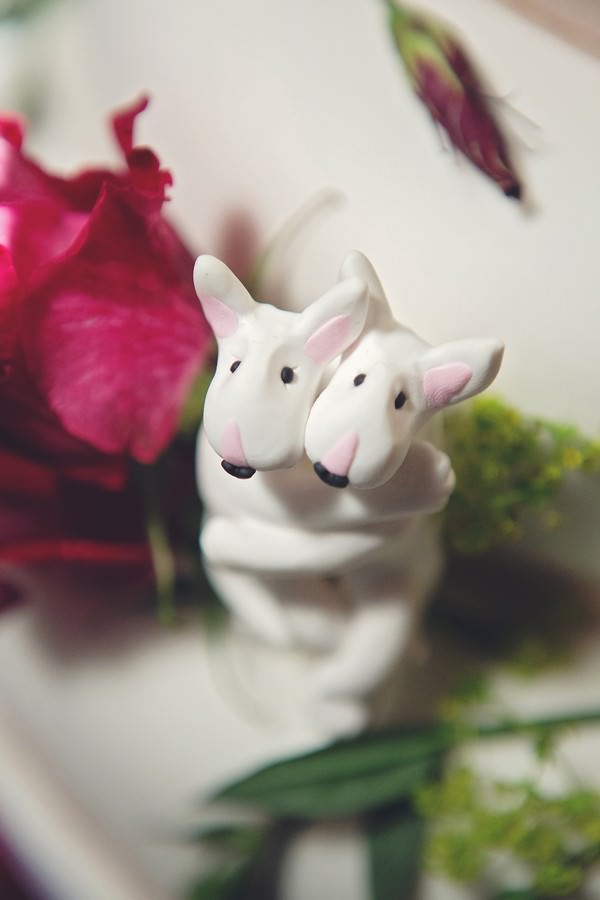 Flowers
We had wild looking flowers by Paul Lomax. He used the colours from the material as well. Gorgeous berries, peonies, roses and thistles!! We asked guests to take the flowers at the end of the night. There were LOADS.
Decoration
There were fairy lights, neutral bows, large glass vases on handmade green oak pedestals courtesy of my very talented Dad. The rest of the decorations were found in numerous charity shops, mismatched cut glass mostly. Decanters were centre piece vases and whiskey tumblers became tea light holders. Our cake was a Caribbean spice fruit cake made and iced by my Mum, her first ever 3 tier wedding cake. We had real flowers to decorate it and English bull terrier toppers! We also had personalised love heart favours.
Personal touches
I made English bull terrier name place cards. I cut out so many my hand nearly bled!! Our EBT Buster is very important to us so because he couldn't be there in person (or dog) we had him there in name cards!! I really loved how they turned out. I also made the invites, the table plan, a guest post box, the thank you cards etc. Anything we could do ourselves, we did!
Special moments
• My girlfriends were at the pre-wedding pink fizzer wine nights: beauty salon at home, organisation and just generally making it so so special. I love the fact they all wear their keepsake hummingbird necklaces. I never really expected them to be worn…its so nice that none of the girls have taken them off since the wedding.
• The music we chose for the ceremony: Amy Winehouse – Our day Will Come, The Beach Boys – Wouldn't It Be Nice, I walked down the aisle to Florence & The Machine – Cosmic Love (acoustic version), Lana del Ray – Video Games, Bob Marley – Is This Love and our exit was Bring Me Sunshine by Morcambe and Wise. We also had a balearic feel for the meal listening to Cafe del Mar.
• The speeches were really really good, I've never heard constant laughter like it at a wedding!! My Dad's was lovely, Lee did so well considering he was so nervous and our best man had everyone roaring!
• The photo booth was pretty well received and so so funny.
• The old skool hour I asked the DJ to provide – choons picked by me!! Soooo much dancing.
• Our rock the frock shoot was special too, pictures without rain, with our gorgeous doggo and a touch of cool crazyness with graffiti. I have to give a big thanks to Lee as he really wasn't sure about going to the disused power station….soooooo glad we did and he is too!!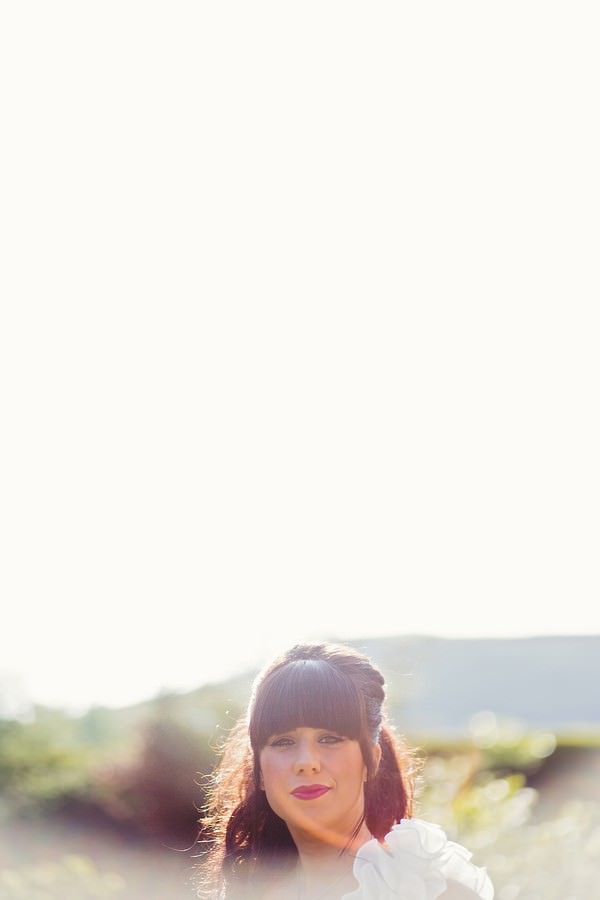 Advice
Start early, maybe don't give yourself SO much to do, don't worry about the weather AT ALL, get a lovely car (I had a 1950's Bentley), shop around and do something different!!
Biggest surprise
That everything came together and looked exactly how I'd imagined it and that Lee slow danced with me to All I Need by Air.
Supplier Shout Outs:

For more information on Hannah's work go to:
www.lifelinephotography.co.uk
www.lifelinephotography.co.uk/theblog
[email protected]
FACEBOOK
TWITTER

 ♥  You can see more Real Weddings featured on the Blog HERE  ♥

[jprel]