Welcome along to another Best Bits, my weekly highlights package from the wedding world. I hope this Sunday finds you well? what have you all got planned? For me it's a ay off, my first in a month, so to say I'm excited is a bit of an understatement  I have lots planned but I wouldn't be surprised if I actually spend all day collapsed on the sofa, it's been a hectic old month! Yesterday I was at my last wedding of the season, the lovely Dee and Steven got married in Oakham in Rutland. It was a beautiful day and a fantastic wedding, and a great one to end the season with. In a week I am off to Marrakesh, which I CAN NOT WAIT FOR!!! a whole week, relaxing in the sun, drinking, eating and visiting the sites of Morocco….perfect! So next week it's another busy one as I try and cram 2 weeks of blog posts writing into 1 week, I can't leave you without any wedding pretty to lust over while I'm away can I??
For now though you can enjoy this weeks Best Bits, as I guide you through the best the wedding blog land has had to offer…..enjoy!
Best Wedding of the Week
This week the awards goes to this amazing wedding from the Wedding Chicks shot by Paper Heart Photography. I thought it was a styled shoot when I first looked at it  but no all this wedding pretty is for real!
Rustic Wedding – From The Wedding Chicks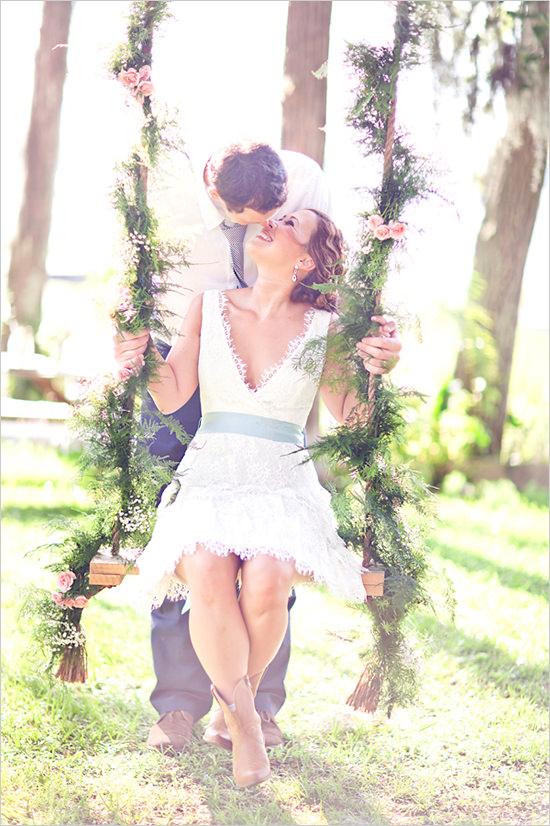 Best Wedding Dress
DKNY Wedding Dress – From Beyond Beyond
Best DIY
DIY Lightbulb Centerpiece – From Ruffled
Table Number Napkins – From DIY Weddings Magazine
DIY May Pole Cake Topper – From Belle Amour
Tape Stencil Stationery – From Design Sponge
DIY Burlap Bag Ring Pillow – From Ruffled
Paper Poppy Tutorial – From Polka Dot Made
DIY Pixelated Backdrop – from Ruffled
DIY Paper Heart Garlands – From Boho
Best Photography
Wedding at the Gallivant – From Lisa Devlin
Helmsley Wedding Preview – From S6 Photography
Amy and mark Chester Wedding – From Nicola Thompson
Family Filled London Wedding – From Toast of Leeds
Nikki and Graeme – From Marianne Taylor
Michelle and Peter's Preston court Wedding – From Eliza Claire
Merriscourt Cotswolds Wedding – From S6 photography
Melanie and Gordon – From Photos by Zoe
Best Styled Shoot
A Midsummer Nights Wedding – From Style me Pretty
Chevron Inspired Photo shoot – From Style me Pretty
Boho Feather Wedding Inspiration – From Green Wedding Shoes
Botanical Wedding ideas – From Ruffled (Photos by Ryan Price Photography)
Best Industry Discussion
There's no such thing as a  Free Lunch, Sponsorship of Photo shoots – From Cutture
Best Theme
Head Over Heels for Feathers – From Green Wedding Shoes
Best From Boho
Vintage Wedding with Pink Lemonade and a Big Vintage Bus by Joel Skingle
Best of the Rest

Garden Party Wedding Part 1 & Part 2 – From Green Wedding Shoes

1950s cinema Wedding – From Love my Dress

DIY Village Hall Wedding – From Rock n Roll Bride

DIY Pastel Preston Court Wedding – from WWW

Vintage Carnival Wedding – From The Wedding Chicks

Handmade Rustic Barn Wedding – From Love my Dress

A Fun Rustic Glamping Wedding – From WWW

Larkspur Wedding at Crooked willow Farm – From Style me Pretty

Big Boho Love

Kelly xx

[jprel]