Todays wedding takes in the beautiful scenery of Northumberland with the most amazing beach and most gorgeous wedding. It's the wedding of Lisa and Dave who created a fun, relaxed vintage inspired wedding. This wedding is just brimming with amazing details, from the table decoration to the invitations to the dessert bar. Lisa and Dave really have thought about every aspect of this wedding. It's just beautiful. I am loving the beach shots and what an amazing day they had for it! Dave's suit is fab and Lisa's birdcage veil and red lips look absolutely stunning! Big thanks to Hannah at Lifeline Photography for the submission.
'Our wedding day was unique, fun and relaxing. We put our heart and soul into planning it. It certainly wasn't your typical off the shelf wedding.'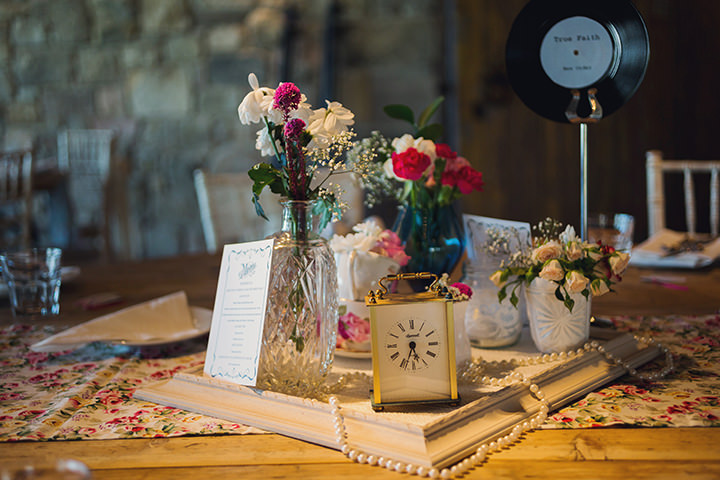 Lisa and Dave were married on Thursday 24th April 2014 at Newton Hall, Newton by the Sea, Northumberland. The location was amazing, right next to the coast which was a great backdrop for our wedding pictures.  Also, the flexibility and character of Newton Hall was brilliant. We had 75 guests during the day and 135 on the evening. It took just under 2 Years to plan the wedding. Dave and I were funding the wedding ourselves so we really didn't want to compromise on any of the things that we both wanted. In the end it flew over!
How did you meet and how long have you been together
Dave and I met online in 2005, we have been together just under 10 years. It's been blissful. We have shared so much together, holidays, nights out, buying our new home, getting married. The memories are endless.
The Proposal
Ha ha! Dave proposed to me on my 30th birthday. We flew out to Portugal a couple days after my 30th bash in need of some TLC. While getting ready in our apartment I was just finishing up and sitting with a glass of wine, when suddenly I noticed that Dave was on one knee with that familiar little ring box. I was overwhelmed. Of course I said yes and we dined that evening keeping our little secret until we returned home to our friends and family. I asked him how he managed to get the ring over without me finding out… he told me he hid it in a sock!
How did you allocate your budget
Most of the budget was on the venue, food and drinks for our guests. We wanted to spoil them. Having attended so many weddings myself, I do feel that your guests should be the priority. Making sure they have everything they need and they will hopefully leave with lots of amazing memories about the day.
How did you choose your photographer
Dave and I really took our time choosing our photographer. It was so important to us. In the end, it was as simple as typing 'quirky photographer' into google and there came up Hannah at Lifeline Photography. She was fantastic. From our initial meeting with her via Skype to delivering our photographs.
The Dress
The dress was by Justin Alexander (8658) and the Red shoes were from New Look. The Gold Shoes from Tesco's
The Suits and Bridesmaids
Both Groom and Best Man suits were from Next
Bridesmaids were all different dresses. Coast, Miss Selfridge, Boohoo.
The Colour scheme
Different shades of pink and turquoise
Flowers
Roses, baby's breathe, carnations
The Decorations
Quite vintage. We used old looking vases and carriage clocks for the centre pieces and lots of bunting. We had only vinyl records as our table names.
The Food
Welcome Canapés after the ceremony. Afternoon tea for the Wedding Breakfast. BBQ for the evening
We also had a variety of cakes, cookies, sweets and popcorn for desserts.
The Cake
Home made by my sister in law. 3 types of sponge which were Vanilla, Chocolate and Strawberry and all covered with buttercream, decorated with fresh fruit. It was delicious!
Entertainment
Dave and I are big music fans. After the ceremony we just had out iPod with a playlist of songs we both love. After the breakfast we had an acoustic singer called Michael Bennett who sang a variety of pop, indie and rock songs. He was brilliant and our guests loved him. For the evening we had AMV Live provide a DJ again who played all our favourite songs.
Buy or DIY your stationary
A bit of both. We didn't want to go for the formal invitation so instead we designed our invitation into a Wonka Bar. The wrapper was designed into an invite and of course everyone received a bar of chocolate from us including their golden ticket. Our guests loved them. The design was done by John Bullar at BPD Design and print by Shiremoor Press.
Personal and Handmade Touches
-All centre pieces were sourced, made and designed by Lisa
-The photo wardrobe was designed by Lisa
-Our table names designed and made by the Dave
-Sweets table designed by Lisa. The items were sourced from different places and people
-DIY photobooth designed by Lisa
-Bathroom baskets designed and put together by Lisa
-Bouquets were designed and made by Lisa
Special Moments 
Our time at the beach taking our pictures
The ceremony was great. Heartfelt and funny.
The time after the Afternoon Tea when Michael Bennett was playing, everyone was chilled and relaxed
The BBQ as there was so much to eat we were spoilt for choice
Taking 10 minutes out with Dave and just enjoying it together
What advice would you give any other couples about planning your big day
Spoil your guests. They have made the effort to be at your wedding. The gifts and cards they bring and they are there to see your special day.
Make sure you have a clear idea of the timings. Dave and I got married at 12pm and I wouldn't change it. It felt we had more time to spend with our family and friends
Think about what you are spending your money on. Dave and I left a lot of things out as we knew it wouldn't really add value to our day.
Biggest surprise of the day
The weather!!! At 10am in the morning, the sky was gloomy, it was raining and so I had given up on the dream of having a sunny day wedding. Then come 11.45am the sun was shining, it was starting to dry and the day turned out stunning. It made a huge difference.
Supplier Shout Outs
Dress – Bridal Wish
Photographer – Lifeline Photography
Entertainment – Michael Bennett
Music – AMV Live
Venue – Newton Hall
For more information on Hannah's work go to:
www.lifelinephotography.co.uk
www.lifelinephotography.co.uk/theblog
[email protected]
07967 307658
FACEBOOK
@photolifeline