I have a beautiful wedding for you today, simple and classic that sees an Australian Bride and an English Groom come together. It was shot by the incredibly talented Claire Penn, who is becoming a regular to the Blog and a firm favourite with you all.
It's the wedding of Lauren and Ian who were married on 30th June. Both the Ceremony and the reception were held at Birdsgrove House in Ashbourne, Derbyshire – The Peaks District! They had 52 guests.
Claire has captured this relaxed day perfectly with her beautiful style of photography, the couple look totally relaxed as do the guests.
'We hired a house for a whole weekend, so that we could have a fun, relaxed wedding with our closest family and friends, without having to travel anywhere! I'm Australian and Ian is English, so we loosely aimed for English Garden Party meets Australian BBQ!'
How they met
We met at work, I was already working there when Ian started work, so I my first glimpse of him was on his first day on the job. Right from the beginning I thought he was a hottie!! However it wasn't until after I left the job, on a work trip to Poland that was booked prior to me leaving, that we managed to get together – we spent the night making out in the snow in about -20º, I don't think either of us noticed the cold at the time!!
We have now been together about 6 years.
The proposal
We were on a weekend break in Vienna at the time, Ian had convinced me that I wanted to walk around these gardens outside a palace. I was really getting into my holiday photography (I was using the black and white setting!) when he asked me to 'Take a photo of this', I turned around and he was down on one knee with the ring!! I was speechless, so much so that I forgot to take a photo of it!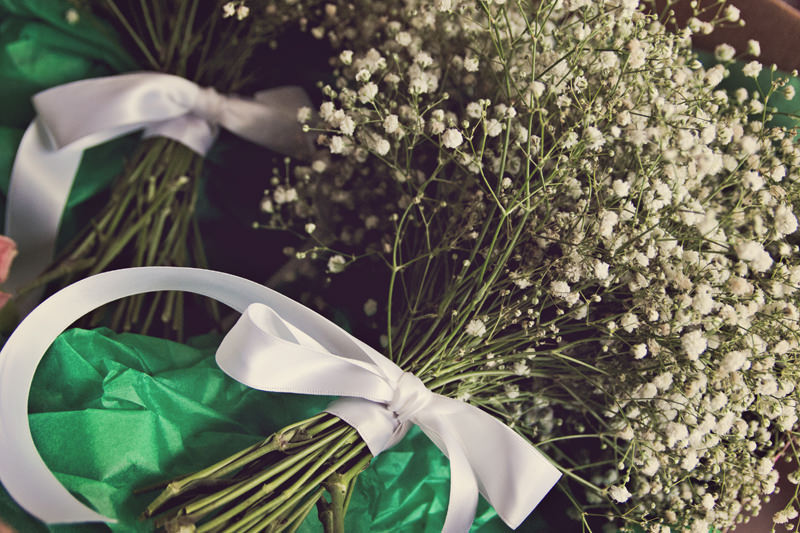 The Planning
We picked the venue about 8 months beforehand and then gradually sorted a few things out, until about 2 months before the wedding when we had to kick ourselves up the backside and get a load of things sorted!!!
The venue
As I am Australian, we had a number of guests who were coming from a very long way away and we really wanted to be able to provide somewhere for them to stay for the duration of the wedding, so a house that sleeps 27 was perfect! We also really really didn't want to have any kind of curfew on our night!
How did you choose your photographer?
We must have looked at hundreds of photographer's websites and we're getting really disillusioned with how similar they all were – it felt like everyone had the same 'look' and so many of them looked so cheesy! We had actually thought about not bothering with a photographer at one point and leaving it up to our friends. But I stumbled across Claire's photos on a blog and straight away fell in love with her style and the look of all her shots. They were so different and romantic and we thought that her creative style would be perfect for our venue and setting. I am so glad that we went with Claire, on the day she was great to have around and really blended with the guests. And the photos!! We absolutely love them and I can't tell you how many comments we have had from people about them! They are our memories forever and even a few months on I still like looking at them!!
The Dress
I bought my dress when I was back visiting in Australia and was lucky enough to be able to do it with my mum and sisters. It wasn't a designer number and I got it straight off the rack, but I loved it and it was great to be able to share the experience with my mum and sisters – plus no one gives you dress advice like your mum! My necklace and earrings were presents from my father, who due to illness couldn't get to England for the wedding, they are pearls local to my home town. My shoes I scored in a Debenhams sale – Miss KG, love love love them!!
The suit and bridesmaids
We hired the suits from Moss Bros and to be honest I had very little to do with this, Ian picked what he liked and I don't think he could have looked more handsome on the day! The bridesmaid dresses were actually from H&M, I know that's not the most traditional place to look, but I loved them as soon as I saw them and thought they would be perfect for an English garden party! As two of my bridesmaids were coming from Australia I wanted the dresses to be as un-structured as possible, in case there were any sizing issues!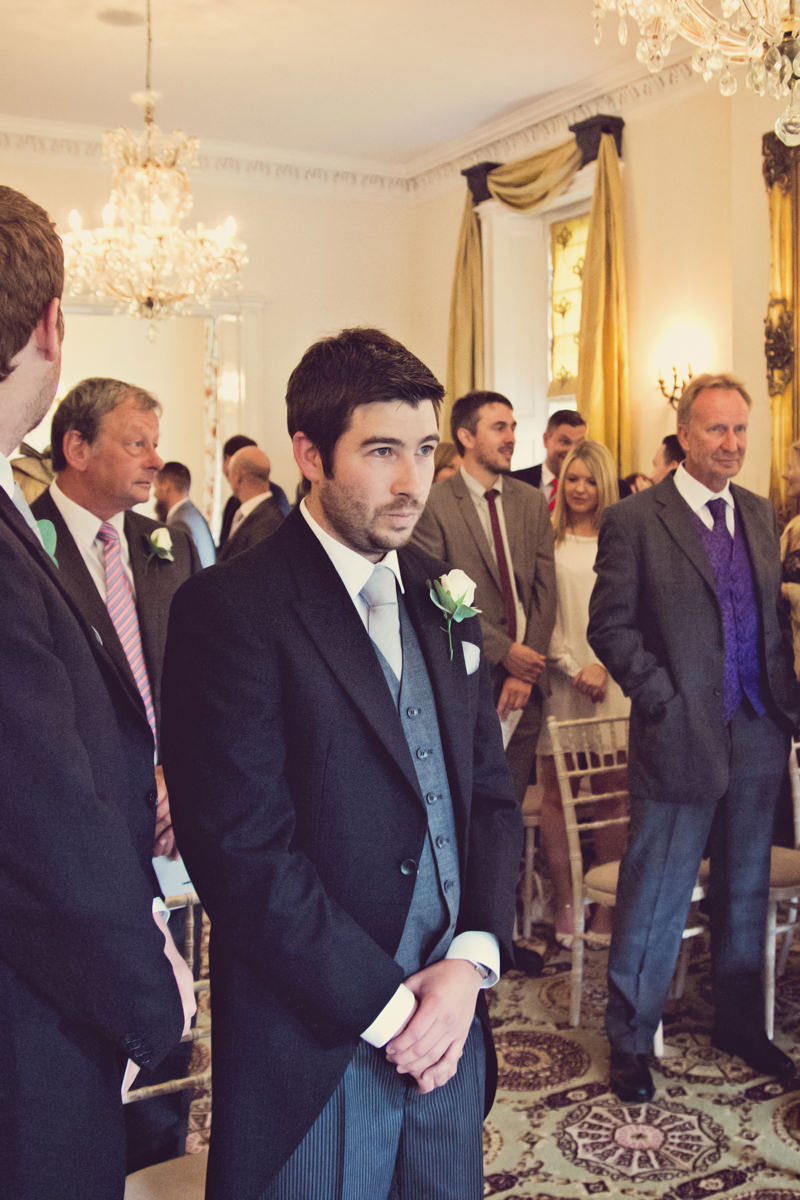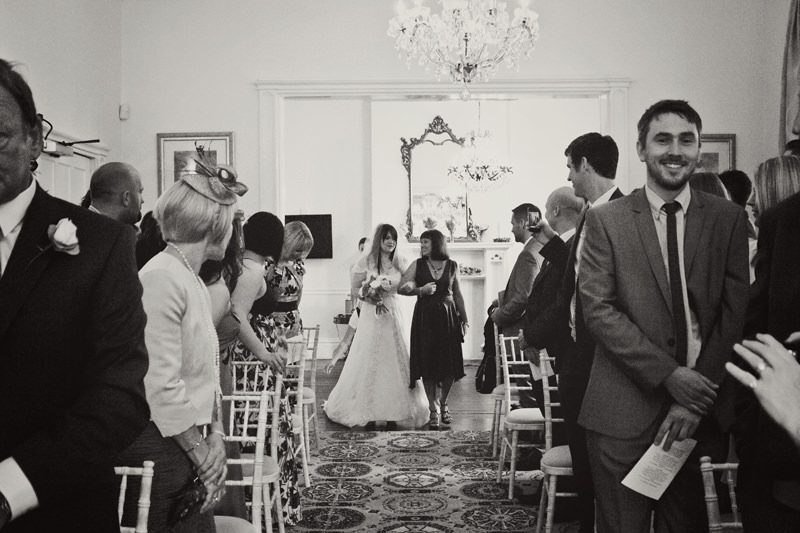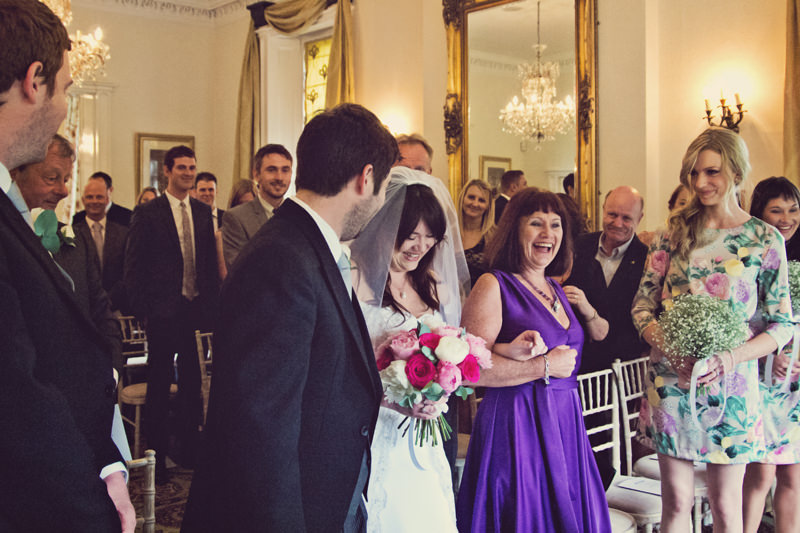 Theme
We had vague ideas of a garden party and a bbq, but no colour scheme as such… I think it worked in the end though…
Food
We had canopies from Waitrose and M&S, served with a Queensland (my home state) rum punch that I got my friend to make on the day – it was so popular she had to make it twice!
We had a BBQ for dinner, with a mix of burgers, sausages, chicken and fish – which went down a treat.
Dessert was a dessert table, with an assortment of tempting goodies, again sourced from Waitrose and M&S.
Entertainment
We um and arhed about this for a while, before deciding to just go for it and get a band (we briefly flirted with a Wedfest theme!) and they were just awesome! They got everyone up and dancing, and even let a couple of our guests have a go and singing and playing!
They learnt our first dance for us which was great (very emosh). The only downside was that they couldn't stay all night!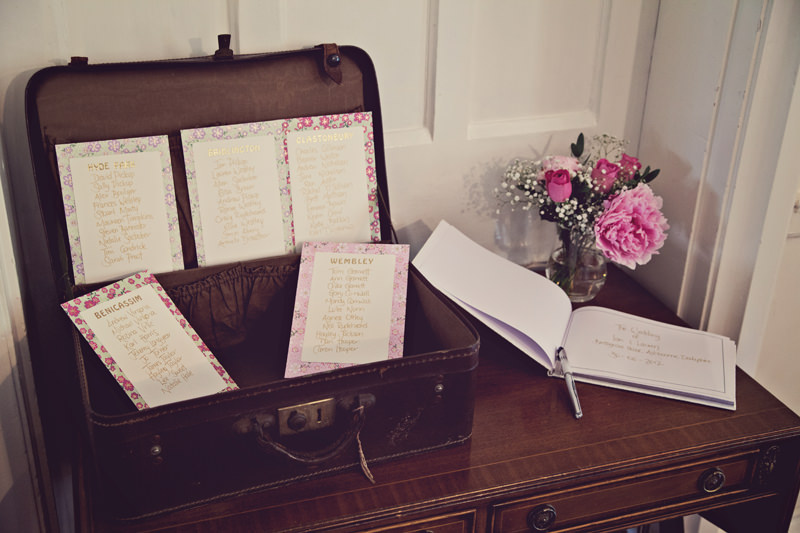 Flowers
The bridesmaids had bouquets of gyp, their dresses were floral so I didn't want to overdo it. My bouquet and the tables were a mix of roses, peonies, freesias and eucalyptus – I was going with the English/Australian mix!!
Decoration
Decoration was really minimal as the house was so tastefully decorated anyway. We had a random mix of vases on each table with the above flowers and that was it.
Personal touches
I made the table name settings and the table plan myself (channelling a bit of Martha Stewart). They definitely looked homemade but I like to think it wasn't in a bad way! I also wrote the 'Wedding Program' myself, which I styled on a program for a show; it introduced everyone in the wedding party and gave a brief paragraph about each person/what they meant to us and their photo. A lot of my family hadn't met any of Ian's family or our friends before the day, and I thought this would be a good way to introduce the key people in our lives!
Special moments
Special moments would have to include my mother's inclusion of a Welsh family tradition during the ceremony (no one had heard of the tradition before the day, and my family are Australian, but she assured us that this had been done at all the family weddings past!) She stood up in the ceremony and crossed our palms with a sovereign that has been passed down for generations, and it was a little moment that reminded me of all the grandparents that have married before me that have bought me to this day.
My lasting memory is watching the sunrise with Ian – all our other guests had gone to bed (except our mums who were sneaking a night cap in the dining room!) and we stood outside and watched the sun come up over the hill and trees and it was just such a lovely moment, with the two of us standing there, actually married! Then Ian said he was cold and we headed in.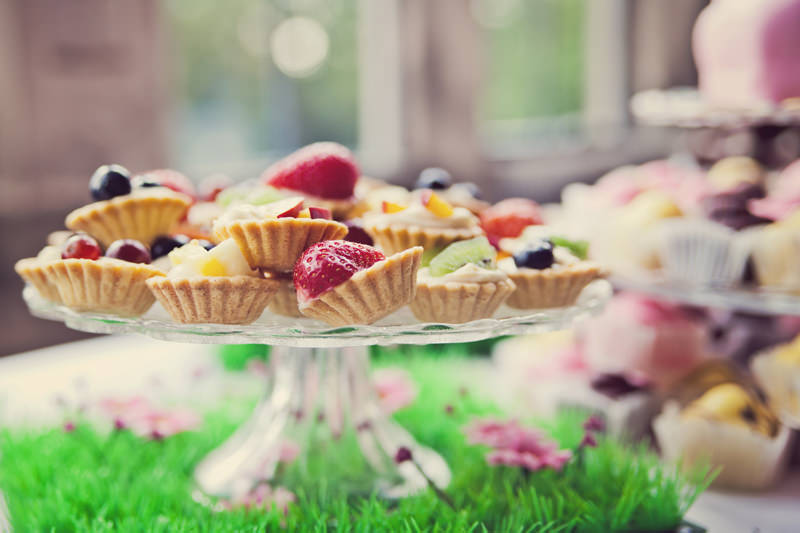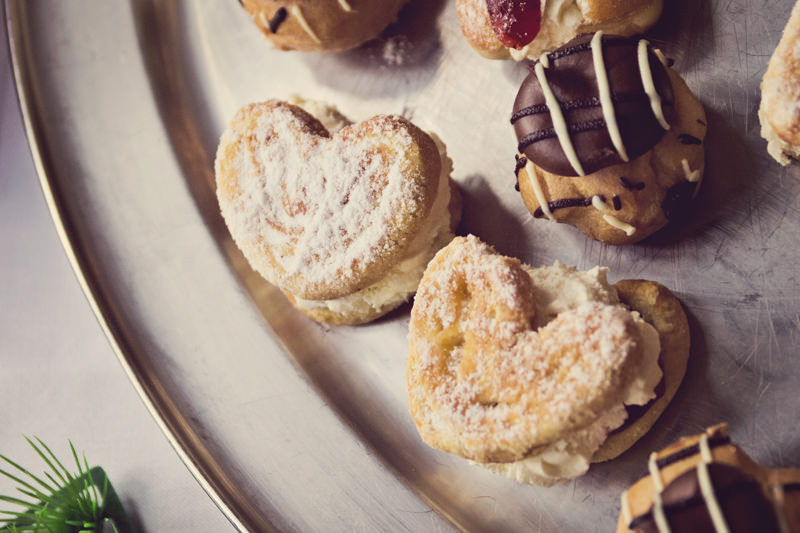 Advice
Probably the same thing you hear everywhere – its your day, do what you like! People will have a better time and it will be more memorable when you incorporate all the little details (or big details) that you want to have. Throw the rule book out the window and go as crazy as you like with it!!
And photos – don't forget the photos, they are all you will have once the flowers die and the cake is eaten!
Biggest surprise
My cousin actually. He approached the band and asked if he could sing us a song. He stood up in front of the whole wedding and sang a song in a traditional Australian (Aboriginal) language. Despite not understanding a word, it was beautiful and moving and it's bringing a tear to my eye now thinking about it!
Supplier Shout Outs
For more information on Claire's work go to
Website: www.clairepennphotography.com
Blog: www.clairepenn.com
Email: [email protected]
FACEBOOK 
TWITTER
Phone: 07729 282519
   ♥ You can see more Real Weddings featured on the Boho Blog HERE ♥