Today I have a gorgeous New Year's Eve Wedding for you courtesy of Claire Penn Photography. This stunning Lancashire wedding is full of chic mismatched accessories that Heather the bride describes as  'stuff I liked'. She chose trinkets and accessories that she would like to see in her own house in colours of greys, creams and antique silver mixed with a little bit of blush to soften the tones. With the venue a definite from as long as Heather could remember, the rest of the wedding planning fell into place with a bit of help from Heather's mother. Throw in the New Year's Eve celebration and you have the mix for a beautifully elegant and fun wedding.
The perfect day that wasn't just in our heads; it was actually happening. Best day ever!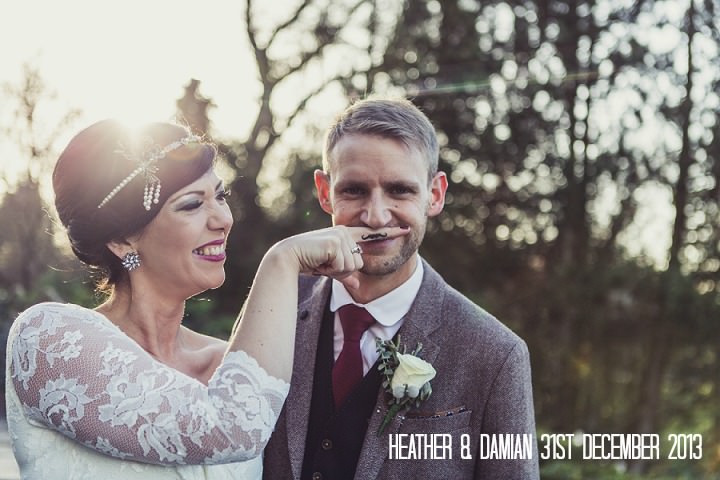 Heather and Damian tied the knot on New Year's Eve in the much-loved venue of Mitton Hall Hotel in Whalley. "Mitton Hall used to be a restaurant called the Stone House many years ago and this was somewhere I (Heather) was always taken for my birthday meal as a child. When it was turned into a wedding venue I knew I would always get married there. Fortunately, when we went to the wedding open day, Damian loved it just as much as I did and in the year leading up to the wedding it was the location for many lunches with friends and family and I had my 30th birthday party there too.  We booked the wedding in October 2012, my dress was purchased the week after that, bridesmaids were sorted and outfitted by December, my lovely friend Kat has always been on standby since I met her in 2004 to do my flowers and then the rest of the details just happened through the course of the year."
How they met We met in 2007 in a bar called 'Smackwater Jacks' that I imagine to be responsible for the majority of couples meeting in Burnley. The registrar even thanked 'Mr Jack' in the ceremony for bringing us together. Burnley is a small town and I knew of Damian through mutual friends but had never actually met him in person and had shamelessly checked him out via social media (good old MySpace back then) before spotting him out on that Thursday. With the help of copious amounts of Malibu I felt I had to go over and give him some 'grief'. His reply was 'ah, you must be Heather' and some ridiculous Sambucca betting followed. We met again (sober this time) the following Monday, then Wednesday. I don't really remember a day after that when we didn't meet up. Three weeks later he spent Christmas with me at my parents and I moved in with him the following month. Soul mates! The proposal We had discussed getting engaged and Damian always said 'You'll want a big fuss, a big ring and a big surprise so you'll just have to wait'. We had just bought our first house and got the keys on the 2nd February 2012 and were living with my parents whilst we basically ripped it back to the brick and started to renovate. On the 29th February I was discussing with my Year 6 class at the time what a leap year means and we got on to how it's a day when ladies can propose to men and a discussion followed about how I should propose to Mr Thornton. Fuelled by the excitement of thirty 11 year olds and thinking it would indeed be 'the big surprise' he always used to tell me I'd want I decided you only live once! I told no-one (except 30 11 year olds) we'd had the bathroom suite delivered that day and I insisted that we go down to the house to move it upstairs out of sight. Whilst Damian was lugging the shower up to what would eventually be a bathroom I scattered my pockets full of tea lights amongst the plasterboard and tools in the living room, stalled him with another unnecessary job whilst I lit them and as he walked in got down on one knee, explained the date and proposed with a Haribo ring (Starmix are his favourite sweets). He stood opened mouthed, holding his hands to his face before managing to say 'Of course I will'. My class were very proud!
How did you spend your budget? We are incredibly lucky to be able to say that we had no budget. My Mum was beyond excited that we would be having a wedding, she didn't get much of a say in her wedding at the time so wanted to make sure we had what we wanted. Fortunately my mum and I are the same person, we love all the same things so anything she loved, I loved and vice versa. Damian was happy that I had a project to occupy myself with and therefore had the pick of the TV for a good while. My dad set a budget but as soon as he got involved with the wedding planning too (and my mum has always been the boss) we just chose what we all liked. Why did you choose your photographer? I wanted Claire from the word go. I'd seen Claire's work on Facebook and Instagram through a mutual friend and was in touch with her other good friend Andrea who had been the photographer for a close friend's wedding. On chatting to Andrea to ask about advice on what to do to book a photographer, I discovered that Claire wasn't available and then neither was Andrea. Disaster! We set about looking for someone else. I couldn't just put to rest that I hadn't heard it straight from Claire herself that she couldn't do it and I very cheeky email just for my own peace of mind twisted her arm. I think the venue helped. And perhaps the desperation.
The dress and accessories My dress was by Olvi and bought from Ava Rose Bridal Couture. I made an appointment and the girls brought all the dresses they had by this particular designer up from their other stores for me. I liked them all. But I also liked a dress they had on show in the shop that was nothing like any of the floaty, embellished gowns I'd been trying. I tried the dress on and Hayley said that if I like that one (which I did) she might have something that I'd love. I tried on what was to be my dress and mum cried and I loved it. Nothing at all like the dress I thought I wanted. My beautiful headdress was made bespoke by the very talented Debbi at www.vintageheaddresses.com. I had seen a piece on her website that I liked but it had sold, she then sent me photos of all the marcasite pieces she had and then more photos of some pieces she bought on holiday in the south of France and I was able to choose the pieces I wanted. She also made my mum a lovely comb for her hair. My shoes were from Kurt Geiger and my earrings were a Topshop sale find for £2! The suit and bridesmaids We had said to everyone to wear whatever they wanted so that they felt comfortable and that went for the ushers too. However after Damian bought his tweed jacket the boys decided that they should 'synchronise tweed' and I can only apologise to the wives who were still running around after the boys sorting their outfits for them the day before the wedding.  The bridesmaid dresses were from Phase Eight, we all had matching Kurt Geiger shoes and the girls had earrings from Next. Isobel's flower girl dress was from John Lewis, shoes from Next and her shrug and headband were from Monsoon.
Theme or colour scheme The bridesmaid dresses were the first thing that I bought so the theme began as 'grey'. I knew I wanted mercury glass and lots of it. I think the theme then turned into trinkets that me and my mum wanted to adorn our houses with after the wedding. To sum up the theme became 'stuff I liked'. I didn't want the tables to be too uniform so items were bought in threes at the most. If we saw something we liked we just picked it up. The colours mainly stuck to greys, creams and antique silver. Items came from the likes of Ikea, Next, TK Maxx, to florists and some lovely little gift shops and antique shops in the lake district. I decided to add the dusky pink roses to the bouquets after we bought the shoes as we were originally going to just have cream with the brunia berries but the pink lifted it nicely and looked lovely with the shoes. The flowers Cream and dusky pink roses, gypsophila, eucalyptus and brunia berries. The bouquets were very domed and vintage looking and wrapped in lace. Button holes were simple roses and berries and then each table had a small but different floral arrangement as we had candelabra centrepieces. The decoration An eclectic collection of mismatched trinkets, ornaments, hearts and candle holders added to beautiful candelabra centrepieces that Mitton Hall provided and then small floral arrangements.
The food and wedding cake We had a selection of canapés with the welcome drinks and then we decided on a gold old roast dinner as we knew it would be a cold day. We started with a warm chicken Caeser salad, had roast beef and Yorkshire puddings for the main course and apple strudel and custard for pudding. At night we had bacon and sausage butties and cones of chips.  The wedding cake was a debate that lasted until the beginning of December. I have made birthday and wedding cakes for many friends and family so I wanted to make our cake. I wanted a fruit cake but I am the only person who likes fruit cake. Everyone else likes sponge but our daughter hates jam and I can't stand buttercream. Damian doesn't even really like cake at all. Nor did we want a tiered cake because it was 'too weddingy'. When hashing it out I remember saying that I wished we were just having doughnuts. So we decided we would in fact just have doughnuts and ordered boxes of Krispy Kreme's that we stacked up on a selection on cake stands. Win win. The entertainment We got the DJ as part of the wedding package from Mitton Hall which was a God send as New Year's Eve isn't the best date to be trying to find a DJ for! He was very accommodating of what we wanted. We wanted dedicated decade playlists leading up to midnight and then our favourite songs from midnight onwards. We asked friends and family to tell us their favourite, compiled playlists starting from the 60's to 00's and sent them over. He played every song we'd asked for, in the order and threw in the odd crowd pleaser to fit each decade too. It was ace!
Buy or DIY your stationery? The day stationery was made in conjunction with a seller on Etsy, we tweaked her original design and she printed them for us and then we put them together ourselves. The evening invitations were made through a Welsh designer who I came across on eBay and asked him to design something for us. The place names were a free download from www.poptasticbride.com and my mum spent several hours painstakingly cutting them out. The badges were my ideas put into print my the fantastic Little Big Badge Company and everything else we made ourselves.
Special moments The highlight of the day I think had to be the weather. On the 31st December in the Ribble Valley we were expecting nothing other than rain and secretly hoping for a smattering of snow if we were lucky. We had lots and lots of candles everywhere as we knew that by the time we came to the wedding breakfast it would be going dark. When we arrived at Mitton in the morning it was overcast and drizzling and I know that Claire had driven through some horrendous torrential rain on her way up from Chester. So no one was expecting that after the ceremony the shy would clear and we managed to get lots of our photos outside and under blue sky and sunshine. I have never been so cold in all my life but it was absolutely worth it. Advice to other couples Start early, get as much done as you can and stick to what you like. We had some awful family illnesses in the month prior to the wedding. The groom was on crutches and mother of the bride in hospital but everything was ready to go apart from a day with my bridesmaids boxing stuff up ready so the focus could be on getting everyone well before the big day. Biggest surprise Damian cried and I was as calm as a cucumber and just giggled like a school girl. How the tables did turn!
Supplier Shout Outs:
For more information on Claire Penn's work please go to:
www.clairepennphotography.com www.clairepenn.com [email protected] FACEBOOK  @clairepennphoto Phone: 07729 282519