Todays wedding is a local one for me as it is a Sheffield wedding. Carrying on from Jess Ennis winning the gold on Sunday I thought it would be great to post a Sheffield wedding, and what finer photographer to do the honors than Jon from S6 Photography . Jon is a regular to the Blog and I am a massive fan of his work, as many of you will know!
Its' the wedding of Kate and Jake's who were married on 5th May at Wentworth Church, Rotherham with the reception at the Millennium Galleries, Sheffield, they had 75 guests to the church and meal and 90 in total for the evening reception. The Millennium Galleries is one of my favorite venues in Sheffield, it is bright, light and modern, the staff are amazing! and it really is a blank canvas for you to be able to put your  own stamp on it.
'Quite simply, it was truly the best day of our lives. Everything that we wanted it to be…and then more'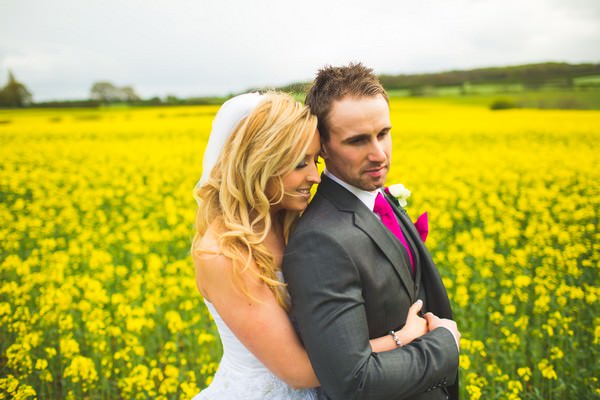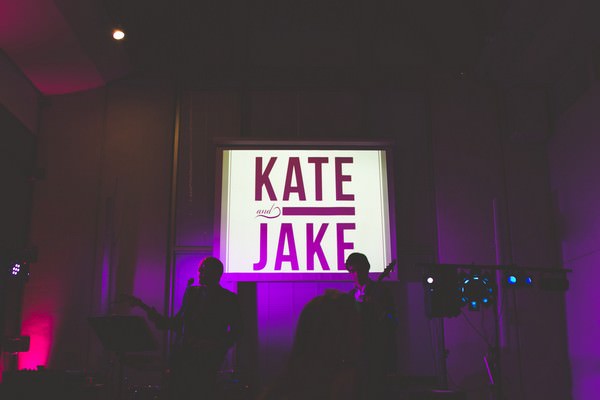 How they met
We met in 2004, when we were 17 through my best friend, who happened to be Jake's Cousin. She introduced us – we went out, had some drinks and from that day…the rest was history. Love at first sight and 8 years later we married.
The proposal
We were in Southsea where we used to live and was visiting to catch up with friends and to reminisce. We had been out all day and had got back to the hotel when Jake produced a box. I knew exactly what was about to happen, we had discussed getting married and knew that it was on the cards. But I was still taken aback. Obviously I said YES! Jake later said that he had been carrying it around in his pocket for the previous few days and had confessed to being about to ask me on the seafront during a walk the previous night, but couldn't pick the moment to do it. He had asked my parents' permission before hand and had also run it by my best friend Steph – who had to keep it secret for several months apparently!
The wedding planning
We booked the main elements of the wedding – church, venue, photographer in May 2010, shortly after we got engaged, so I suppose all in all 2 years. However in this time we moved house twice and had a baby – so I'd say most of the planning happened about 8 months before the big day. The last few weeks were hectic!
The Venue
We decided to get married at Wentworth Church as it was next to the village where I grew up, it is a lovely church and has peaceful surroundings. We chose the Millennium Galleries because we wanted something modern and flexible so that we could choose elements to make our day individual and relaxed.
How did you choose your photographer
After hours and hours of trawling through looking at photographers on the internet I had a breakthrough when I found Jon at S6. I loved his style of photos. We were not disappointed.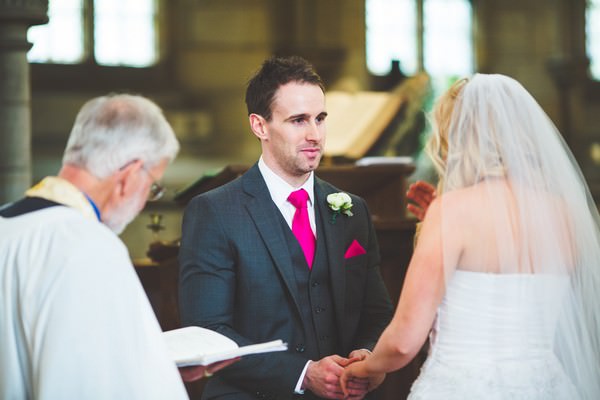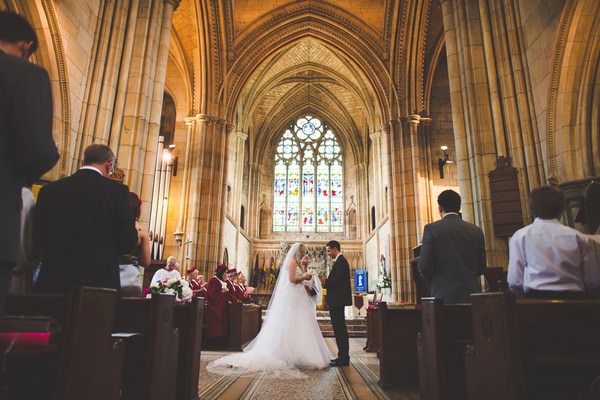 The Dress
My dress was by Sophia Tolli from Special Occasions in Poole, Dorset. I chose a white dress because that was what I had always wanted…but the bridal shop were surprised as they said that most people go for ivory now. Also in white, my cathedral length veil was from the US through the website Etsy. My jewellery was from various high street shops and my pink shoes were by Faith.
The suit and bridesmaids
Jake's charcoal grey suit, hot pink tie and pocket square were all from Austin Reed. All of the men in the bridal party chose their own suits and wore grey ties and pocket squares from Austin Reed. The bridesmaid dresses were a silvery/grey colour from Coast. I initially bought my bridesmaid dresses from After Six bridal – but I didn't receive them in time and a week before the wedding I had a stressful rush to find replacements. The staff at Coast were amazing and located me the dresses from Ireland, Sheffield and Portsmouth. Thankfully, with a lot of luck I got all their sizes and they all fitted without alterations. Phew! All the bridesmaids wore varying styles of pink shoes from Debenhams and Coast.
Theme
The colour scheme was pink and grey which looked amazing in the ultra cool Millennium Galleries.
Food
We didn't want a formal sit down wedding breakfast so instead chose a two course hot buffet. The theme for the food throughout the day was 'British Classics'. So for mains it was either Steak & Ale pie OR Battered Haddock accompanied with chips, mushy peas and gravy. Dessert was either Chocolate fudge cake or Apple crumble with cream/ice cream. The evening buffet followed the same theme; there was a selection of sandwiches, mini pork pies, quiches, a selection of crackers, grapes and English cheeses. All of the food was done in house by the Millennium Galleries.
Entertainment
We had a wonderful band called the Greg Bish Blueprint who played 2 sets during the evening and Greg also was the DJ. I was amazed that they were even still available for our date, as I left sorting this out pretty late.
Flowers
We chose white and varying shades of pink peonies and ranunculus. I had a large hand tied bouquet, with each of the four bridesmaids having the same, smaller version. We had the same flowers for each of the table centrepieces and then six individual flowers in tiny glass vases around each of the tables at the Millennium Galleries.
Decorations
We hand made tissue paper pom poms in hot pink, pale pink, grey and white in varying sizes and suspended these from the ceiling in the Millennium galleries. We also has pink uplighting.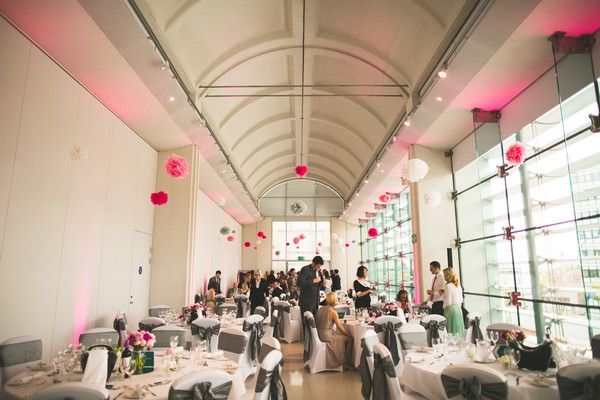 Personal touches
Our biggest DIY was the pom poms. Me, my Mum, bridesmaid Steph ended up making these all the day/night before and my brother was still hanging them at midday on the wedding day! As for personal touches – we put toiletries baskets in the ladies and male toilets that contained all the products that one would need on a night out, all of our guests loved them.
We also wanted to detract attention from our 1st dance as we knew it wasn't going to be anything off strictly come dancing – so we decided to have a slideshow of pictures of us, our friends and family throughout the 8 years we had been together that would play whilst we danced. It was ace. Everyone loved it.
The table names were personal to us as they were places where we had been and significant/memorable occasions had taken place. These were done on road signs and on the back of each sign was the event that occurred in that place that made it memorable to us. The names cards were also in the same road sign design and the seating plan was a roundabout sign. All these were designed by Lela at Doodlelove. We loved them and so did our guests.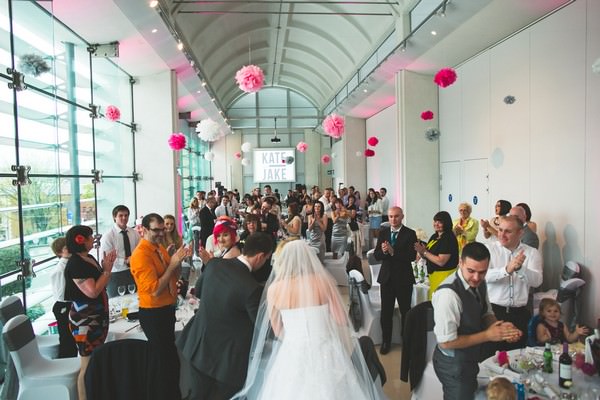 Special moments
At the church the vicar was looking at the wrong order or service…so when I pointed this out he had to stop the service while he attempted to get back on track! Defiantly a unique moment that probably doesn't happen often. Us & our guests loved the all speeches after the meal.. even if they did last a while! The entire day was special, it was our wedding day
Advice
My advice would be to do it your way, be as individual as possible and make the day personal to you as a couple. Reflect your likes and personalities throughout the whole day from choice of venue to the music you play. As much as guests remember the big parts of the day such as the church….the dress, it's also the little things and thought that can make a day even more memorable. Try to not leave too much to do in the few weeks before like I did as it was all the tasks that I was focussing on rather enjoying the time leading up to the wedding. Remember to smile and enjoy. It is YOUR day!
Biggest surprise
Jake says his biggest surprise was how I looked. We are surprised that our guests are still saying how amazing it was and that they want us to do it all over again! We would if we could.
Supplier Shout Outs
For more information about Jon's work go to:
www.s6photography.co.uk
s6photography.co.uk/blog
[email protected]
FACEBOOK
TWITTER
01142340295