Happy Monday everyone, I hope you all had a wonderful weekend? Mine was pretty quiet for once, it's been so busy lately, so we decided to have a quiet one. Just one birthday party for Dexter to go to this weekend and the rest was time spent catching up with jobs and having time together as a family. What about you? Today I am delighted to welcome my good friend Jon from S6 Photography back to the blog with the lovely wedding of Katy and Nicola. When Jon isn't photographing weddings he also donates his photography skills and time to Sheffield Hospitals Charity, where he met Nicola's mum, Jaqui (see last photo). Jaqui had undergone treatment for bone marrow cancer and has done a whole heap of charity work herself for the hospital. When she mentioned that her daughter was getting married Jon offered his skills for free to say a thank you for all the hard work that Jaqui had done for the charity. The results are a wonderful collection of images, celebrating the love of Katy and Nicola, while showing off some of the best Sheffield has to offer! Great work Jon!
Practically perfect in every way! A celebration of love, friendship and family.
Katy & Nicola were married on the 15th April 2017 in a ceremony at Ecclesall Woods Discovery Centre, Sheffield and reception at The Holt Café on Arundel Street, Sheffield. 'We regularly walk our dogs, Lilly and Bernie, in Ecclesall Woods, the woodland is beautiful in spring and covered in bluebells which we both love – we were able to have photographs in this beautiful setting! We chose The Holt as it is very much our style, very informal, the perfect size and Jess and the team are lovely! We had 75 day time guests and 100 evening guests. It took us around 9 months to plan in total, we waited a month or so after the engagement before we started planning.'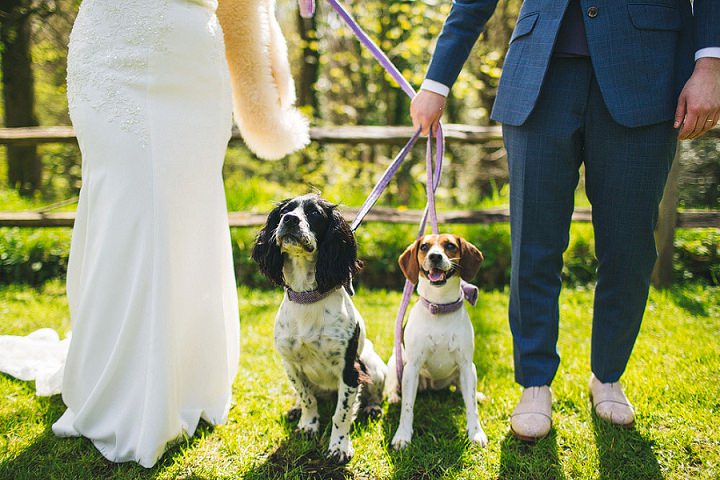 How they met
We met on NYE 2010 (-2011) in our "Hopeless Place" (Dempseys in Sheffield) which is why we chose our first dance song – it was an acoustic version of Rihanna's We Found Love followed by the original which everyone joined us in dancing to. We have been together 6 and a half years
The Proposal
The proposal took place at our favourite place – Glastonbury Festival in 2016! Nicola had the whole thing planned out, all our friends had been prepped – all she needed to do was get me to the proposal destination. Nicola led me to the GLASTONBURY hill, our friends had gone ahead. I had drank a little too much before hand and was struggling to make it up the hill which was like a mud slide. As I got nearer to the Glastonbury sign I heard people singing We Found Love by Rihanna, I looked up and all of our friends were stood in a row singing at the top of their lungs. At this point they removed their jackets to reveal the words "Chicken, will you", turned around and had "Marry Me?" on their backs! At first I thought it was a joke until Nicola presented me with THE most perfect ring. I soon sobered up and sobbed with happiness! Needless to say, we celebrated like hell for the next few days!
How did you allocate your budget?
We had a relatively small wedding budget in comparison to the 'average' wedding cost. We did a detailed plan/estimate before we started booking things and updated a spreadsheet with every little cost. The majority went on the venue bookings but those were things we didn't want to compromise on. We went slightly over budget but it was worth every penny.
Where did you splurge and where did you save?
Nicola splurged on her outfit – it was the perfect suit, tailor made by King & Allen. We saved lots of money by doing our own flowers for venue decoration – we bought the flowers and my sister, Emma and her partner, Amy did he arrangements which everyone loved. We just had my bouquet and the wedding party's buttonholes done professionally by our favourite florist Plantology in Sheffield.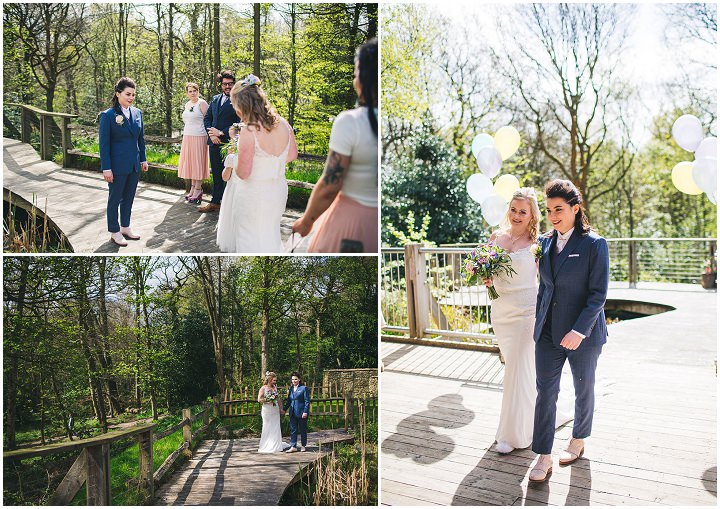 Why did you choose your photographer?
We were incredibly lucky to have the amazingly talented Jon Dennis from S6 Photography capture our day. Jon had done some photography for Sheffield Hospitals Charity which Nicola's mum, Jaqui, was a model for (as she has undergone treatment at the hospital for Myeloma, a bone marrow cancer) – whilst talking to Jon, Jaqui mentioned our wedding and asked if he was free. Jon checked the dates and relayed a messaged via a member of staff at the hospital, confirming that he was available on our wedding date and he wanted to document our day free of charge as he wanted to acknowledge all the charitable work Jaqui and family have done to raise funds to find a cure for this awful disease. We were absolutely blown away and after meeting Jon to chat about the wedding we couldn't believe how perfect he was. People have commented on Jon since and said they thought he was one of our friends as he fitted in so well with us all. And obviously, his photography skills are out of this world too!!
The Dress and Outfits
My dress was Ibarra by Enzoani which I bought from Emily Bridalwear in Sheffield, I knew it was the one as soon as I saw it. My shoes were sparkly with a pom pom and were from Monsoon kids and matched our flowergirl's (Kara, our niece), I borrowed a cream fur scarf from my sister and my jewellery was from Debenhams. Nicola wore a tailor made 3-piece suit by King & Allen in Wilmslow, beautiful brogue style shoes by Hudson Shoes, floral pocket square from ASOS and a vintage tie pin from Oxfam.
The Bridesmaids
Our bridesmaids wore dusky pink pleated skirts from ASOS with the most incredible bright, floral shoes, ivory tops of their choice and matching personalised necklaces from NotOnTheHighstreet.com. Our flowergirl wore a beautiful dress from Debenhams by Rocha John Rocha and best man wore a suit of his choice with a pocket square matching Nicola's.
Theme or Colour Scheme
Pastelly blue, dusky pink, rose gold and gold were our main colours
Flowers
We had our professional flowers done by Plantology Floral Creations which included my rustic bouquet, Nicola's corsage, flower crown for our flowergirl and buttonholes for the wedding party. The flowers were roses, memory lane, dill, gyp, astrantia and lysmachia. We have dried some of the roses and pressed a selection of flowers so we can frame them and keep them forever.
Decoration
We had mostly handmade decorations including the flowers at both venues, tassel bunting, balloons, triangle back drops, dusky pink pompoms, an amazing hand painted seaside style painting with face holes cut out which was made by Emily Hardy, art tutor at Really NEET and also a personalised lightbox which was made by our friend Harriet. The Holt is already decorated to our taste so we did not need to add too much thankfully.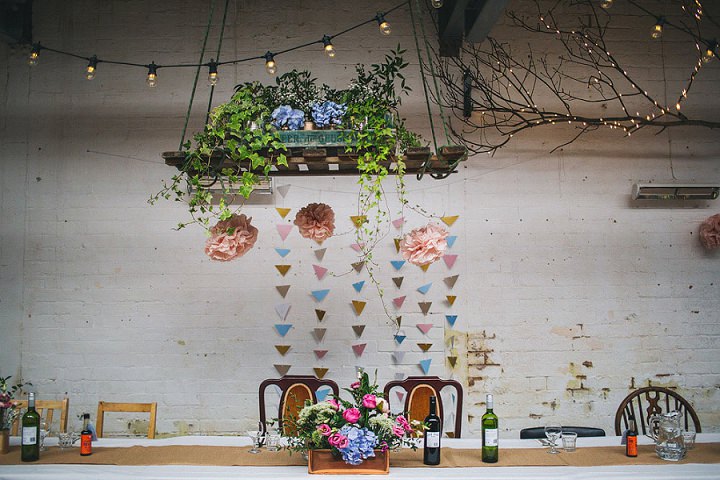 Food
We had some homemade canapes after the ceremony at Ecclesall Woods, followed by pie, mash and peas by the delicious Pie Eyed! Our wedding favour was a personalised bottle of Henderson's Relish so our guests made use of it whilst eating their meals! We had wedding cake as a dessert as we didn't want any to go to waste. We then had homemade nibbles for the evening food which our amazing families slaved over.
Wedding Cake
Our cake was made by the ridiculously talented Sophie Clayton who does it as a hobby. It had 3 tiers; the top was a dairy free lemon and poppy seed cake, middle was a Victoria sponge and the bottom layer was chocolate cake. It was expertly decorated and tasted spectacular.
Entertainment
We had Martin at Spinning Discs Record Store in Sheffield provide our entertainment, he does Vinyl Pick & Mix. The seaside style painting provided entertainment for people too.
Stationery
Our wedding invites and wedding favour labels were printed by APG Works in Sheffield and the Chicken logo was designed by Emily Hardy
Personal Touches
The majority of our décor was done personally, we had wooden pallets with photos of us and our loved ones from the last 6 years and we also handwrote the names on the favour labels that took hours but they looked great and our guests noticed the efforts we had gone to.
Special Moments or Highlights
The speeches by our parents, sisters and best man were brilliant and unforgettable.  Also, the first dance – especially the part where everyone danced like lunatics with us!
Advice for Other Couples
Set aside a day a week where you can both sit down together and work through tasks – tick things off as you go to avoid stressing about things being missed.
Use Pinterest – we got lots of good ideas from there!
The day goes so quickly and you have so many conversations, try to be mindful and remember every minute.
Don't stress about things going wrong or looking "perfect" – you honestly will not notice the minor things on the day
Biggest Surprise
Seeing so many smiling, happy faces – it made us realise how much love and support we have surrounding us!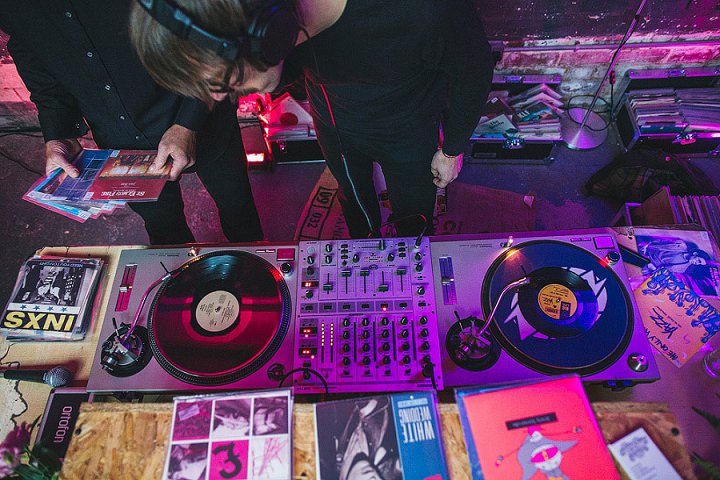 Supplier Shout Outs
FOR MORE INFORMATION ON JON'S WORK PLEASE GO TO:
www.s6photography.co.uk / www.s6photography.co.uk/blog / FACEBOOK / T:@s6photography I: @s6photography