If I was to say spotty socks, glittery shoes and the cutest campervan ever, you can kind of imagine what type of wedding today's offering is by our dear friend Jon at S6 Photography! Then throw in a very handsome groom in cobalt blue, a beautiful bride in a custom-made Augusta Jones dress, clay pigeon shooting, candlelight and reams of bunting and you have the perfect excuse to take five and read through this lovely wedding of Fiona and John. Oh and if that's not enough, Fiona was given away by her son – a truly touching moment and very emotional for all involved. Now, what are you waiting for?
'Perfect for us, as all brides and grooms should think of their day, we had the most magical heart racing, emotional, funny, loving day you could ever wish for! And we got to share that with the most treasured people in our lives.'
Fiona and John were married on 2nd May at Mosborough Hall in Sheffield. "We wanted something that suited both our personalities and style. I loved the exposed stonework & original beams inside the venue and John was impressed by the contemporary glass bar extension on the main hotel (he's a great architect). We visited the venue for the 1st time on a dark night – the hall and surrounding grounds were illuminated with outside coloured lights and candles, which just grabbed us and our imagination. The venue has several different areas available which made it a very versatile option and it mixed old with new beautifully which we both loved. It took over a year to plan the wedding but we did it slowly as we didn't want to feel rushed at any stage. We sourced and made lots of items ourselves which took up time."
How they met
We met at work – worked in same office but on separate floors for a year, we had a work night out …. And the rest as they say is history – that was 11 years ago.
The proposal
Total shock and surprise, we were doing a road trip around America to celebrate John's 30th for 3 weeks. While in San Francisco we took a bike trip over the Golden Gate Bridge – after a lot of moaning from me (I was tired, I was cold, I couldn't cycle anymore) John took all that away including my breath as he got down on one knee and asked if I would do him the honour of being his wife … after a lot of squealing from me he said is that a yes Fi ?!?!
How did you allocate your budget?
We decided that we would do a lot ourselves and wanted to source second-hand items. This paid off regarding our budget – we put a lot of emphasis and costing towards things we thought would make the day memorable for us and our guests. A "vintage camper van" as transport, slightly different guest entertainment of "laser clay pigeon shooting" and having the best photographer to capture those "forever" moments we would treasure.
Why did you choose your photographer?
We simply admired Jon Dennis' S6 work, style, contemporary, modern and none "posed" take on weddings – we didn't want a formal day and Jon's relaxed personality suited us and our needs perfectly. After 10 minutes with Jon there was no other photographer to choose, he is the best and he did us proud on the day no question!!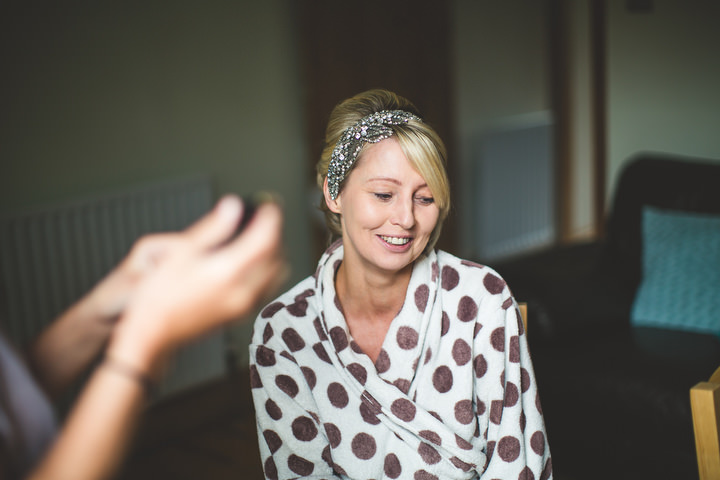 The wedding dress and accessories
My dress was a customised Augusta Jones dress from Emily's Bridal Wear in Sheffield. I truly struggled to find what suited me, but Emily helped every step of the way to achieve a dress and look I fell in love with on the day. Augusta Jones was a great choice as it allowed me to pick several parts of different dresses I liked and put them all into one dress …. my dress!
My gorgeous vintage looking hair accessory was a Jenny Packham Acacia II which complemented my dress and look, which received a lot of complements on the day. My shoes were Kurt Geiger sparkly court shoes.
The suit and bridesmaids
John & his best man James wore electric blue Paul Smith suits, with Ted Baker accessories of magenta pink pocket squares, magenta & purple ties with Paul Smith cufflinks as keepsakes. They looked amazing and again had many admirers amongst the guests (and female registrar)!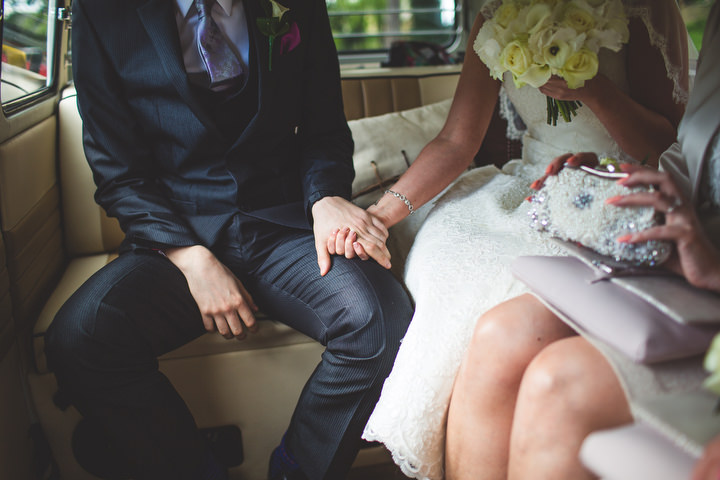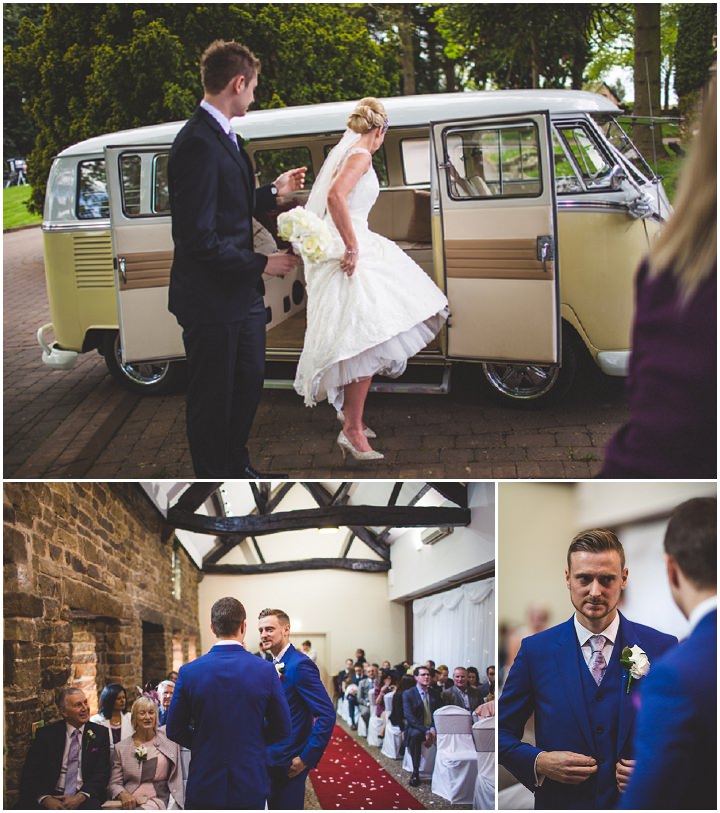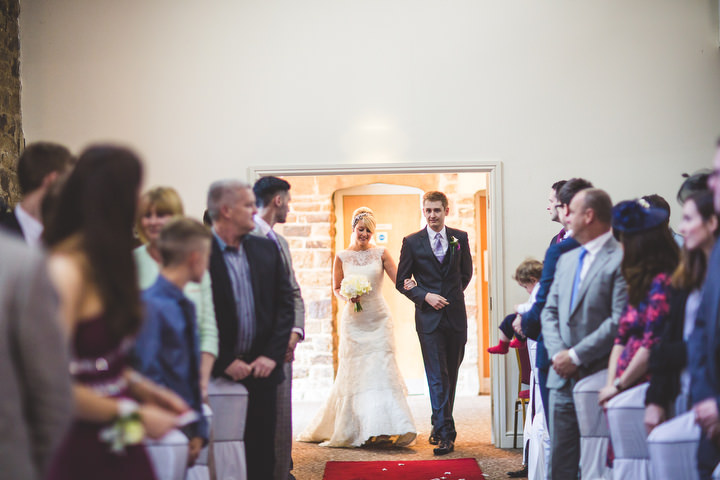 The theme
We tried to theme it slightly towards vintage and incorporating lots and lots of bunting throughout, we decided against any colour scheme for venue or wedding party as we just wanted to keep it simple and just to pick things because we loved them rather than a colour!
The flowers
Simple white hydrangeas, cream Calla Lilly's & white Avalanche roses – We wanted simple flowers that looked elegant, vintage and didn't add unnecessary colour , on my bouquet the only colour was the ribbon I had around stems that matched John's pocket square.
The decoration
Candles candles and more candles, lots of mercury tea light holders, Silver plinths & hurricane vases filled with pearls and candles. We had a gorgeous seating plan in an apple crate filled with flowers and rustic heart name holders which looked stunning
Outside was homemade bunting and lots of jam jars we collected filled with … candles!!!!!

The food and wedding cake
We had assorted canapés with the drinks reception. The wedding breakfast was chicken liver parfait with onion chutney and port syrup for starter, roast loin of pork with honey glazed crackling, wholegrain mustard mash and cider gravy for main course. The desert was divided – baked vanilla cheesecake with a berry compote for the boys & yorkshire parkin with cinder toffee and clotted cream for the girls.
The evening reception was a feast provided by Whirlow Hall Farm – their famous "Hog Roast" with all the trimmings, went down a treat!!!! We featured bunting heavily in the wedding decorations & stationary so wanted to continue this theme for our cake – a Cathy Kiston inspired creation worked best We had 3 pastel coloured tiers, (strawberry, butterscotch & chocolate centres), 1 featuring an edible sample of our bunting used throughout the wedding decorations to continue the theme, the cake was topped with hydrangeas to match our wedding flowers.
The entertainment
We had laser clay pigeon shooting during the drinks reception which was a huge success and a great source of entertainment to participate or just watch – it was very much appreciated by all who took a shot –some amazing photos were taken of this event too!
Evening entertainment was a brilliant live band we had previously seen at a friend's wedding a couple of years ago loved and decided "if we get married we will have these" – so we booked as soon as we set the date and thankfully they were free , they did 2 live sets with resident DJ in-between. The dance floor was kept full at all times by both.
Buy or DIY you're stationery?
John designed and made all the wedding stationary, save the date, name cards, luggage favour tags, seating plan cards …. Everything – we found lots of inspiration looking around, John wanted to have a more personal touch by making all the items and hugely contributing towards the organising of our wedding.
Personal or handmade touches
– Bunting
– Mini bottles of homemade vodka as guest favours
– All wedding stationery etc.
– Gift/seating tags – old luggage tags personalised
– Wicker basket – made into wedding card hamper box
– collected 100's jam jars from family & friends and filled with candles for night.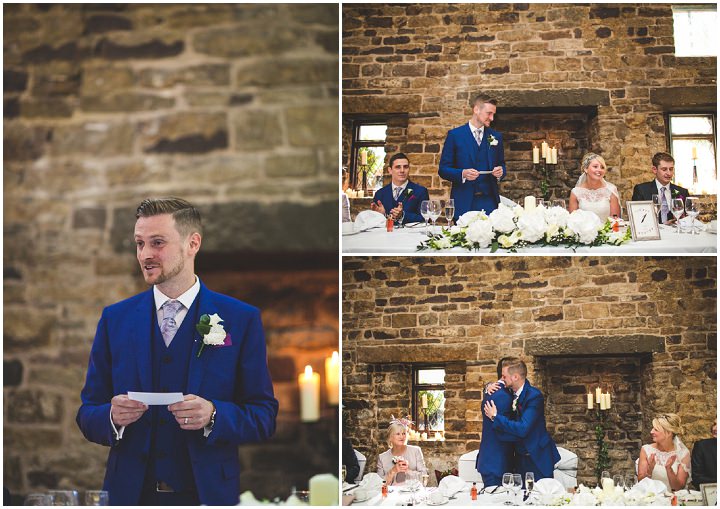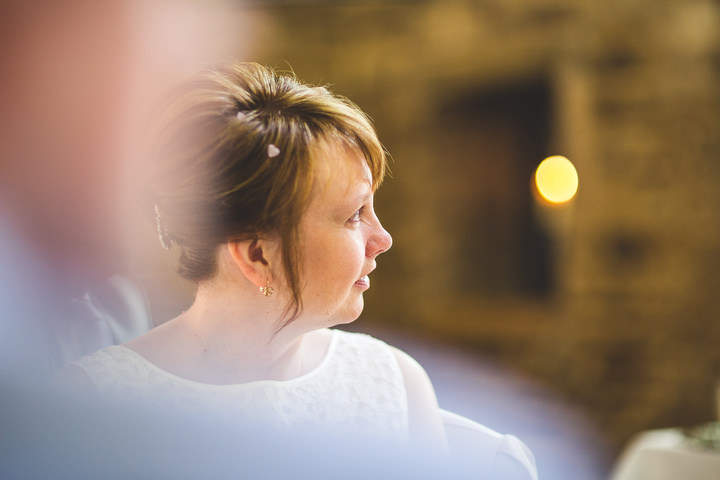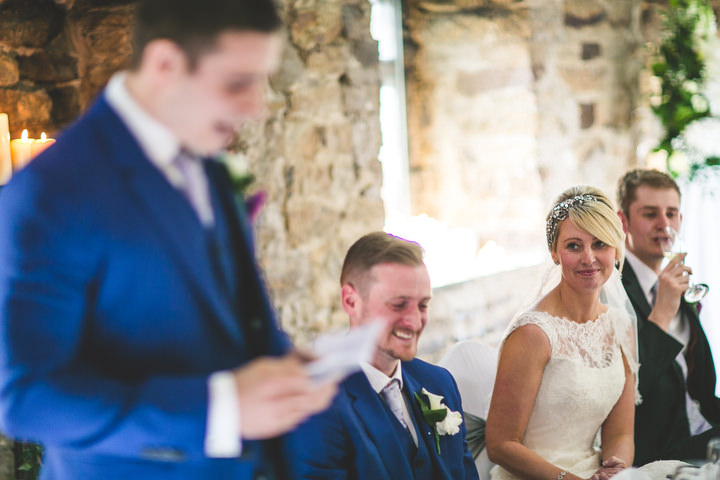 Special moments
The moment I spent with my son alone just before he walked me down the aisle proud moment for both of us, We both loved the speeches, my son's speech was the most emotional (for all) James the best man had the whole room in stitches (at John's expense) The first dance was a huge moment for me just loved it, Dancing with my all our friends to the very end of the night brilliant time ….
Advice to other couples
Take a moment – just the two of you to stand back when the day is in full flow alone, and look at how happy and great the day is and think …… "I did that" my other advice is "who cares if things match" don't sweat about the little things because they truly don't matter!!!
Biggest surprise
How relaxed and beyond happy I/we felt after the ceremony – how happy we were that we made other people have an amazing day and how you can smile for a full 12hrs constantly










Supplier Shout Outs:
For more information on Jon's work go to:
www.s6photography.co.uk
www.s6photography.co.uk/blog
FACEBOOK
@s6photography