Today I want to open up the blog to you and discuss the topic of feeding your wedding suppliers. I am writing this with my wedding planner hat on and as a wedding supplier myself it is something that I hear time and time again from my colleagues the issue of getting fed while working at a wedding.
Now some of you may be thinking why on earth do I need to feed my wedding suppliers, why is that my responsibility? while others will think it was an obvious thing to think about, but it is always a subject that I bring up with my couples in the last few weeks of their wedding planning as I do feel it is something they need to be made aware of.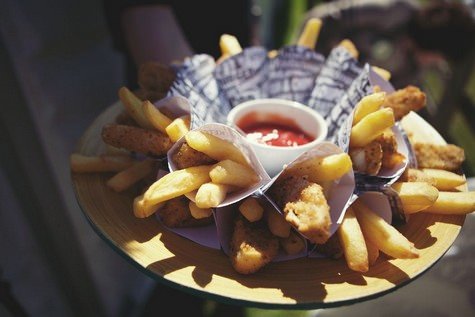 Now before I start I want to make it clear I am not talking about feeding everyone, and I am not expecting you to feed them the full 3 course wedding breakfast BUT a lot of your suppliers will be with you for the majority of the day, the likes of the Photographer will normally do an average of a 10 hour day, the videographer the same, the wedding planner, personally I work a 12 hour day, the band can be there setting up through the day and stay till 12/1am hair and makeup often arrive at the crack 7am and don't leave till 2pm, it is only fair that they get a decent hot meal and drinks throughout the day, Why? Well here are a few reasons.
1)  People like the photographer and planner will have left their house at 7am/8am/9am to get to you in time, they will work for 10-12 hours on their feet all day and often not get a break, this is long hard work, imagine how you would feel if you did all that with no food?
2)   Yes we can bring a packed lunch but that isn't going to do us for the whole day? And it isn't enough nutrients to keep us going for a full 12 hours a warm cheese sandwich does not give off the same amount of energy as a hot meal.
3)  Often wedding venues are in the middle of nowhere so it isn't like we can just nip off and get a bite to eat, and if we did we would be in fear of missing a vital part of the wedding and not doing our job properly.
4)  You may think surly they can survive on sandwiches or a cold meal? Well think about the fact that these suppliers often work 2 or 3 weddings a week, so that is a third of their week just eating sandwiches or cold snacks, that isn't good for anyone!
5)  If a workman came into your home you wouldn't think twice about offering them a cup of tea and maybe a biscuit, so why should your wedding be any different? Refreshments for a 12 hour day isn't to much to ask I'm sure.
There are also a few things to consider
When the supplier gets fed. Especially with Photographers the ideal time they should eat is at the beginning of the wedding breakfast, this gives them time to back up their work (you don't want them losing your wedding pictures after all) and sit and take a few minutes to relax and get themselves ready for the second part of the wedding. It is also best they eat first so they can get back into the wedding and start snapping. I have often heard stories of them being fed last and missing the speeches or having to leave the food so they can carry on working
Where they eat: ideally away from the wedding party but not tucked away too far that they don't know that is going on. This isn't always possible but it is better if they can have some space to themselves again to back up work and to get give themselves some breathing space before the evening reception, if they are far away they run the risk of missing any important aspects of the wedding
Tell the venue: Often the venue is the main problem; I have heard umpteen stories and been in the situation myself when the bride and groom have paid for a full meal but the venue just won't give it to the supplier. Colleagues of mine are often found trying to get the paid meal out of the kitchen only to be told to wait until service is over and then end up with the fatal cheese sandwich because 'that is all that is left' so make sure you tell your venue your wishes that you want the food served the same time as the wedding breakfast and make sure that the catering manage has clear instructions.
Drinks: It is always a good idea to set up some sort of tab for soft drinks just to make sure that the suppliers don't dehydrate, they are not expecting a free bar, just the odd glass of coke or water to keep them going.
As a planner I often find that as well as making sure I am fed, I spend good amount of my time, making sure the suppliers are happy and that they have a constant supply of drinks. Remember a happy supplier makes for a happy wedding, the more comfortable the supplier is the better job they are going to be able to do for you.
So what are your thoughts? Have you made arrangement for your wedding suppliers to be fed during your wedding? And if so was it written into their contract?
Do you maybe think it's a big ask and cheeky of them to expect it in the first place? Have you not considered it until now?
Are you a wedding supplier? do you have any good or bad stories about being fed at a wedding? Have you worked a wedding with no food? Or have you worked a wedding and been really looked after?
I'd love to hear from you……………..
Photo source 1) Devlin Photos  2) Nicola Thompson  3) Jo Photo  4) Mythe Barn  5) Christian Ward