Todays wedding comes courtesy of Mick at Miki Studios and it's a fantastic day from beginning to end! It's the wedding of a film maker I have featured on the blog before, the lovely Peter from www.ifitmoves.tv.  The wedding day sees an intimate collection fo 15 guests travel from a tiny cinema to watch Martha and Peter get married in Southwold in Suffolk.
'There were 15 of us in total – just immediate family, which includes our 1-year-old daughter, Willow, my three-year-old Nephew, Sam, and 6-month-old niece, Bea'  They then went onto have afternoon tea followed by a bus trip round Southwold with stop offs at the local arcades, all followed by a slap up dinner.
They describe their wedding as 'Different, Intimate, Fun, Relaxed, Us'
I just love the individuality in this wedding, I love that the couple have had the day they wanted and kept every aspect of it a surprise from their guests. The day is packed full of activities and they have really thought about how to keep their guests happy and occupied. Martha and Peter both look super stylish and Miki has manged to capture some beautiful couple shots as well as capturing all the fun of the day perfectly.
How they met
We met in 1999. We were both Runners (tea boy and girl), for a television studios, and at that time involved with other people. After we moved on to different things, we stayed in touch. About five years later, having not seen each other for quite a while, we had a mini reunion, and from that love grew – like a delicate and beautiful flower growing out of some really good quality horse muck. We've been together for around nine years now and both agree that we've probably got four or five left.
The proposal
I made sure Martha was convinced that I'd never ever ask her before I finally did. I wanted it to be such a surprise that in the 7-or-so years leading up to it, I made it perfectly clear that it wasn't going to happen (by both telling her so and leaving notes around the house). Just when she started to believe me, I proposed over dinner, at home on Christmas Eve. A doctored cracker was the method – I'd purchased a cheap ring from eBay (it's not what you're thinking, I'm not a tight-arse), the ring was a novelty one with a green Lego brick instead of a diamond (we love Lego). I sliced a cracker open and swapped the real prize for the Lego ring, I also swapped the joke for a similar piece of paper – this time asking her to marry me. We pulled the crackers and Martha was amazed at the quality of her gift. It was then that she read the 'joke' and realised that the joke was on her – I did want to marry her after all! She accepted and then I hit her (not literally) with the money box of cash I'd saved up so that she could get an engagment ring she desired – up to the ceiling value of the money given.
The Venue
My (peter's) grandmother has lived in Southwold for over thirty years, which means I've been been holidaying there my entire life – but Southwold's more than just a holday destination – it's my spiritual home, and when I introduced Martha to it, it became hers as well.
The Wedding Planning
A year, on and off. We decided between us that the venue for the ceremony would be the tiny Electric Picture Palace cinema, and then all the other elements were a joint effort (the retro bus to take us on a whistle-stop tour of the town. The visit to the arcades, with penny sweets (not that they cost 1 penny any more!) and 2ps to spend). Martha did most (all) of the organising, and designed and assembled the incredible seaside- themed wedding table.
My main job was making the film trailers. As we were getting married in a cinema, it seemed only right to show film trailers beforehand. We didn't want any old film trailers, however, we wanted homemade ones, featuring ourselves and our family who would be attending. Luckily I own a small production company called 'If It Moves' (www.ifitmoves.tv) that makes wedding films, music videos and short films, so I was able to create six trailers based on, Teddy Bear's Picnic, James Bond, Doctor Who, Superman, Flash Dance and Harry Potter . Here's a very small example of what was shown. HERE  
We kept all the details (other than the Southwold location) a secret from our family, wanting the day's events to be a surprise. This made making the trailers (that feature members of family), quite tricky as we didn't want to give away the cinema venue. Luckily everyone involved was quite gullible and didn't think any more of it when I told them I wanted to try out some new software and needed them to stand in front of a greenscreen, or run about with a fake gun so I could try adding some effects.
How did you choose your photographer
Mick (Miki Studios) was the recommendation of a friend (Sassy from 'Assaynation'). We had several to choose from and only their portfolios to guide us. Well, initially it was the portfolios, but Mick was so keen to be involved in our wedding, he got me to give him a call to talk through it. Mick's work was (and is) outstanding, but it was his excitement during that initial conversation that made me realise I had to have him capture our day. We couldn't have made a better choice either. Mick travelled all the way to Southwold from London for an engagement shoot which gave us a great opportunity to get to know him before the big day, and it also gave us valuable insight into what sort of shots we were looking for, for the actual photos.
Mick was professional, discreet (yet able to take control and direct people – even those who hated having their photo taken)). He was funny, a throughly nice chap and doesn't half know how to take a good photo. Thanks Mick!
The Dress
Martha's dress was 'Eden' by Jenny Packham. Her Mum went a little mad on the dress she let her have, but as she's her only daughter, I think she figured she's only going to have to buy one wedding dress. Shoes were 'Tilly' by Rachel Simpson. There was also a Cath Kidston bracelet involved (worn around the wrist – as is tradition).
The suit and bridesmaids
The suit was Ted Baker and something I'd got several years ago. Unfortunatley a lot of time and cake had passed since I'd first worn it and the months leading up to the big day were a battle to shift the excess pounds so that I'd fit into it (it was either that or buy a new suit, and I'd already paid for a ring). Willow wore a fairy outfit from Sainsburys, which had the benefits of not only being really cute, but we also got Nectar points on the purchase.
Theme
There were two themes at the wedding 'us' and 'the seaside'. We were never going to have something traditional, and nor were our family expecting us too. Thinking about it, it would have been more of a surprise to them if we had done something traditional – but less fun. Southwold was always going to be the location, so after that, the finer details were there for you – sea, beach, sandcastles, flags, arcades, crabs (the water dwelling creatures rather than the STD). It was just a matter of pulling those elements together in a way that didn't look like a garbled mess – something which Martha did excellently.
Food
Not many people have food during the ceremony, but we were in the cinema so it had to be popcorn all the way. After that, it was a 'high tea' at The Swan hotel, served with the wedding cake (why does anyone wait until the end of the evening when you're completely full?). During the tour of Southwold on 'Tilly's Bus', we had penny sweets. Finally for the main meal it was a choice from an assortment of delicious starters, mains and puddings that we'd all requested months ago and forgotten what we'd ordered when the time actually came to consume them. I had the duck, Martha had the beef. Willow had chicken and chips.
Entertainment
We had a room to ourselves, and in there Martha had arranged for all sorts of table games and such like, in case anyone wanted to play. We didn't want any forced fun though, so there was nothing compulsory. The main entertainment was the town. People were welcome to go off and explore the shops, pop back to their holiday-lets for a nap (both kids and the old), or just sit on the big sofas and read a paper. There was no disco, or first dance – with 15 people it would have seemed a bit out of place.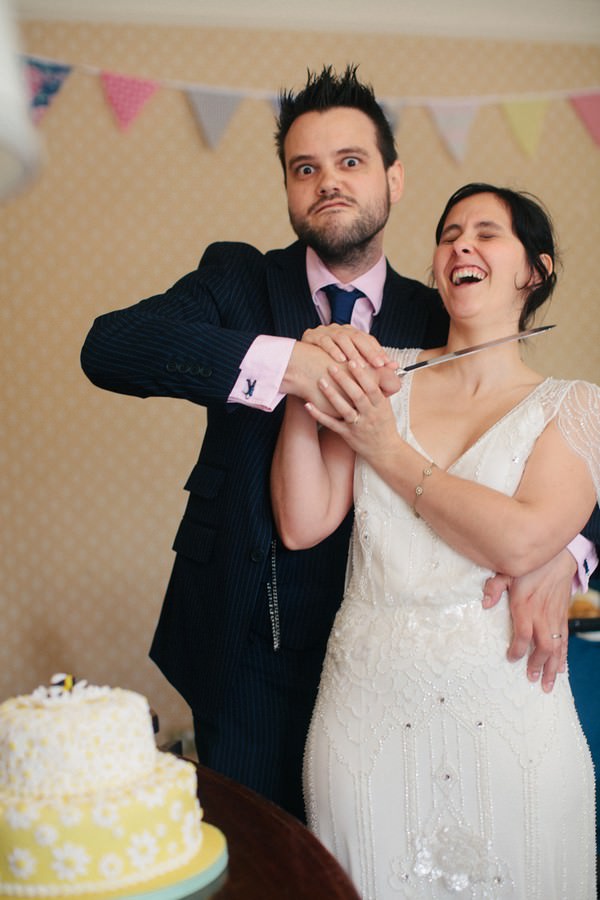 Flowers
Martha had a bouquet made up by the local florist. It consisted of peonies, sweet peas and freesias. Just a small handful not a massive trailing thing. She wanted it to be understated but smell nice. She's since dried the whole thing using silica beads. We didn't have any other flowers (except for the mums). Instead of flower centre pieces on the dining table, we had buckets full of sand, spades, flags and windmills.
Decoration
Martha made about four miles of bunting which decorated not only the cinema, but the dining room and the upstairs room we occupied for the day. After that, it was all the seasidy things mentioned in a previous question.
Personal touches
It was all very DIY, from the home made film trailers to the 'wedding favour' pencil cases containing named, coloured pencils which were to be used on the paper placemats which had been designed by Martha. These placemats had questions about us on them (from which the winner with the most amount of correct answers received a prize), questions about the day (favourite part), sections to draw requested pictures (draw us, draw yourself), and a maze. These placemats were collected at the end and have come together to form our guest book. The placecards were little picture frames with our guests' photos in them so they were another keepsake for them to take away.
Special moments
The film trailers were a real highlight, after that the rest of the day was pretty much a footnote… no, but seriously, walking up the highstreet to congratulations from local shop owners who had supplied us with one thing or another (sweets, hair, flowers etc) was such a nice moment. The jaunt around the town in the bus was amazing. Playing arcade games with my wife whilst she was in her wedding dress was fantastic and something I'll never get to see again (unless I re-marry). Finally, to watch your family be so engrossed in filling out the placemats at the start of the meal that there's no talking, just a hushed scratch of pencil against paper was a special moment – I've never seen my dad take colouring in so seriously.
Advice
Do what you want, not what you think others expect/want you to do. Hire Mick of Miki Photogrpahy as your photographer (and If It Moves to do the video).
Biggest surprise
That it all wrapped up at 9:30pm. Couldn't believe our luck!
Supplier Shout Outs
The Swan Hotel Southwold do things really properly.  The Electric Picture Palace is a real functioning cinema run by a lovely chap called John.  You can go and see films in it, which I'd really recommend

www.exploresouthwold.co.uk/cinema

.
Tilly's in Southwold hire out their bus 'Olive' for all sorts of occasions and are a pleasure to deal with.
Foxtail Lily supplied the bouquet and flowers for our Mums, which were all lovely.
Cut Above did Martha's hair do.
And One St James' Green do a mean bag of penny sweets.
The only other supplier was our videographer who was from 'If It Moves' (www.ifitmoves.tv).  We couldn't be more delighted with what was filmed and the way it was presented.  What's great about them is that all weddings that they film this year are half price (and prices for 2013 onwards are very competitive)!
Lastly, we'd just like to say another thanks to Mick www.mikistudios.com  What you took for us is truly amazing and will be a joy to look at in years to come.