We have reached the mid-point of the week, so I am celebrating with this quite beautiful Cotswolds wedding. It's set in the brides grandparents garden and is full of amazing decorations ideas, personal touches and it looks fantastic. Rosie, the bride was an avid reader of the blog during her wedding planning, so picked up some super cute ideas to implement in her own day. From a canoe filled with beer, to an old door as a ceremony backdrop, this tipi wedding is brimming with amazing details and some really imaginative ideas. Big thanks to Ashley Davenport from Miki Studios for the wonderful images.
'Our wedding day was informal, relaxed and personal. Everything was so 'us' which made it extra special and as a result was full of happiness, fun and laughter.'
Rosie and Nick were married on 28th August 2015 at Rosie's grandparent's garden – Old Red Lion House, Cherington, Warwickshire (The Cotswolds). 'We knew we wanted a relaxed, country wedding. we wanted somewhere beautiful and homely that we could turn into a 'wonderland'… My grandparents have lived at Red Lion House for 30 years and I've secretly always dreamed of getting married in the garden. We couldn't have imagined a more special, beautiful, relaxed and happy place to get married. We had 115 guests. We planned the wedding over 15 months. Knowing we'd be organising most things from the other side of the world (we now live in New Zealand) I'd got the vast majority of the 'big things' booked a good year in advance – the tipis, catering, toilets, celebrant, band and flowers! The finer planning & details came a lot later – in the 3 months running up to the wedding date, which allowed us to relax in between!
How they met
We met 3 years ago, in a field, in Medan (Northern Sumatra). We were taking place in an adventure rally, racing tuk-tuks 3500km through Indonesia, ending in Bali – and Nick was the first person I met! We were in different teams but ended up convoying at various points along the way & then spent a week together at the end before Nick and I headed home to opposite sides of the world. Less than 8 months later, and after countless hours on Skype, I'd moved my life from London to New Zealand to be with him!
The Proposal
Nick proposed on my 30th birthday while we were back home in the UK. We were about to head out to meet my friends for drinks, when a tuk-tuk turned up on the driveway and I just thought it was a cool birthday surprise. We were driven around my home town and out into the countryside, then we pulled up at a church in a tiny village – it was the church that my parents were married at. We went for a walk around and Nick got down on one knee. Then we got back in the tuk-tuk, he put on a song that he played to me on guitar when we first met, and we drove back to the bar where my friends and family were waiting for us. It was definitely the best birthday to date!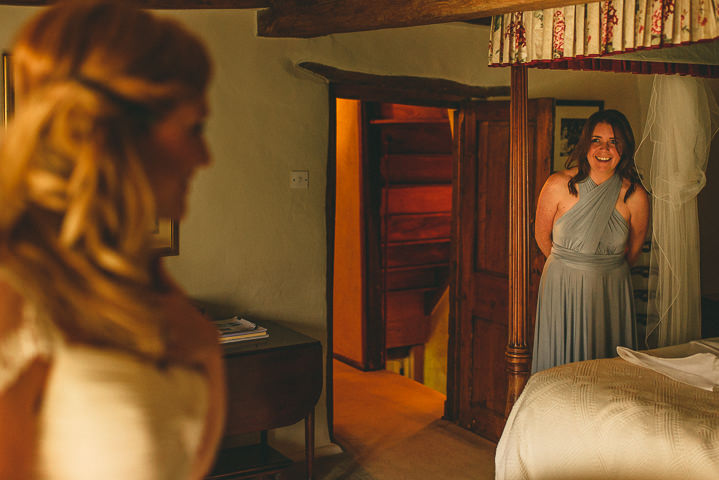 How did you allocate your budget
Our budget was definitely forced to grow as we started to get quotes! We knew that the tipis were going to be our main feature so the biggest chunk of our budget went on those. The next most important to us were the photographer and the band. Originally we had all kinds of ideas but every little thing really starts to add up, so we stripped a lot out and made sure whatever we spent money on was going to genuinely add a personal touch.
Where did you splurge and where did you save
The tipis were our biggest splurge; we could have got away with two tipis, but we decided to have three to save us cramming everything in and also to give us a contingency for the ceremony in case the weather turned nasty.
Luckily the garden is so beautiful it didn't need us to spend much decorating! But we saved by doing a lot ourselves & with the help of friends & family –we decorated with herbs rather than flowers. We used an old canoe of my brother's as the "beer canoe" and an old door from the house as our ceremony backdrop. A good friend made our cake, my hairdresser was a friend & guest, as was my make-up artist!
How did you choose your photographer
Ashley Davenport was our photographer. I'd spent a bit of time researching photographers but the few who's style I liked were either unavailable, miles away, or crazily expensive, so I started asking around. Ash is a friend of a friend and we couldn't have been happier that she recommended him!
I loved Ash's photography style – he captures all of the moments that you might not have otherwise seen. He truly documented the fun and love on the day. We totally forgot he was there, the sign of a great photographer! He also ran a photobooth for us, a great little extra that added to the day.

The Dress
My dress was Amanda Wyatt, Skylark. I bought some beaded tulle and had some pretty cap sleeves made to create the final look I wanted. My shoes were £5 from New Look in the sale! They were strappy, sparkly gold & with a chunky heel so I didn't sink into the grass. I knew I'd be barefoot within a couple of hours so I didn't want to buy a really expensive pair, but I've worn them several times since as I actually really love them! My necklace was my mum's – a gold diamond heart she got for her 18th birthday (my something borrowed) – as was my veil.
The Suit and Bridesmaids
Nick had never actually worn a proper suit! He's a typical Kiwi – more of a shorts and t-shirt kind of guy. We went to a local tailors in Auckland and picked a navy 3 piece suit that was then tailored to fit. He looked so handsome!
My bridesmaids all wore twist-wrap dresses from Dessy. Two of my girls had just had babies, and each had a different body shape, so we wanted to find dresses that everyone felt comfortable in.
We asked the groomsmen to wear 'blue suits' and I wasn't worried about them matching. However, it was typical that my brother took this as an excuse to get his suit tailor made at Saville Row – and when I said blue, he chose electric blue!
Theme or Colour Scheme
We didn't have a theme as such, we wanted a country feel, quite casual and relaxed, with lots of individual details that were personal to us. I wasn't too worried about everything matching, but I love soft, neutral colours. Greys, greens and a hint of pink. We wanted everything to look natural and compliment the beautiful garden.
Flowers
My bouquet was pretty rustic. A mix of ruscus, eucalyptus, lisianthus and roses. A friend, Kate Maxwell, provided our flowers. She is super talented and owns a little florist called 'In Bloom' in Birmingham. She also made the garland for our ceremony backdrop and cute herb buttonholes for the boys.
Decoration
Instead of flowers for decorations, we mainly used herbs – herbs everywhere! Lavender, mint, basil & rosemary for the tables, and all around the garden. My granny put together a stunning arrangement in a big churn jug that took pride of place outside the tipis. All of the other decorations were made from flowers and apples/blossom from the trees in the garden.
Food
We used caterers, Kemp & Kemp as we loved their home-cooked, family style food. They were incredible! We decided on a big feast menu, with big sharing boards of slow cooked porchetta pork and whole flattened chicken, alternated down the tables, with big bowls of delicious salads and vegetables.
Wedding Cake
My amazing friend, Laura made our cake! She isn't a professional cake maker, but she definitely should be! We had 3 tiers – blueberry & sour cream, raspberry & rose, and carrot cake on top. All iced roughly and decorated with rosemary and lavender. It was hands down the BEST cake I've ever eaten. All of our guests were raving about it!
Entertainment
We both love live music, and so it was a no brainer to book a live band. It was surprisingly difficult to find a good live band though, and it's hard to gauge how good a band will be from watching a 2 minute clip on YouTube!
I came across Nick Keen and loved his voice and repertoire, so I booked him. It turned out he's in a band and they happened to have a cancellation for our wedding date – it was meant to be! I don't think the dance floor ever emptied – testament to how good they were!
We also had garden games – giant Jenga, table football & table tennis. All things we happened to own already.
The Stationery
I designed all of the stationery myself. I hand drew and then vectorised the images, and added the text and colours. To keep it simple I stuck to the same design for our save the dates, invites, seating chart & table menus. I then had them printed at a local print shop onto nice heavy paper & card.
Personal or Handmade Touches
We did loads ourselves – I made the stationery and bunting, We used lots of random items we had lying around & upcycled them – the beer canoe & the ceremony door to name just a couple. We were unbelievably lucky as a friend of ours somehow found our very two tuk tuks and he shipped them over from Bali for us – they were pretty much as we left them but it brought back so many memories, so we used them as a bar! We also turned the apple tree in the centre of the garden into our "family tree" and pegged up lots of photos of our families and Nick & I growing up. We placed an old rug & bench underneath so guests could sit and take everything in.
Special Moments
Walking up the aisle with my Grandad & then seeing Nick looking so handsome yet nervous was something I'll always remember! Our ceremony really stood out for me; before the ceremony our guests were asked to think of a word that best represented Nick & my relationship. Then half way through they were asked to pick up the pen and paper under their seats and draw that word. We were crying with laughter – some hilarious & fun pictures that we'll keep forever!
The speeches were hilarious & a rather tipsy friend starting a booming rendition of Happy Birthday to my dad (it would have been his 60th birthday on our wedding day) during my speech, was brilliant. But finally, I remember towards the end of the night Nick and I took ourselves off to sit on the bench under the apple tree and we just cuddled and watched everyone partying the night away. We were so happy in that moment & we both felt incredibly blessed to have all of the people we love, all together and celebrating – I wish I could bottle that feeling!
Advice to other couples
My top tip would be don't sweat the small stuff! By that, I mean don't over-think the details. Pinterest is both a blessing and a curse for brides to be! A few personal details are great, but you don't need to go overboard – if I'd have done every idea I had, I'd never have finished setting up! Ultimately, it should be about you as a couple and what you want that matters!
People say that the day will fly by… But seriously, IT FLYS BY! Enjoy every moment and try and take a step back every now and again, even if just for 2 minutes, to just take everything in.
Biggest surprise
I was surprised by just how care-free I felt! I have to admit, I was a little bit of a control freak in the run up to the wedding day, making sure everything was organised. I honestly expected to be more concerned about certain details and how things were going, but for the entire day we were just in the moment and I've never felt so pretty or relaxed. It was fantastic!! I was also surprised there was some wine left over!
Supplier Shout Outs
For more information on Ashley's work as an associate for Miki Photography please go to:
www.mikistudios.com / +44 7472 258 177 / FACEBOOK /
I:davenport.photography / @MikiPhotography
I am based in Derbyshire but travel all over the country most weekends to capture wedding. Its lucky a have an amazing wife who understands my passion. My type of photography is all about three words, Love, Fun & Style.
Due to an email issue if you have emailed me between the 2nd & 9th of December, please resend it.
X