I have a simply amazing wedding for you today and it is one that I am very proud to say I planned. It's a beautiful Ibiza wedding that took place at Amante Beach Bar, and I have really enjoyed seeing the photos. It has been a tough one to edit as I wanted to post all 250 images that were taken by the incredibly talented Gypsy Westwood, who is one of Ibizas leading wedding photographers.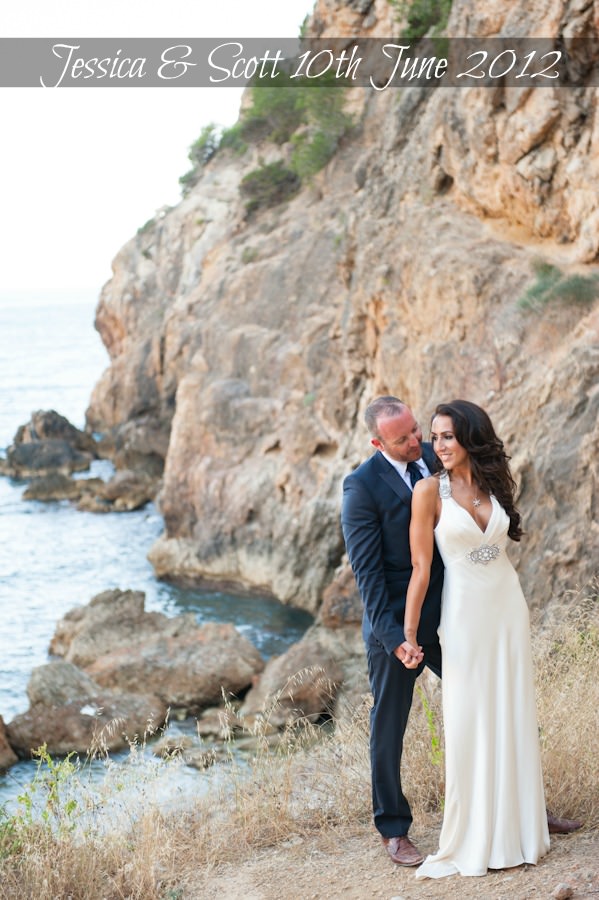 The lovely couple are Jessica and Scott who I have been working with for the past year. They were married on 10th June at with  44 guests. You may recognise Jessica as she has been writing for the Diary of  Boho Bride and she has been sharing with us her wedding planning journey. Jessica has been an absolute joy to work with, she is incredibly organised which has made my life a lot easier, and she has really taken on bard what I have had to say. I have helped her find the right Ibiza suppliers, written her a monthly to do list and been there to support her with any decisions or choices she has and to make. My assistant in Ibiza Tiff ran the wedding day itself for me, which worked perfectly as she has extensive knowledge of Ibiza as she lives out there herself.
It has been a really pleasure putting this post together and a delight to live out the day through these amazing images. It is always sad to see the wedding finally on my blog as it means that my time with that couple is over. However I know Jessica and Scott have made the transition into married life very happily so I can leave them knowing they had a fantastic wedding day and I did the best job I could for them.
Jessica and Scott describe their day as 'A beautiful day shared with close friends and family against the backdrop of the mountains and sea. A day filled with sunshine, laughter and love.'
How they met
We met through mutual friends after seeing each other first at the gym. We've been together for a year and a half.
The proposal
During a Sade concert, he got down on one knee during the song Smooth Operator
The venue
We didn't want a generic wedding in the UK at a stately home or castle…we wanted good weather and a beautiful location
Dress
Dress was by Jenny Packham and shoes were Jimmy Choo. Bag was Jenny Packham for debenhams.
The Suit and bridesmaids
Suit was The Kooples and bridesmaids from Whistles.
Food
Assortment of starters: caprese salad; ham toastada; seafood and monkfish croquettes.
Main: filet steak with potato gratin veggie option was risotto.
Dessert: chocolate mousse
Theme
Coral and green
Entertainment
Brian Beezwax DJ, I devised my own playlist for the reception and dinner.
Flowers
Coral and green flowers (sorry don't know what they were called) and petals lined the aisle
Decoration
large bowls on the tables with orange pebbles, shells holding each place card. hurricanes, lots of candles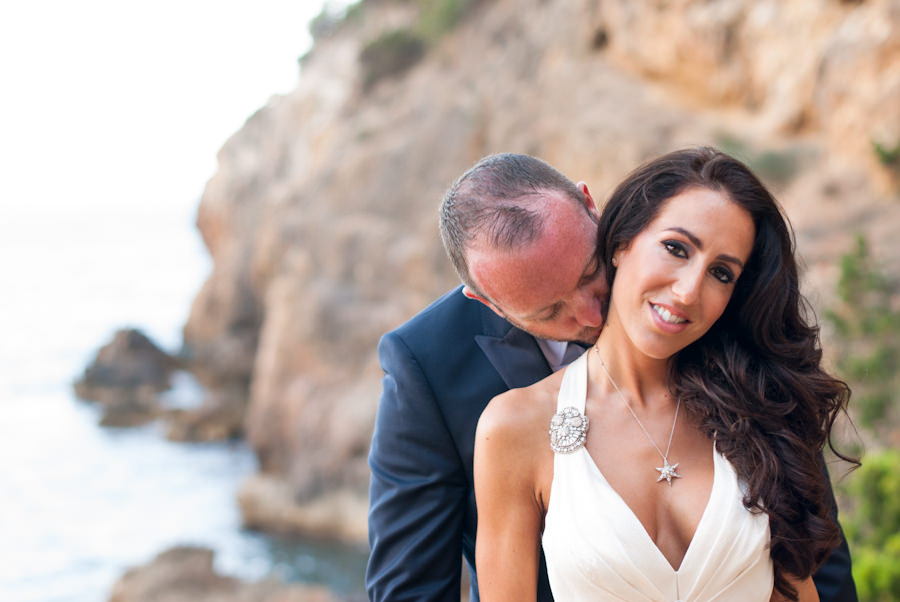 Personal touches
It was my idea to use shells as placecard holders. I also tied order of service cards to buri fans, which were placed on the guests seats at the ceremony. I tied them together with coral ribbon to match the coral on the menus and table plan.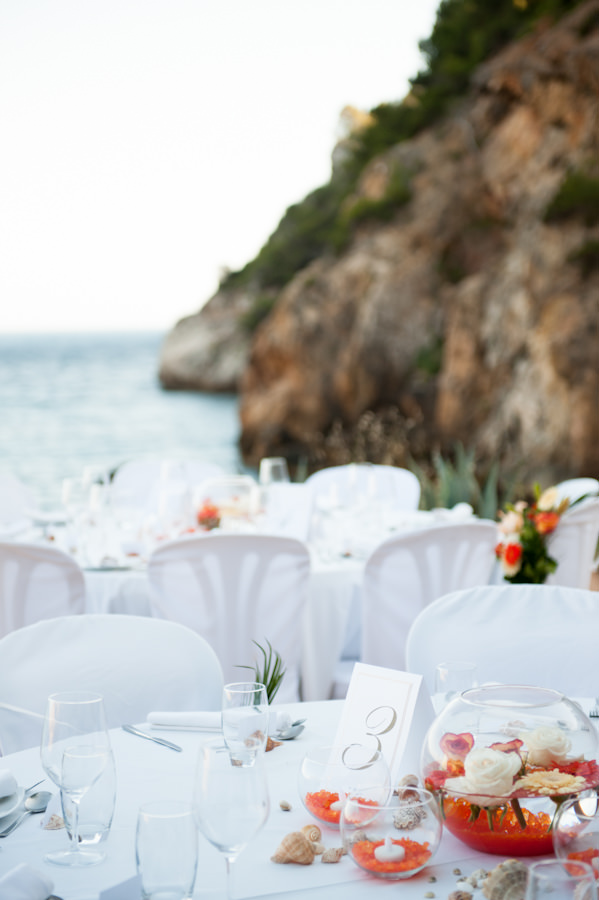 Special moments
I loved the speeches, I loved how intimate the whole of the dinner was- just surrounded by the important people in my life. Scott cringing during the first dance ( he can't dance at all!). Dancing with my friends to old school dance tunes!
Advice
I felt that my day went so smoothly because I had a really good team of people helping me, so I would advise to use trustworthy suppliers with a good proven track record. It also helped that I am a bit of a control freak and like to be organised. As long as one of the couple is, that's great! As for the big day itself- relax and enjoy it! As I was walking down the aisle I didn't start stressing there was no music, instead I laughed and said to my brother who was walking next to me, "if this is the worst thing to happen all day I will be very happy"…and thank god it was! It goes so quickly and you have to savour every minute and not obsess about what everyone else thinks.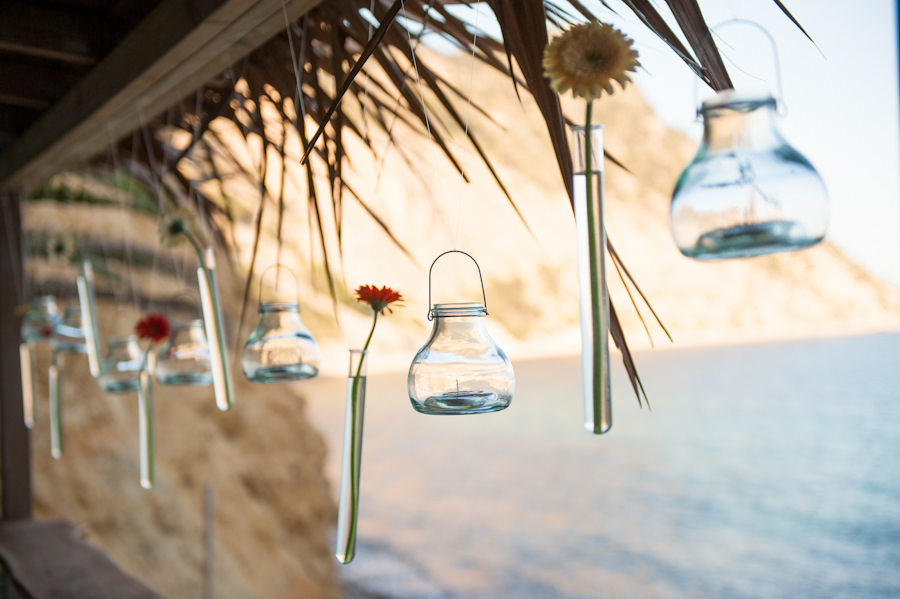 Biggest surprise
How tired I was at the end! I'd heard that from people but it felt like I'd run a marathon!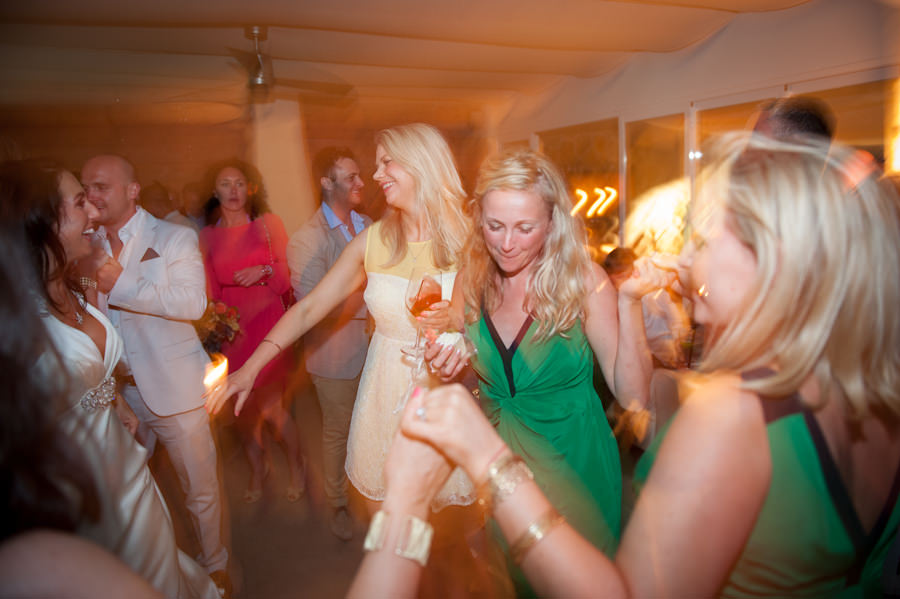 Boho Planning Details
What planning service did you book from me?
Full planning
What made you decide that you wanted to book a planner?
I needed someone to tell me what to do and when to do it and someone to listen to me stressing out!
What do you feel were the biggest benefits of having me involved with your wedding?
I don't think I could have coped on my own! I am very organised but I needed someone with experience in planning weddings to help me make sure I had thought of everything.
Supplier shout Outs
www.gypsywestwood.com – Gypsy westwood photography (great service and amazing photos!!)
www.beezwax.co.uk – Brian beezwax DJ (really nice guy, very professional and great taste in music)
www.floresibiza.com – El ramos de flores (excellent flowers, very creative)
www.autosdipesa.com – Autos dipesa car hire (great service, friendly)
www.ibizacakes.com – Ibiza cakes (extremely friendly and great cake!)
www.blessings-on-ibiza.com/ -Paul Spargo celebrant (lovely guy!)
www.amanteibiza.com –  (perfect in every way!)
[email protected] – hair and make up
www.bohoweddingsandevents.com – Planning
For more information on Gypsy's Photography go to:
www.gypsywestwood.com
http://gypsywestwood.com/blog/
[email protected]