To end the week I have this bright, sunny and cheerful wedding from Canada. It is full of colour as the couples theme was lemon and lime with a hint of pink! What I love about this wedding (apart from the horses) is the huge amount of effort that the bride went to, she DIY'd pretty much everything from the tea stained escort cards to the home-made citrus marmalade, right through to the paper pom poms and string balls, she even made her own lemon and lime ice cubes…..impressive right?
The lovely couple are Melissa and Daniel who were married on June 15th at Hessenland Country inn, Zurich Canada. The Ceremony was in front of a man made waterfall and the reception was in the Coach House. They  had 110 guests it took a year and a half to plan. The lady in charge of the photography was Serena Swan.
They describe their day as 'Our wedding day encompassed the most important aspects in our life; fun, family and friends. It was untraditional and personal right down to the music choices.'
How they met
Dan and I met while working at Home Depot. We were both in college so this was just a part-time job for us. I was actually his boss for a while. While I could tell he was interested it me, I was the one to ask him to meet after work for the first time.
We have been together for 3 years now.
The proposal
It was Christmas Eve and we were was at his parents' house for Christmas that year. His mom, dad, sister, brother, Dan and me gathered around the dining room table to play a game of cranium. We had just started the first round – Dan and I were partners – and he had to draw something with his eyes closed for me to guess. I peeked at the other teams' sheet and they had all drawn wolves and moons, while Dan was just drawing lines. He was finally finished his drawing and this is what I saw
W _ _ _ Y _ _ M _ _ _ _ M _ ?
So I read it out 'will you marry me?' I said.. And he replied yes and handed me my ring.
This was the perfect proposal for me because I did not want the typical restaurant experience. I wanted the person who would propose to me to think of a creative and fun way and Dan definitely succeeded.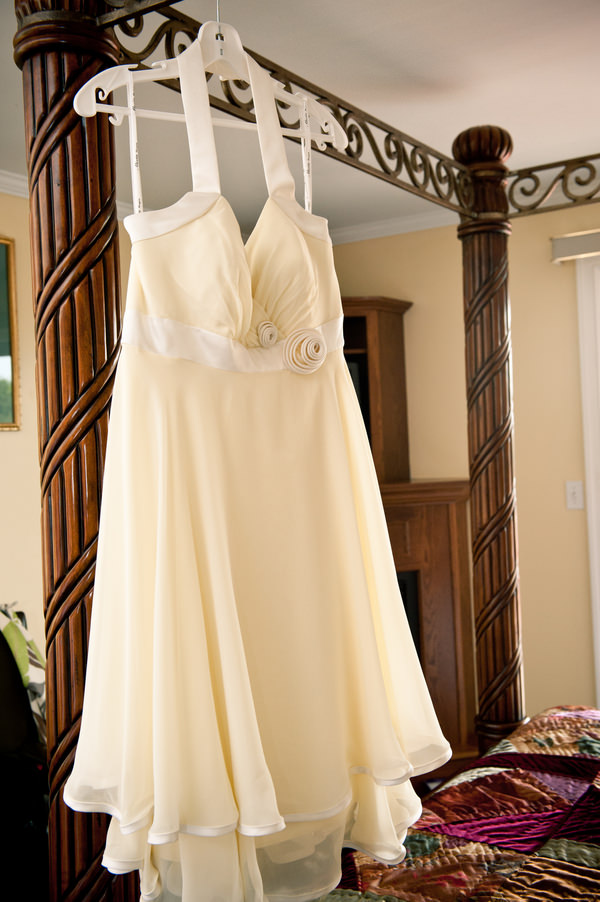 The venue
We fell in love with the atmosphere, the look and the feel. From the stone walls to the stables on the grounds everything about Hessenland screamed perfect for us.
How did you choose your photographer
First I have to say I planned and researched every aspect of our wedding, as we were on a very strict budget. I was looking up various photographers in my area and just coasted from one web page to another until I found Serena Swan Photography. I recognized the last name to be the same as a friend from high school. Immediately I fell in love with the feel of her pictures. They were so innocent, real, so simple. Serena's style was a perfect match for the feel I was going for.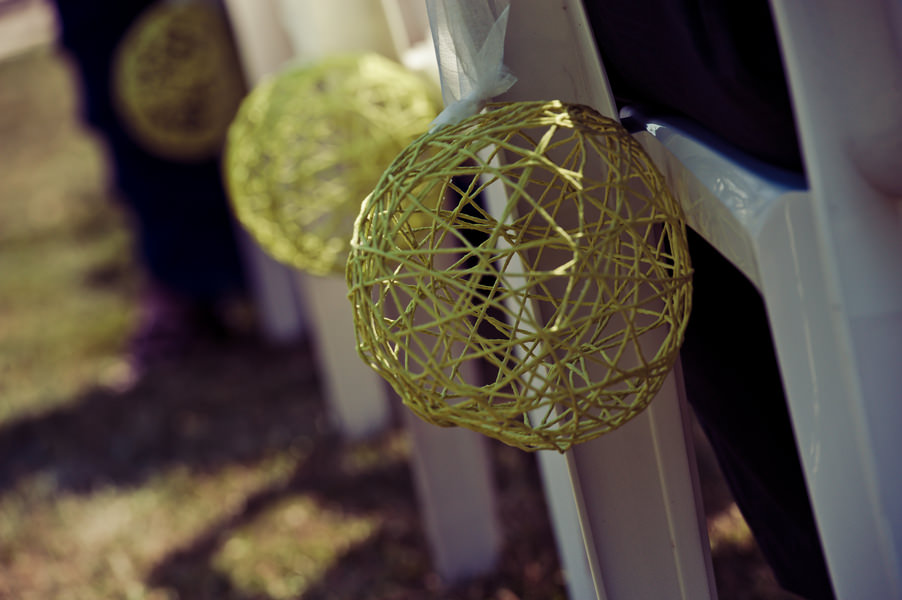 The Dress
My dress was by Maggie Sottero. The design is called Cassandra. I got it in all diamond. As for accessories I wore my granny's pearl earring and necklace. My granny had passed away a few years ago and I wanted her to be part of my day in some way. As for my shoes, I am 5'10" so I went for a more practical shoe, a white ballerina flat and added a green flower to the toe.
The suit and bridesmaids
The groomsman wore black suits with a yellow tie and vest and yellow mini gerber daisy boutonnieres. The bridesmaid's wore a beautiful chiffon halter dress in daffodil yellow, trimmed with ivory. They wore Steve madden wedges in a tan/ivory colour to match. Their bouquets were yellow and white Gerber's with green Spider Moms and pink wax flower.
Theme
My theme was lemon and lime. The colour scheme was yellow green and white, with a splash of bright pink.
Food
We had a sit down meal with a choice of Chicken cordon bleu, roast beef with roasted potatoes veggies or stir-fry (for the vegetarians).
Entertainment
We had a DJ for entertainment.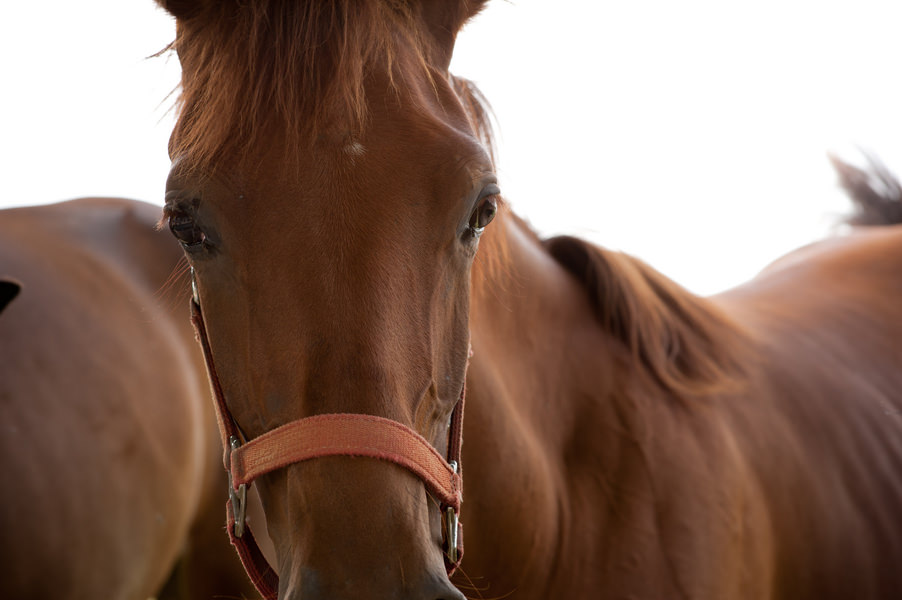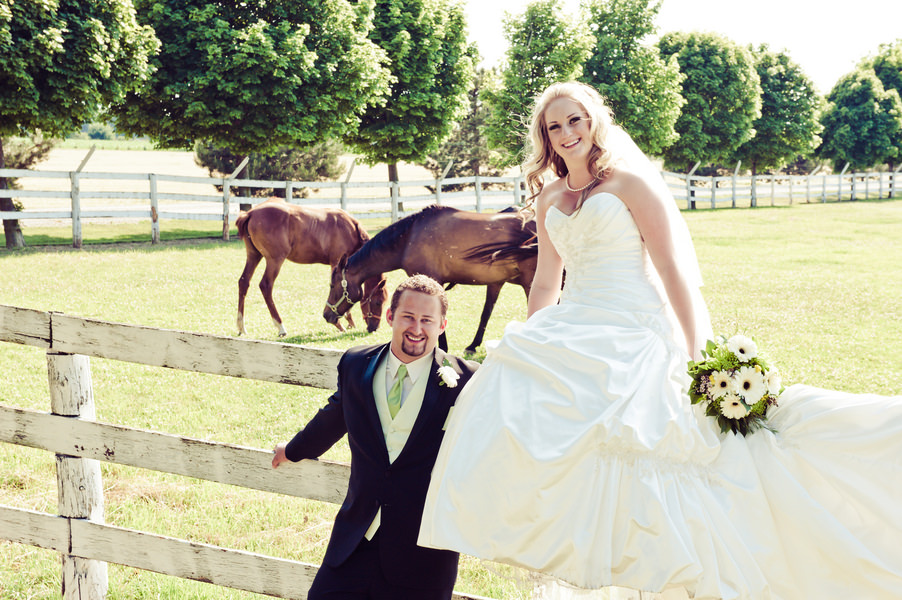 Flowers
The flowers were a mixture of Gerber Daisy's, Spider Mum's, and Wax flower's.
Decoration
The Coach house itself is a beautiful room so it did not need much in the area of decorations. We did however add a string of flowers across the head table, a flower garland across the curtains behind the head table, tissue paper pom pom's handing from the ceiling, candles strewn about, paper laterns in the bar area, a bunting reading lemonade in the bar area (above our lemonade stand), a bunting reading candy (over our candy bar), and a string of flower lights along the candy bar.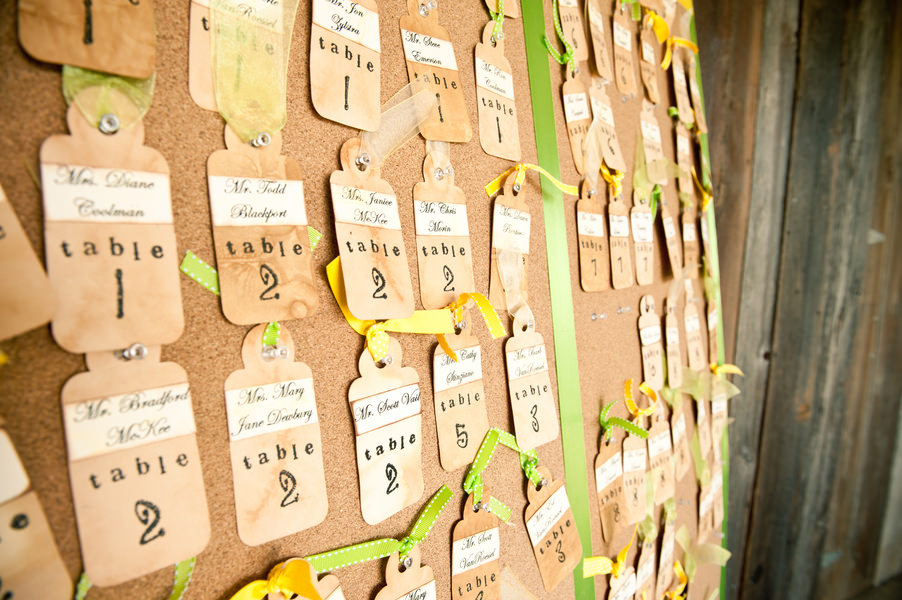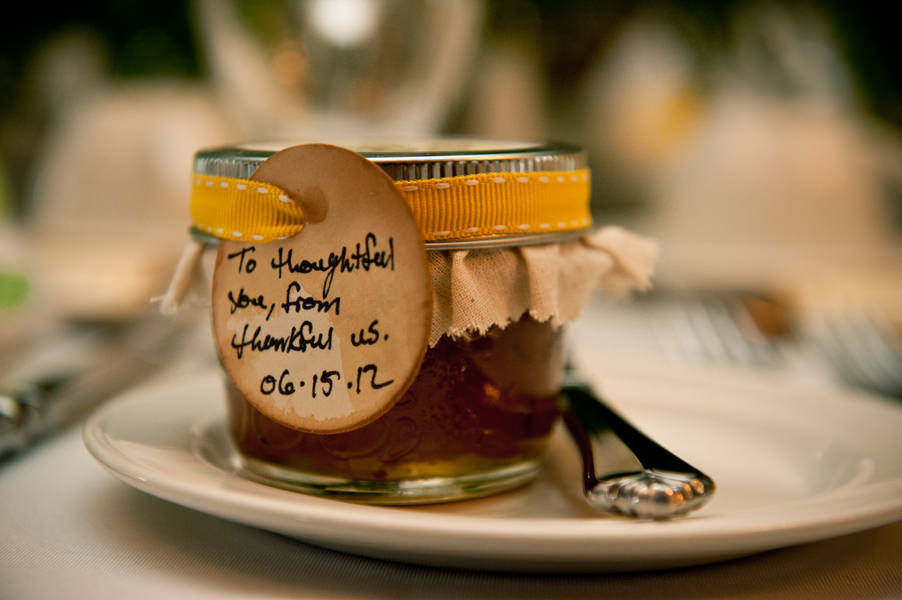 Personal Touches
This entire wedding was DIY. I wanted our personalities to scream through the decorations and personal touches to I decided to make it all myself.
• Starting with the save the dates and invites, which I made.
• Our programs were on brightly coloured paper which we attached to a popsicle stick to make them fans as well. The backside had a crossword and we attached a string to the bottom of the popsicle stick with a pencil on it for our guests to fill out the crossword while they waited for the ceremony to begin.
• The decorations on the chairs at the ceremony were 'string balls' I took yarn and dipped it in a water, flour and glue mixture, then wrapped the string around a blown up balloon until it was mostly covered. Once it dried I popped the balloon and attached the string ball to some ribbon.
• For our lemonade stand we made ice cubes out of lemonade and added slices of lemons and limes into them. I also made the lemon poppy seed cookies to go with the lemonade.
• The string of lights on the head table we took silk flowers and attached them to a string of Christmas lights using hot glue, so the centres of the flowers were the lights. (We also used another string of lights with silk flowers at our candy bar.)
• We made tags to tell our guest what each candy was using the tea-soaked paper. and attaching it onto ribbon around the jars.
• The flower garland was made out of tissue paper and construction paper. We went to the Martha Stewart website and used her 'pom pom's'.
• Our table numbers were photos from our engagement photo session attached to garden stakes.
• We didn't have a traditional seating chart, instead I went with the idea of escort cards. I made luggage tags using my mum's cricket and tea soaked them. Then I attached a piece of ribbon on the top for a bit of colour. I printed the names out on the non-tea soaked paper and edged the paper using a green or yellow ink-pad. Then I stamped the numbers on the bottom of the tag.
• For our place cards I tea soaked some off-white paper and cut the paper into the size I wanted. Then I printed the names off on the non-tea soaked paper. We edged the paper with a brown ink pad, then attached the names to the place cards using eyelet's.
• Our favors were homemade citrus marmalade we put into mason jars. We used unbleached cotton cut into circles to put over the lids and stamped 'D&M' to the top. Them we made tags using the tea soaked off-white paper and attached them on using ribbon.
• Our center pieces were ferns my mother bought that we put into galvanized pails.
• My gifts to the bridesmaid were purses that I made with the assistance of my mum and a friend, a little make-up bag we also made and jewellery I purchased off Esty.com from a lady in Thailand.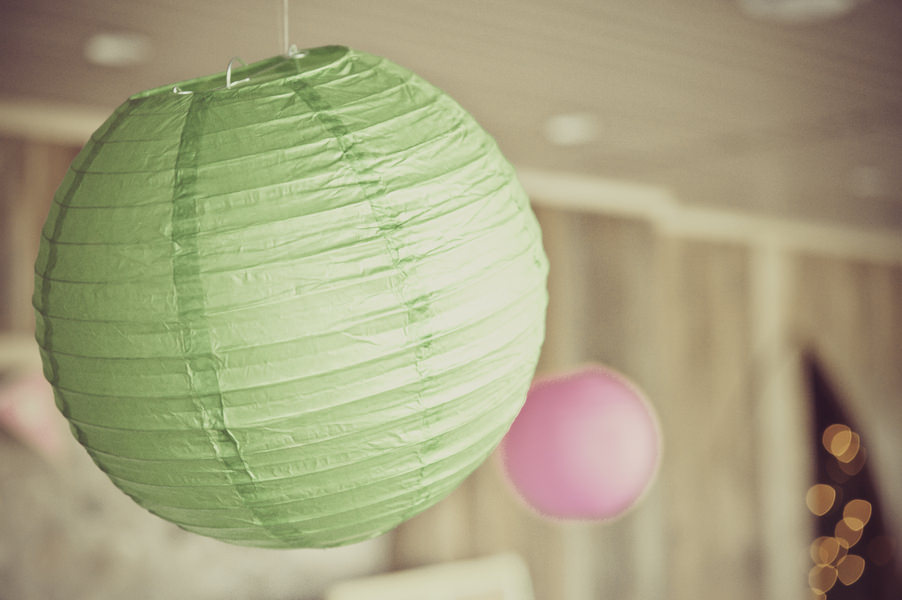 Special moments
There are so many, but two that stood out are when I saw my dad for the first time before he walked me down the aisle he is a very emotional man. Second was when I saw Dan for the first time, I was so excited and happy and anxious, it was a good moment.
Advice
I would give the same advice I received. Enjoy the day. No matter how much planning you put into it, something may go wrong, but fluff it off, who else but you is going to know how it was supposed to be. Don't stress on the day of, soak in every moment possible, its over before you know it.
Biggest surprise
The only surprise I had on the day was the best man reading a speech written by my Grandfather who was unable to make it to the wedding due to health problems. That was an amazing moment.
Supplier Shout Outs
Hessenland Country Inn was a venue – we'd like to send a huge thank you to Liz and her entire staff for doing such an amazing job. (http://www.hessenland.com/)
Serena Swan Photography – Thank you so much Serena for making our day even better and for capturing all of our special moments for us. (http://serenaswanphoto.com/)
Alex Jaconelli was our DJ.
For more information on Serena's work go to
http://serenaswanphoto.com/
[email protected]
FACEBOOK
♥  You can see more Real Weddings featured on the Blog HERE  ♥
Due to an email issue if you have emailed me between the 2nd & 9th of December, please resend it.
X