Today I am delighted to welcome back Emily Jane to the  Blog for this Fridays Bridal Style feature.  Emily is our resident vintage stylist and image consultant and she has been talking us though each decade to show you how you can dress in a vintage manner for your dress shape, so if you are a straight up and down kinda gal, or more of a curvy lady then Emily is here to help you.
So far Emily has covered the Following Eras in vintage and retro styling, just click on each one for a re-cap
Today Emily is talking is though the 1930s look and coming up with a style that suites your body shape, whether you are straight up and down or more curvy.
Hello  lovely Boho readers! I'm back again, this time with a look at wedding styles inspired by the 1930s that will suit and flatter your body shape. A quick review of body shapes before I go on: because women's body shapes are as individual as they are, it's tricky to break it down in just one blog post. So, I'm simplifying things by just looking at 2 types – straight lines and curves. You may be curvy (large bust, large bottom, defined waist) or you may be straight (small bust, no defined waist, straight shoulders, flat stomach & bottom), or you may even in fact be a combination of the two, but hopefully by giving some hints and tips for each shape, you'll be able to find the perfect dress to flatter your figure on the big day. Just a further note on shape – remember that size really doesn't matter! You can be a curvy size 8 and a straight lined size 20, or vice versa!
Straight Body Type

– Dramatic Darling
Wow, way to make an entrance, Joan Crawford. The influence of the burgening Hollywood scene means that 1930s fashion exhibits a heavy dose of drama. Think accentuated shoulders, stiff fabrics, and deco inspired embellishments.
Things to look out for
Big Shoulders – The padded shoulder shape was one of Joan Crawford's signature styles. For those with great straight shoulders this style will emphasise one of your best bits.
Deco detailing – Dramatic embellishments on the bust will add emphasis and help to create the illusion of some curves here.
Feathers – From stoles to headpieces, feathers were popular in accessories of the 1930s and add the perfect further touch of drama to this femme fatale bridal look.
How to do this look if you are curvy
Avoid too much embellishment on the bust as it can make you look top heavy if you are not careful,  instead, look to draw attention to the waist. If you are bottom heavy, a padded or puff shoulder can actually work wonders for you as it can balance your look, just make sure that fabrics are soft and flow over your curves rather than sticking up at an odd angle over curvy shoulders.
Curvy Body Type

– Lace Lovely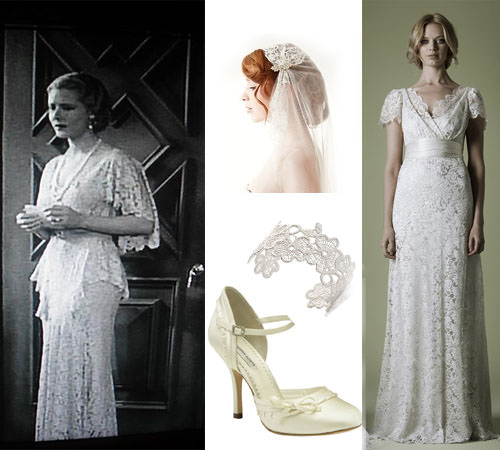 If romantic and feminine is more your style, don't worry. Delicate lace gowns were also a feature of the 1930s, as seen here on actress Mae Clarke.
Things to look out for
The Lace – texture is a fabulous way of disguising any lumps and bumps you may not be so proud of! For extra comfort, lace with some stretch in it will give over your curves as you move throughout the day
The Cap veil – this style is a classic of the 1930s, choose a flowing light veil trimmed in lace to tie in with your dress, and pin just by your ears – adding flowers from your bouquet is a lovely option here too. (It has to be said this style of veil is also growing in popularity now as both Lily Allen and Kate Moss chose this option!)
The Neckline – a sweetheart or crossover style neckline is perfect for a fuller bust as it is incredibly flattering for your curves. If you feel that you are showing too much cleavage then a good dressmaker should be able to add an extra panel of lace or lining fabric to make sure you are feeling comfortable.
How to do this look if you are straight lined
Look for stiffer lace, and if you are small busted then consider going for a high neckline, backless dress to show off the best parts of your figure!
Thanks so much Emily, I hope you all enjoyed the 1930s Look, next time will be the final instalent in this Vinateg style feature as we look at the 1920s (my favourite!)
For more information on Emily's work go to:
Emily Jayne Phillips – Image Consultant
[email protected]
www.emily-jayne.com
01527 579650 01527 579650
Twitter – @emilyjayneimage
Facebook – emilyjayneimage
Due to an email issue if you have emailed me between the 2nd & 9th of December, please resend it.
X